Barbra Streisand wore this beautiful sheath gown to the 40th Academy Awards ceremony on April 10, 1968, when she joined Bob Hope to present the Oscar for Best Original Song.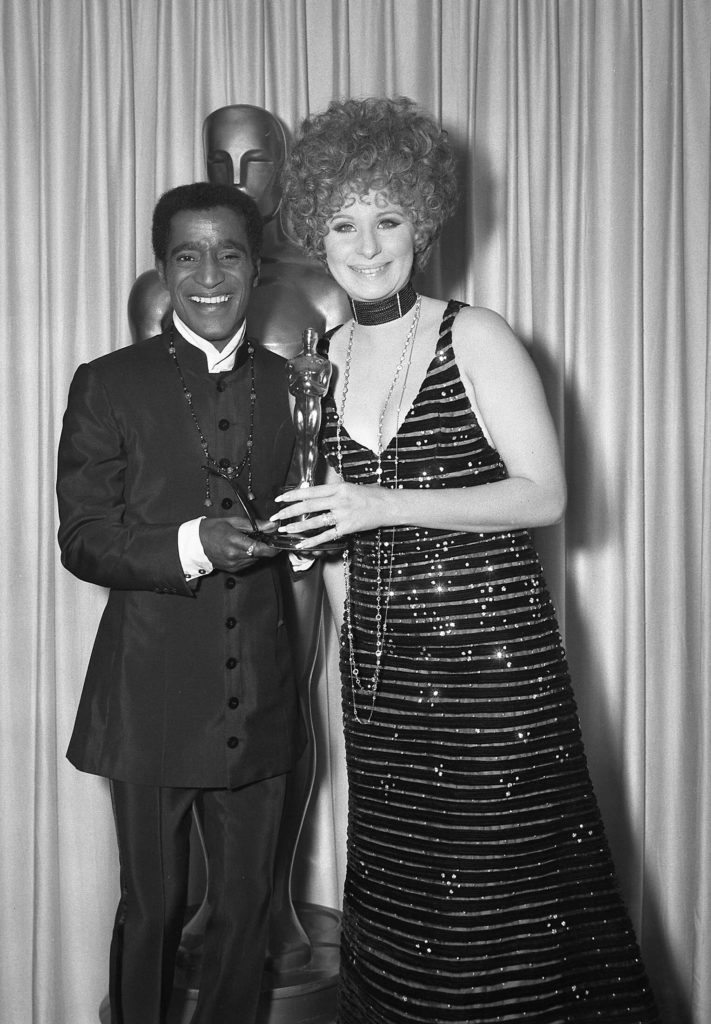 This marked the first time Barbra had ever taken part in an Academy Awards ceremony and must have been an incredibly exciting milestone moment for her. Just a year later she would join Hollywood royalty when she won the Best Leading Actress in a Motion Picture Oscar for Funny Girl. At the time of the 1968 awards ceremony, Barbra had just wrapped Funny Girl and had begun preparing for Hello, Dolly!. I can definitely hear a bit of the Dolly character in her vocal inflections during this presentation. Hope introduced Barbra by saying, "To present the award for Best Song, here is a young woman of astounding versatility. An unbound talent who makes every song the best. Ms. Barbra Streisand."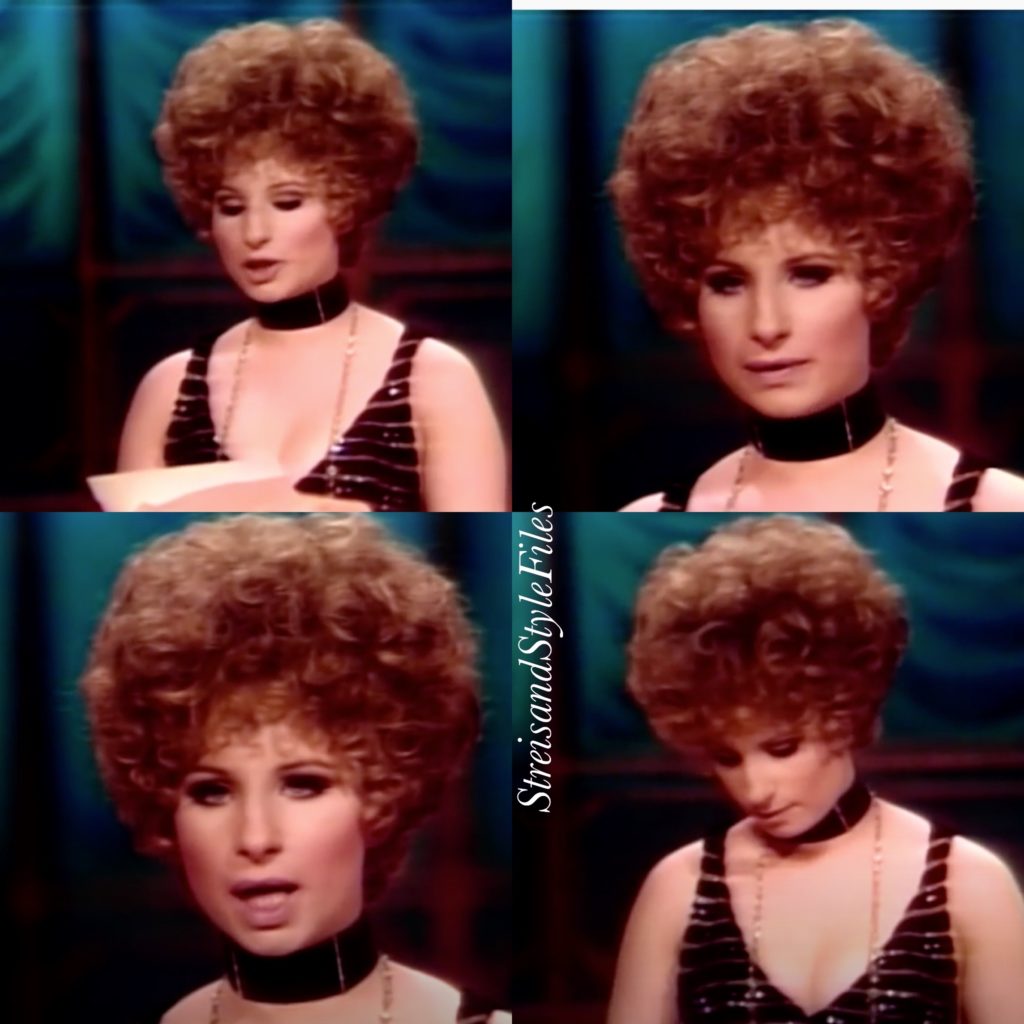 Barbra looked absolutely stunning in this gown, which shimmered as she walked confidently across the stage. When the winner was announced (Leslie Bricusse for Talk to the Animals from Doctor Dolittle) the audience let out some audible groans, which caused Barbra to give an exaggerated raise of the eyebrows. The popular majority at the time had apparently been rooting for The Bare Necessities from Jungle Book to win the award.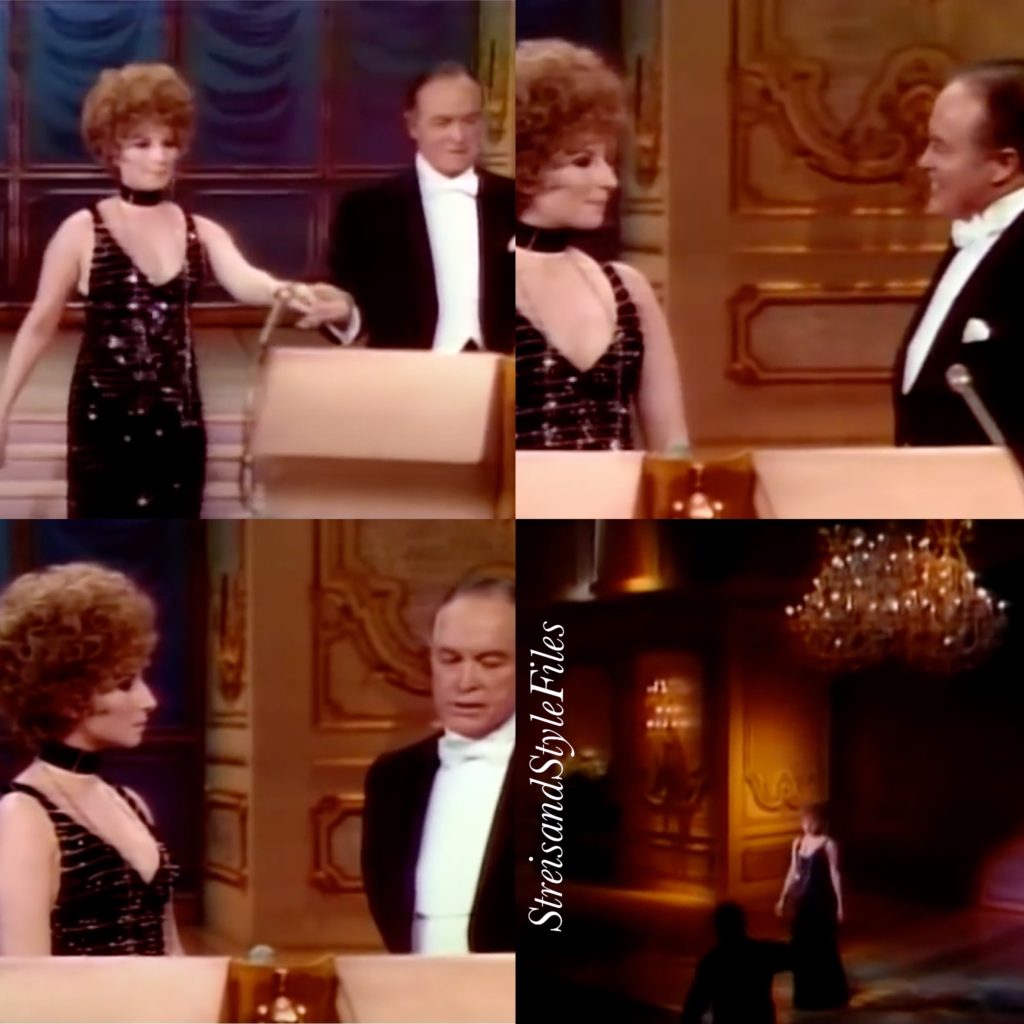 Barbra's gown was so timeless that it would not look dated or out of place if worn to an awards ceremony today. It features tank straps with a deep-V neckline with two darts at the bust and an empire waist. The armholes are especially elongated and dip all the way to the empire waist seam. This made the gown a touch more revealing by exposing extra skin around the sides.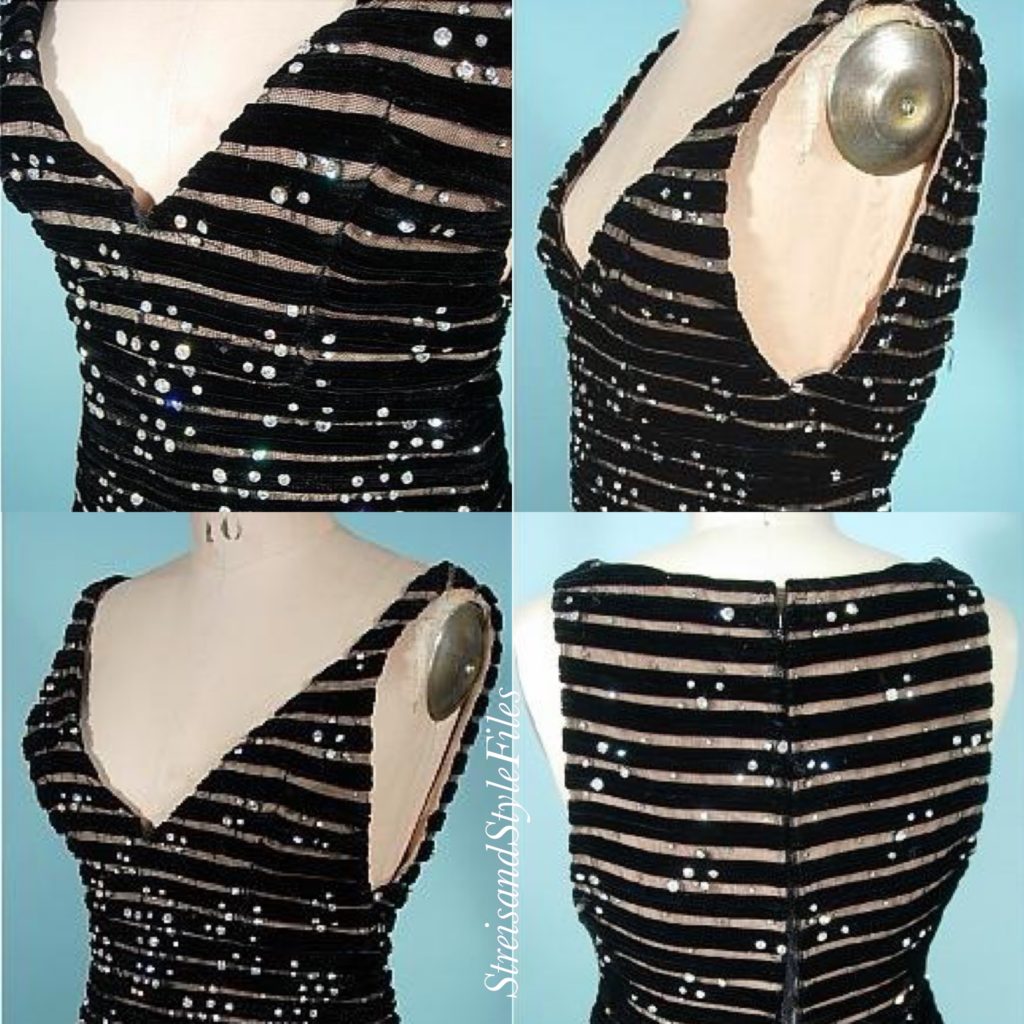 The outer layer is very elaborate in its detail work. It appears to be constructed on black stretch mesh which is fully encompassed with horizontal rows of black piped velvet trim.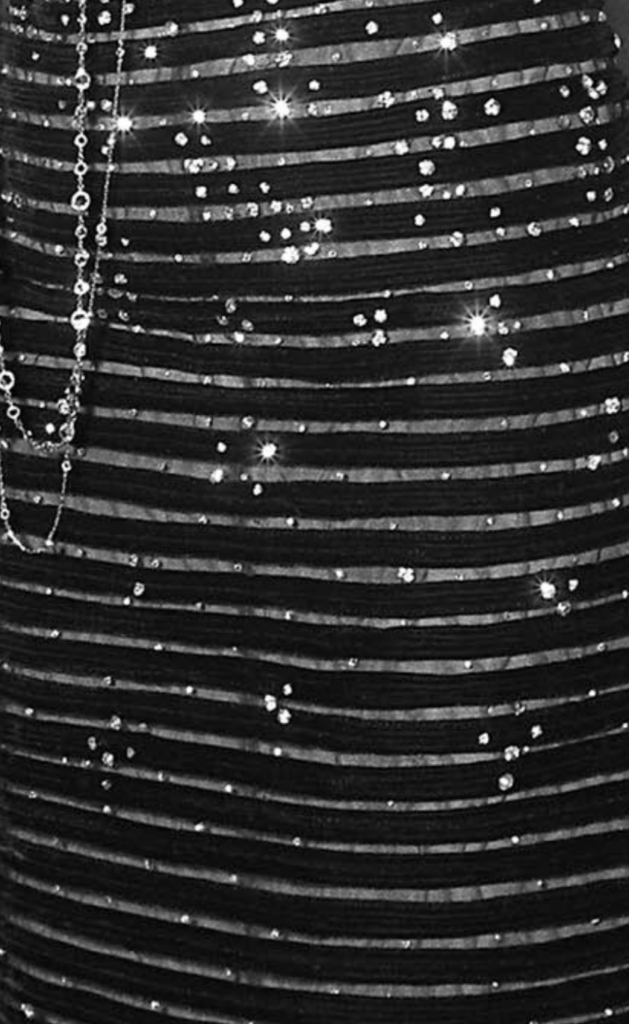 The piping gave the gown incredible depth, texture and structure and created a cage effect around the inner layers of fabric from the hips downward. This in addition to the many claw-set faceted crystals elevated the gown to haute couture. These were hand-sewn and set in gradation motifs, using what appear to be 2mm-8mm stones.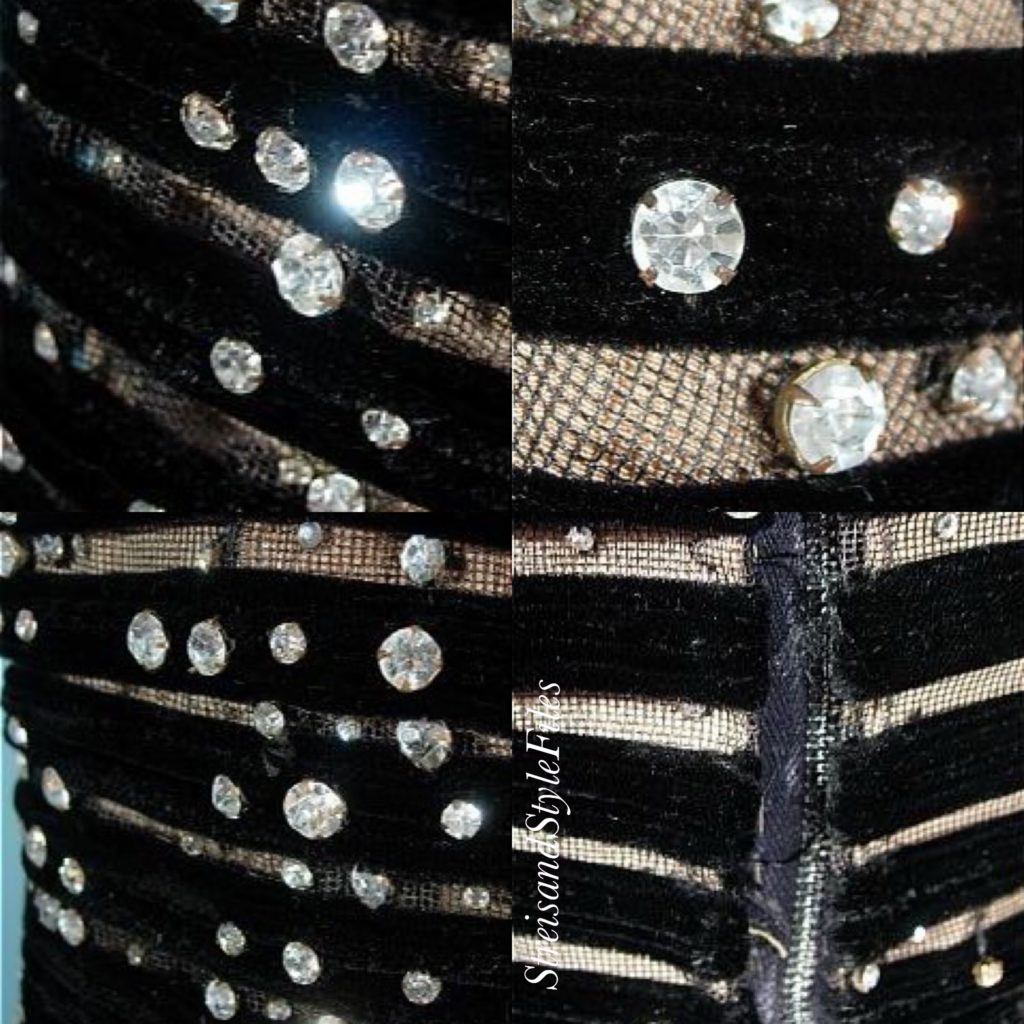 There is a nude illusion underdress which gives the gown a show stopping visual impact. A long zipper at the back center seam provides closure, and the gown hangs in an overall fitted sheath shape, with the slightest hint of a train.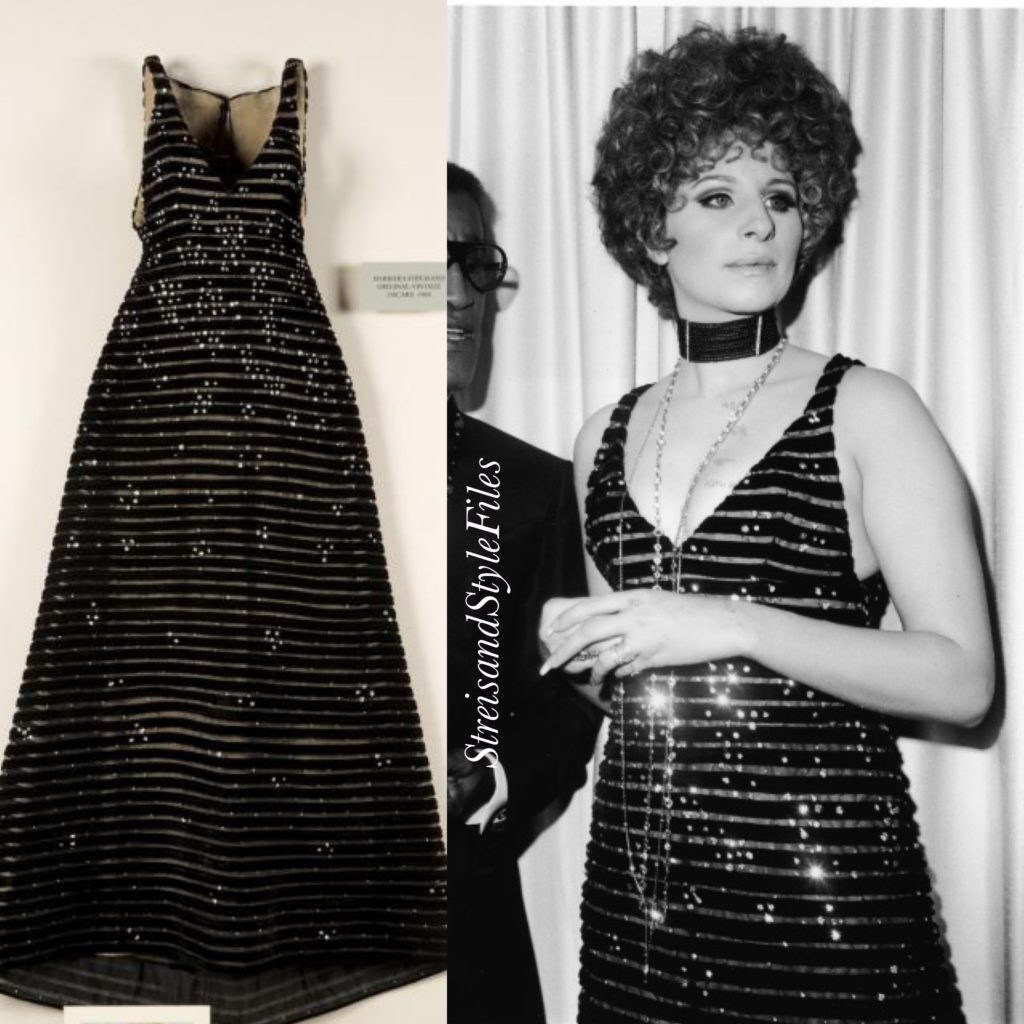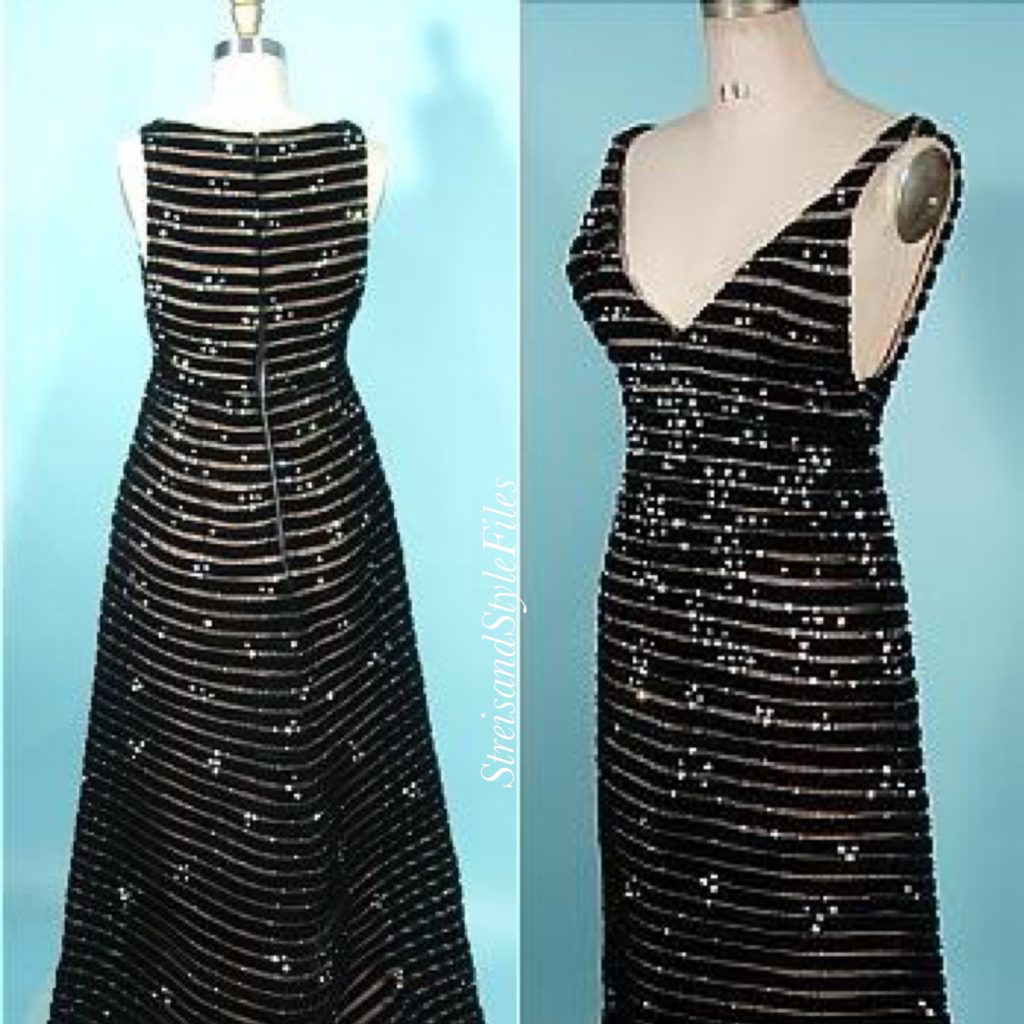 This gown was so flattering on Barbra that is easy to see why she chose a black and nude under-layer look for the Academy Awards the following year. No designer has been noted for this gown. The fact that it has no tags suggests to me that it was a custom design conceived by Barbra, which she then had made by a seamstress. The lining of the gown has "B. Stris" written in black marker, and it is noted as having a 32″ bust, 27″ waist, 37″ hips, and 58″ long from shoulder to hem, making it a modern size 4-6.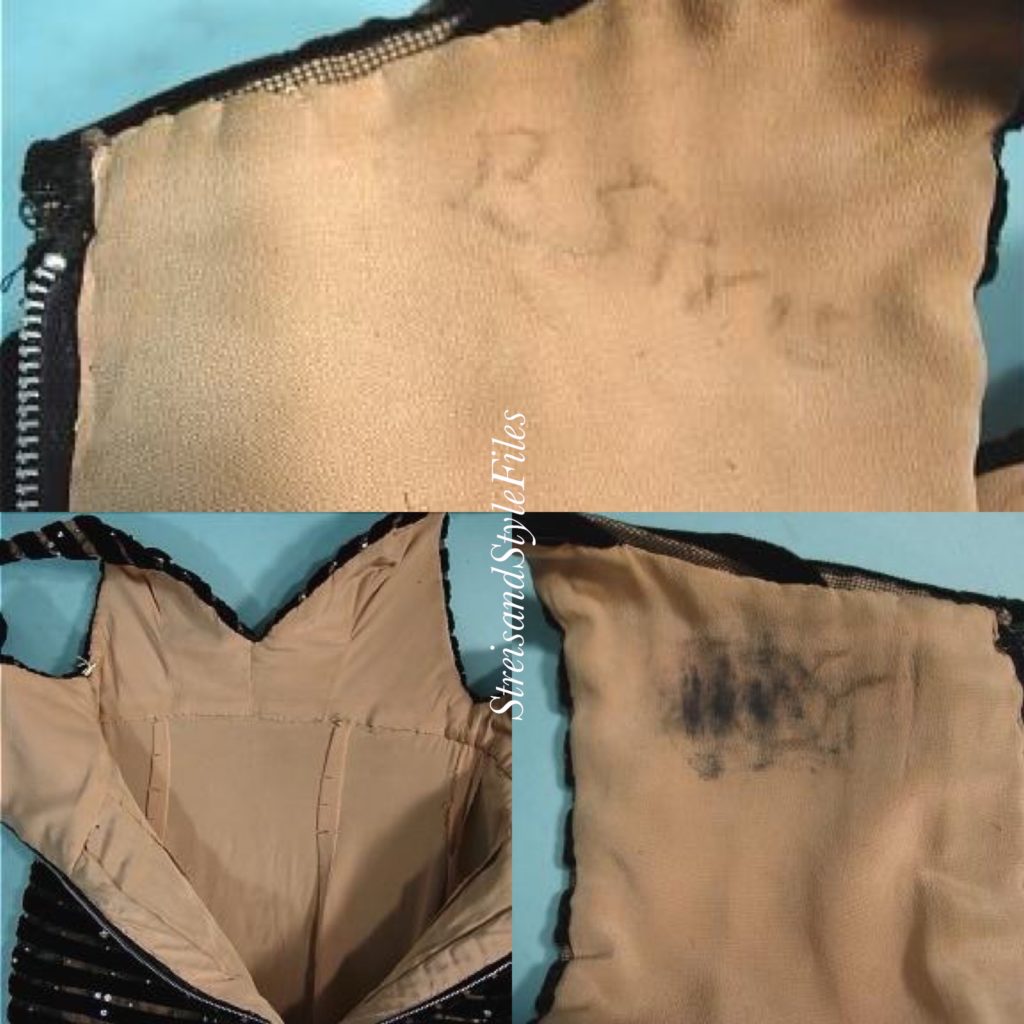 Though this was a stunning gown, Barbra's choice of accessories and hair style really drew the eyes upward to her beautiful face. This short, curly, human hair wig was worn multiple times by Barbra including for a Richard Avedon photo shoot from which photos appeared in March, 1968 Vogue, her What About Today album cover art, and a Blackglama fur ad. She wore this hairstyle again when she dressed as Colette for the "Reincarnation Ball in 1969." When Vogue asked about the curly look in 1968, Barbra told them that her curls were inspired by the Victorian period as well as Colette and one of her acting idols, Sarah Bernhardt. She stated "I loved the look. I secretly always wanted to have curls but I didn't want to return to the Victorian era, I wanted the look in a modern way."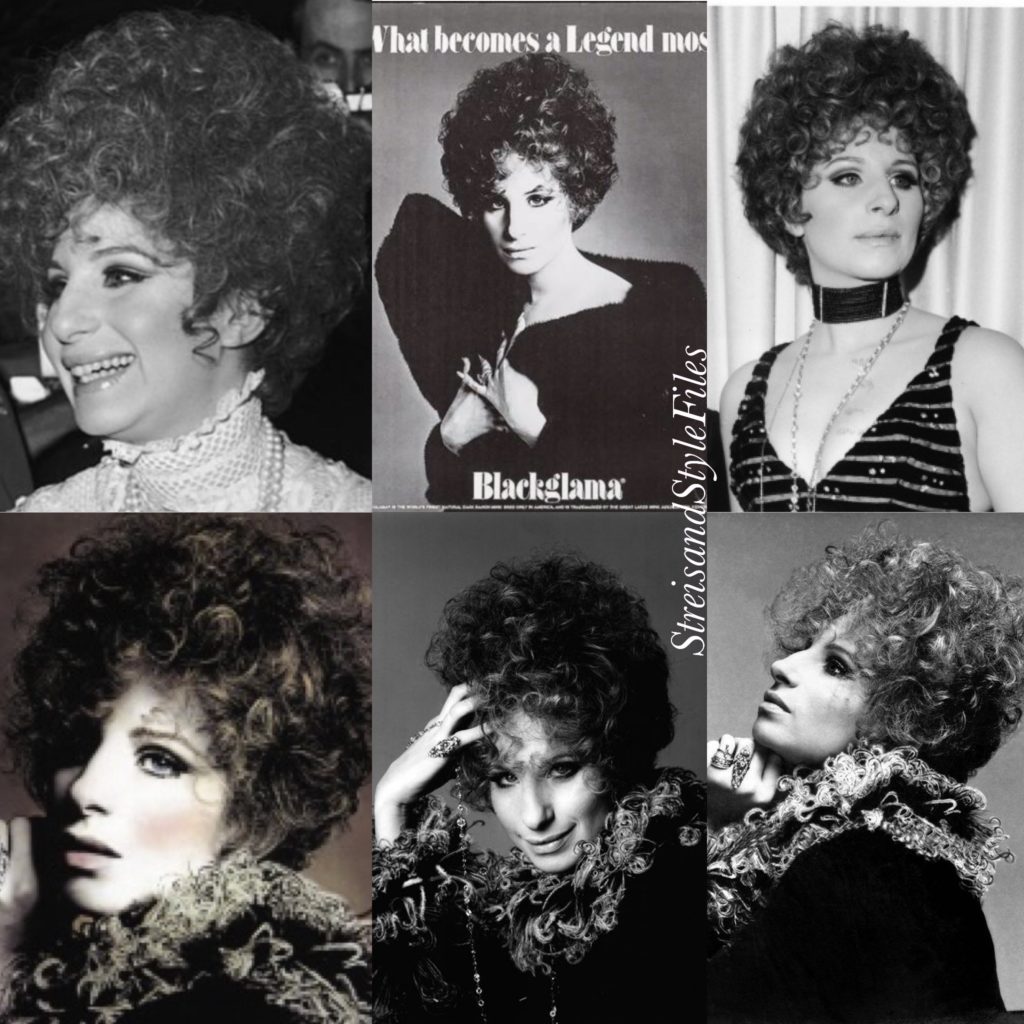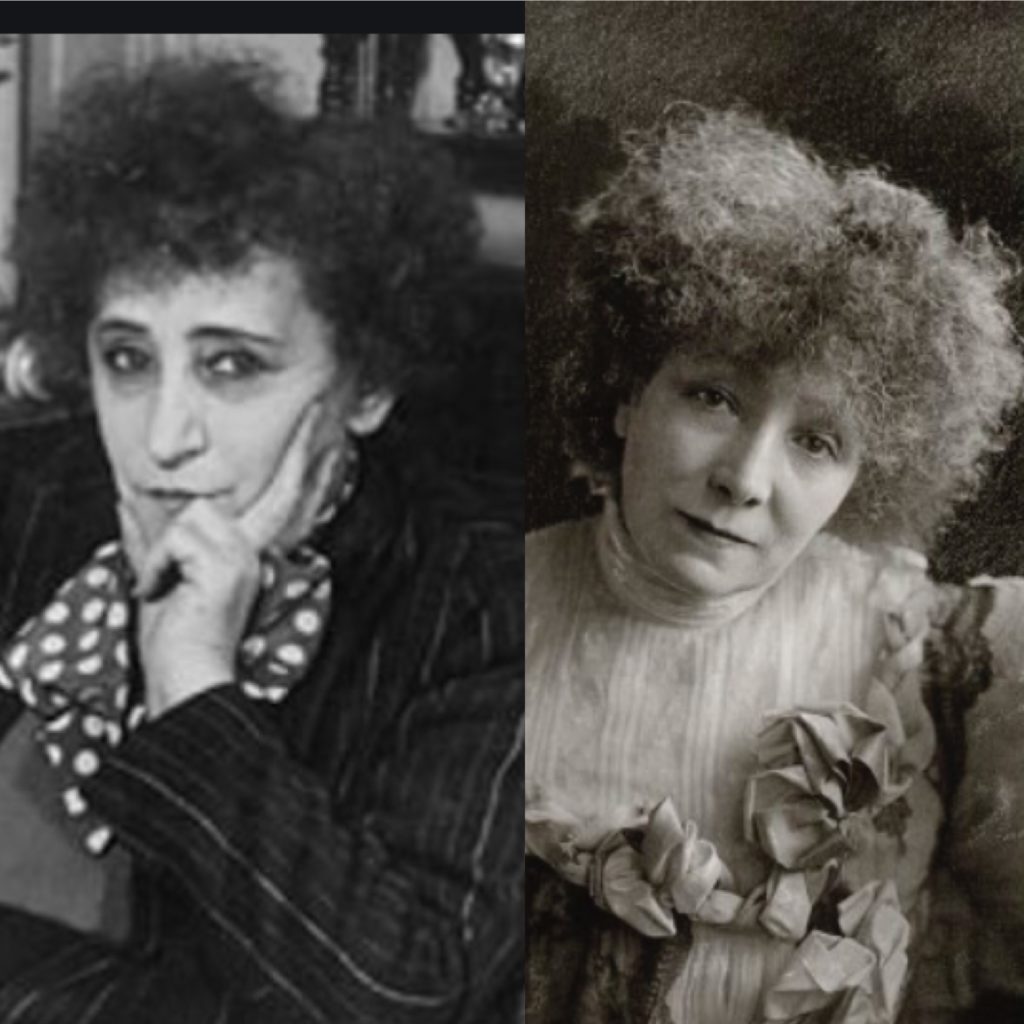 A black, antique, multi-row choker accentuated this look, along with two long, diamond, bezel set necklaces. The dog collar/choker craze began when Alexandra, Princess of Wales (later Queen Alexandra) began to wear them to cover a scar on her neck. The trend caught on as a status symbol. These quickly faded from popularity in the 1930's.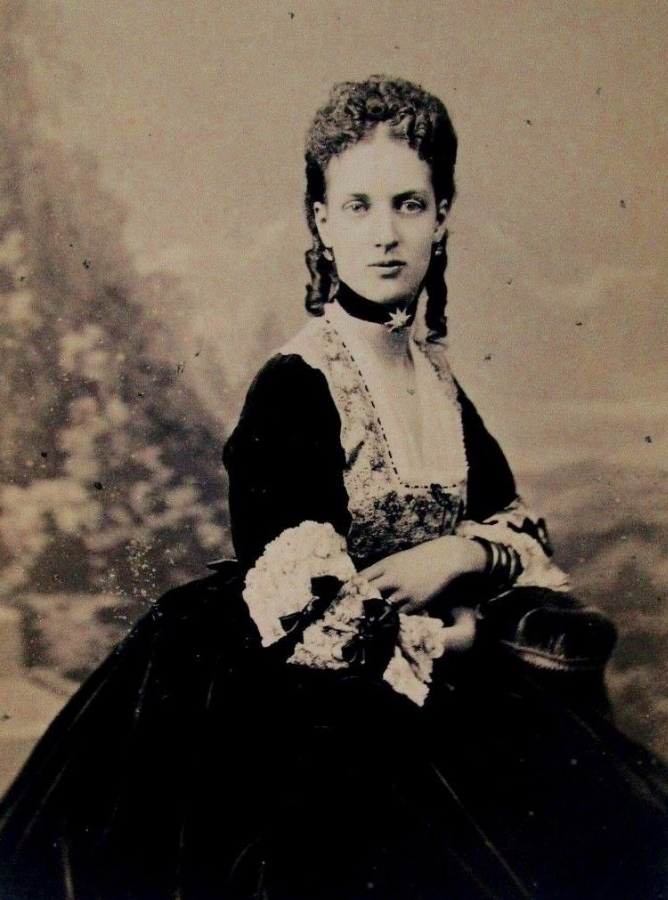 Barbra's 1968 Academy Awards gown has been sold several times over at various auctions. It was listed for sale in the early 2000's on a website called antiquedress.com who claim it sold for $25,000. It most recently sold for $19,200 at Julien's Icon and Idols auction in 2016.