1968 New York Funny Girl Premiere In Scaasi
Barbra Streisand wore this shimmering Scaasi gown to the New York premier of "Funny Girl" at Criterion Theatre, on Sept 18th, 1968. Following the film, a gala for over 1,000 people was held in a massive tent on the grounds of the former Astor Hotel. This was hosted by Ray and Fran Stark, and tickets benefited NYC Mayor John Lindsay's Commission On Youth And Physical Fitness. Ticket prices at the film opening were the highest ever charged in New York. Audiences happily paid them, making both the film and Streisand a smash hit.
Scaasi vividly recalled the night of the premiere in his 2004 book, saying that Broadway between 43rd and 44th Street had been closed down to allow guests to walk on a giant red carpet from the theatre to the dinner party. Scaasi arrived to the event in a car with Barbra, Elliot Gould and Marty Erlichman. "The mob was enormous and so eager to catch a glimpse of the superstar that they jumped on the car and began to rock it to and fro. We were all frightened and Barbra shouted "Drive away, drive away-quickly-let's get out of here!" The driver sped away. We finally went in through the back door of the theater." Scaasi believed this event contributed to Barbra's withdrawal from public appearances. Later when they walked across the red carpet Scaasi recalled that Barbra "looked like a fairy princess and was undoubtedly the happiest girl in New York City."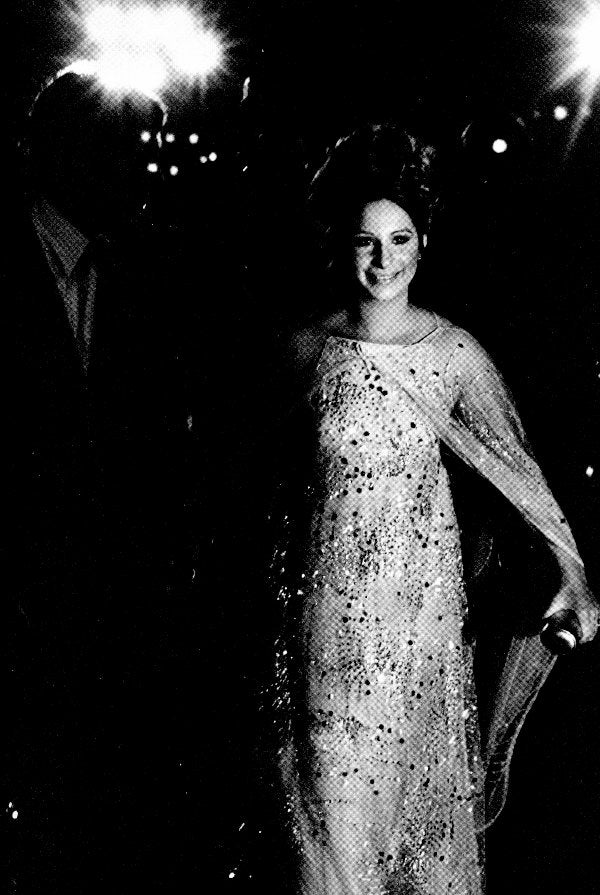 This etherial A-line gown features a high square neckline, with spaghetti straps that end in two small bows at the back. The outer layer of nude chiffon features repeating starburst embellishments created with metallic silver thread, scattered iridescent sequins, claw set crystals, and larger iridescent scallop shell shaped sequins. Beneath this is a nude silk lining. The back of the gown has a low scoop back and zipper closure. The matching chiffon cape featured the same embellishments with a dainty tie closure at the neck. Scaasi also sold a very similar version of this gown in short baby doll style. Barbra's gown (minus it's cape) sold at auction in 2004 for $5,250.00.