1969 Friars Club Entertainer Of The Year Award In Dior
Barbra Streisand wore this beautiful Dior dress with a cape that she designed herself to receive her Friars Club "Entertainer of the year" award on May 16, 1969. This event took place at the Waldorf Astoria in NYC. Barbra was the second woman to ever receive this honor, following Lucille Ball. When accepting her award, Barbra joked "ten years ago I could've used a dinner like this. It was delicious."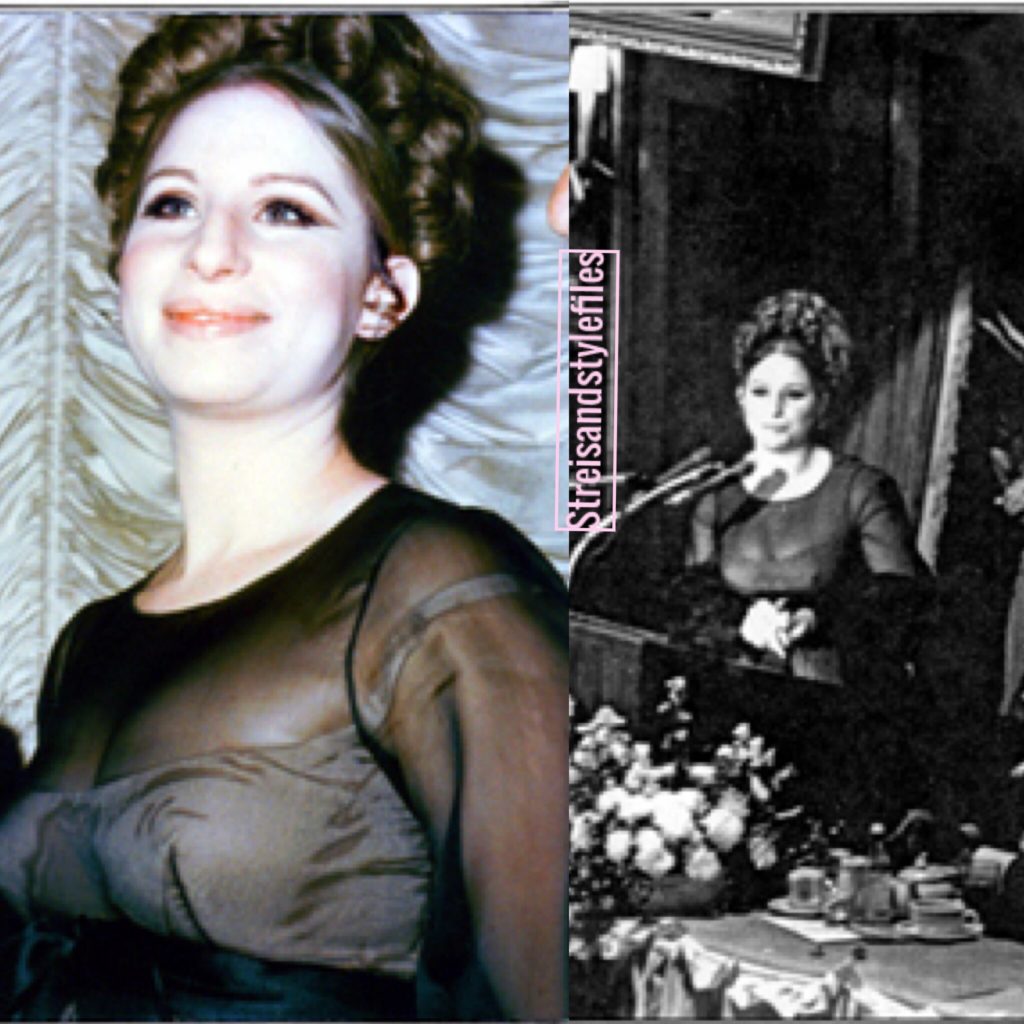 Because of Barbra's popularity at the time, over 1,200 people attended the event which was a first for Friars Club. Barbra's sheer black organza dress was designed by Marc Bohan for Dior. This empire waist piece featured bishop sleeves with a five button closure on each elongated cuff. There is a scoop neck and a satin ribbon tied into short bow just below the darted bust. Delicate pleats run down the floor length dress. Beneath is a light spaghetti strap silk lining. Barbra paired this with a dramatic wide hooded cape which had multiple tiered layers and a single button closure at the neck.
Friars Club began in 1904 when Manhattan press agents began to dish out free tickets for reporters to see their clients Broadway shows, in exchange for good reviews. Soon everyone was attempting to get these tickets by saying they were a reporter. To resolve this, eleven agents began to meet weekly over dinner to figure out who was legit, and blacklist those who weren't.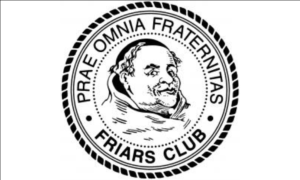 Soon all kinds of entertainers and directors began to join their gatherings. The group soon decided they needed a distinctive name. Friar stems from "Frater"-the Latin term for brother. Prae Omnia Fraternitas "Brotherhood forever" became their motto.
Soon the group began holding yearly honors in celebration of their favorite entertainers. These turned into exclusive events where roasts would happen-the first being Maurice Chevalier in 1949. The club was exclusively male and it was rare for women to attend or be honored at these events. The first female to actually become a member was Liza Minnelli in 1988. The eventually club found it's new home on 57 E 55th Street -nicknamed the Monastery", where it remains today. On June 13, 2013 Barbra attended a ribbon cutting for the dedication of "The Barbra Streisand Room" at the club, which holds a bar and performance space. 
Special thanks to Chuck Macklin for providing the beautiful restored photos from this event.