1969's Reincarnation Ball As Colette
Barbra Streisand wore this Edwardian style gown to the Reincarnation Costume Ball which took place at The Beverly Hilton Hotel in January, 1969.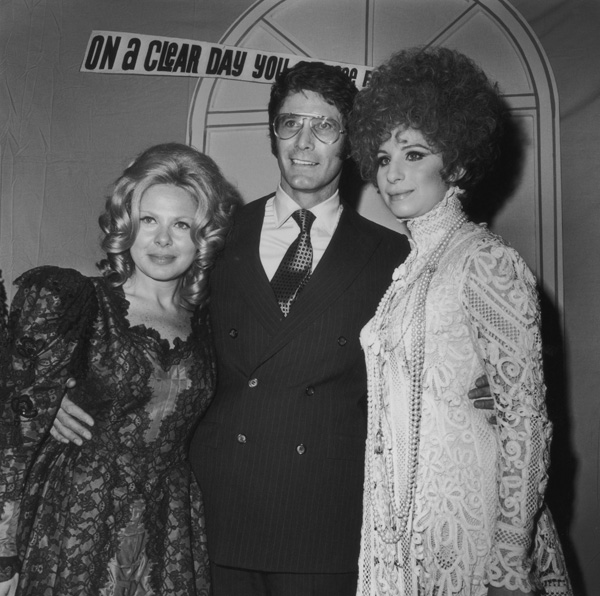 Barbra came to the costume party dressed as French author Sidonie-Gabrielle Colette (1873-1954), complete with a fluffy white fake cat. Colette was known to have a special passion for cats which caused her second husband to complain "When I enter a room where you're alone with animals, I feel I'm being indiscreet." One of her books is titled La Chatte and revolves around a love triangle between a man, woman and cat.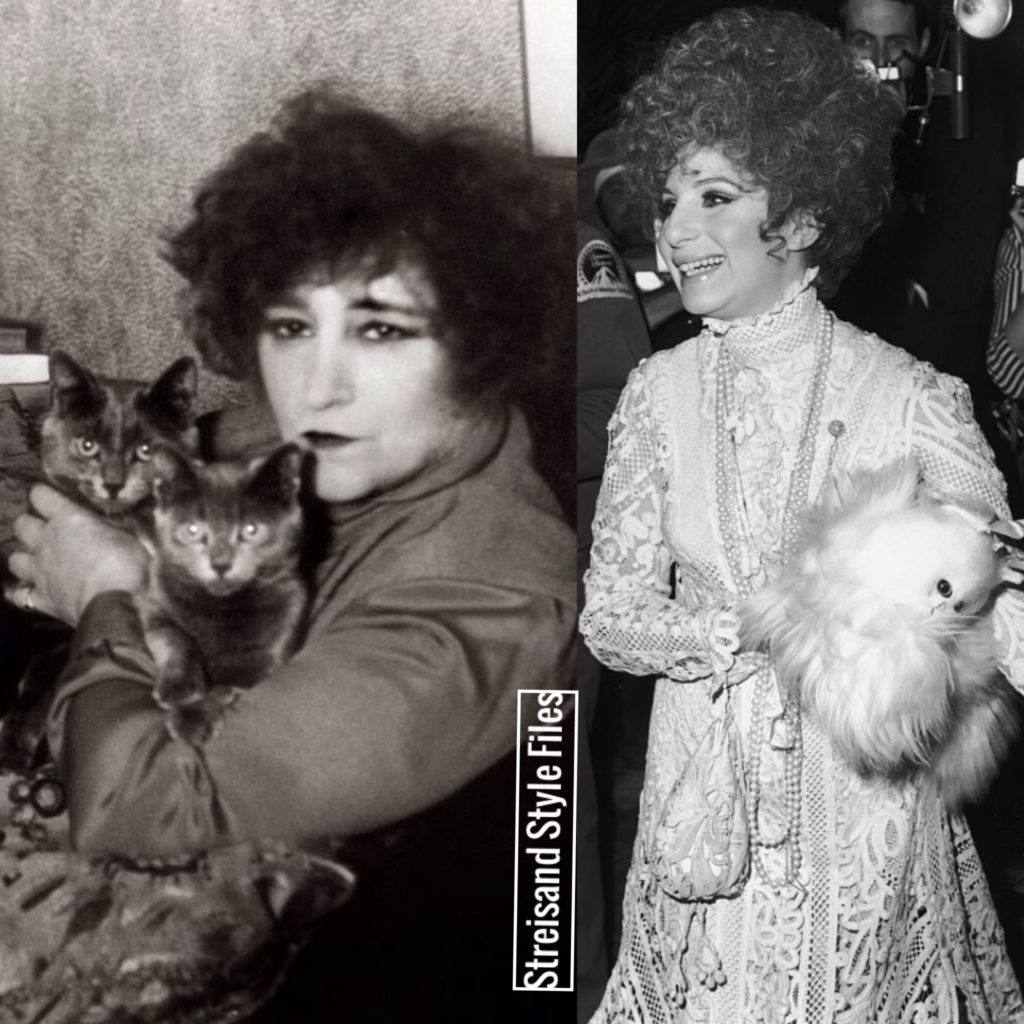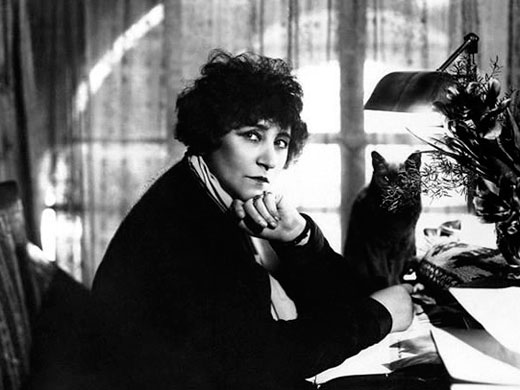 In addition to being an author, Colette was also a mime, actress, journalist. She was brave enough to be openly bisexual in a time when this was not accepted. Though Colette was only photographed with grey and dark furred cats, Barbra appropriately went with a white cat prop to match her outfit.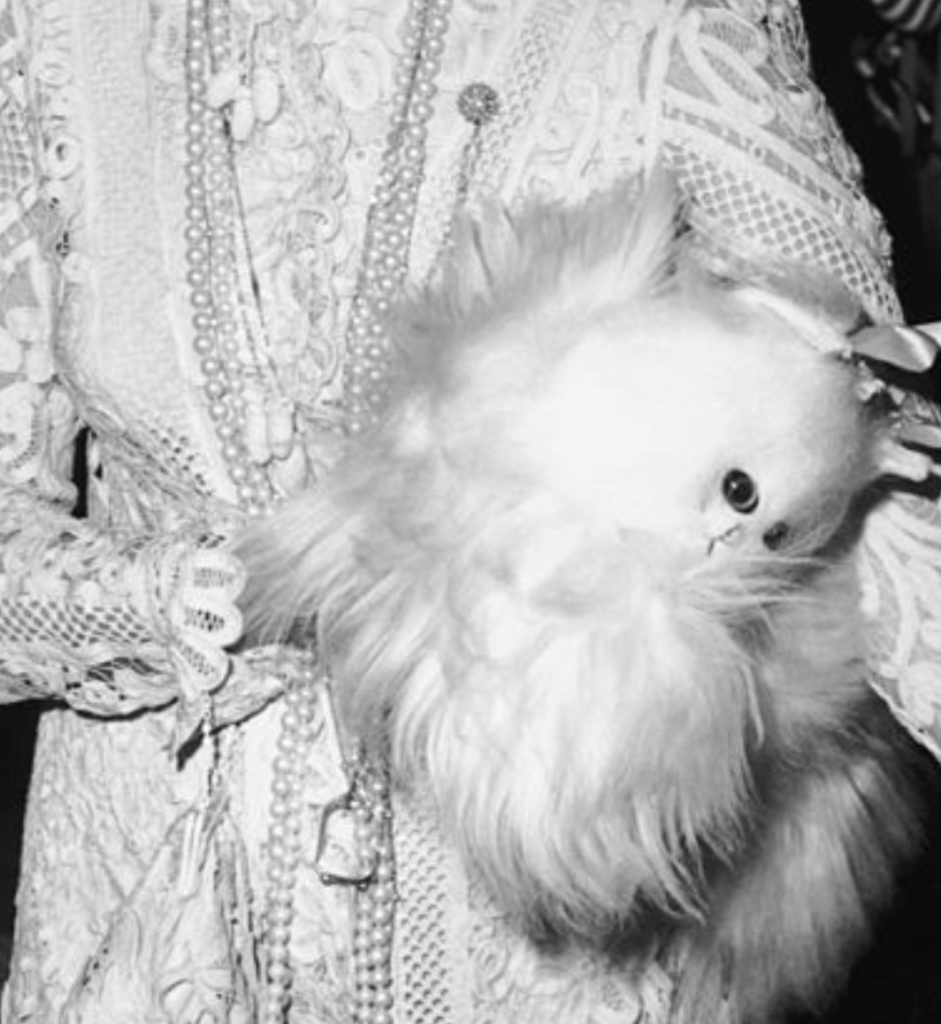 This event was written about in detail on Jan 7, 1969 in Los Angeles Times by Joyce Haber. Haber was one of Hollywood's last powerful gossip columnists who "were capable of canonizing a film or destroying a star". She took over the old job of Hedda Hopper.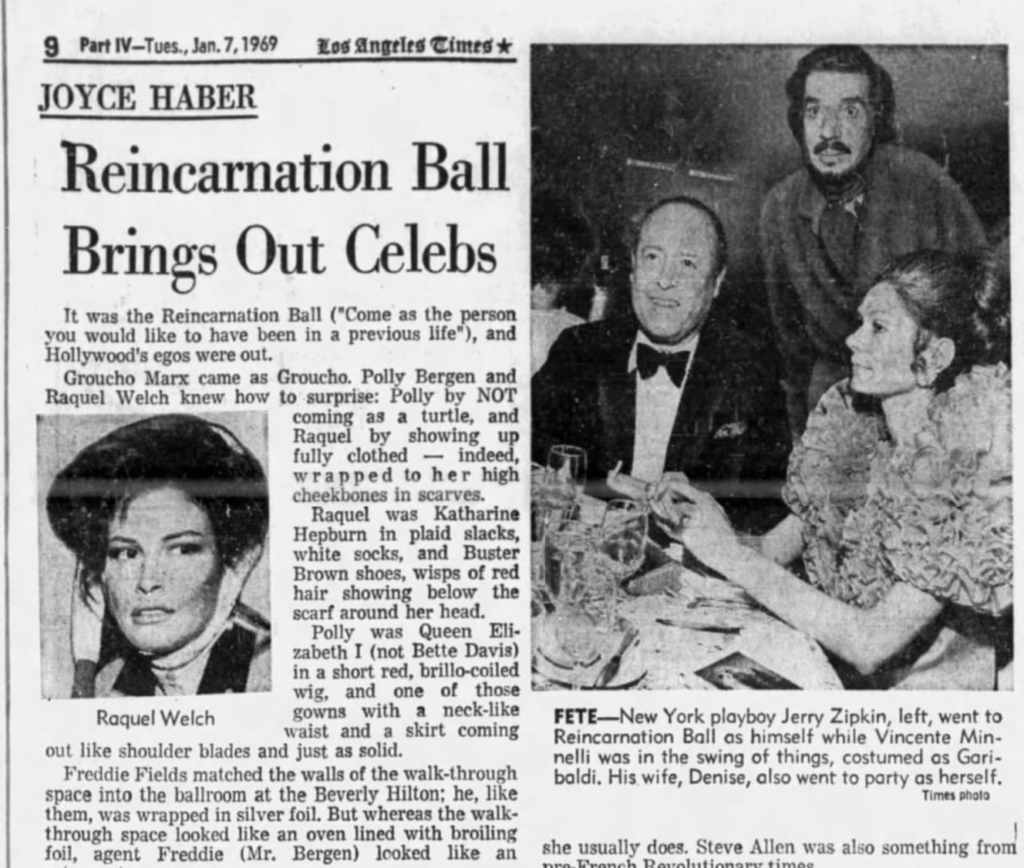 In her piece "Reincarnation Ball Brings Out Celebs" Haber opened by saying "It was the Reincarnation Ball ("Come as the person you would like to have been in a previous life"), and Hollywood's egos were out."
Barbra is mention in the following section "A Publicity Stunt" "The affair was admittedly a publicity stunt-a party to publicize Paramount's multi-million dollar musical., "On A Clear Day You Can See Forever," which started shooting this week with Barbra Streisand and Yves Montand. Since the movie concerns such matters as reincarnation and extrasensory perception, producers Howard W. Koch and Alan Jay Lerner hired a firm with the tell-it-like-it-is title, "Designed Parties" to do the decor. The decor was something else again. It featured such mysterious symbols old of telepathy and clairvoyance as mammoth Tarot cards, potted palms and azaleas (remember heroine Daisy's ability to talk flowers into growing?).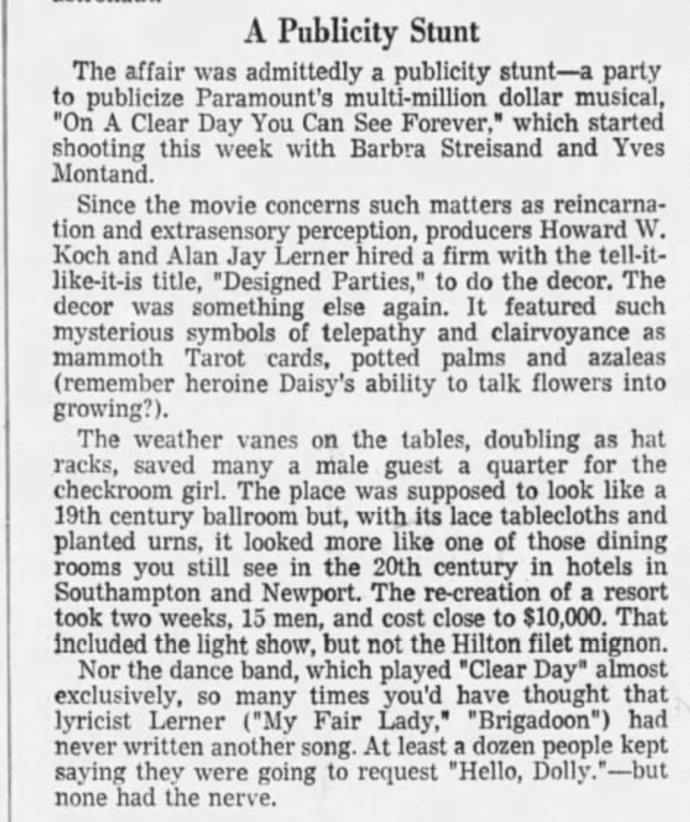 The weather vanes on the tables, doubling as hat racks, saved many a male guest a quarter for the checkroom girl. The place was supposed to look like a 19th century ballroom but, with its lace tablecloths and planted urns it looked more like one of this dining rooms you see in the 20th century in hotels in Southampton and Newport. The re-creation of a resort took two weeks, 15 men, and cost close to $10,000. That included the light show, but not the Hilton filet mignon. More the dance band, which played "Clear Day" almost exclusively, so many times that you'd have thought that lyricist Lerner ("My Fair Lady, " "Brigadoon") had never written another song. At least a dozen people kept saying they were going to request "Hello, Dolly"-but none had the nerve."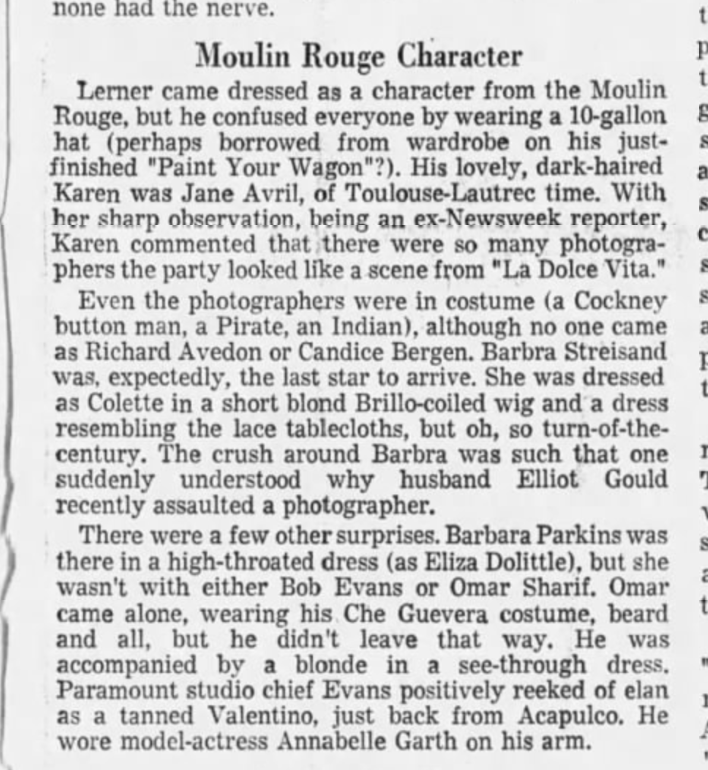 Later in the piece, Hader mentions Barbra's arrival. "Barbra Streisand was, expectedly, the last star to arrive. She was dressed as Colette is a short blond Brillo-coiled wig and a dress resembling the lace tablecloths, but oh, so turn-of-the-century. The crush around Barbra was such that one suddenly understood why husband Elliot Gould recently assaulted a photographer."
The bottom right of the article featured an ad for Funny Girl which was playing in theaters at the time.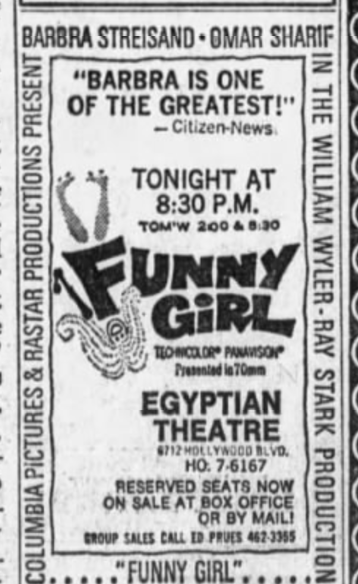 Barbra's regal outfit reflected styles of the Edwardian era and her hair reflected Colette's hairstyle post 1929. The sheath style bottom layer of the gown was primarily constructed from cream silk crepe. There is a high lace collar with stays inside featuring diamond shaped knit lace, with sprouting delicate ruffled lace edging. There are two darts at the bust just above the empire waistline. Just below the knee is a panel of satin which is trimmed in scalloped edged floral lace. This piece has a long concealed zipper closure at the back. This under-piece was self-designed by Barbra but it is possible that elements of it are combined with vintage.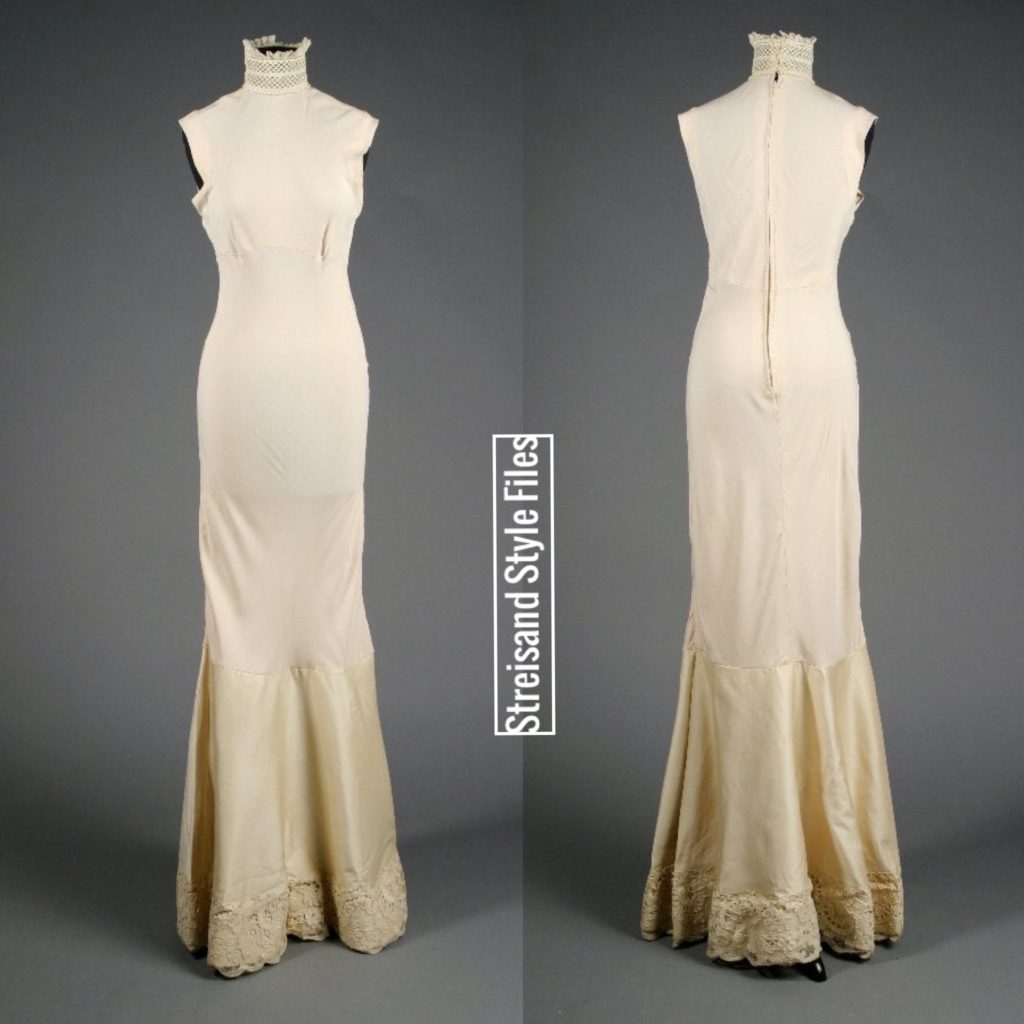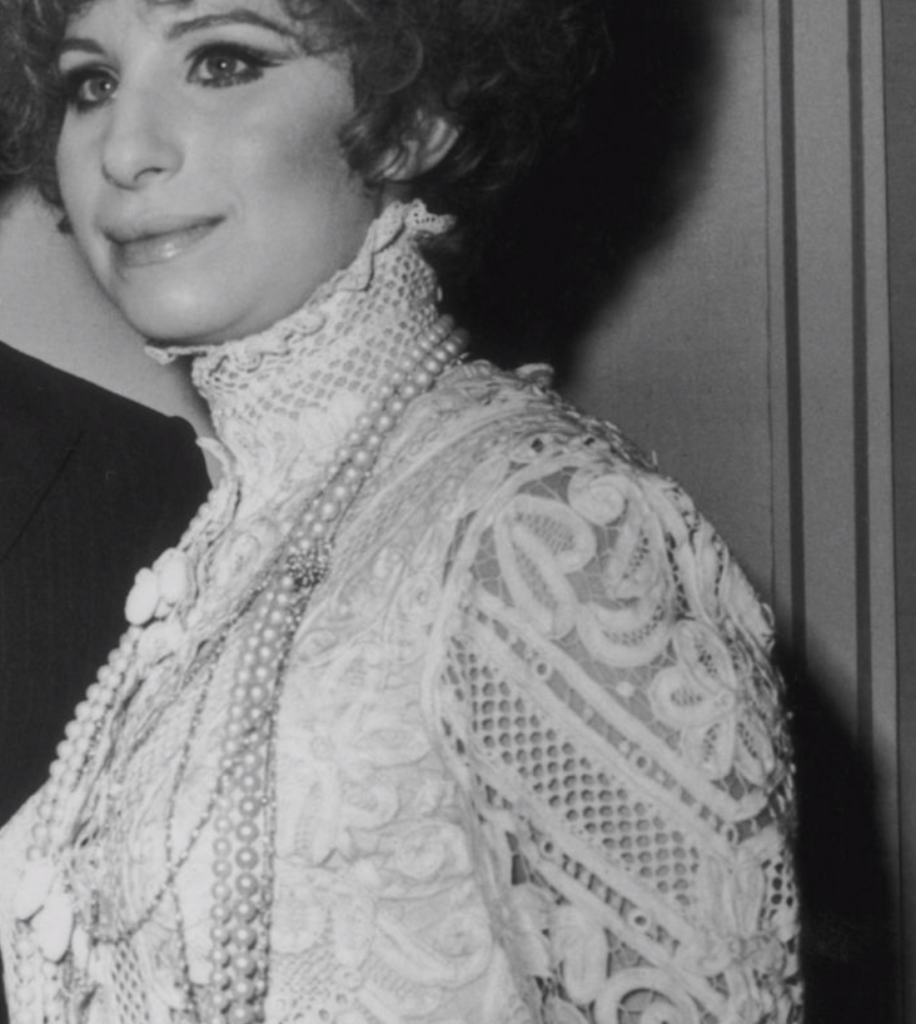 A sheer, long-sleeved lace appliqué overlay was worn over this underdress, which brings to mind Barbra's co-designed Donna Karan look from her 2019 NYC and Chicago concerts.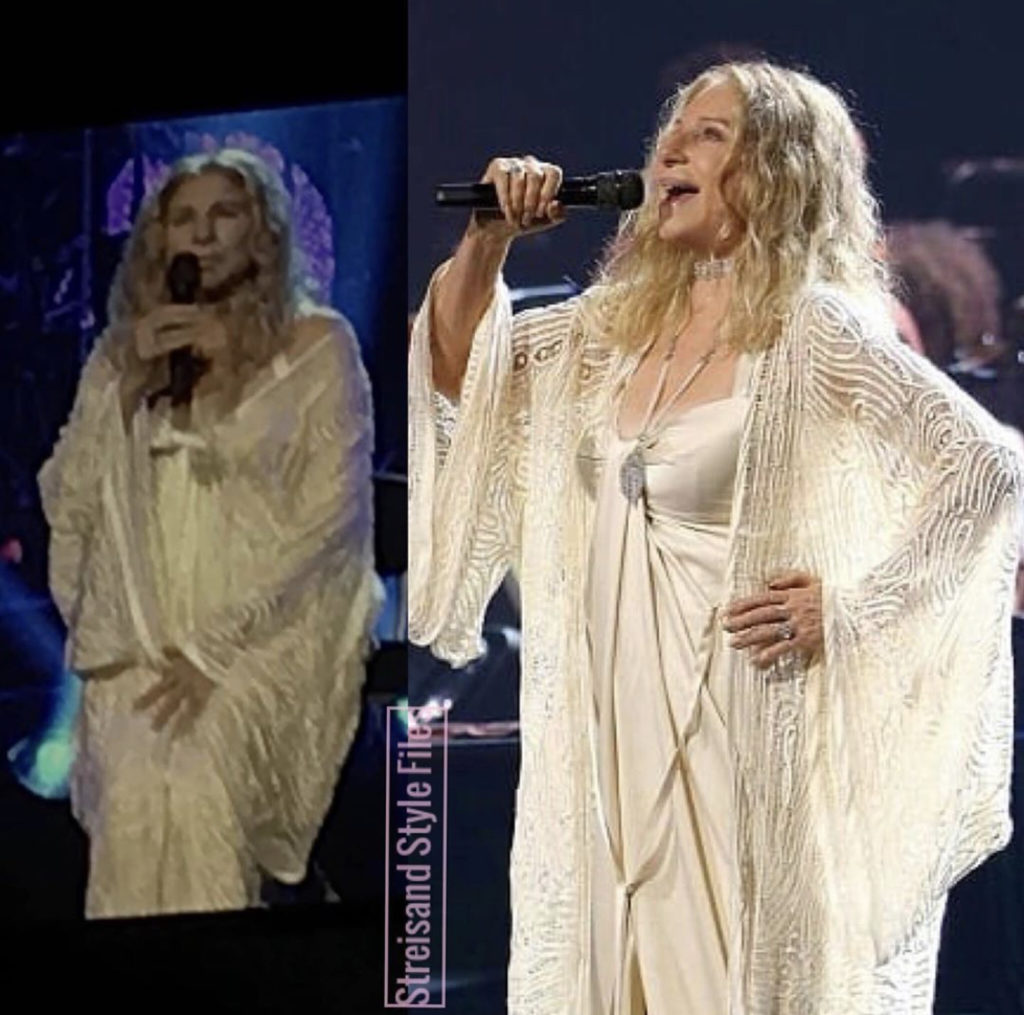 Barbra has worn cream many times over the years both onstage and off, and it seems to be one her her favorite colors.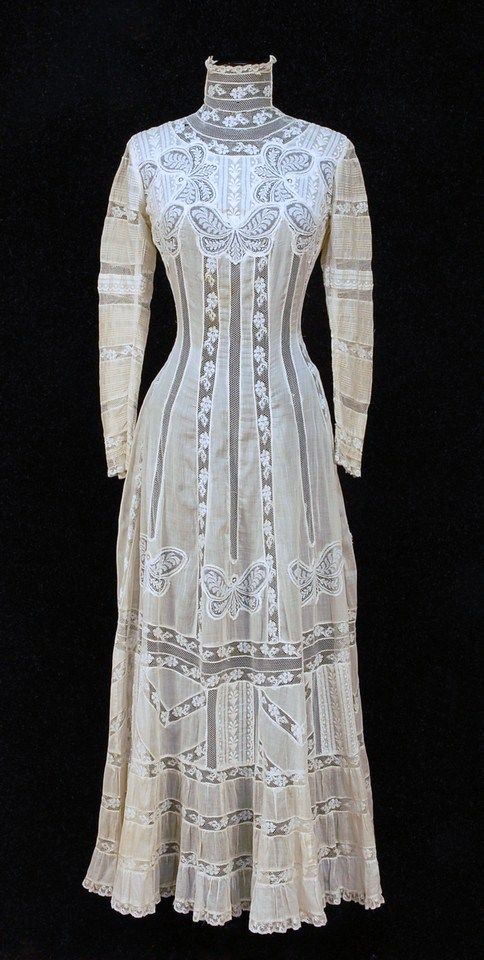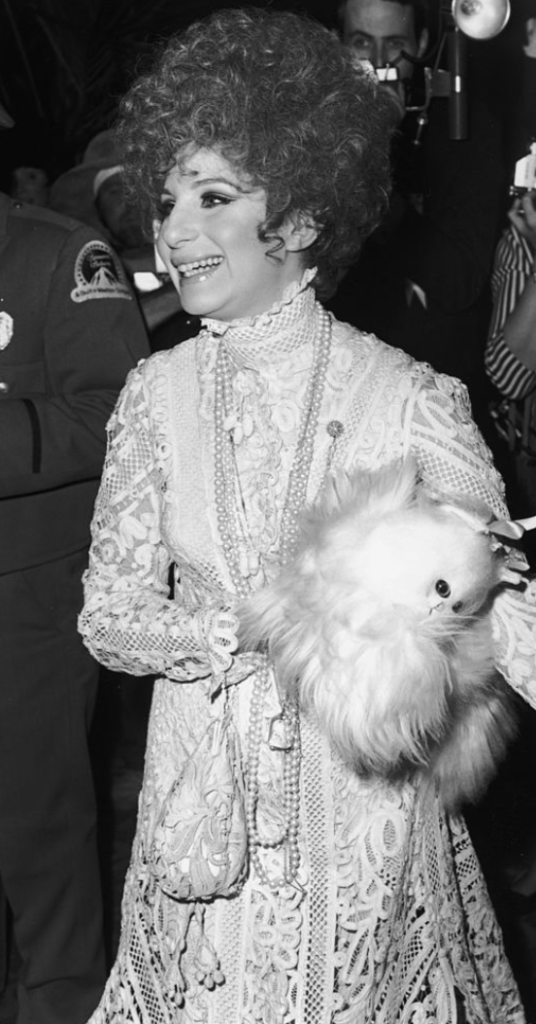 This intricate piece continues the lace pattern from the underlayerh's high collar, and has additional floral patterns with scalloped edging that run in vertical panels down the garment. There appears to be a hidden front closure. This was paired with two long dramatic strands of pearls and a multiple strand chain necklace which connected to a floral lapel pin. Another necklace contains tiny pair of rimless pince nez style glasses which were likely vintage. Barbra also carried a matching reticule purse.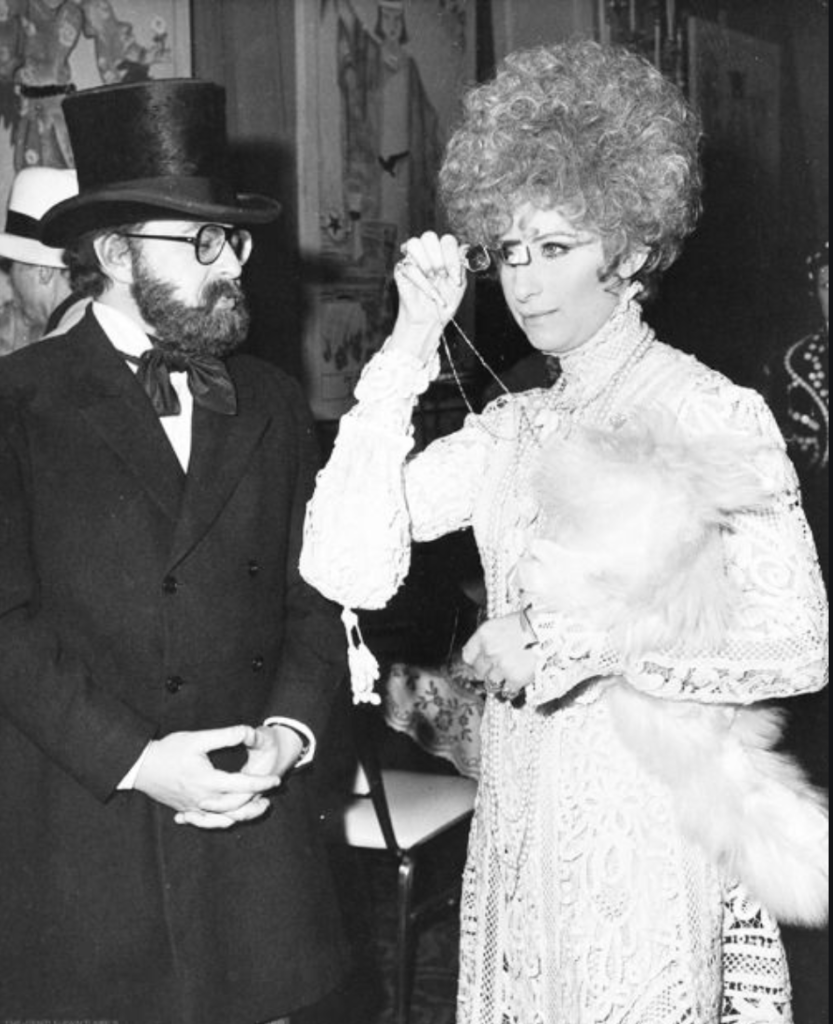 The underdress of this look sold for at auction $440.00 in 2004. It is likely that Barbra still has the beautiful lace overlay in her collection.