1970 Academy Awards pink gown and pillbox hat by Scaasi
Barbra Streisand wore this pale pink Scaasi gown and pillbox hat to the Academy Awards on April 7, 1970, where she presented the Oscar for Best Actor in a Leading Role to John Wayne.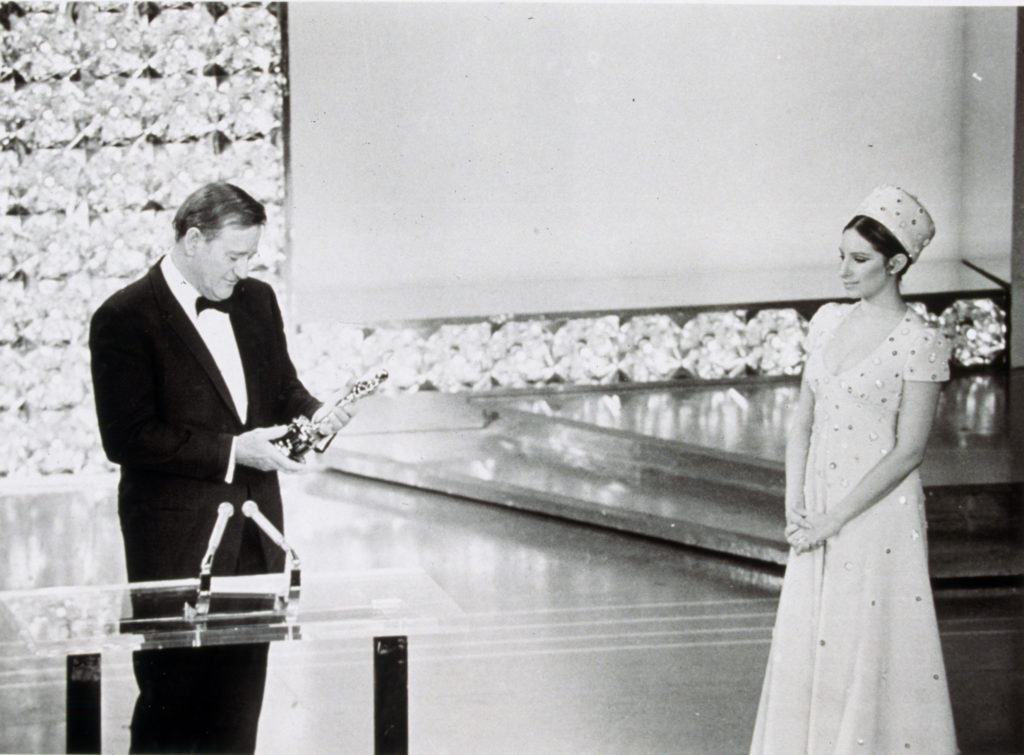 The previous year, Barbra had made one of the biggest fashion statements in Oscar history, so all eyes were focused on what she would wear as a follow up. In Arnold Scaasi's book Women I Have Dressed and Undressed, he recalls how the two decided on this look, stating "For the 1970 Academy Awards presentation, as we had made enough waves with the see-through outfit the year before, I decided we would go in a complete different opposite direction! I thought Barbra should just wear something flattering and really pretty. She loved pink, so we chose a soft pink silk crepe, again in the Streisand cut. The gown was long with tiny sleeves and a very low U-shape décollete. Embroidered here and there, scattered all over, were dime-size tiny mirrors encircled with seed pearls. The obligatory pillbox in pink with mirrors and seed pearls crowned her. Young and pretty, she was raveshing as she presented John Wayne with his Best Actor Oscar statuette—looking the antithesis of 1969."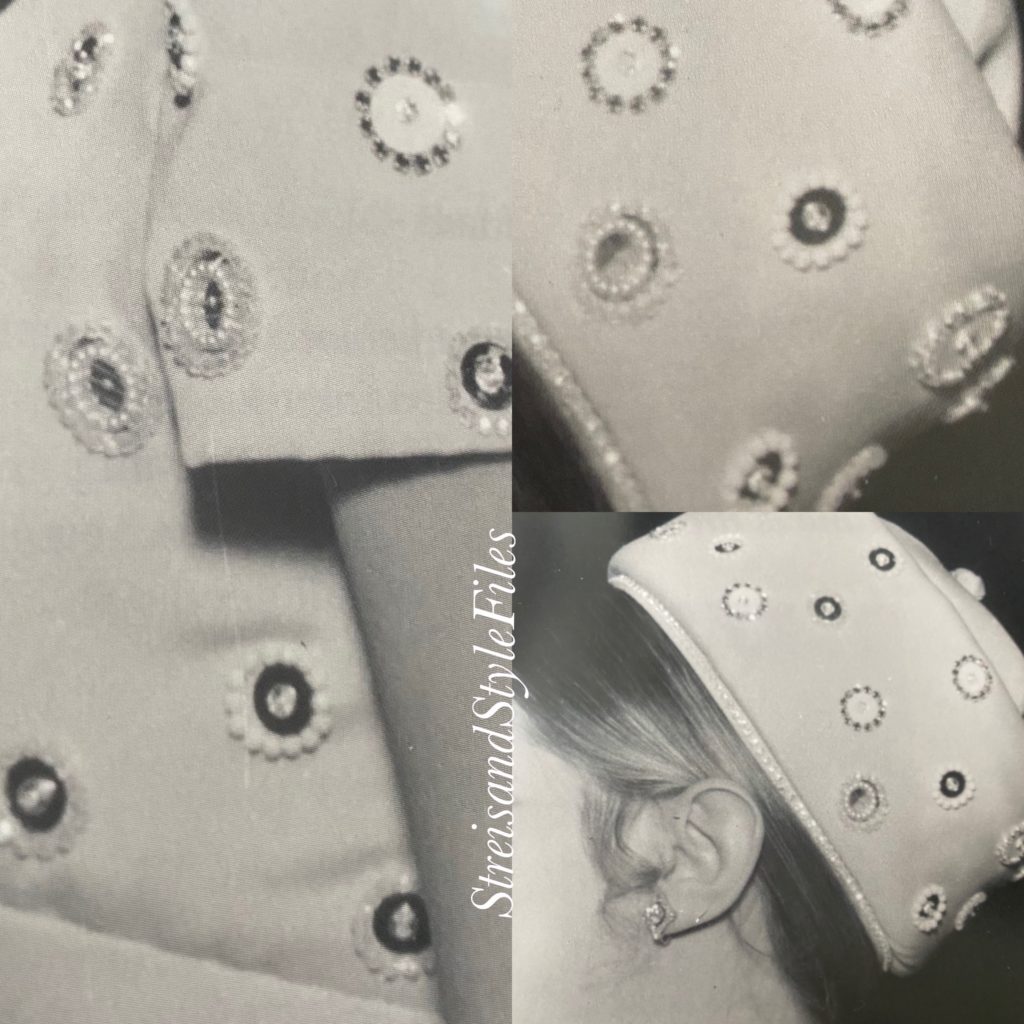 Barbra looked exquisite in this gown. Not only did this look embrace her youthfulness and utilize the cut that flattered her shape so well, there was also a major advantage to her quirky pillbox hat. She told the Hollywood Reporter "I worked very closely with Arnold Scassi on many outfits like this." She added, "I often wore the empire cut; it was so comfortable. And I love the color pink." As for the pillbox? "I was too lazy to have my hair done so I made a series of these matching hats so that I just had to part my hair in the middle, pull it back and wear the hat!"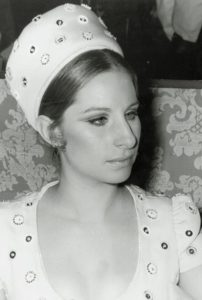 What I love most about this look is that its aesthetic truly encompasses the time period it was worn. There is the innocence of the 1960's alongside the spunk of the brand new 1970's decade, which is represented by the funky circular decorations. Pillbox hats exploded in popularity after Jacqueline Kennedy wore a sleek Halston pillbox to her husband's inauguration in 1961. Historically, the style of hat dates back to the Roman times when it was worn as military headgear. Pillbox hats were also worn by brides in medieval times. The pillbox hat got its name because people associated its shape with boxes made to hold pills. The style had surges of popularity in the 1930's, 1950's and 1960's. The hat was totally out of style by the early 1970's. Due to Jackie Kennedy's power as a fashion icon, most people today associate the pillbox hat with the 1960's.
Though Barbra looked simply dreamy in her Academy Awards gown, some critics were harsh on her regarding the stark departure from her outfit the year prior. Scaasi wrote that "Naturally, the press the next day made clear their shocked reaction to the difference; Women's Wear Daily called her outfit "Mother-of-the-Bride." Hollywood had never really cottoned to Barbra, often condemning her for her individuality, perfectionism and free spirit, not following the Tinseltown norm at all. One bitchy LA fashion journalist wrote, "She looked like she was going to her son's Bar Mitzvah."
The level of excitement and controversy surrounding Barbra's outfit speaks to what a powerful tastemaker she was at the time. She was not only redefining beauty standards, her fashion choices were extremely influential and trend-setting.
This gown remained in Streisand's personal collection until it was sold to benefit the Streisand Foundation at a Julien's auction in 2004. The winning bid of $9,900.00 was placed by Arnold Scaasi himself, who had set out to buy back many of his iconic Streisand-worn designs. The location of the matching pillbox hat remains unknown. Upon his death in 2015 more than 100 of his couture designs, as well as his sketchbooks were gifted to the Museum of Fine Arts in Boston. The 1970 Oscars gown, as well as several other famous Streisand looks were displayed in 2011 as part of MFA's "Scaasi: American Couturier" exhibition. All of these iconic creations currently remain in their archives.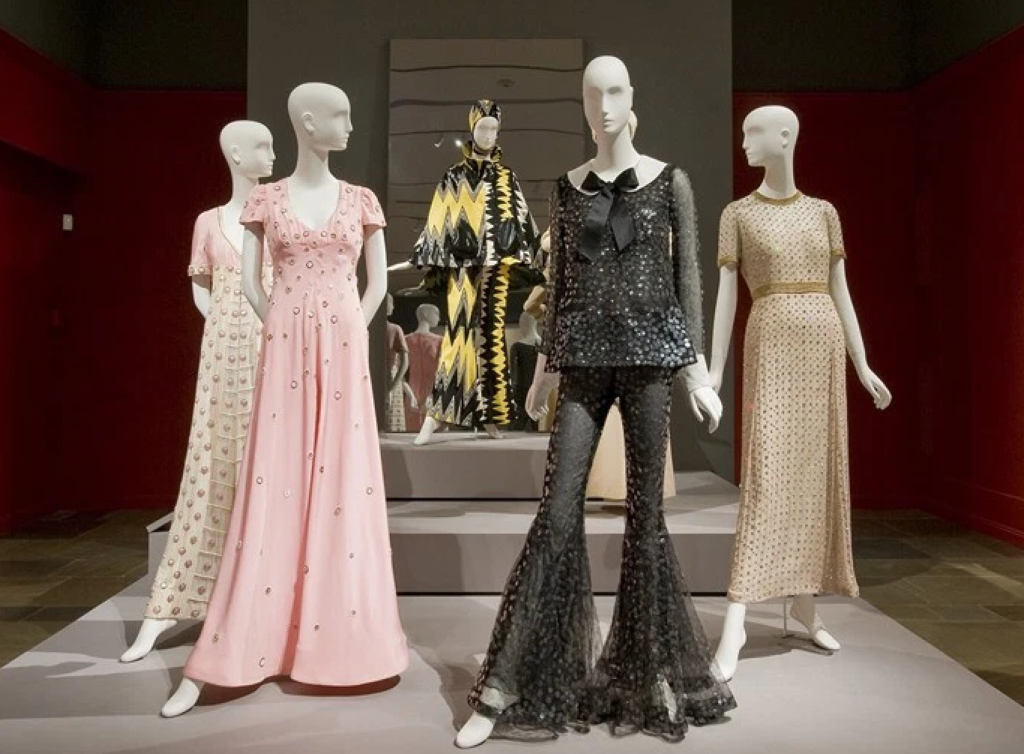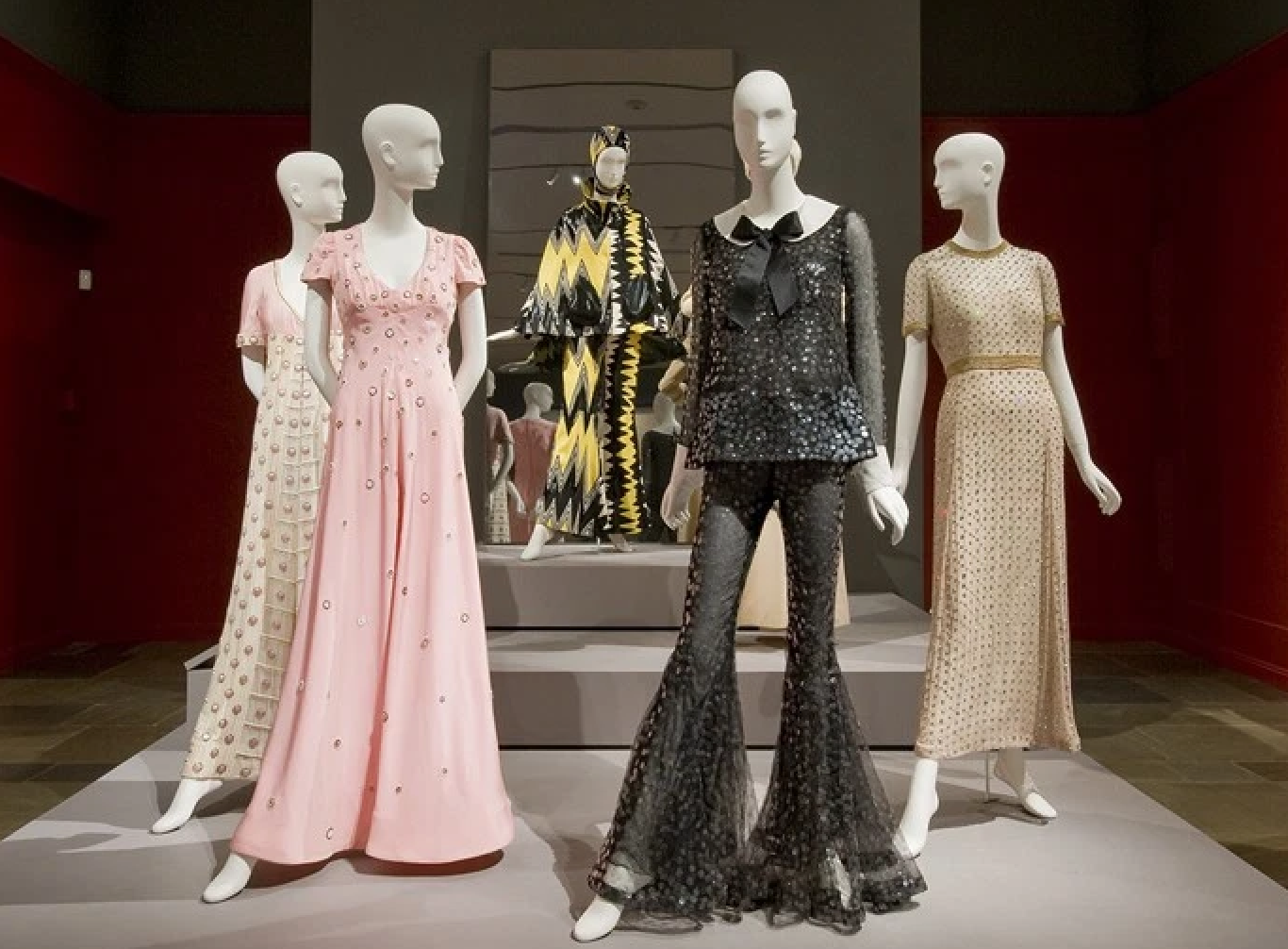 Marked accession number 2009.4086, MFA's file gives us a bit more detail on the construction of this gown, noting that the medium/technique is "Synthetic (cellulose acetate warp and rayon and cellulose acetate wefts) plain weave (crepe) embroidered with metallic thread, sequins (cellulose acetate with silver coating), plastic beads, and rhinestones; flat-lined with silk gauze." MFA states that the dimensions of the piece are "Center back: 147.3 cm (58 in.) Center front: 134 cm (52 3/4 in.) Bust: 33".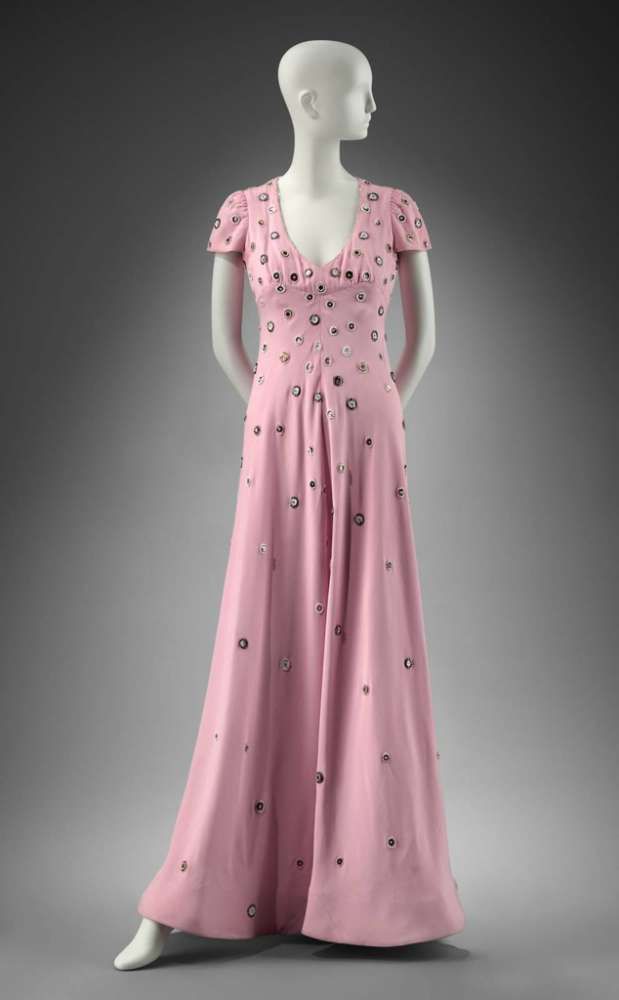 I'm hopeful that the MFA will stage another Scaasi exhibition in the near future so that I and fellow Streisand fans can admire the incredible detailing of this adorable look in person.