1972, On Location In Kenya For "Up The Sandbox" In An OG-107 Type III
Barbra Streisand wore this OG-107 type III Army shirt in June, 1972 during her visit to Kenya while filming Up The Sandbox. Barbra pitched the idea of filming on location in Africa for authenticity's sake and was able to get the producers approval to green light the trip.
The "OG-107" utility uniform was named for it's classic shade of 8.5 olive green, cotton-sateen. This uniform came onto the scene in 1952 and was phased out completely by 1989. During this time it was the standard uniform for stateside and overseas deployment.
Throughout the years the OG-107 evolved into three variants.
Type I (1952-1963), was a full uniform which included pants in the same color. This look was clean cut and modern compared to the previous WWII uniforms. The shirt featured two chest patch pockets with rectangular buttoning flaps, a notched lapel with a button hole and long sleeves with a simple hem. In the 50's the buttons were dark brown, but were changed to dark green in the 1960's. The shirt was worn was tucked into straight leg pants. Though manufacturing of this look stopped in 1963, it was still distributed to and worn by some troops in Vietnam.
Type II of the OG-107 was made from 1963-1964. It is the rarest of the three. There are two major changes in this version. Instead of single stitching, there is a double stitch at all seams. This shirt does not have a button hole at the collar and features chest pocket flaps which are clipped instead of square.
Type III (1964-1989), commonly referred to as starchies, are by far the most famous and photographed version of this uniform. This style is most closely associated with the Vietnam war. When veterans returned home and began to protest the war, they often wore their olive green shirts, turning them into a symbol of rebellion rather than obedience. John Lennon famously wore this shirt in the early 70's which continued the trend of civilians wearing the uniform piece as fashion. This is also the version that Barbra is wearing in her Kenya photos.
Major changes to this version were that the pocket flaps were pointed and slit button closures were added at the wrists. Buttons were changed to dull, cheap plastic and true sizing was adopted instead of the prior S, M, L sizing.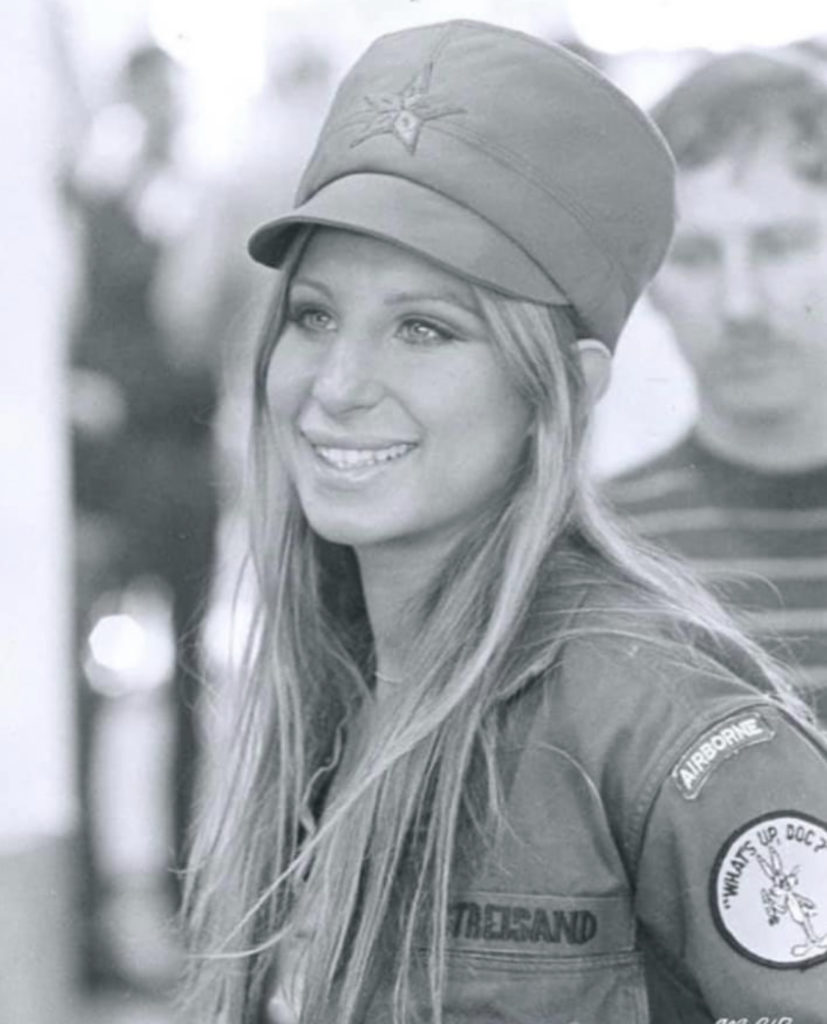 A second generation of type III was the OG-507. This was made from 1975-1989 and was the first model that switched from 100% cotton to a 50/50 poly/cotton blend. These are often referred to as dura-press or wash and wears, since they required no starching. They can often be identified by the yellow tag in the garment. By 1989 this style had been completely phased out by the woodland pattern BDU which would be used in service through 2012.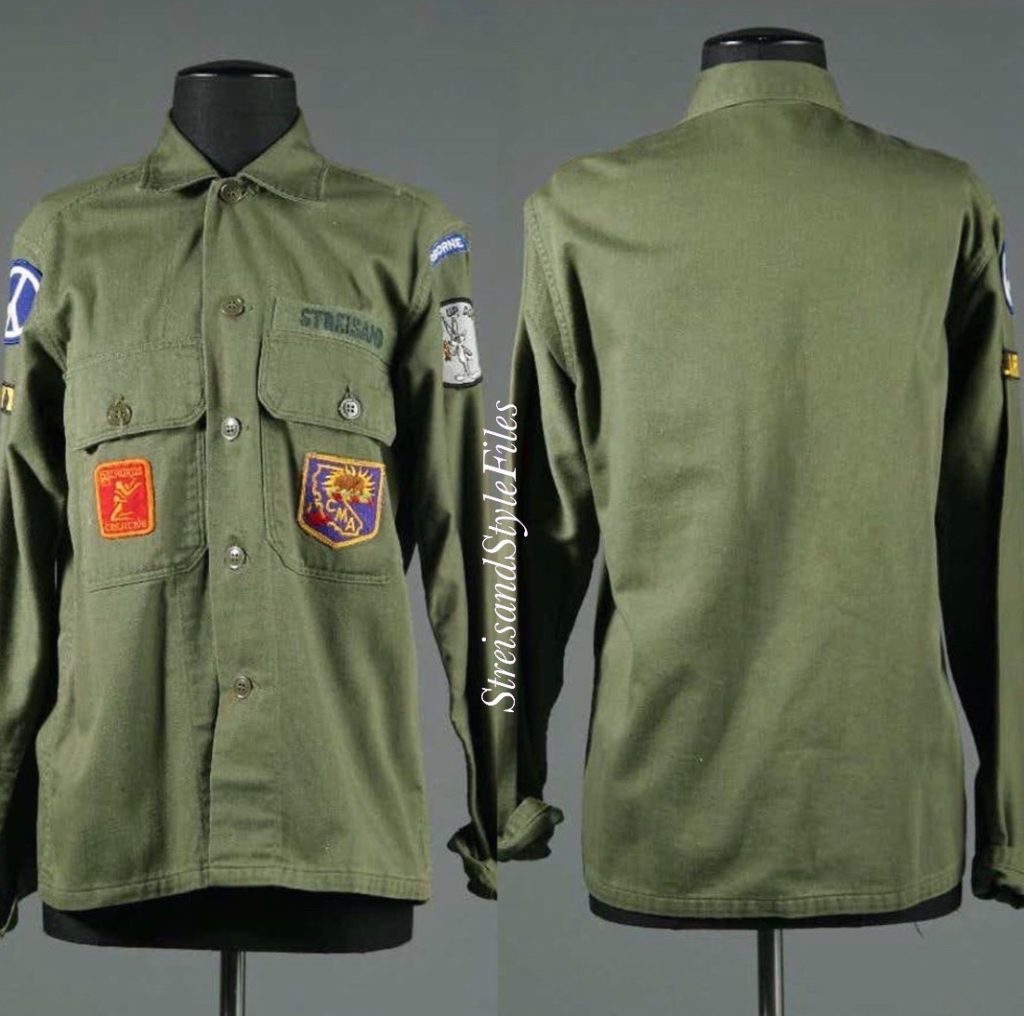 The left side of Barbra's OG-107 touts a custom Streisand name-tag. The U.S. military began making use of name-tags during World War II for combat and work clothing, but eventually extended them to dress uniforms.

The left sleeve has a U.S. Army 82nd Airborne division patch. This division is a branch of the U.S. Army specializing in parachute assault operations into denied areas. This is the Army's most strategically mobile division and known as the best trained light infantry division in the world. Below this is a Bugs Bunny 3" canvas, sew on patch reading "Whats Up Doc." This was a nod to Barbra's film with the same title which had opened just three months prior.

The front left pocket has a California Military Academy insignia patch. CMA is a branch of the California Army National Guard located at Camp San Luis Obispo. It was established in 1950, but called "Officer Candidate School" until 1961.
The right pocket of the shirt has a very 70's sex sign astrology patch reading "Taurus Creative" that is 2 ½ X 2".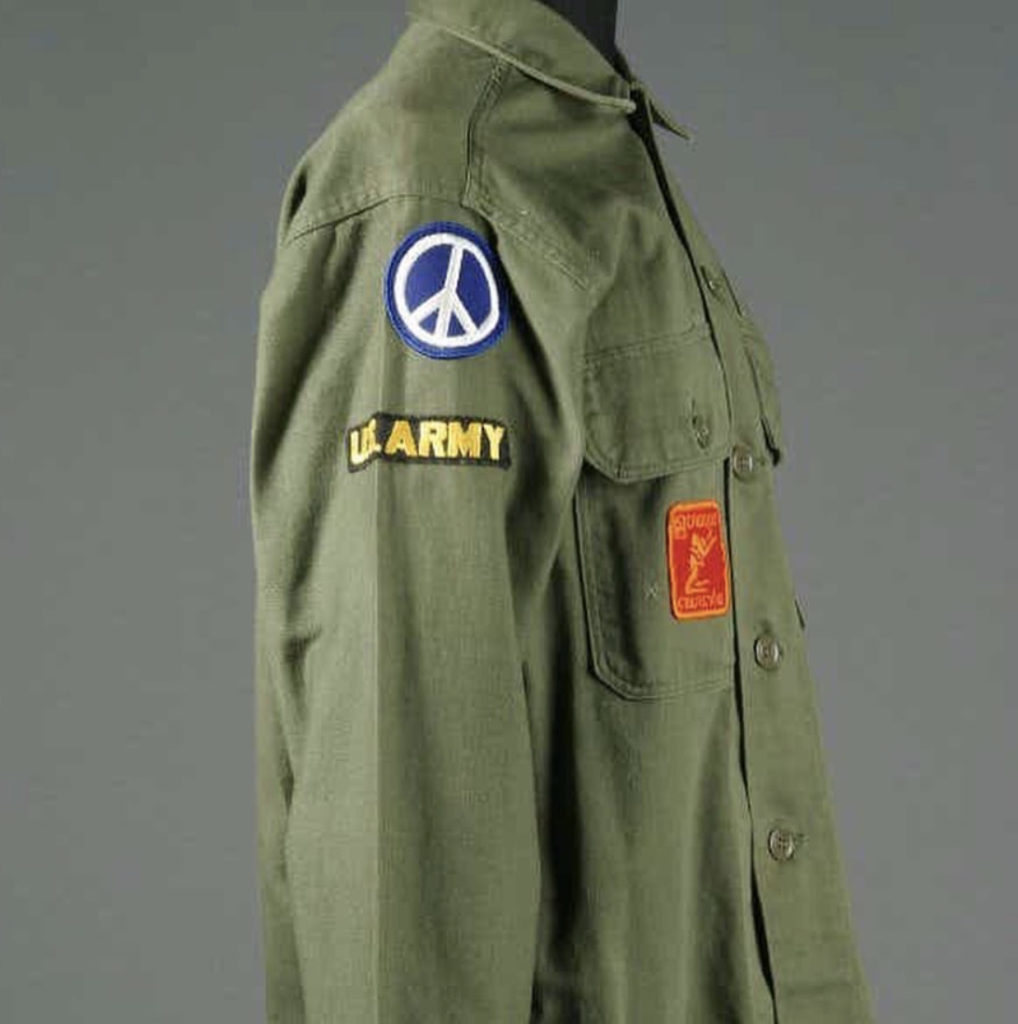 The right sleeve has a large blue peace sign patch, as well as a U.S. Army shoulder sleeve insignia (SSI). The shirt also features two button closure patch pockets, a spread collar and a five button front closure. This shirt sold at auction in 2004 for $3,600.00 including the buyers premium.