2010 Academy Awards in a haute couture tuxedo designed in collaboration with Randolph Duke
Barbra Streisand collaborated with Randolph Duke to design this haute couture tuxedo skirt-suit for her Academy Awards appearance on March 7, 2010. This was a particularly significant occasion, due to Streisand presenting the award to the first female ever to win an Oscar for directing; Kathyrn Bigelow for The Hurt Locker. Without Barbra having broken down so many barriers for women directors over the years, this moment would not have been possible. Though she was merely presenting this award, it truly felt like in this moment Bigelow and Streisand were shattering the glass ceiling together.
Randolph Duke had previously collaborated with Barbra on outfits for her 2003 Academy Awards appearance as well as for her 2006 concert tour. In a review for Duke's 2006 book The Look: A Guide to Dressing from the Inside Out, Barbra stated "Randolph is talented and easy and fun to work with . . . a doll." Duke noted that this couture tuxedo was "Inspired by menswear and feminized with a hand beaded blouse made of Victorian lace from Barbra's personal collection."
This sleek tuxedo jacket features a satin peak lapel and jetted pockets. There are four satin-covered buttons at the front and three on each cuff. It was worn open to accentuate the focal point of the look; an antique lace blouse which has a cascading front closure resembling a fichu. Tiny silver beads are dotted throughout the lace and add an understated sparkle. This silver detailing was accentuated with a small silver brooch at the décolleté and a layered, multi-strand diamond necklace. The scalloped edges of the blouse peeked out from under the tuxedo sleeves creating romantic and elegant cuffs. A black waistcoat was layered over the sheer blouse. The fitted maxi/pencil skirt has a thigh-high slit on the left side with silk-satin trim, which brings to mind Barbra's iconic 1960's skirts.
Knowing that she was going to be part of such a historic moment for women directors, it is clear to me why Barbra chose this powerful outfit. She had previously used three-piece skirt suits to make a statement on gender roles, one of which caused a major controversy. After performing at Bill Clinton's Presidential Inaugural Gala on Jan 19, 1993, Anne Taylor Fleming wrote a scathing Op-Ed for The New York Times titled "Peekaboo Power Suits" slamming the outfit choice as a mixed message. Streisand recalled the controversy surrounding her sexy three piece suit in an interview with Elio Iannacci which was published by Macleans on Nov 2, 2018.
Iannacci told Barbra, "Entire essays have been written—including from critics like Camille Paglia—about how you revolutionized gender roles." To which she responded, "She saved me once. She responded critically to a New York Times piece that put me down after I sang at Bill Clinton's 1993 inauguration. I wore a man's suit because I love the combination of the feminine and masculine. I love it in architecture, as well—I put pink velvet on my masculine Arts and Crafts furniture. I've always loved that combination. I asked Donna Karan to make me a long skirt with a slit out of dark-grey pinstriped wool. I wanted a vest. I wore diamonds with it. The New York Times—Anne Taylor Fleming—wrote a terrible piece. She said I was doing something wrong because I was selling sexuality. Camille Paglia wrote: "Barbra Streisand did not deserve Anne Taylor Fleming's censorious, schoolmarmish putdown of her inaugural gala suit."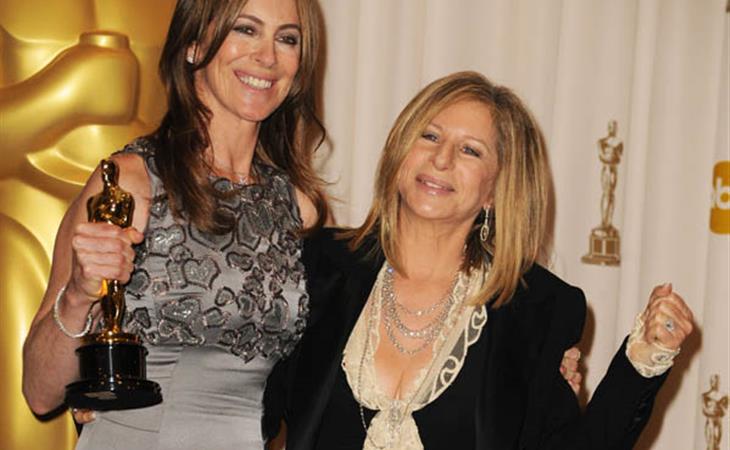 Barbra choosing to wear this look again to the 2010 Academy Awards was most certainly a nod to the constant battle with men that women directors continue to face. When Streisand set out to make Yentl she was forced to drudge through the misogyny engrained in the "Hollywood boys' club." Streisand fought to prove herself in ways that a male director would never have been challenged to. In a 2021 interview with Seth Abramovitch for the Hollywood Reporter, she recalled the night she made history by becoming the first female ever to win the Best Director Golden Globe Award in 1984. "I was totally shocked and couldn't believe it when they announced my name as best director. It was an incredibly thrilling moment for me. And deeply meaningful, because I had been trying to make this movie for 15 years. There was so much controversy around it. People had made such a big deal about an actress who tried to do more than one job. I was doubly surprised when they told me in the press room that I was the first woman to get this award. Then to sit down and be called up again when Yentl won best picture comedy or musical was overwhelming. When I got home that night, I couldn't sleep from sheer excitement. Of course, eating a pint of coffee ice cream probably didn't help." 
In 2021, a new record was set when three female directors were nominated for the Best Director Golden Globe Award and Chloé Zhao won for Nomadland. It took a painfully slow 37 years for the torch to be passed from Streisand. When asked why she felt this progress has taken so long, Streisand said "I've always thought women are intrinsically powerful. And some men still don't want the competition. Thirty-seven years ago, the industry was mostly run by men. Directors were mostly men. It's taken years for women to accept their own power and say, "I can do this!" Initially, I was looking for someone else to direct Yentl, until I realized that none of the men I approached had as strong a vision of this movie as I did. So I took the chance. It's only recently, with the #MeToo movement, that women have come together in strength to support each other. And that makes a huge difference." She added that she feels the current nominations mark a turning point for women in Hollywood, stating  "I love it. I never thought I'd see the day when three out of five nominated directors would be women. It brings a huge smile to my face.There were wonderful movies in the last few years directed by women. Queen & Slim, Little Women, Mudbound, Wonder Woman, The Nightingale. And they were all overlooked. So it's really gratifying to see these three very distinctive films made by incredibly talented women nominated. l think there's more equality now — not only in Hollywood but in society in general. And I see more and more powerful women all around the globe, some even running their own countries and doing a fantastic job! I'm thrilled."
Though promising progress has been made by the Hollywood Foreign Press Association to recognize women directors, The Academy of Motion Picture Arts and Sciences has proved to be far less willing. The Academy Awards have been shutting out female directors (including Streisand) from nominations for many years, even when their films were the most critically acclaimed and nominated for Best Picture. In the 93 year history of the Academy Awards only seven women have ever been nominated for Best Director. Two of these nominations happened in 2021. To date, Kathryn Bigelow remains the only woman to have won this award. Bigelow's win drew some to complaints of sexism within the Academy, since the film featured a mostly male cast and storyline. The Los Angeles Times' Pete Hammond has said, "She made a movie that looked like it was directed by a man."
In 2020 Eliana Dockterman addressed this issue in her TIME article "Why Do the Oscars Keep Shutting Women Out of Best Director? This One Academy Rule Helps Explain It." She shared that the number of female directors had increased in recent years, noting that "According to a report from the University of Southern California's Annenberg Inclusion Initiative, women made up 10.6% of the directors of the top 100 grossing movies from 2019. That number is up from 4.5% the year before, and the highest since the institute began tracking the data in 2007."
Though many people assume that all members of The Academy of Motion Picture Arts and Sciences are responsible for choosing the nominees for Best Director, this is not the case. Dockterman states that "Though the entire Academy votes on which nominees in all categories will win an actual Oscar, each branch votes on the nominees for its specific category. So the Academy doesn't choose the Best Director nominees. The directors' branch does. Diversity may be growing in the Academy as a whole, but the directors' branch hasn't necessarily reached parity. The Academy declined to share the gender breakdown of the directors' branch with TIME. But the rules to join are structured in a way that might limit the number women directors who are able to gain entry. According to the Academy's website, members must have at least two directorial credits, at least one of which had to premiere in theaters in the last 10 years. The films must also be deemed "of a caliber which, in the opinion of the executive committee, reflect the high standards of the Academy." A director with only one credit to their name might also qualify if that film is nominated for Best Directing, Best Picture or Best Foreign Language Film, or if the executive committee decides to make an exception based on some "unique distinction" or "special merit." (It's unclear how often that happens.) Those rules sound reasonable enough, but they present a major obstacle for female directors, who receive dramatically fewer opportunities to direct a second film than their male counterparts. According to the Annenberg Institute, women directed just 4% of the top 1200 films from 2007 to 2018. Of those female directors, only 17.4% had gotten to direct another movie beyond their debut feature (13% directed a second, 2.2% a third, and 2.2% a fourth). By contrast 45.7% of men who made a top movie in the last decade had gotten to direct more movies after their feature film debut (21% a second, 13.1% a third, 6.2% a fourth and 5.5% a fifth or more)."
The upcoming 93rd Academy Awards are making history by having two female directors nominated for Best Director category for the first time ever. This is a step forward, but highlights the lack of equal opportunity for women directors that still exists in Hollywood. Nether-less, those who pursue this career path will forever be indebted to Barbra Streisand, who helped pave the way and empower so many women to push past antiquated gender roles.