2013 Academy Awards "City Lights" gown. A design collaboration with Donna Karan
Barbra Streisand worked with Donna Karan to design this gown, which she wore to perform at the 85th annual Academy Awards on February 24th, 2013. This marked the first time in 36 years that Barbra had performed on the awards show. During the in memoriam segment, Barbra sang The Way We Were in honor of her friend, legendary composer Marvin Hamlisch who had passed away suddenly on August 6th, 2012. Barbra's passionate performance of the song was incredibly moving and a highlight of the evening. To add a personal touch for her longtime friend, she changed the last lyrics of the song to "the way you were."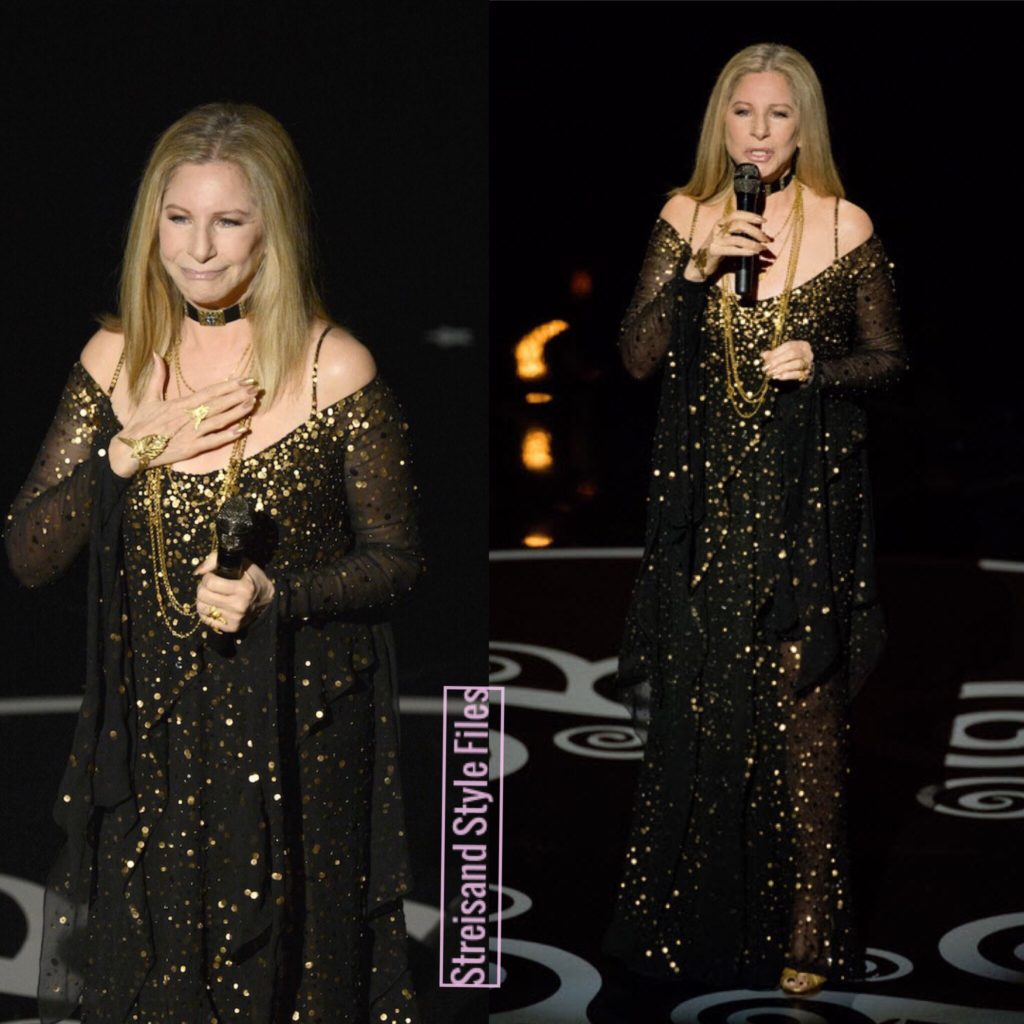 This look was a total knockout, and combined aesthetics from several Streisand eras. The first thing that comes to mind when I see the sheer, round payette covered black chiffon is, of course, Barbra's iconic 1969 Scaasi Oscar's outfit. The gold shimmer, choker and cut of the neckline gave me a bit of Dolly at Harmonia Gardens, while the edgy finger bracelet and layered chains take me back to the 1970's. This gown also touts the 1990's Donna Karan classic cold-shoulder, along with a quintessentially Barbra left side slit in the underskirt. Barbra's hair was in a simple straight lob, but had the little detail of her signature 60's hair bump at the back. Chef's kiss.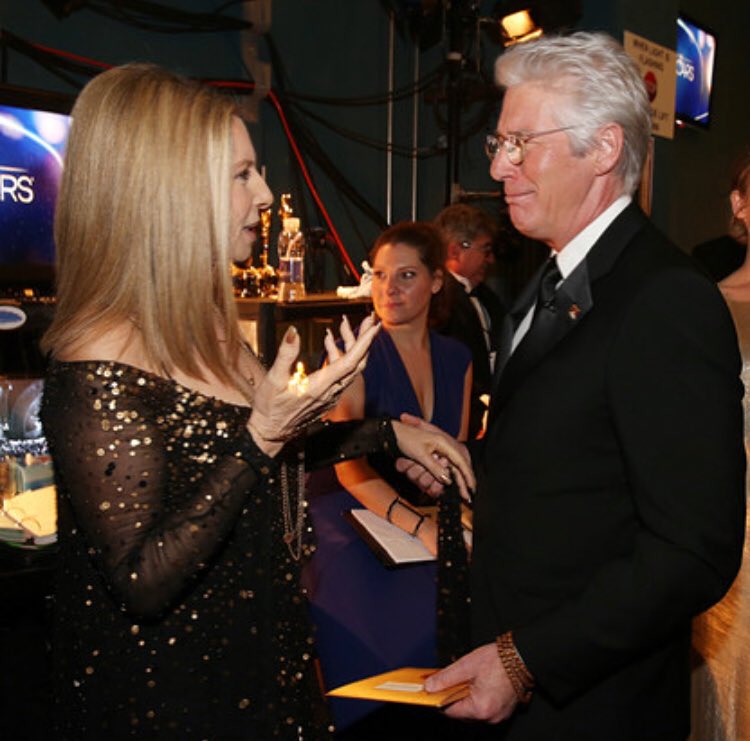 At the Governors Ball after-party, Donna Karan talked about the way she and Barbra worked together to create this gown stating, "Everything I do with Barbra is a collaboration, born of our artist, our friendship and our love for one another. We're sisters." She added, "It was really a collaboration to celebrate her shining star. her lightness. That's why it's black and gold. And then when we saw the set, it was one of those things that rarely happen in life, it's very rare that you get that pull. And she just radiated." Karan named this gown "City Lights".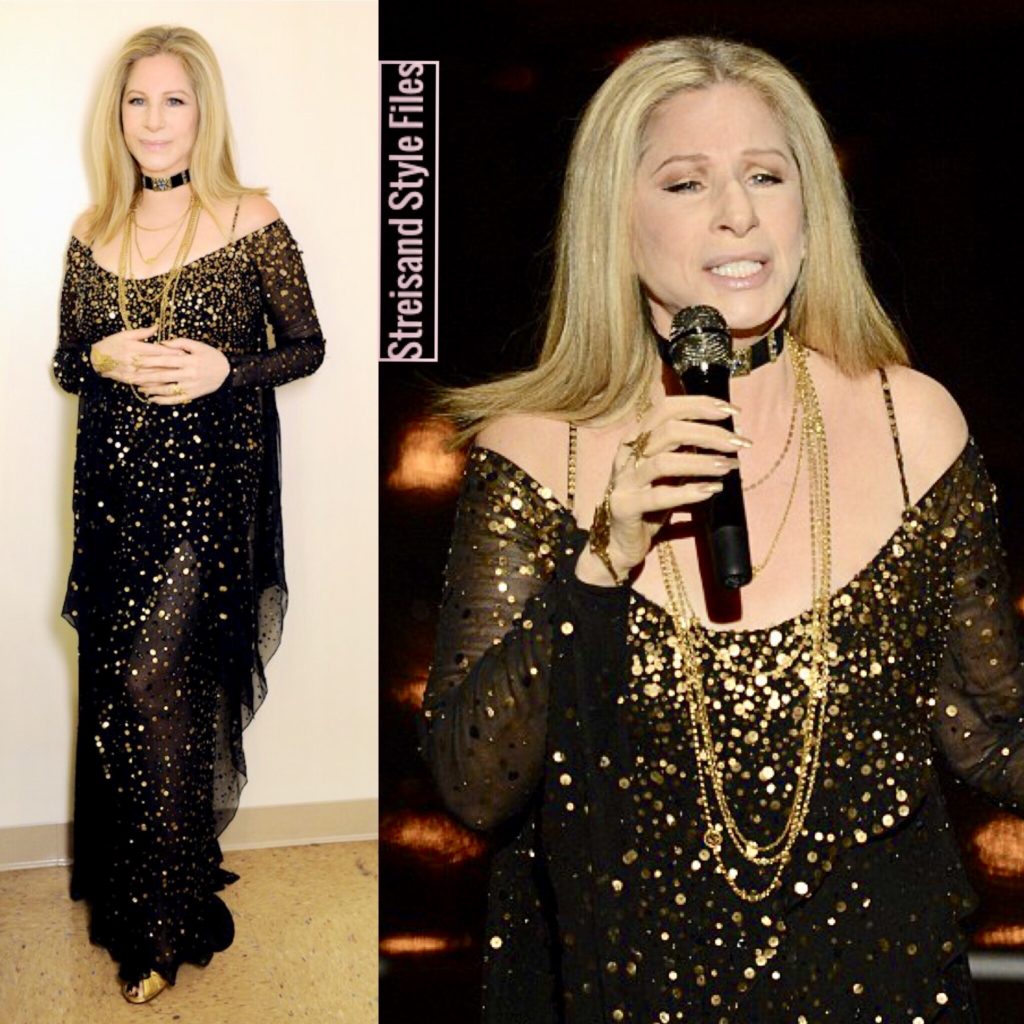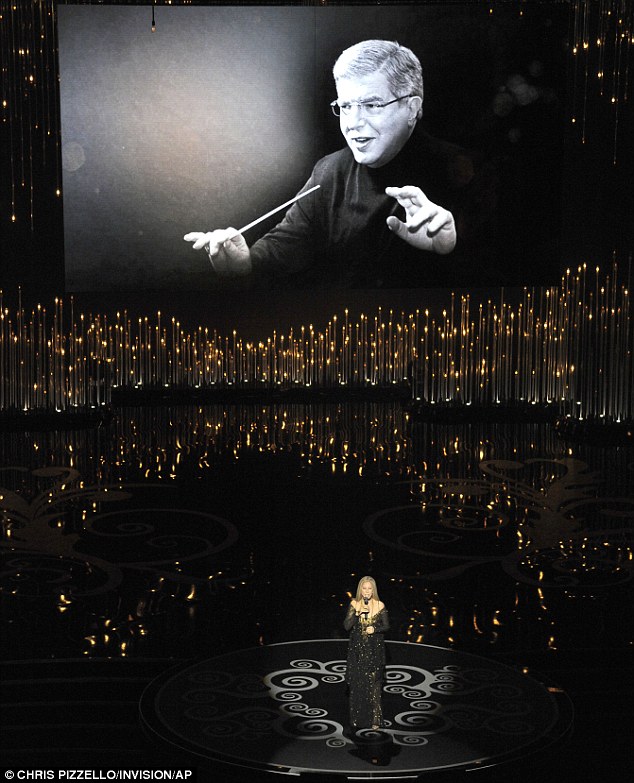 This asymmetrical gown was made from black chiffon. It is decorated with gold beads and matte gold sequins in varying sizes which were sewn on in subtle gradations. The gown is held up with spaghetti straps, each decorated with petite gold sequins. These lead to Karan's classic cold shoulder sleeves and a dramatic scoop neckline. Three layers of chiffon, draped on the bias accent the front of the gown giving it an Edwardian vibe. The long, fitted, sheer chiffon sleeves each feature cascading chiffon at the wrists. The underdress features a thigh-high slit on the left side, which peeks through the transparent chiffon. The back of the gown has a flowing floor length chiffon cape and a concealed zipper closure.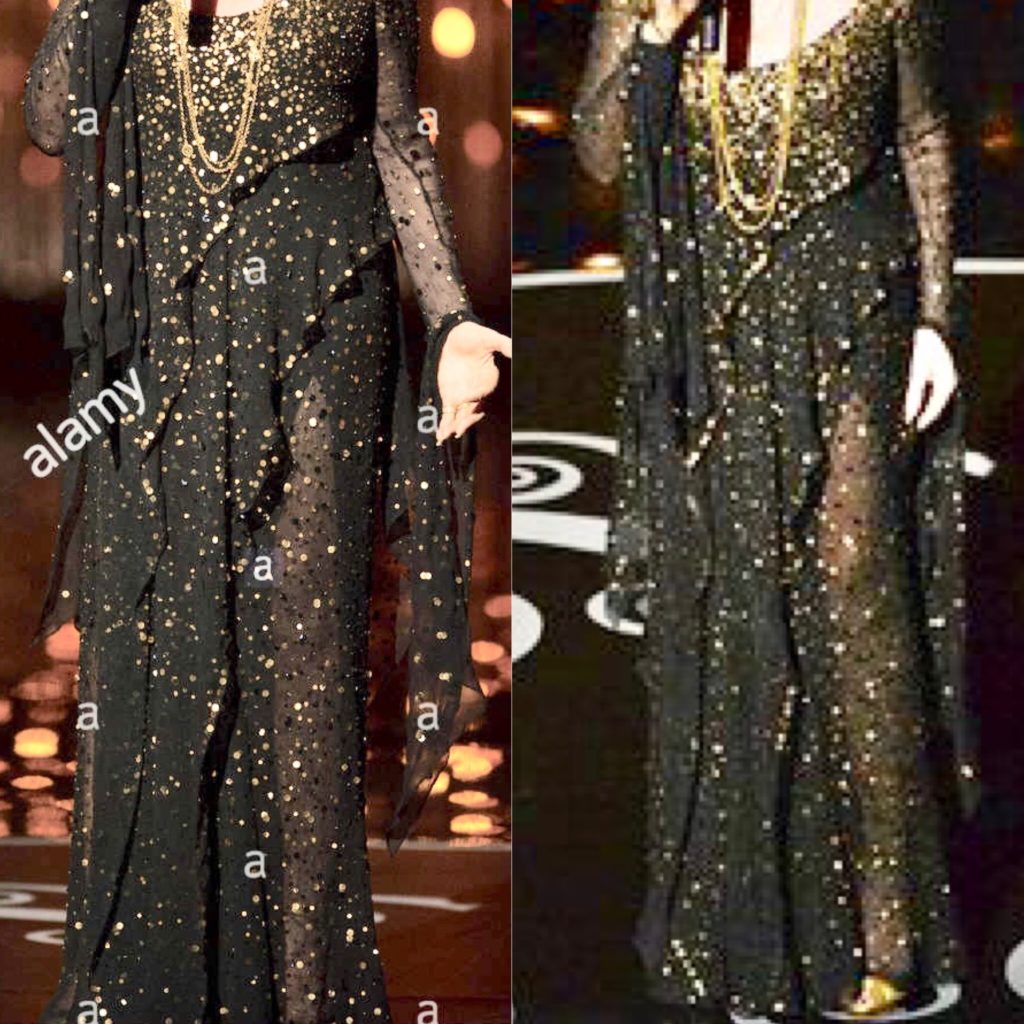 Streisand attended the Governors Ball after the Academy Awards where she was photographed multiple times in this gown. These photos give a bit more of a glimpse into the stunning detailing not visible from stage. The "City Lights" gown proved to be one of her most memorable Oscar looks to date.