A Fortuny Velvet Evening Coat From Funny Girl
This stunning Fortuny burgundy evening coat was procured by Irene Sharaff as a part of one of Barbra's Funny Girl costumes. Though the coat did not make it into the film Barbra was seen modeling it in a short special titled "The Look Of Funny Girl" from 1968. (Read all about the matching Fortuny dress here.)
In her 2010 book "My Passion For Design" Barbra devotes a generous section to this look. She recalls "I thought the Fortuny dress was gorgeous. Utterly simple-held together by a thin silk cord at the shoulders and very complex with that infinitesimal pleating. No one has ever figured out how he did those tiny pleats. It's like Tiffany glass in a way. You can't quite duplicate it, although many people have tried." Having unlocked this method, the House of Fortuny has recently begun to recreate these famous dresses.
Fortuny coats were all one of a kind stunningly detailed creations which were hand stenciled and sometimes embroidered. They were made in a variety of shapes and fabrics including velvet, gauze and silk crepe. Fortuny's coats often took inspiration from Persian, Arabic and Renaissance styles. They are typically elaborate and sometimes decorated in historical motifs which contradict the cut and style of the coat.
Barbra's Fortuny coat features the designer's iconic unstructured silhouette which made his pieces so easy to wear. Here we see Fortuny's translation of a caftan into an outer garment. The burgundy mandarin-silk velvet is hand printed with a stylized fern pattern made from metallic gold powder. The pattern is dense in certain areas but also delicately edges the entire garment. The rounded collar is tied with a matching burgundy braid, ending in two brown Murano glass beads. The front hem is weighted and the garment is lined in red silk.
From my research I would estimate that this coat is circa 1920-1930. This print was reproduced on multiple colors of velvet. A black version of Barbra's rare coat was displayed at Palais Galliera's exhibit "Fortuny, A Spaniard In Venice" in 2011.
Barbra initially sold her coat at auction in 2004 for $2,350.00, but it is now back in her private collection as evidenced by the photo of it hanging with its matching dress in "My Passion For Design."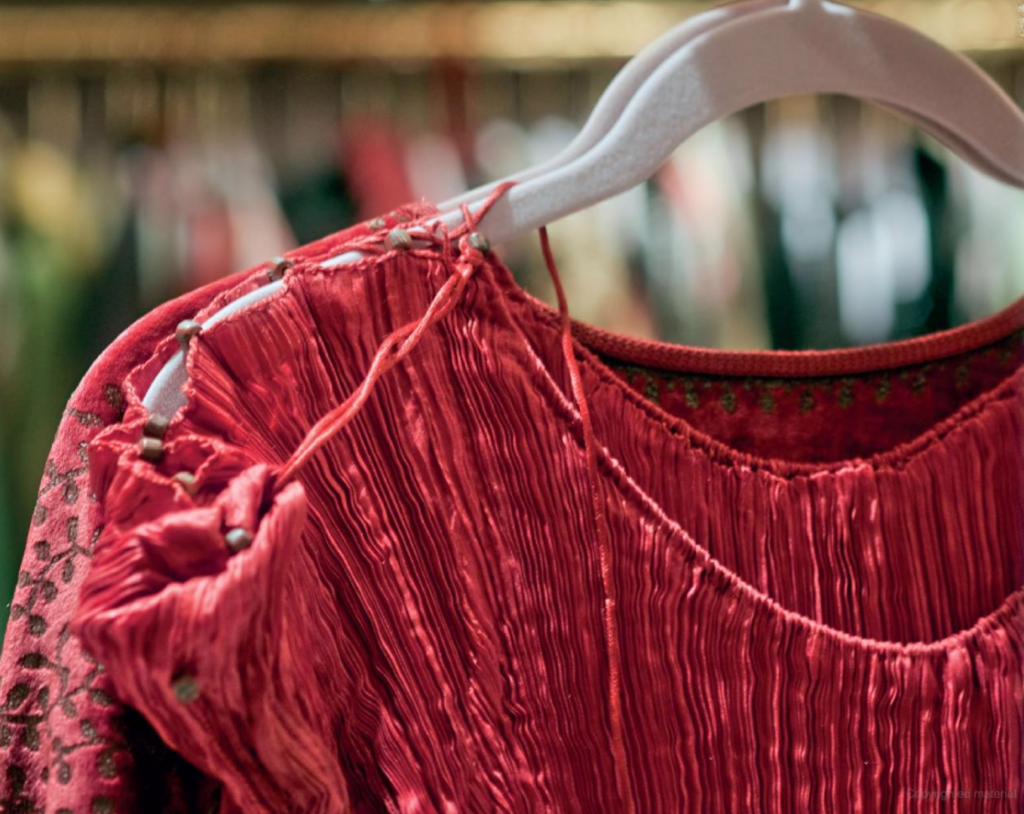 Mariano Fortuny (1871-1949) was born into a renowned family of artists in Grenada, Spain. At 18 he moved to Venice where he established his career. He began working in many areas of the arts including theatrical lighting where he invented cutting edge techniques like the cyclorama dome. He opened his couture house in 1906, and the first Delphos gown was created in 1907 as a collaboration between Fortuny and his wife & muse Henriette Negrin. The "Delphos" (names after the Greek statue Charioteer Of Delphi) was a direct reference to the chiton of ancient Greece, and meant to be worn without undergarments.
The Delphos was originally intended as informal clothing to be worn solely around the home. These finely pleated silk dresses eventually became evening wear and Fortuny's most famous design. His method of pleating was a closely guarded secret involving applying heat to wet fabric. He patented this method in 1909 under the name "Genre d'étoffe plissé. The Delphos dresses all featured glass Murano beads strung on silk cord along each side seam. The beads are decorative but also serve the purpose of weighing down the silk for a smooth fit. These dresses began to be distributed in the USA in 1928 & were made until Fortuny's death in 1949. Today, Delphos gowns are extremely valued and collectable selling for upwards of $10,000.