"A Star Is Born" Silver Art Deco Gown, Designed By Barbra Streisand
Barbra Streisand wore this sumptuous, slinky silver gown and shawl in A Star Is Born (1976). As Streisand fans know, the wardrobe from the film was famously credited as "Ms. Streisand's clothes…from her closet."
Like many of the outfits in the film, this one was designed by Barbra herself. This iconic look can be seen in the film when Esther Hoffman wins her Grammy Award, starting at one hour and thirty-eight minutes in. It was also worn in publicity stills. Barbra wore this gown again to the real life Grammy Awards on February 19th, 1977.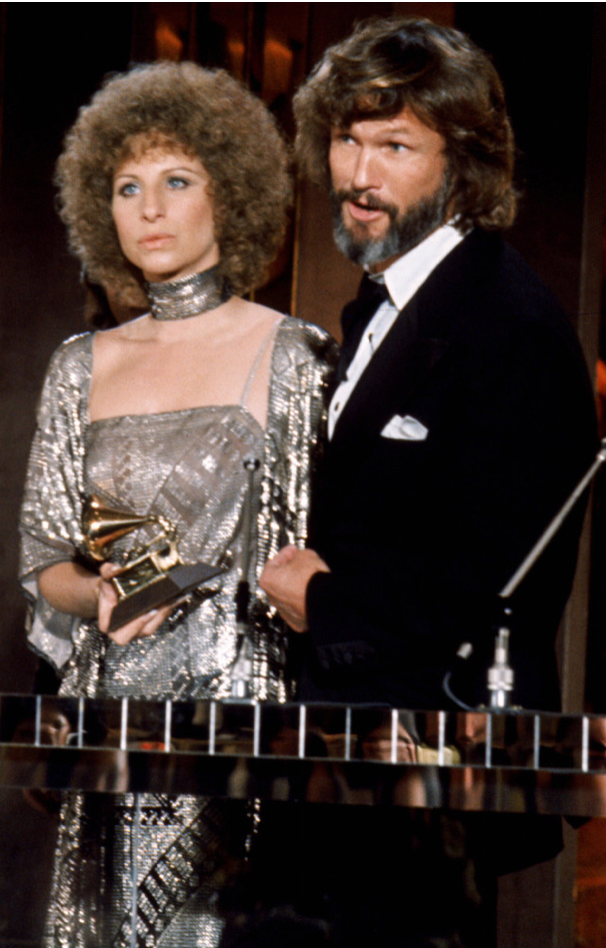 The inspiration for this gown began when Barbra draped a couple of her silver and black Art Deco shawls. The texture, patterns and color of these shawls are constant with Egyptian Assuit shawls, also know as Tulle-bi-telli (net with metal). The name Assuit is derived from their city of origin, Asyut, Egypt. These were created by threading wide needles with flat strips of metal, which were weaved into a linen or cotton netting. They were then flattened, hammered or rolled to achieve the desired effect. The Art Deco period saw a surge in Egyptian motifs and Assuit shawl popularity after the discovery of King Tut's tomb in 1922.
Like Barbra's shawls, these were generally decorated with geometric abstract diamond motifs. The silver metal in Barbra's ensemble shined spectacularly on camera and meshed perfectly with the mirrored awards podium in the scene.
Barbra's vision of creating an outfit from these shawls was executed to perfection. The shimmering, figure hugging gown features a square neckline with two delicate silver spaghetti straps. These lead to a sexy, low scoop back which has a concealed zipper, hook and eye closure. The bodice is lined in silk chiffon with velvet lining at the décolletage. Two front panels are draped in asymmetrical layers on the bias, creating angular depth at the front hem.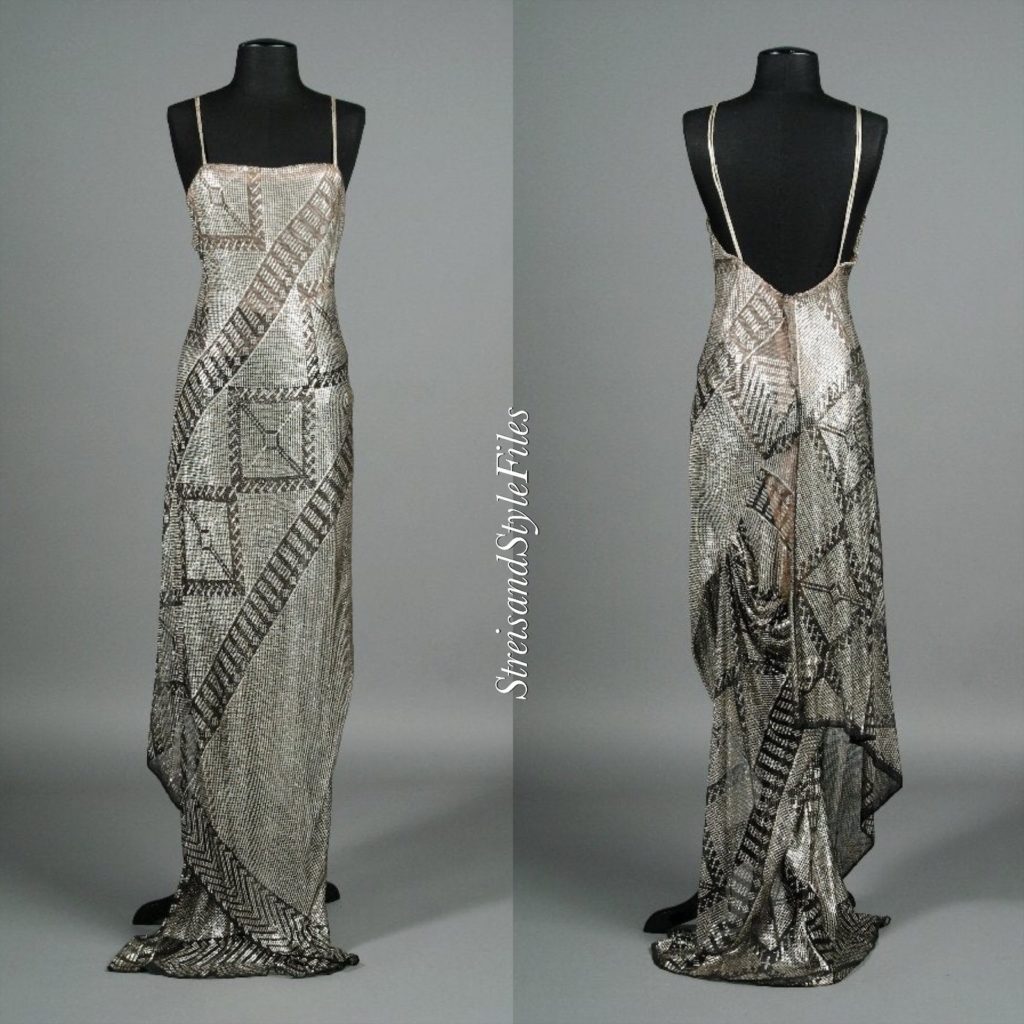 There is a daring thigh high slit on the left side with gathering at its back opening. The flowing shawl worn over the gown features a more dense motif of Egyptian symbols in horizontal rows. It falls in two symetrical panels down the front and has sleeves which touch just below the elbow. The back neckline of the shawl is squared, reflecting the neckline at the front of the gown.
This look was completed with a matching thick silver choker, a small silver purse with a chain strap and diamond motif at its center and chunky ankle strap block heels.
This look was one of three modeled at a fashion event on Oct 14, 1976 which showcased looks from the upcoming film. The event for Mayor Bradley's fashion advisory committee took place in front of a standing room only audience of nine-hundred and twenty people. Regarding the chosen looks, Barbra recalled "It was really fun to use some of my shmattes in the film. I still love those $20 Venice flea-market numbers."
Barbra was incredibly involved in the production of A Star Is Born. In addition to acting and writing original music, Barbra helped write the screenplay and was executive producer. She recalled in her commentary that "It is much more interesting to be an executive on a film rather than just the actor. Cuz then you're allowed to patshke with the other actors, you know? And you care about everyone. How they look, about their hair what they're wearing, how they act and so forth."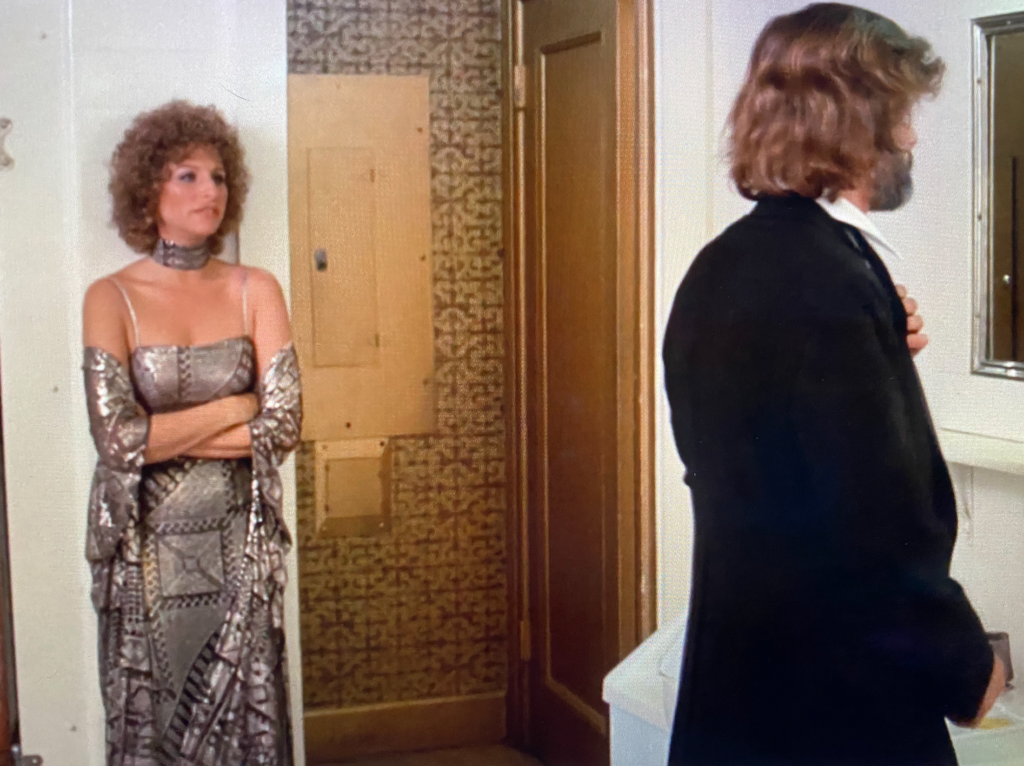 Lady Gaga gave a nod to this iconic silver look when attending the Los Angeles premier of her "A Star Is Born" remake on September 24th, 2018 in Givenchy Haute Couture designed by Clare Waight Keller, with Bvlgari jewels .
Barbra's ensemble was auctioned off in 2004, bringing in $3,100.00.