Adolfo Knit-Harpers Bazaar 1972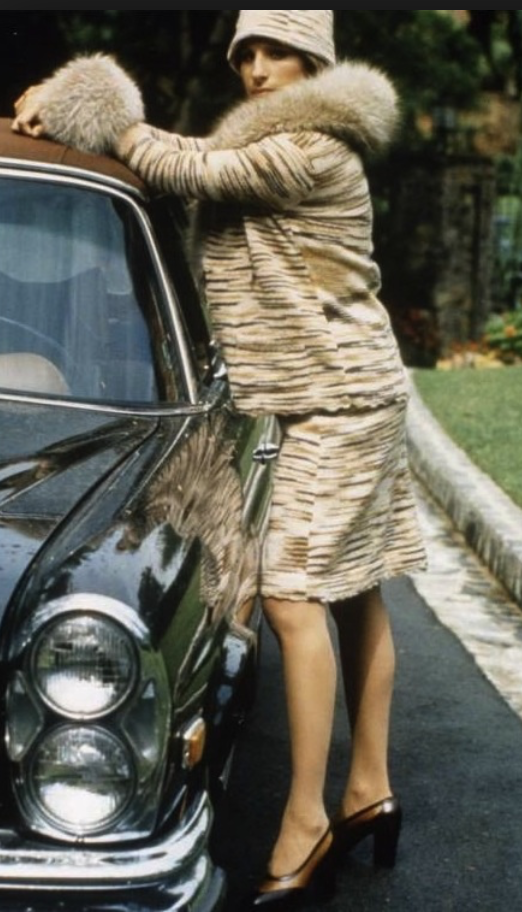 Barbra Streisand wore this custom Adolfo knit suit & cloche hat on the cover of Harpers Bazaar in Nov. 1972.  In the accompanying article titled "Chutzpah Power, Funny Girl..Cover Girl..Gal Into Glamour", Adolfo stated that Barbra "Looks so seductive & sensual, & the mood is so contemporary that it looks more like today than tomorrow." Barbra's pink mohair & brown striped ensemble is a wool/rayon blend. It features an amber fox collar & cuffs with two side pockets. Both the sweater and skirt feature a lettuce hem. The matching cloche hat adds a gorgeous flapper-esque touch to the look. Cloche hats were en vogue in the 1920's, but had a resurgence of popularity in the 60's. The name of the hat is derived from the French word for bell, due to it's distinct bell shape. 
Adolfo Sardiña was born in Cuba in 1933 and came to NY at age 15. He worked as an apprentice milliner for Balenciaga from 1950-52, & eventually became chief hat designer for Emme. To further his skills, he apprenticed unpaid at Chanel's NY hat salon. Though he admitted he never enjoyed making hats, he won the Coty award for millinery in 1955. With the help of Bill Blass, Adolfo opened his first salon in NYC in 1963, where his customer base (including the Duchess Of York) encouraged him to make clothes to match his amazing hats. His "fun and fantasy" looks included stunning bolero jackets and eveningwear made from antique patchwork quilts. Eventually his designs morphed into quietly understated clothing such as fur-trimmed knitwear, which brings us to the look Barbra is wearing in these photos. 

Adolfo's knit dresses were mass-produced for Saks Fifth Avenue and Neiman Marcus. Even after his success he returned to Chanel for another unpaid apprenticeship & openly acknowledged her influence in his work. Adolfo's Chanel inspired jackets became his design signature. His knit daywear became best selling in the 70's & is still in demand today. His company currently sells ready to wear for men, women & children.