Sarmi chiffon gown and Kenneth Jay Lane Earrings for An Evening With Barbra Streisand, 1966
Barbra Streisand wore a Sarmi color-blocked gown accessorized with mismatched Kenneth Jay Lane pavé earrings during her "An Evening With Barbra Streisand" tour in 1966. Twenty-two dates were originally planned for this tour, but it was was cut short to just four shows due to Barbra's pregnancy. The four performances took place in Newport, RI, Philadelphia, PA, Atlanta, GA, and Chicago, IL, between July 30th and August 9th, 1966.
Streisand talked candidly about her fashion choices for the tour in an August, 1966 article by Barbara Varro for the Chicago Sun-Times. She stated that she had purchased three Sarmi chiffon gowns at Saks Fifth Avenue that were all tent shaped to accommodate her growing baby bump. Barbra also tried shopping in a non-traditional section of stores to search for daywear. She recalled "I found some great things in the housecoat sections in the stores that I can wear for daytime. I found the greatest voile-over-cotton dress and a dotted cotton tent-shaped dress. They have the fresh look that I like."
Barbra also noted that she normally had around six dresses in mind for each performance and tended to decide on what to wear last minute. Many of these were chiffon which she said she loved to wear onstage because "it flows and looks dramatic." She stated that she also had several of the Dior gowns she had recently purchased in Paris altered for her new figure, but did not end up wearing any onstage.
The final choice, worn for act one of her performances, was a color-blocked red and brown Sarmi with its colors divided on the bias. The V-neck gown featured an empire-waist silhouette and light gathering at each halter strap. The gown was extremely voluminous and billowed in the wind, creating exactly the kind of drama that Barbra had imagined. In spirit of the Pop and Op Art movements, she took this look to the next level by mismatching her earrings and shoes, red on the brown side of the dress and brown on the red.
The Pop Art movement began in the 1950's as a rebellion against the seriousness of Abstract Expressionism. British curator Lawrence Alloway (1926-1990) coined the term in 1954 to describe the bold new imagery being produced in the high end art world. By the 1960's this style of art was influencing clothing and accessories. For women the styles represented a sense of independence in their new found fashion freedom. For jewelry, large geometric shapes inspired by the art deco movement like circles, spirals and hexagons became extremely trendy. Women's hairstyles were getting shorter in the 1960's, which helped long drop style earrings grow in popularity. Barbra's clip on Kenneth Jay Lane earrings were around 4" long and featured cylindrical shapes covered in pavé crystals. She emphasized these dramatic pieces by wearing her hair in a sweeping updo (styled by Frederick Glaser) with tiny red flowers placed throughout. Both sets of earrings sold at auction in 2004 for $300 and $440.00.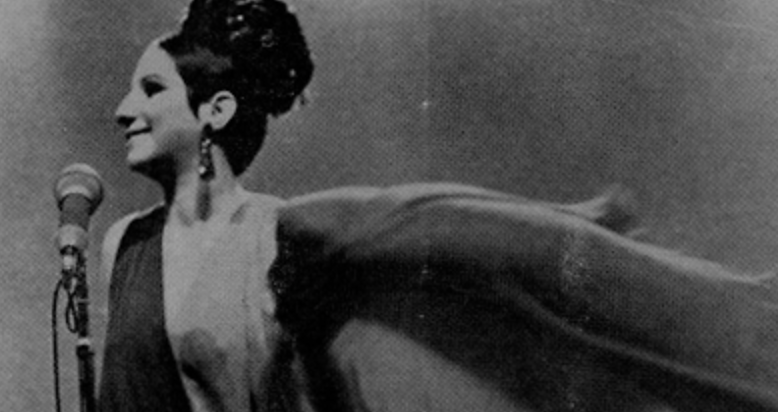 Ferdinando Sarmi was known for his extravagant evening gowns. He was once the head designer for Elizabeth Arden before he opened his own ready-to-wear salon in New York in 1959. During his career, he dressed celebrities, socialites, and first ladies. His work often featured intricate embroideries and vivid colors. Alongside Tzaims Luksus, Sarmi created the first ever tie-dyed silver chiffons used in haute couture. Sarmi won a Coty award in 1960, but by 1972 his business fell into financial ruin. He retired to Italy in 1977. This Sarmi was sold at auction in 1994.