Another Evening With Harry Stoones "Barry" Costume
Another Evening With Harry Stoones opened (and closed) off-Broadway fifty-eight on Oct 21, 1961 after nine previews and opening night.
Harry Stoones was an evening of sketch comedy created by Jeff Harris. Barbra was featured in nine sketches where she sang three solos and one duet. This costume was worn during part two of the show titled "The Roaring Twenties", in a segment called Barry. This was set in high school locker rooms, and Barbra played a character named Nancy. Nancy is being made fun of by other girls for being homely and sex deprived, while nerdy Barry is experiencing the same bullying in his boys locker room. The scene ended with Nancy and Barry onstage together and Barbra blurting out the big laugh line: "Barry, i'm pregnant!"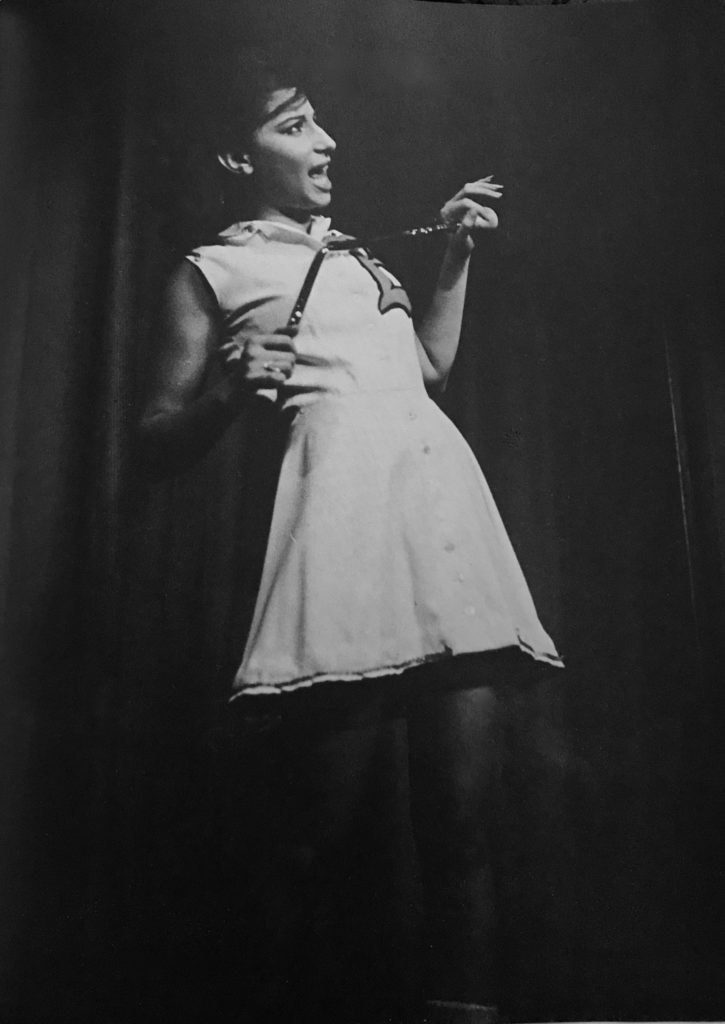 Barbra's costume for this scene is based on a classic early 60's baton twirler/Majorette uniform. In the only known photo of her in this look, she is holding a baton which is broken in half.
Majorettes made their debut in the late 1930's when band directors decided to increase audience appeal of marching bands by adding visuals. Baton twirling became so popular in high schools that girls all over the USA wanted to participate. This popularity lasted through the 40's, 50's and 60's when baton twirling took on a new life as a major part of Super Bowl Half-time shows. Today, majorettes are still a feature of marching bands worldwide.
Barbra's short white A-line majorette dress has a thin satin ribbon trim at the hem, with buttons up the entire front. There is a large chenille over velvet varsity letter on the top left side of the dress, cap sleeves and an opened standing shirt collar. She is also wearing striped athletic socks which were likely worn with white sneakers.