August, 1993 Vogue in a Donna Karan Fall 1993 Collection cold shoulder dress
Barbra Streisand wore this silk-velvet cold shoulder dress by Donna Karan during her photoshoot with Steven Meisel that appeared in Vogue's August, 1993 issue.
In this feature, titled "The Unguarded Barbra", a headline touted "No woman in Hollywood has more talent or power than Barbra Streisand. She has conquered the stage, won an Oscar, and become a critically acclaimed film director. As she demonstrates again with her new album, she is also the biggest-selling female recording artist in the world. And she's a Friend of Bill. Yet no star is as controversial or, as Julia Reed learns, as vulnerable to criticism."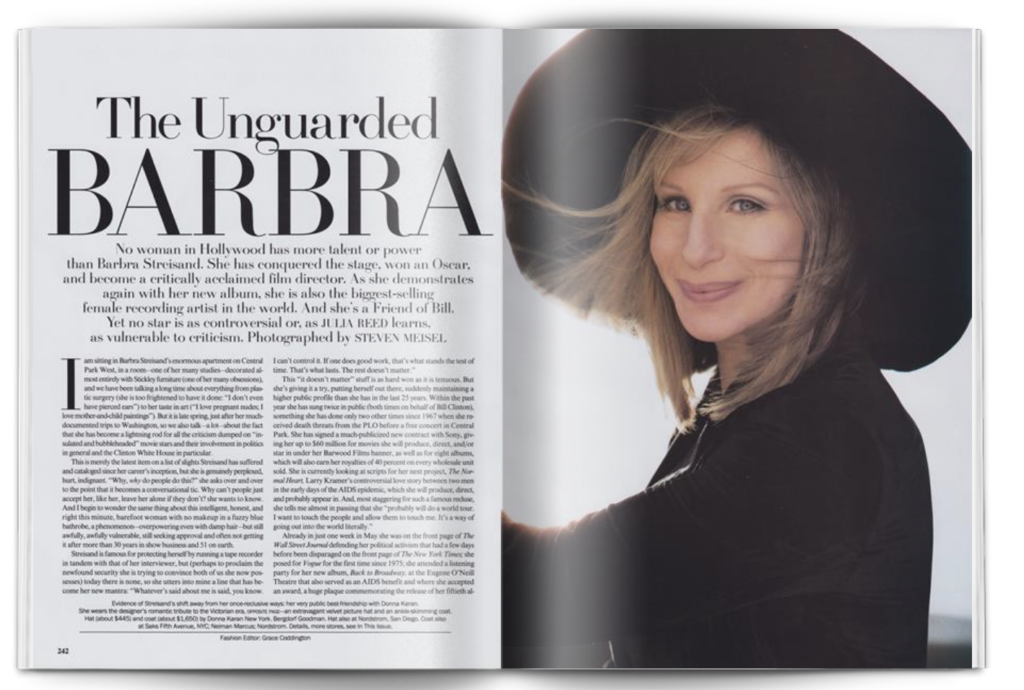 Streisand wore several Donna Karan outfits in the photos selected for this feature. My favorite is this sexy and lush dress. Two photos of Streisand in this look appeared in the Vogue spread. The first was a casual photo in the index section where she is looking in the mirror while iconic hairstylist Garren helps touch up her hair.
In the second photo, Streisand is seen striking a dramatic Martha Graham worthy pose that brings to mind some of her early 1960's Vogue photos. Fans will recognize the choker with gold embellishments from a photo used as key art for Streisand's 1993 "The Concert" promotional items.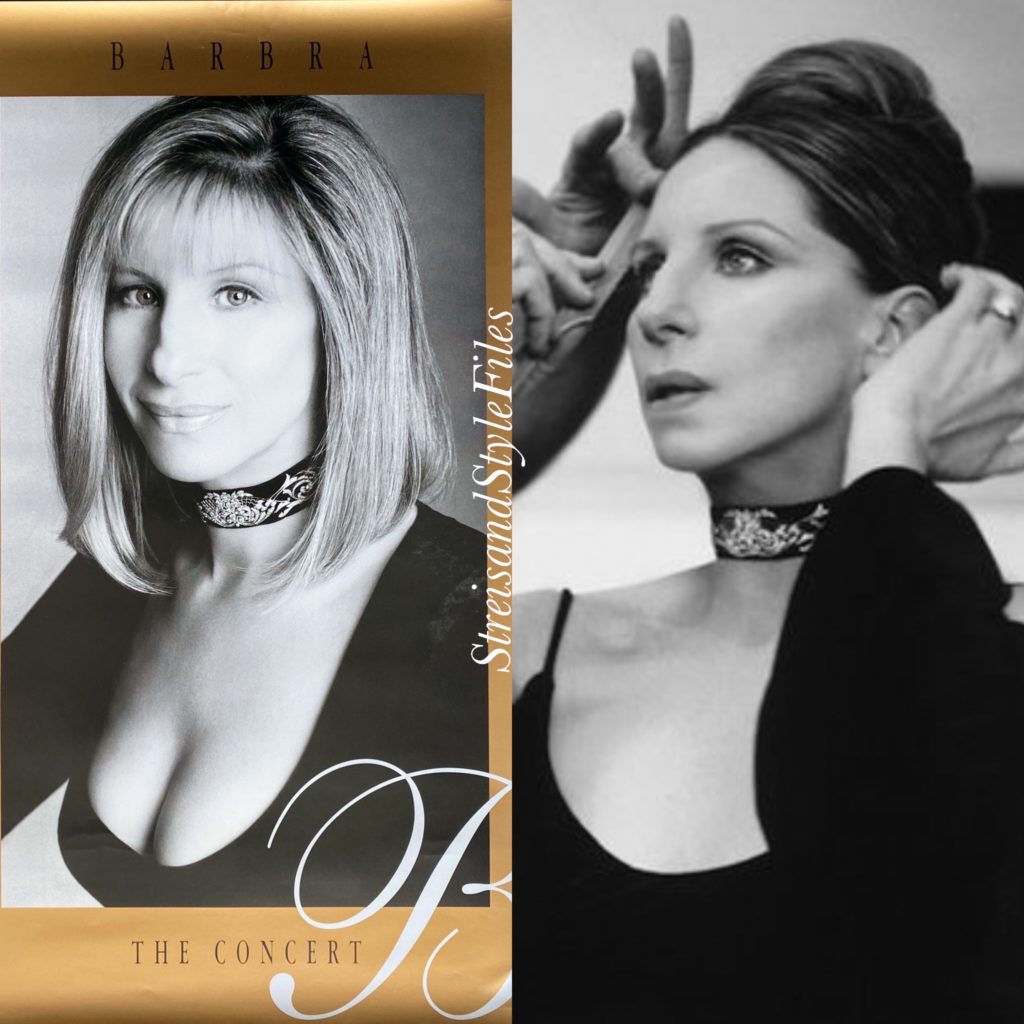 This dress debuted as part of Donna Karan's Fall 1993 collection as style #2797. The collection featured numerous triangle sleeved, cold-shoulder, and off-the-shoulder dresses, several of which Streisand ended up wearing.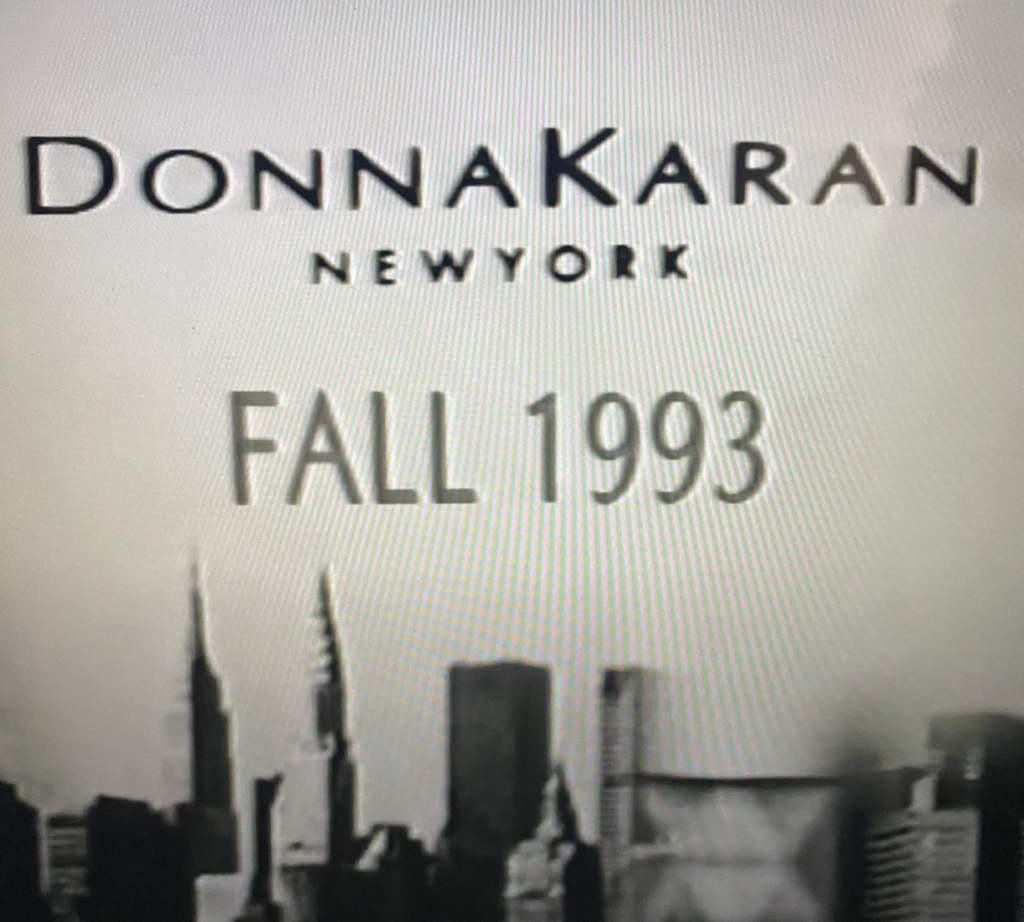 One of the most striking details about this dress that we don't get to see in Streisand's Vogue photos is the dramatic deeply cut open back. This element, along with the elegant updo and spaghetti straps give me major "Barbra Streisand… and Other Musical Instruments" vibes.
Regarding her Fall 1993 collection, Donna Karan described "The velvets are all silk-velvet. They're hand-painted for the fabrication, for the movement, for the simplicity. It's a new type of glamour for evening." She added that the collection "Is about women. Women who have style, women who have a point of view. Women who are sexy, women who are free. Women who don't want to worry about what they're wearing. There's a new freedom of dressing. Totally luxurious, totally easy, totally feminine, and totally sexy."
Vogue noted that at the time, this dress could be purchased for $995.00. In 2009, this dress was put up for auction as part of Julien's "The Collection of Barbra Streisand" auction, where it sold for $687.50.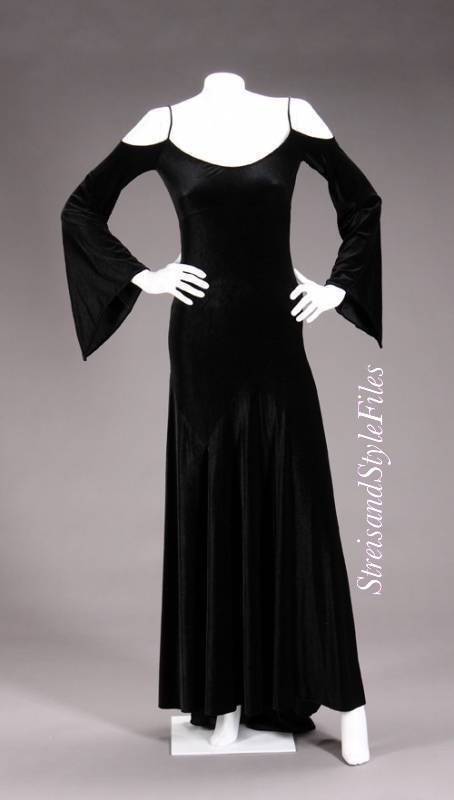 Sources:
https://www.julienslive.com/lot-details/index/catalog/40/lot/13625/signup/
https://archive.vogue.com/article/1993/8/the-unguarded-barbra