Barbra In Donna Karan At The Village Vanguard, 2009
Barbra Streisand wore Donna Karan for her "One Night Only" Village Vanguard show which took place ten years ago tonight, on Sept 26th, 2009. The show was to promote Barbra's new album at the time "Love Is The Answer." I was one of the lucky contest winners in attendance that night and will never forget how special it was.
After the first song, Barbra said "I haven't sung in the Village since 1962. And after everything I've done and everywhere i've been, i'm back to where I started. Life is a circle right? So, this is where I was. And this is where I am now." Though Barbra had never actually performed at The Village Vanguard, she auditioned there in the 1960's for Max Gordon (1903-1989) who thought she was "too undisciplined" to hire. Barbra's manager Marty Erlichman chose the Vanguard for this show because it was one of the few spots still standing that were similar to the venues Barbra started out in, like The Lion and Bon Soir. A DVD/CD combo of the performance titled "One Night Only: Barbra Streisand and Quartet at the Village Vanguard" was later released on May 4, 2010.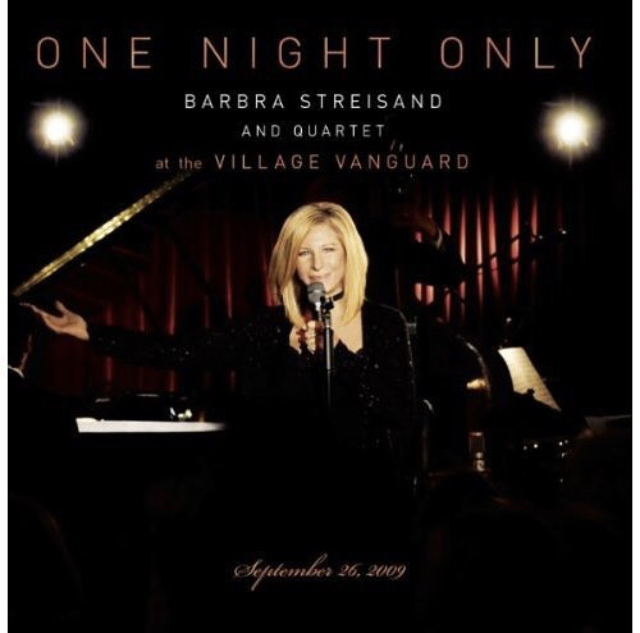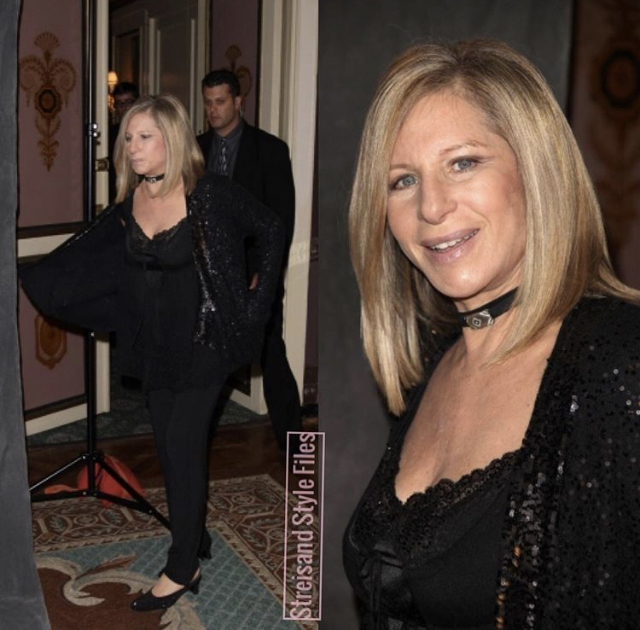 Barbra opted for a casual and comfortable look for the Vanguard show, layering several tops over crisp, straight leg black pants. The bottom layer of her look is a satin black camisole with a sequined sweetheart, scalloped-lace neckline. Over this, she wore a black, empire waist cotton knit top. This featured cap sleeves with two small pieces of lace detailing at the scoop neckline and two drawstring ties across the bust.
This created a V-shaped keyhole effect, with a hint of the satin peeking out the front. The lower part of the shirt features open-knit detailing in a delicate vertical triangle pattern.
Barbra paired these with a black, open front, sequined cashmere and silk sweater with two patch pockets on each side. Barbra is very fond of these Donna Karan sequined sweaters and owns them in many styles. She most recently wore them publicly at the 2018 Oscars and backstage at Hyde Park. Completing this look was an art deco style choker and black square-toe, sling back wedges by Stuart Weitzman.