Barbra's Custom Donna Karan Wedding Gown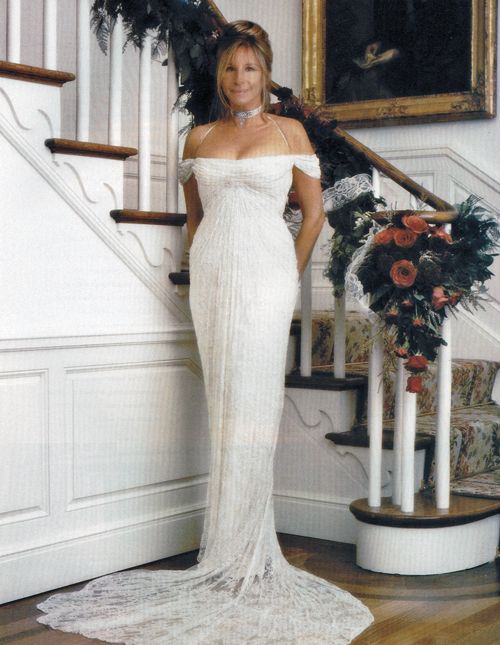 Barbra Streisand wore a custom Donna Karan gown for her wedding to James Brolin on July 1, 1998. The date was special to the couple because it marked the second anniversary of their first date.
Barbra and James' wedding took place at sunset in the living room of her Malibu mansion. People Magazine documented the occasion in detail in their July 20, 1998 edition.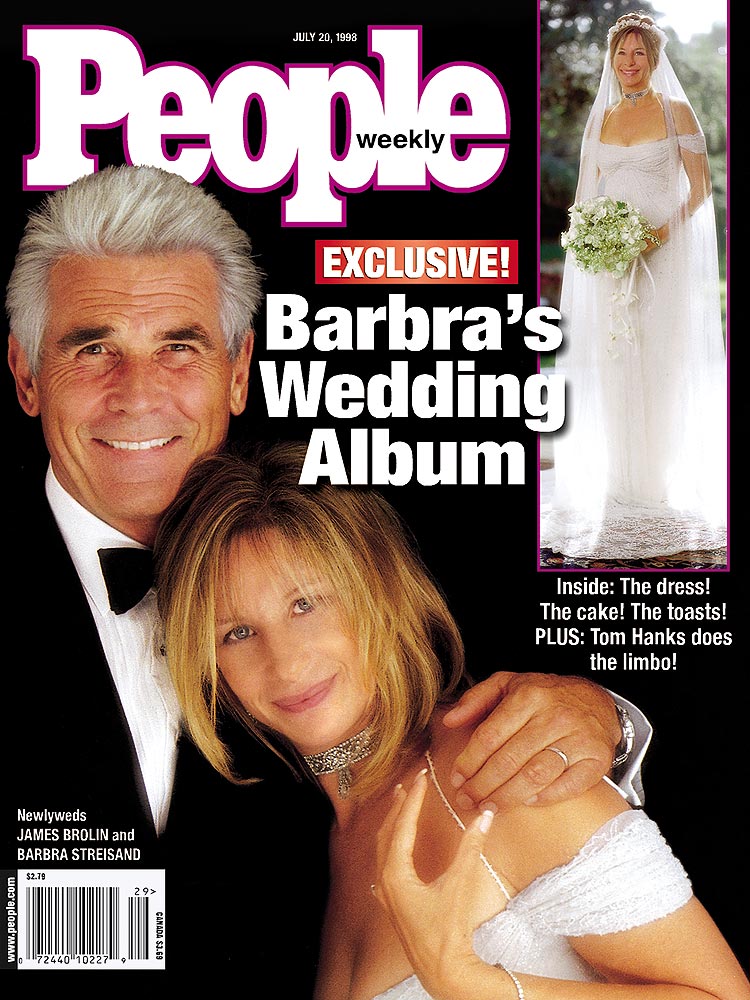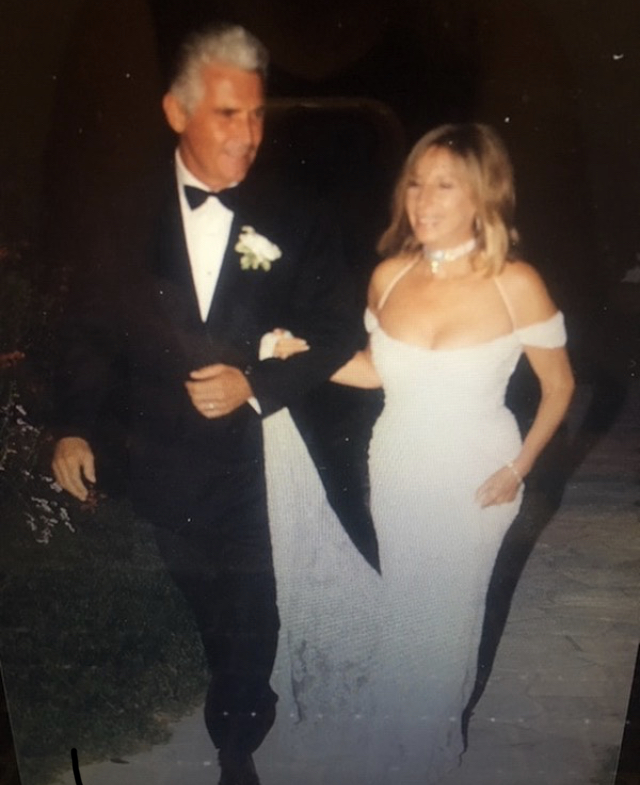 "And when a colossal white tent was pitched conspicuously on Streisand's property two weeks later, attracting a swarm of chopperazzi, it was as close as she would get to a public announcement. Two days later, on July 1—the second anniversary of their first date—Streisand, 56, in a shimmering crystal-beaded Donna Karan gown with a 15-foot diaphanous veil, walked down the aisle in her formal Malibu living room. The 105 guests included her 89-year-old mother, Diane Kind, Karan, Travolta and Preston, Hanks and Wilson, record producer Quincy Jones and Sydney Pollack (who directed Streisand in 1973's The Way We Were). "We wanted to be surrounded by people we've loved for a long time," says Streisand, who held hands with Brolin, 58, while Rabbi Leonard Beerman did the honors. Then, to enthusiastic applause, the newlyweds engaged in "just a really incredible kiss," says the groom's sister Sue Desper, a computer engineer."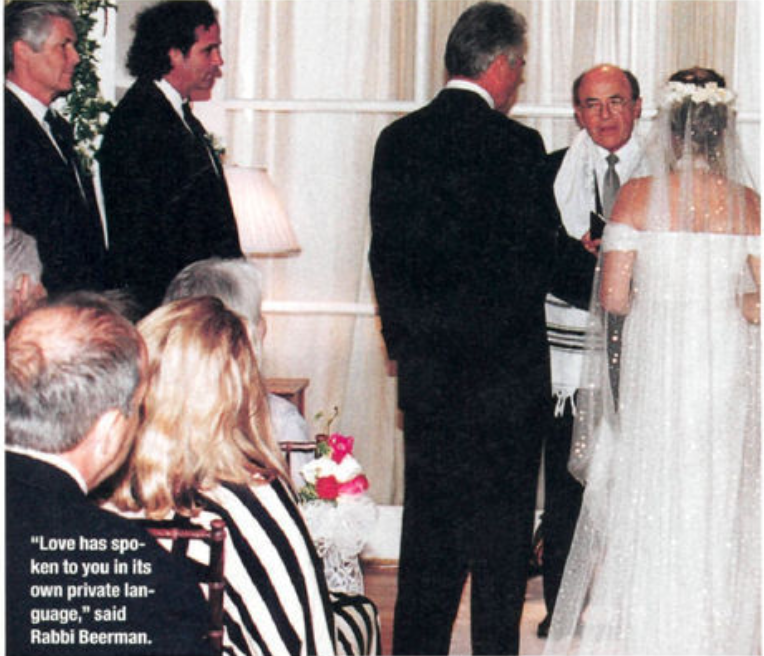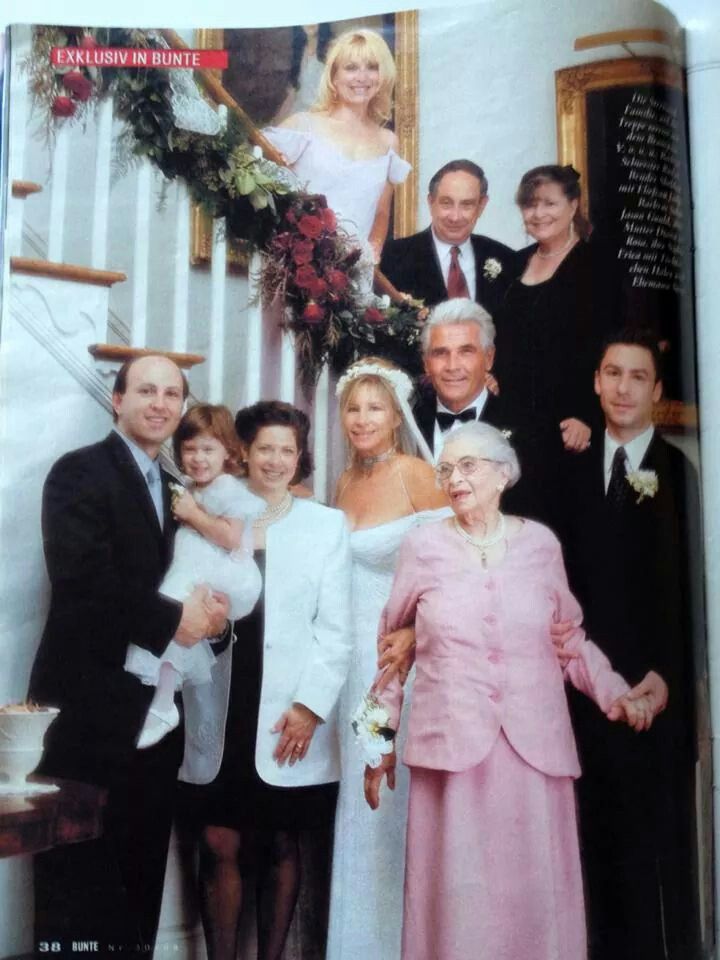 "It was probably the most beautiful wedding I've been to," says Travolta. "Kelly and I cried." "I'm the happiest person in the world," said Brolin, hugging his family—mother Helen, 83, father Henry, 87, son Josh, 30, daughter Molly, 10, and grandchildren Trevor, 9, and Eden, 4—after the nuptials. "
"As for the bride, "In all the years I've known Barbra, I've seen her happy, but always with a cloud," says her longtime friend, songwriter Marilyn Bergman. "This time it was a clear blue sky." Filled, in this case, with the fragrance of 200 lilies of the valley, 500 gardenias, 2,500 stephanotis blossoms and 4,000 roses."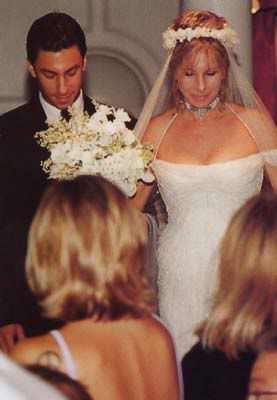 "Another longtime friend, composer Marvin Hamlisch ("He was my rehearsal pianist when I was in Funny Girl," says Barbra), conducted a 16-piece orchestra. That everything was planned with martial precision by the redoubtable auteur was hardly surprising, considering her litany of acting, directing and producing credits. "Everyone here knows and loves Barbra and particularly knows how she wants everything to be letter-perfect," Hamlisch began in a tongue-in-cheek toast. "Therefore I have been asked by Jim and Barbra to thank everyone who came to this, their third wedding rehearsal." To much laughter he added, "All of you who weren't that effusive might not get an invitation to the real one, which will be Aug. 10, 9 p.m."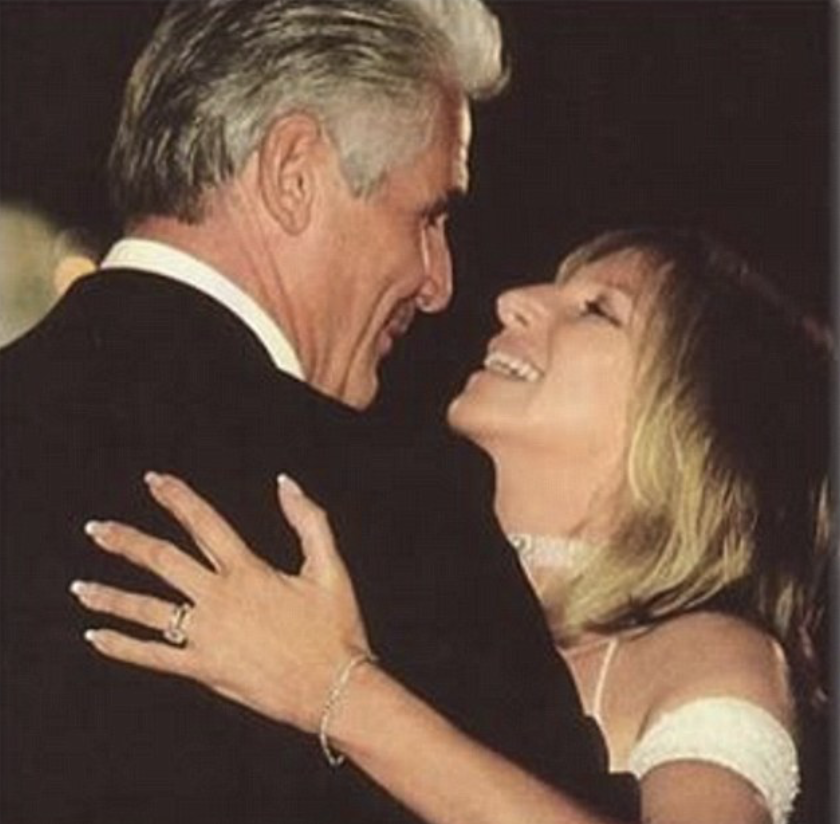 Donna Karan spoke about the creation of Barbra's wedding gown in a Harpers Bazaar interview on Sept 28, 2015 recalling "She sent me drawings of what she wanted, but I disagreed. Her sketch was bias cut, more flowing, and I wanted her to wear something more toward the body and drapey. So I made both dresses for her and let her choose. She chose mine. Barbra taught me to understand the body on a different level," explained Karan. "She knows every angle of how she looks because she's used to being onstage and on camera, and her attention to detail is beyond the beyond."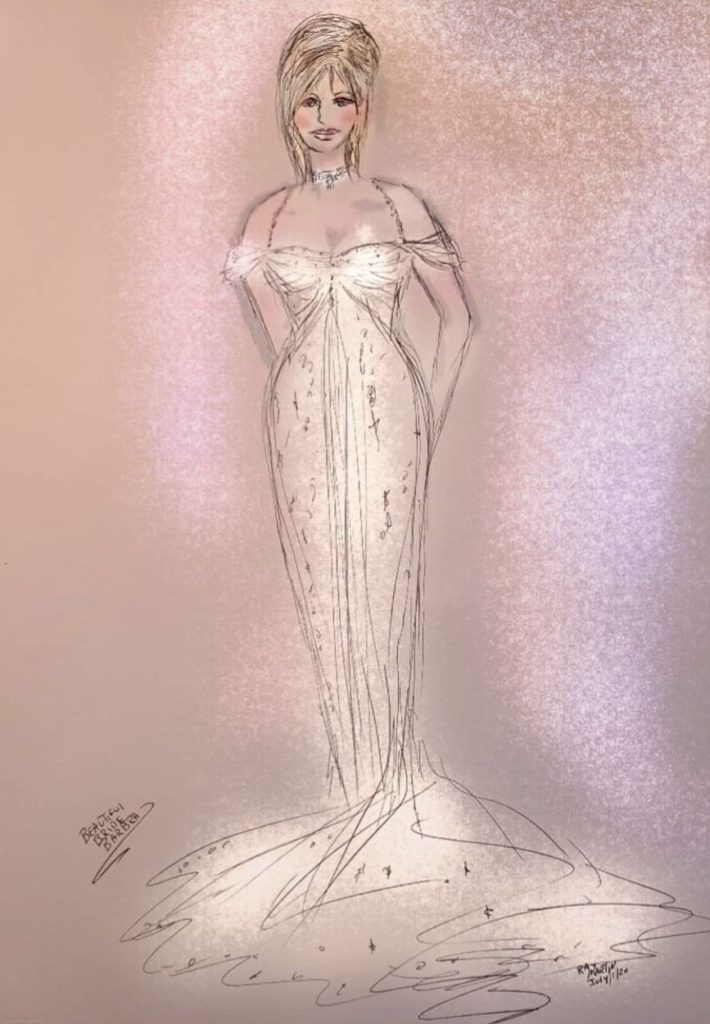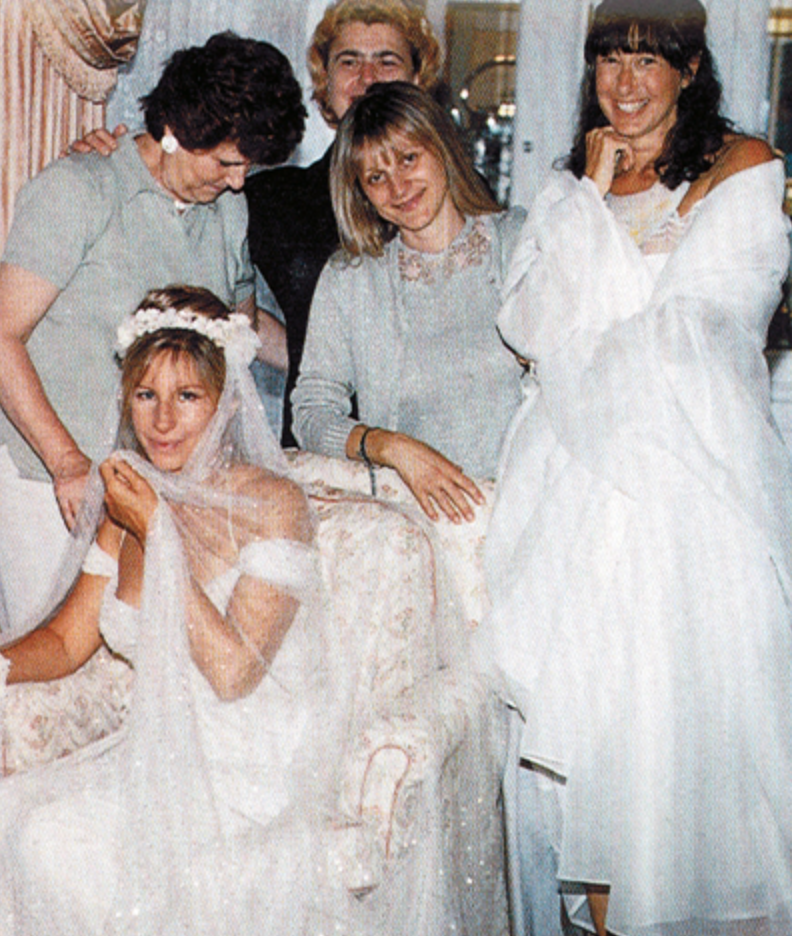 With just a two-week deadline until the big day, Donna showed Barbra some off-white, hand beaded crystal tulle from India for the veil which she loved, but there was concern it could not be shipped in time.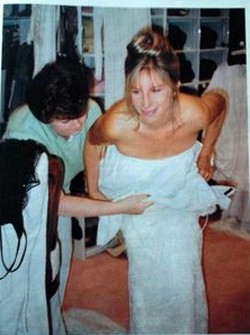 In the meantime, Donna refused to show Barbra the final sketch because she wanted to drape it on her first. So, Donna flew to LA and draped a muslin version of the dress. Barbra said "It looked like hell. I had to have a plan B. Jim got on the internet looking for dresses and I got out an antique dress from 1910 that i've had for years as a possibility. But when Donna came back the second time, with a tulle dress draped on a mannequin, I was sold. It was extraordinary. I realized later that I looked familiar to myself-like my character in Funny Girl." Donna also noted that "The minute I saw Barbra in it, I knew it couldn't have been anybody else's.
The end result, Barbra's figure hugging, empire waist, off the shoulder gown was exquisite. It was original, yet 100% Barbra. It featured delicate gathers around the bust and sweeping outward, hugging the hips and draping downward at the center. Delicate halter style spaghetti straps secured behind the neck. The column style skirt ended in an oval lace train which featured a wrist strap.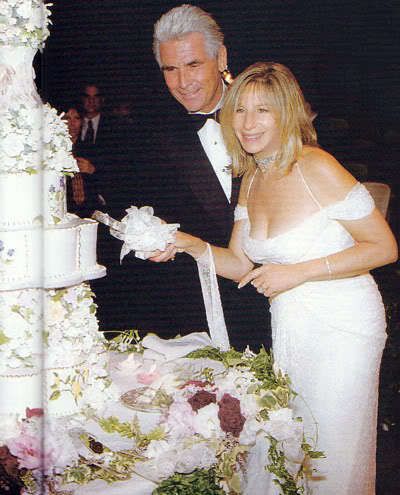 Barbra's 15 foot long veil secured with a floral crown with the aforementioned crystal beaded tulle from India which added a beautiful understated sparkle. Donna Karan told Entertainment tonight that "When the delicate crystal beads on the tulle caught the light, Barbra looked like she was sprayed with a thousand sparkling stars. The dress took on Barbra's special radiance.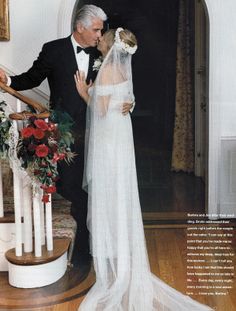 The look was completed with a beautiful diamond and seed pearl vintage art-deco choker which helped complete the truly Edwardian feel to the ensemble. I love how truly happy Barbra looked in her wedding photos. It is rare to see her with such a big smile on her face.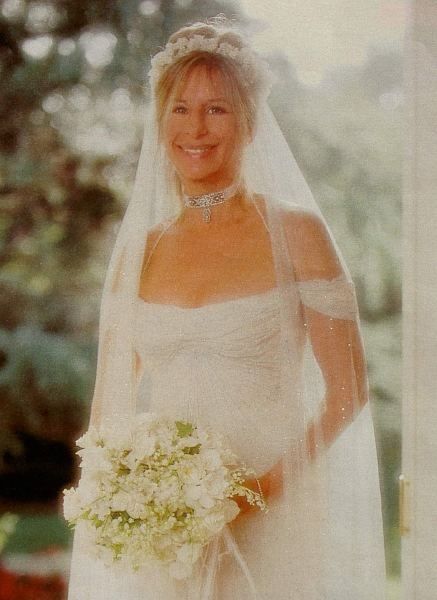 Today, Barbra keeps her gown lovingly displayed alongside other meaningful outfits in her "antique clothes shop."