Barbra's Necklace Design For 2003's Women With Heart Auction
This diamond heart necklace was designed by Barbra Streisand in 2003 for Platinum's Women With Heart celebrity pendant auction. Barbra named The Alzheimer's Association as the recipient of the proceeds from her design. "There are currently 4 million Americans with Alzheimer's disease and another 18 million family members and friends affected by its devastation," said Sheldon Goldberg, Alzheimer's Association president and CEO. "This generous public gesture sends a powerful message of hope that they are not alone in their suffering or in the fight to find a cure. We are grateful to Barbra Streisand for opening her heart to the Alzheimer's Association."
Prior to the event, public preview days of various celebrity designs with online bidding terminals were hosted by Sotheby's and Platinum Guild International in NYC and Los Angeles. This was the second Women With Heart celebrity design and charity auction. "Platinum's Women With Heart" program celebrates creative expression and the giving nature of these incredible women," said Frank Proctor, PGI-USA vice president. "It is wonderful to see them giving back and having fun in the process."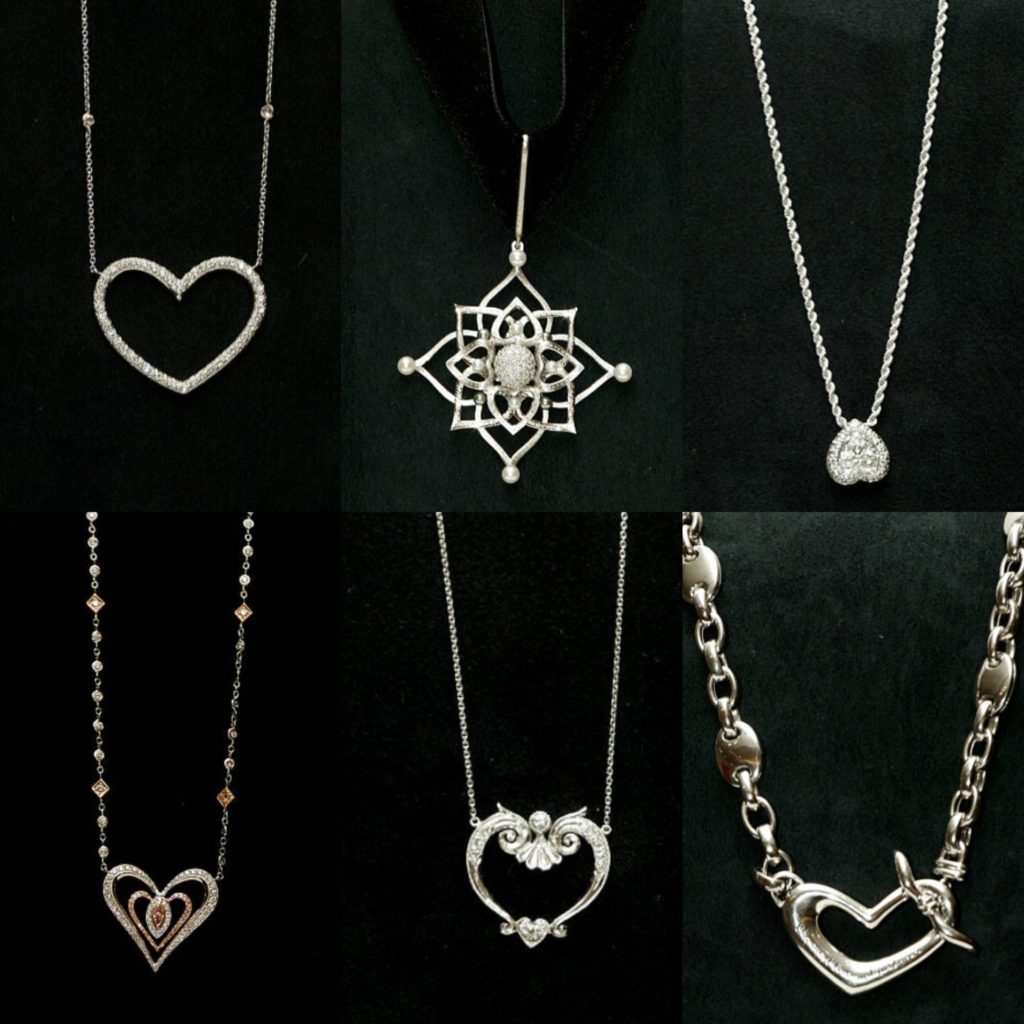 Other celebrities' charity beneficiaries were Christina Applegate, Center for the Advancement of Nonviolence; Brandy, United Negro College Fund; Gisele Bündchen, St. Jude Children's Research Hospital; Penélope Cruz, Caring for Children & Families with AIDS; Susan Sarandon, Heifer Project. Each personally designed necklace was brought to life by a select group of top platinum jewelry designers including Alex Soldier, Gumuchian Fils, Michael Beaudry, Neil Lane, Scott Kay, and VERRAGIO.
Barbra's design was created by Michael Beaudry whose website describes "Michael is a second generation Certified Master Diamond Cutter from the American School of Diamond Cutting and a graduate of the Gemological Institute of America. Michael's true passion for designing and cutting came early on in his career when he saw that many stones were being put into settings that he felt diminished their sparkle. He believes that the stones should always come first, and then he designs around the stones in order to highlight and accentuate their natural beauty. Michael personally sketches and designs the pieces in his various collections and is directly involved in the manufacturing process to ensure that every piece Beaudry creates is made to the highest quality standards. He is also a GIA League of Honor recipient."
Barbra's exquisite taste was reflected in her design which was described by the Platinum Guild as "embodying a sense of romance and old world charm."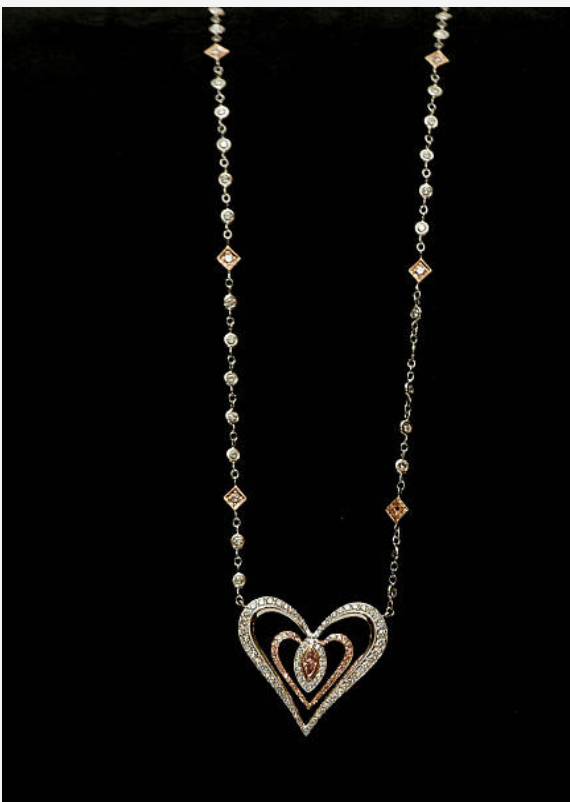 The necklace's heart pendant features a hollowed out three tier design with a 0.7 carat fancy intense pink marquise diamond its center as well as 1.27tw. round brilliant diamonds and .26tw. fancy intense pink round brilliant diamonds. The edges of the heart are lightly texturized with fine lines. A delicate rolo chain extends from both sides of the pendant. Sparked throughout the links are .68tw. round brilliant diamonds and .23tw. fancy intense pink round brilliant diamonds. There are eight striking rose gold diamond shapes placed symmetrically along both sides of the chain.
Aside from the version sold to benefit The Alzheimer's Association another copy of this necklace were created, which went into Barbra's personal collection. She sold her personal piece at auction in 2004 for $8,250.00.
The term "fancy" designates a diamond's color in relation to the traditional color scale used for colorless diamonds. The majority of diamonds extracted from the Earth are in the colorless to light yellow range (D to Z grade). Fancy color diamonds go off this scale and contain a distinct opulent color. These diamonds are found in shades of pink, yellow, blue and green. The Hope Diamond is one of the most famous examples of a fancy color diamond. Pink diamonds owe their color to structural deformities of the carbon lattice.
Unlike colorless diamonds valued for their lack of color, fancy color diamonds are valued for the intense distribution of theirs. Fancy color diamonds are extremely rare are mostly found weighing less than carat. The odds of finding a natural color diamond from the Earth vs colorless are about 1 in 10,000. It is only fitting that Barbra gravitated to stones are rare as she is.