Burgundy Belly Dance Ensemble From "Barbra Streisand And Other Musical Instruments"
Barbra Streisand wore this Middle Eastern, belly dance inspired ensemble in her fifth television special Barbra Streisand-And Other Musical Instruments (1973). This special was Barbra's first in five years due to how busy she had been making films. It was shot over the course of ten days at Elstree Studios in London.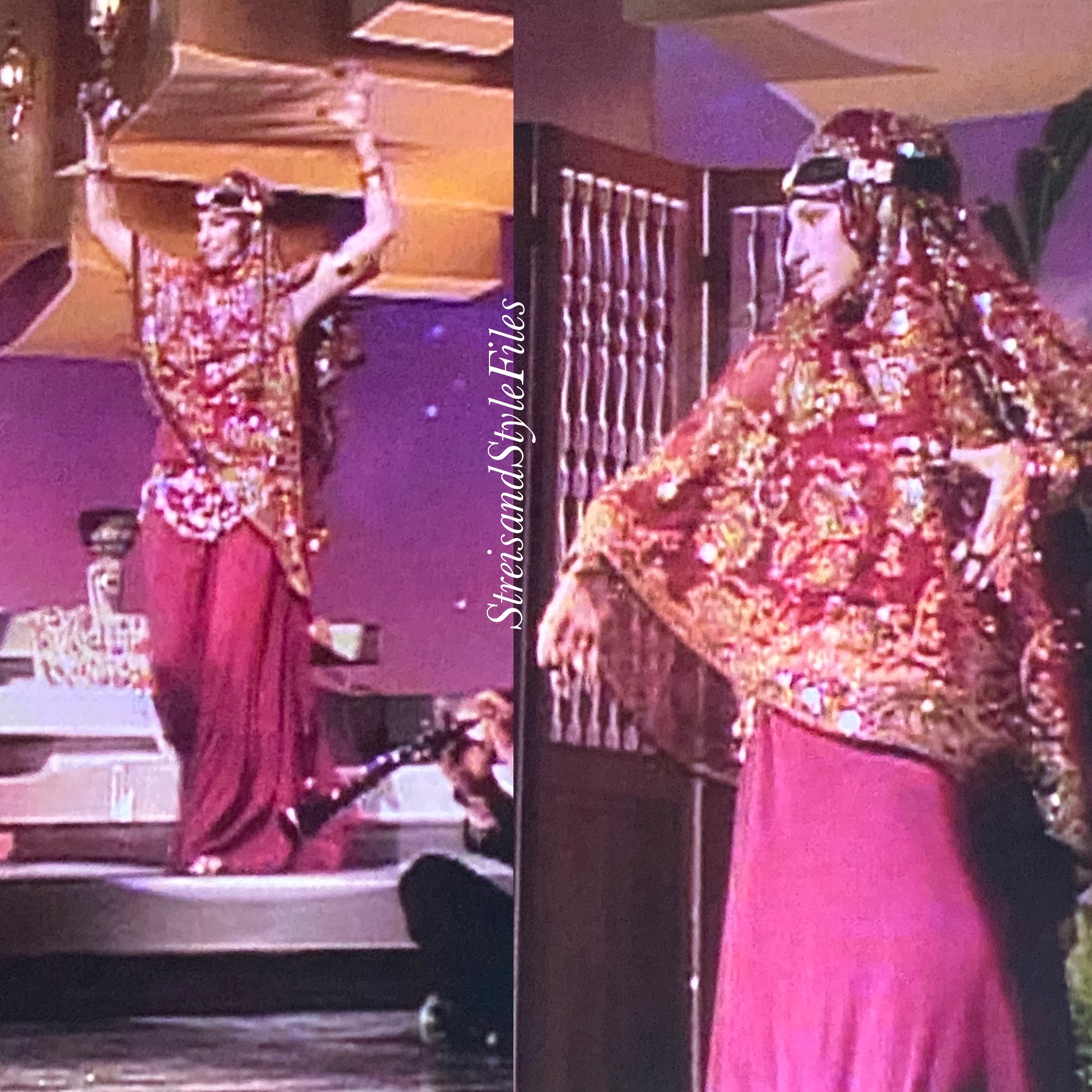 The segment this costume was worn in contains a fourteen-minute journey across continents using the song "I Got Rhythm" as its base framework. Watching it is like going on the It's A Small World boat ride with Barbra instead of animatronics, which would be far better. Barbra transitions from culture to culture as seamlessly as she became various paintings in her prior 1966 special Color Me Barbra.
Some of the instruments used in this special had never been heard before in the United States. International musicians who were experts at their rare instrument were brought in to play. The costume supervisor for this production was Robert Pollexfen, however a majority of the outfits worn were from Barbra's personal collection.
The costumes for the majority of this segment all center around variations of a simple maxi dress, multi spaghetti-strap design which change color and accessories for every culture. These were all custom made for Barbra.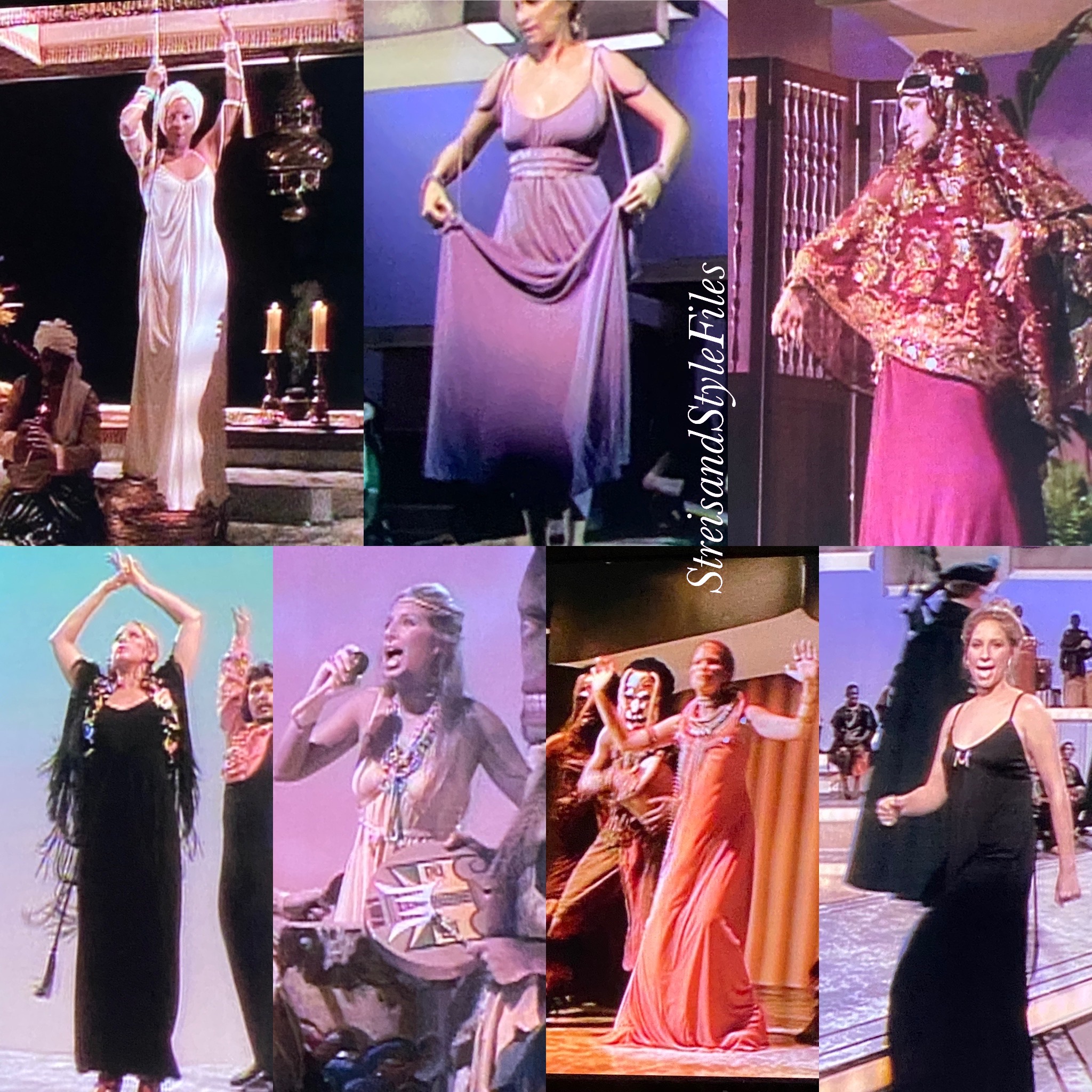 This costume appears very briefly at fourteen minutes into the special, just after the transition from the Japanese section where Barbra sang Glad To Be Unhappy. Here she belly dances her way into the Middle Eastern scene in dazzling burgundy and gold. The musicians sitting around her play a Turkish Qunan, doumbek, tambourine, G clarinet and bağlama.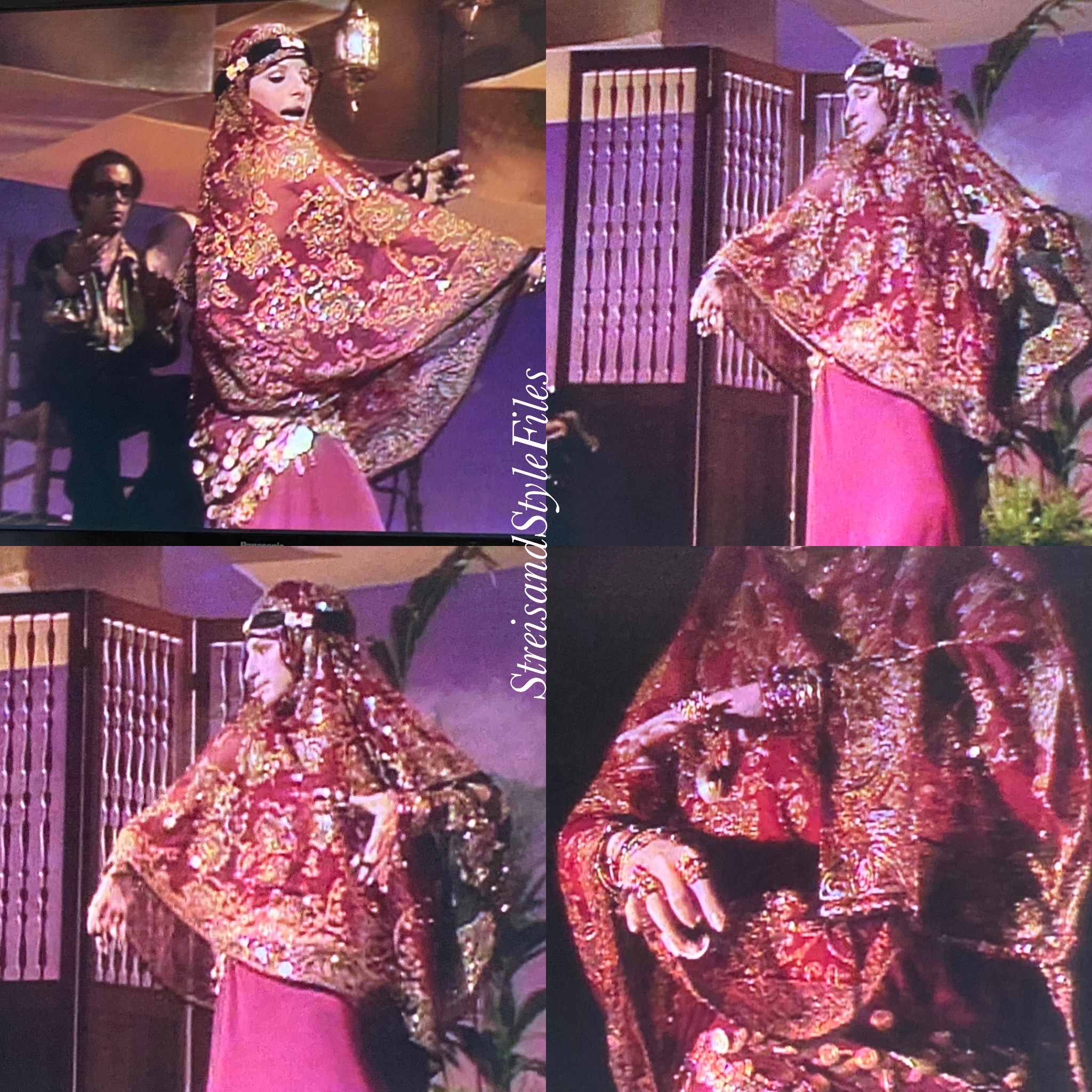 Barbra sang an exotic version of "People" changing the lyrics to "People, people who got rhythm, are the luckiest people in the world" before spinning her way into the Spanish segment.
Belly dance is an expressionist type of dance that originated in Egypt and that emphasizes complex movements of the torso. Though the majority of typical belly dance costumes are two pieces showing the torso, Barbra wore a more modest version which would be closest to a Beledi dress that is worn in the form of Egyptian belly dancing it is named from.
In this segment Barbra wore a beautiful sheer burgundy shawl covered in embroidered gold, floral motifs with gold sequins, wrapped as a hijab. The black trimmed edges were secured to her bracelets to help cover her arms as she danced.
Securing this around her head was a black beaded headband. The matching burgundy, rayon maxi dress beneath featured a scoop neckline, secured by two spaghetti straps which tied over the shoulder. It is heavily gathered at the low waistband. **Note that this dress was tied incorrectly on the dress form in the below auction photos, giving it an incorrect cut and representation.
Onscreen you'll notice that the low scoop back has two spaghetti straps which tie horizontally across.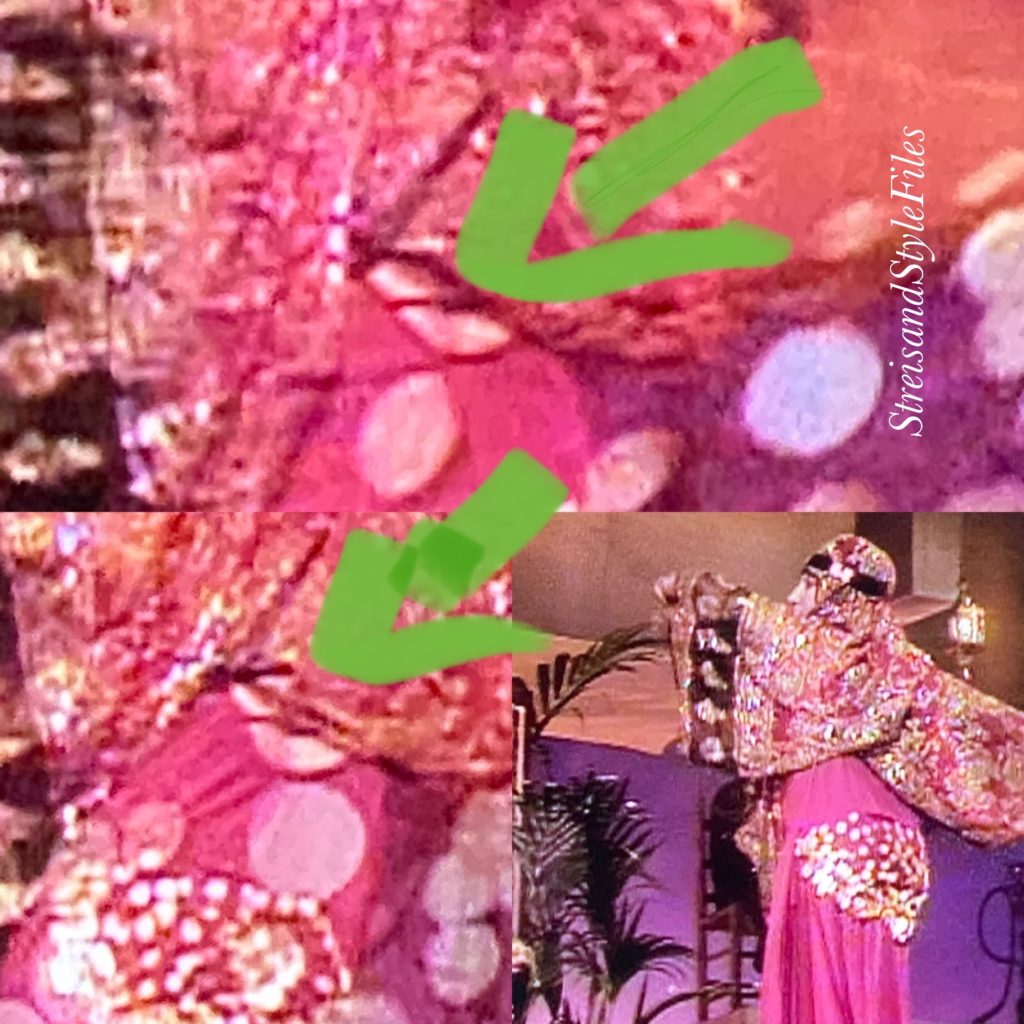 At the very low hip sits a traditional belly dancing coin belt. Belly dancers have been seen wearing these in photographs as early as the nineteenth century. The legend of how these began recalls that in the Middle East where belly dancing originated, young marriageable women would dance for coins that were thrown at them. They would then sew them into their hip scarves, saving them as dowry. Once a woman had earned enough she could enter into marriage and give up dancing. Sometimes the story is also told with the detail that women sewed the coins into their clothes not only for safekeeping but to let men know how much money they had. As men followed the caravans they could hear the jingling from afar, signaling that a marriageable women was in that caravan. Eventually coin belts evolved to be made out of lightweight metals instead of real coins, but have continued to be an important part of modern belly dance costumes.
Barbra also wore zills (finger cymbals) on her hands, which are used frequently in belly dancing. Before the invention of elastic these were tied onto the fingers with leather strips.
Other accessories included a plethora of beaded and wire bracelets, ornate rings, gold cuff upper arm bands and gold sandals with a block heel.
This costume was sold at auction in 2004, sans the shawl and accessories for $525 (including premiums.)