Butler & Wilson Hand Brooch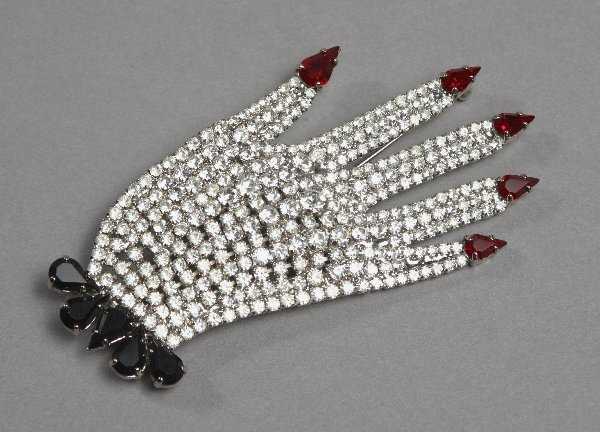 This unique Butler & Wilson brooch comes from Barbra Streisand's personal collection. Based in London, Butler & Wilson began selling antique jewelry from a stand at Antiquarius Market in Chelsea in 1969. They opened their first shop in 1972 and started making original designs for their art deco collection around that time. "From the very beginning we never did subtle" says Wilson of his design style. Today they are iconic for their costume jewelry. This hand design is one of their famous pieces and was made in many variations.
In the 80's Butler & Wilson became well known enough to expand their store and launched billboards featuring celebrities including Faye Dunaway & Jerry Hall. Their designs were notably worn and adored by Princess Diana, Madonna & more recently by Adele & Duchess Kate Middleton. In 1984 they were commissioned to design exclusive pieces for the Giorgio Armani Collection. They soon expanded to more locations including Harrods and London's West End. In 1994 the royal family appointed the company to design jewels for the Tower Of London's gift shop and additionally, a line inspired by the décor of Buckingham Palace to be displayed inside for public tours. By the 2000's they were selling on QVC & had expanded to designing bridal as well as selling vintage handbags and clothing. They also began collaborating with Victoria's Secret for their fashion shows. In 2017 their South Molton Street location closed after 32 years due to rent increases, but you can still purchase their designs through QVC and at the flagship store on Fulham Road in London.
Barbra's hand brooch is circa 1980's. It is 2" x 4." The hand is set with clear Swarovski crystals in multiple sizes. Siam red & jet black teardrop shaped Swarovski crystals in a claw setting form the fingernails and cuff.  The back is signed and features a post pin with a revolver fastener. This piece was sold at auction in 2004 for $1,050.00 USD. 
Shop her style:
Find official Butler & Wilson pieces at their website.