"On A Clear Day You Can See Forever" Tartan Plaid Jumpsuit By Scaasi
This is one of the many absolutely adorable Scaasi looks worn by Barbra Streisand while playing contemporary Daisy Gamble in On A Clear Day You Can See Forever (1970). This outfit can be seen on film at one hour and eight minutes through one hour and eleven minutes, when Daisy comes to Dr. Chabot's office touting two pots of Geraniums and he first hypnotizes her through telepathy. Though it was only on screen for less than four minutes, it is one of the more well known looks from the film.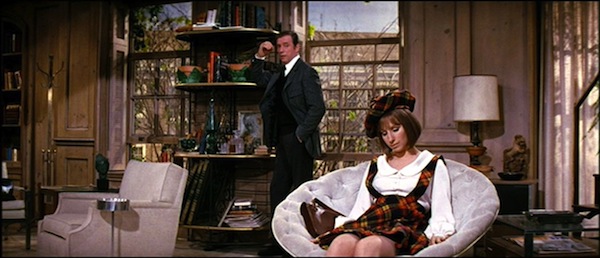 Arnold Scaasi designed all of the modern costumes for Clear Day, while Cecil Beaton designed the many stunning and glamorous period garments.
Barbra and Scaasi first connected through her manager Marty Erlichman who had called him looking for a designer to make Barbra some stylish new clothes. Shortly after, Scaasi invited the rising star to his May, 1964 made-to-order couture fashion show. In his 2004 book "Women I Have Dressed (And Undressed)" Scaasi recalled "Miss Streisand arrived wearing an oversized black poncho, totally covering (what I was to find to later) her slim, curvaceous body, and a big, floppy black felt hat that hid part of her face. She did not look great-sort of out of it in comparison to the swanky society ladies with their chic suits and white kid gloves. But she was this great new star, and only twenty-two! I was thrilled she was there."
Later, Barbra and Scaasi met for dinner at the 21 Club, where she talked about the clothes she liked and asked if he would be willing to make one of his wedding dresses as an evening coat in black. He thought the idea was witty and different. They went back to his salon where she tried on many looks. "Her personality changed with each outfit, one moment becoming a Russian princess (in a coat bordered with sable), the next, a giggling young thing in a beaded mini dress. She was obviously a born actor. It was fascinating to watch."
Above: Scaasi and Barbra during costume fittings. 
Barbra decided on only couple of outfits that day, but her relationship with Scaasi would span years. Scaasi knew about Barbra's appreciation for detail and beautifully made clothing and would often finish the hemline of a dress with a pretty band of special lace or embroidery that only she would be aware of.
In Sept. 1968 Scaasi received a letter from Robert Evans, the head of Paramount Studios saying that Barbra wanted him to do her modern costumes for the upcoming film On A Clear Day You Can See Forever. He immediately called Barbra. "I just received the letter about your modern clothes for Clear Day-how great that you want me to design them." "Silly," she said laughing, "I can't believe you're too surprised. Who else would I have do them? They're sending you the script-call me when you've read it."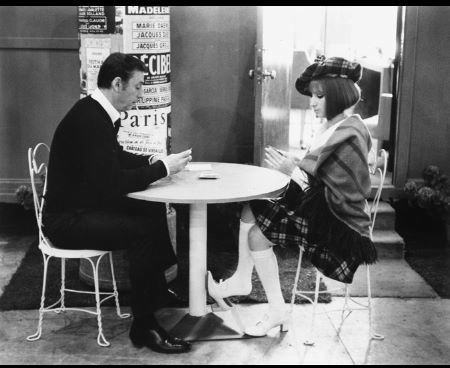 Regarding his costume design, Scaasi recalled "I went though the script scene by scene and made a list of the clothes that I thought Barbra should wear and began putting fabric swatches and sketches together. As I knew pretty much the kind of clothes and colors she liked and would good in onscreen, the ideas came easily."
Before production began, Scaasi fitted the clothes on Barbra in New York and later during filming would commute once a week to Los Angeles. Prior to a flight he would often would stop at Pearl's Chinese to pick up Barbra a togo box of her favorites, including lemon chicken, and bring it to her on set.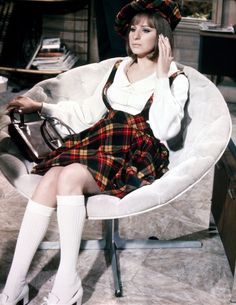 Since many of the costumes needed to fit the look of something young women would wear on a college campus in 1969, Scaasi made several button down mini-skirt jumpers for the film which paired with white cotton shirts.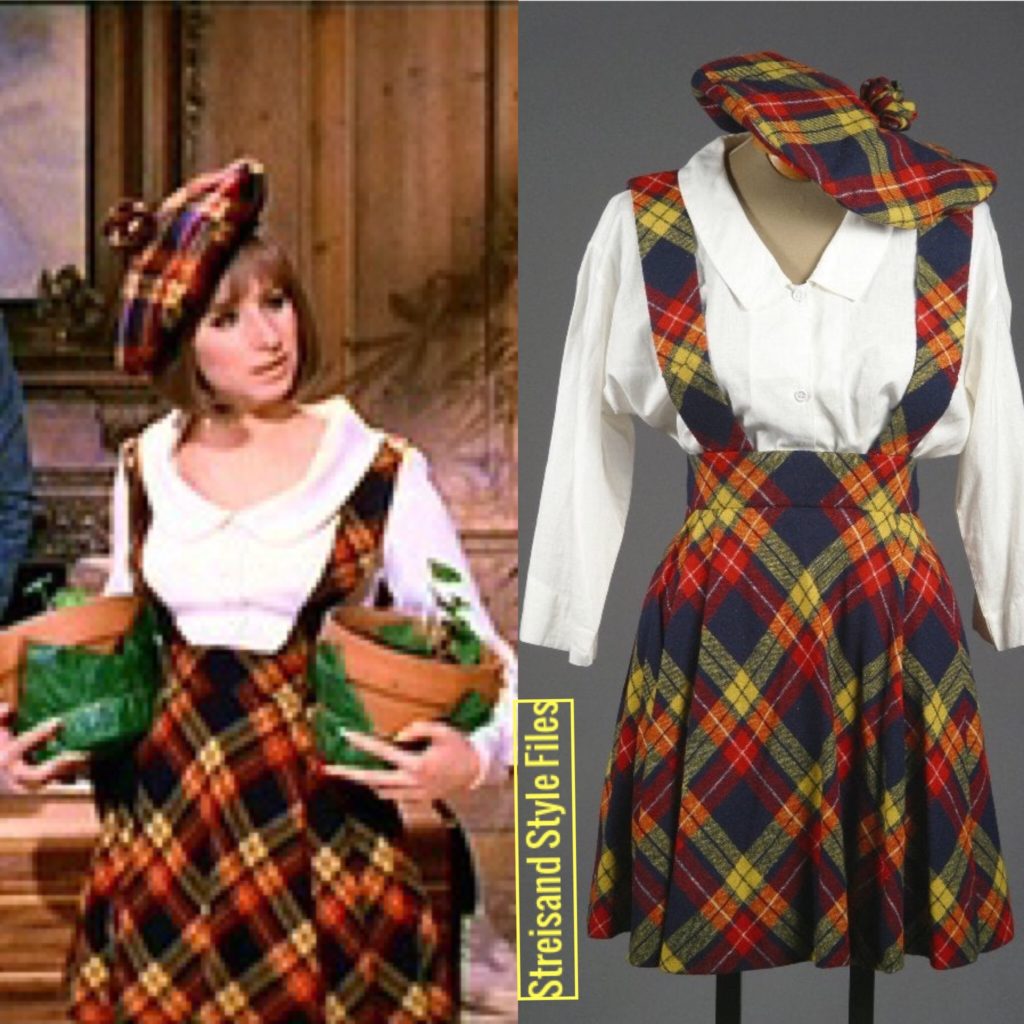 This yellow, green and red tartan jumper was one of them. Originally, this look was created with matching leggings which were replaced with white knee high socks.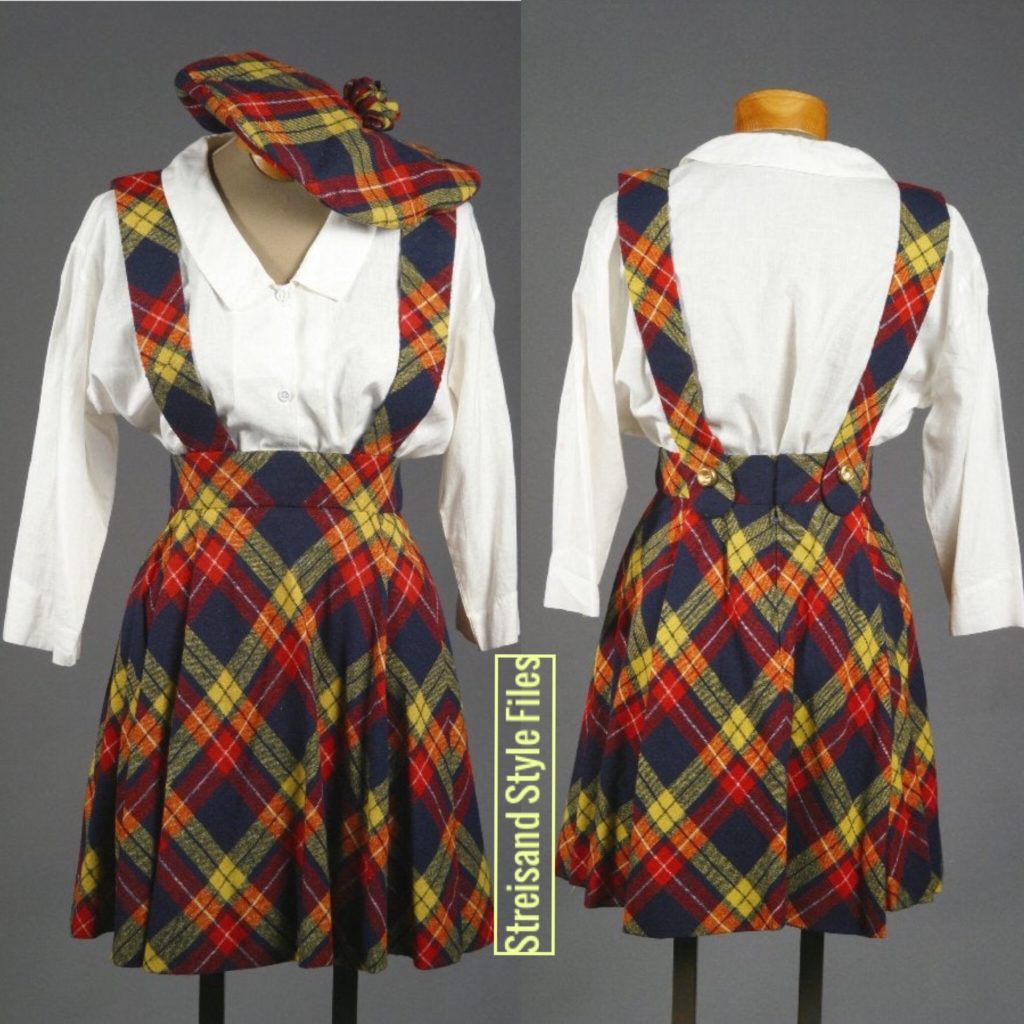 The vibrant wool tartan jumper was lined in silk. It features a short, lightly pleated skirt with two side slit pockets and a thick waistband leading to two thick straps. These end in a curved hem and button at the back of the waist with two gold, round buttons. The skirt has a zipper hook and eye closure. Beneath this (not photographed on the mannequin) a white cotton blouse was worn which has a signature Scaasi Peter Pan collar, fabric covered buttons and balloon sleeves ending in a thick cuff. This was topped with a matching oversized beret with a pom-pom at the center, made by Adolfo. White block heeled shoes, ribbed knee high socks and a square leather purse completed this costume.
Adolfo Sardiña was born in Cuba in 1933 and came to NY at age 15. He worked as an apprentice milliner for Balenciaga from 1950-52, & eventually became chief hat designer for Emme. To further his skills, he apprenticed unpaid at Chanel's NY hat salon. Though he admitted he never enjoyed making hats, he won the Coty award for millinery in 1955. With the help of Bill Blass, Adolfo opened his first salon in NYC in 1963, where his customer base (including the Duchess Of York) encouraged him to make clothes to match his amazing hats. His "fun and fantasy" looks included stunning bolero jackets and eveningwear made from antique patchwork quilts.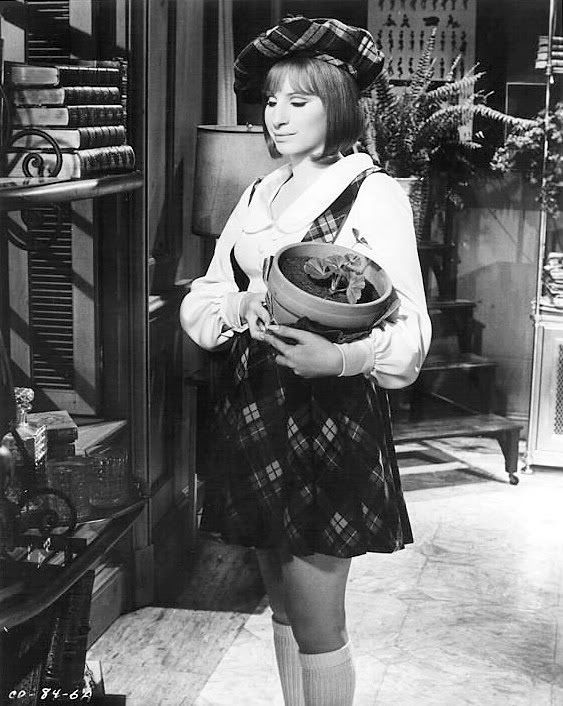 This costume, along with a replacement for the original shirt was sold at auction in 2004 for $2,250.00