Coach Spring 2020 Collection Featuring Barbra's Richard Bernstein Portrait
It was hard to miss the vibrant pop-art Barbra Streisand apparel, which British designer Stuart Vevers for Coach debuted in his Spring 2020 Ready-to-wear show. This show took place on Sept 10th, 2019, and quickly became one of the most instagrammed moments of NYFW. Jennifer Lopez was recently seen modeling the "Babs" sweatshirt for her first campaign with Coach.
For those of you wondering the backstory on these items and when you can buy them, here is everything you need to know.
The portrait of Barbra used on these items is by Richard Bernstein. Bernstein is known for his two-decade career as the cover artist for Andy Warhol's Interview Magazine where he created stunning, colorful portraits of the biggest celebrities of the time. Many people are surprised to hear that Andy Warhol didn't create these images since they reflect his color saturated style. Designer Paloma Picasso reflected on Bernstein's art saying "He puts wit into the beauties, fantasy into the rich, depth into the glamorous and adds instant patina to newcomers." Bernstein's stunning Barbra art is dated 7/7/1969.

When creating the Spring 2020 collection Stuart Vevers stated that he wanted to capture the energy of a changing era. "Change, urgency and raw, authentic energy. A bright collision of beginnings – past and present," read the release. "Free spirits making their way across the High Line park… open to the infinite possibilities of a fresh decade."
Vevers told Vogue that collaborating with the estate of Bernstein "Started as an inspiration reference, an image on a moodboard, but I soon realized that the collection would feel more complete by working directly with Bernstein's foundation. It also felt right because Bernstein was an artist that lived and worked in New York City. It was a very organic process."
Regarding other looks in the line, Vevers says "We featured three of his portraits—of Barbra Streisand, Michael J. Fox and Rob Lowe—in the collection. Partly because I love the artwork and the colours, but also because I have a personal connection to all these celebrities. Not that I know them personally, but rather that they're icons that I grew up with or have a powerful meaning to me."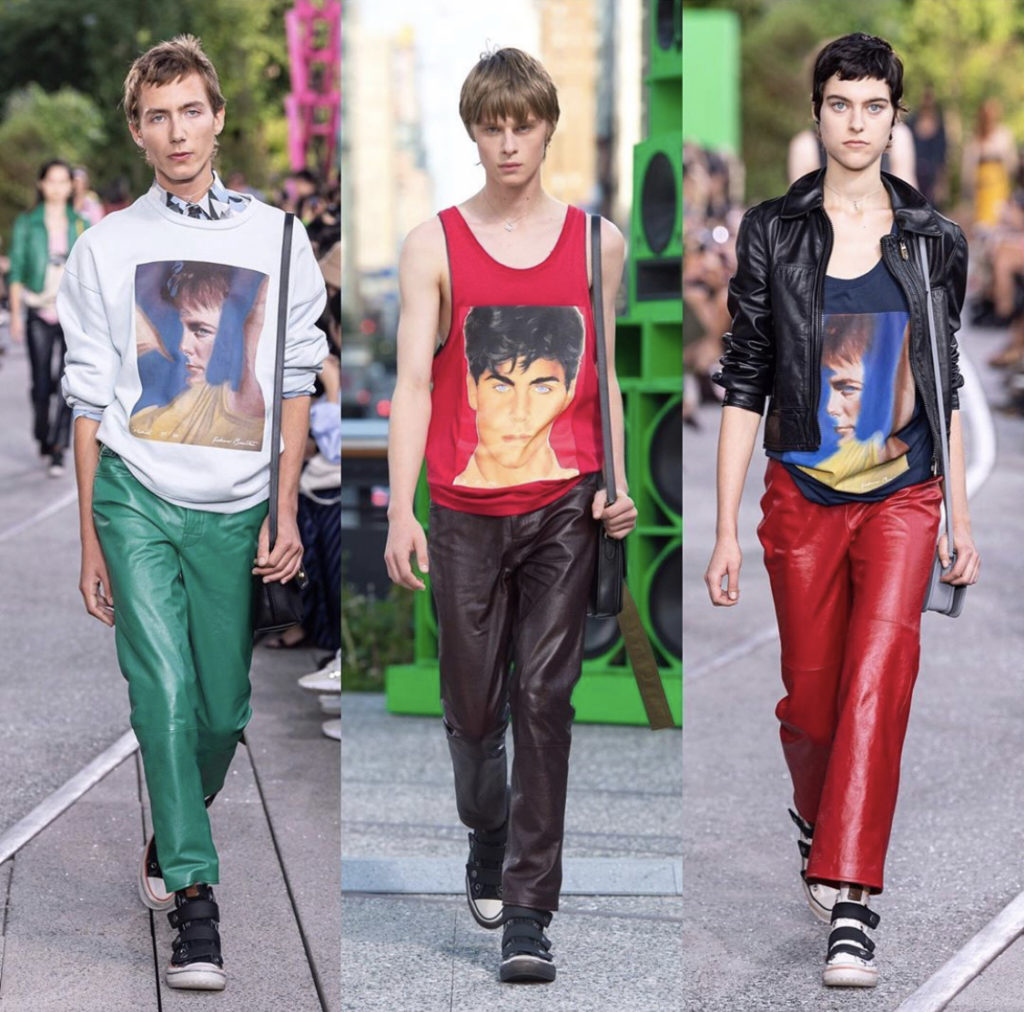 Vevers also spoke about his thoughts on collaborations stating "To me the element of surprise is really crucial. Either you don't know this person's work, or you haven't seen it in this context before. When I'm thinking about a collaboration, it's the element of surprise that excites me. That and the ability to put the work of these incredible creatives in a new context for a new audience."
Pieces from the new Coach ready-to-wear collection featuring Barbra's face will be available to purchase at Coach.com and official Coach stores starting March 1, 2020.