Color Me Barbra "Gotta Move" dress by Ken Scott
Barbra Streisand wore this bold and colorful Ken Scott dress while singing Gotta Move during act one of Color Me Barbra (1966). Scenes for this special were shot in the Philadelphia Museum of Art over the course of more than 24 hours straight. In a 1966 interview promoting the special, Barbra recalled "It's a great museum. The rooms are beautifully laid out and I go from exhibit to exhibit with my costume changing to match the period on display. It's not easy to do a musical show in a museum, but I got a kick out of asking them to move a million dollars worth of painting simply to provide an appropriate backdrop for a song. It was fun, but it took so much time technicians were falling asleep at the cameras."
The dress that Barbra chose to wear for Gotta Move was a popular design by Ken Scott. His psychedelic triangle print was produced in a variety of colors from bold to pastels, and could be seen in multiple dress styles. One version was worn by Audrey Hepburn in the film Two For The Road (1967). A maxi dress in the same colors Barbra wore can be seen in the casino scene of the 1969 James Bond film On Her Majesty's Secret Service. These also pop up once and while on the vintage market.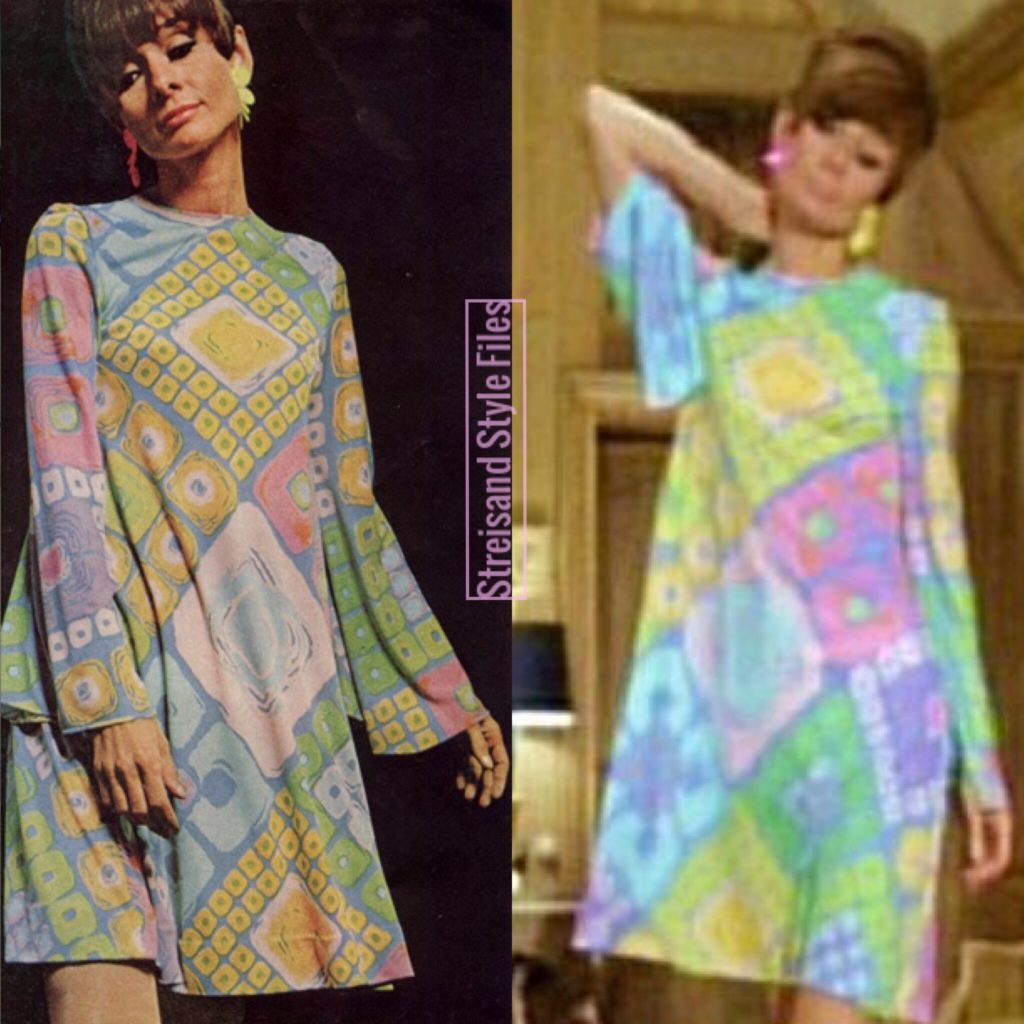 Barbra's dress fit in perfectly with the hyper, eclectic beat of the song, and complimented the colors seen in various Cubism paintings on the walls. She must have enjoyed Scott's designs, since she also wore one of his dresses on the cover of Vogue in March, 1965.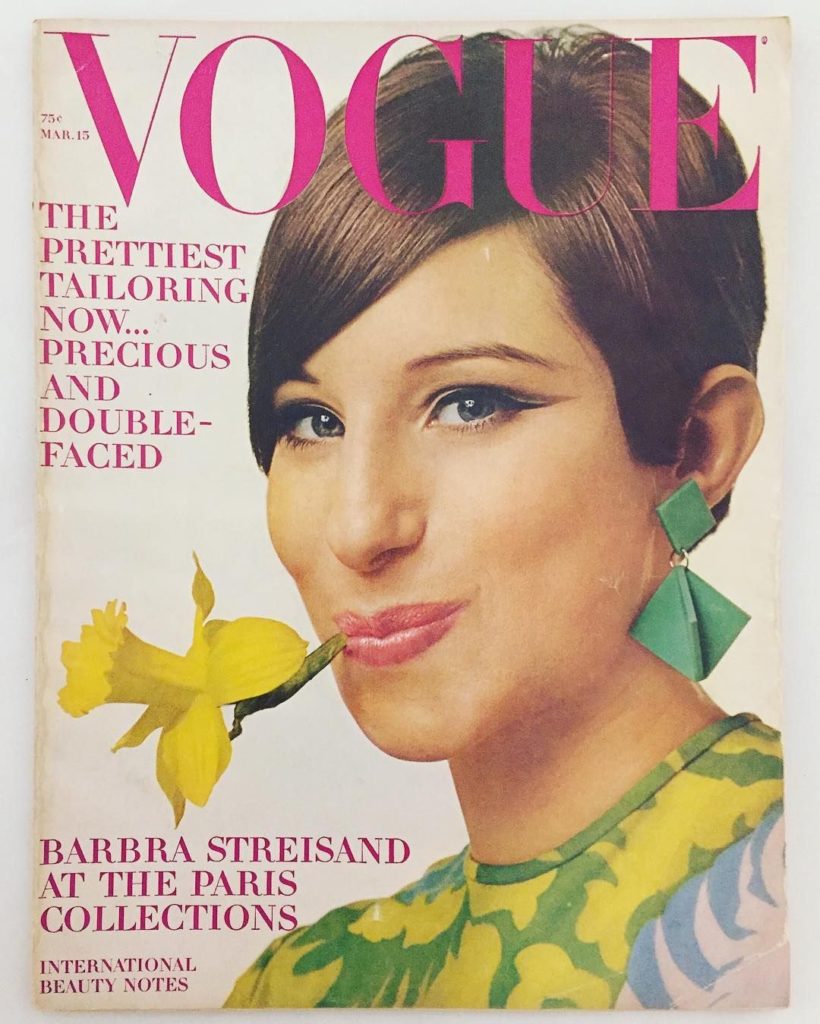 Streisand's colorful Ken Scott maxi dress was made from hand printed silk jersey. It features a halter neckline with a drawstring closure. At center back there is a revealing opening between the tie and zipper that gives the dress an unexpected splash of sexiness.
Black faceted rhinestones decorate the black areas of the dress motif. The majority of dresses made by Ken Scott in this print did not feature rhinestones, so this may have been a special customization for Streisand. Rhinestones were also utilized as accents on Barbra's eyeshadow.
This look was accessorized with Deadstock bubble rings on both pinky fingers in red lucite and lime green. Oversized black triangle earrings edged in rhinestones, sheer black tights and black pumps completed this truly mod fashion statement.
Ken Scott (1918-1991) was born in Indiana. He attended Parsons School of Design and eventually worked for an upholsterer and fabric designer before moving to Paris to be an artist in 1947. He was most famous for his flare with fabrics, which included vibrant floral prints that earned him the nickname "the fashion gardener". He was one of the first designers to utilize psychedelic colorings in his clothing far before it was trendy. In the late 60's Scott was one of the first designers to show calf-length skirts in an entire collection. Along with Emilio Pucci, Ken Scott epitomized the modernity of Italian fashion in the 1960's and 1970's. Susan Nevelson designed prints alongside Scott for fifty-two years and helped to create many of his floral, psychedelic and geometric prints. The one seen in Color Me Barbra was one of these collaborations.
Gotta Move is now featured in a Bud Light Next ad, which airs during the Superbowl LVI. Watch it below.