Color Me Barbra Nefertiti Cap Crown
Barbra Streisand wore this Nefertiti inspired cap crown in Act One of "Color Me Barbra"(1966), while singing "Where Or When." This scene was filmed at The Philadelphia Museum Of Art, alongside a copy of the famous Nefertiti bust. Over the course of her career, Barbra has often been dubbed "The Brooklyn Nefertiti" for her elegant & striking profile. Costumes for this special were designed by Ray Diffen. Ray had also constructed all of the clothes for the "Funny Girl" theatrical production under designer Irene Sharaff, and made several personal dresses for Barbra from her designs.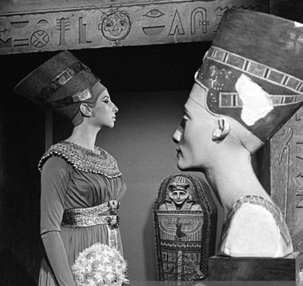 The Nefertiti Bust currently resides in the The Neues Museum in Berlin, Germany. It was discovered on Dec 6, 1912 in Amarna, Egypt. The work is believed to have been crafted in 1345 B.C., by sculptor Thutmose. It was first displayed to the public in 1924 & quickly became one of the best known, most admired and copied images from ancient Egypt. Shortly after it was unveiled, Egyptian authorities demanded it be returned them. Germany declined. In 1933 Hermann Goring considered returning the bust as a political gesture, but Hitler opposed, saying "I will never relinquish the head of the Queen". Egypt made another unsuccessful attempt in the 1950's. To this day the proper location for the bust is still argued. This bust has been described as "an icon of international beauty, one of the most beautiful faces of antiquity." It is made of a limestone core and covered with painted stucco layers. The pupil of the right eye is inserted quartz with black paint fixed with beeswax. The left eye lacks the inlay of the right, which is assumed to have fallen out when the workshop fell into ruin.
Barbra's cap crown shares many characteristics of Nerfertiti's, with slight changes in color and ornamentation size. The crown was shaped on a wire frame and has a thick straw shell covered in silk crepe and organdy fabric. Strips of gold hand painted leather decorate the front and back of the cap. These were embellished with cut leather ornamentations in deep red, dark and light blue. The brim of the hat is covered in crepe wool. Gold noel cord in a bow shape depicts the uraeus of the original bust. Note- ***When this cap was auctioned, photographers accidentally photographed it backwards on the mannequin head.**