Color Me Barbra Rhinestoned Eye Makeup Tutorial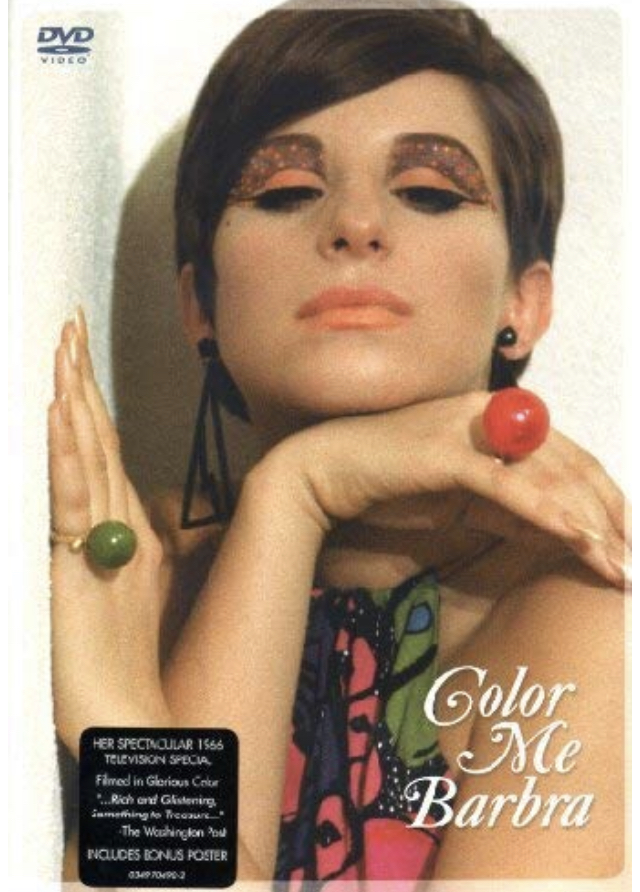 Barbra Streisand was far ahead of her time when she rocked this sherbert rhinestoned eye look while singing "Gotta Move" in Act One of Color Me Barbra. (1966). Images of her in this look also appeared on some versions of the DVD as the cover key art. Barbra's rhinestones were almost certainly Swarovski flatback crystals around size 5-5.5SS in several shades. Scenes for this portion of the show were famously shot at The Philadelphia museum of art over the course of more than 24 hours straight. 
This intricate look seems complicated, but is easier than you might think. 
To recreate Barbra's rhinestoned eyes, follow these steps. 

1.Apply a vibrant eyeshadow in the color of your choice on your eyelid. (Barbra used a pale orange). Use a darker shade from the lid crease up to the eyebrow, blending well as you go. This is the backdrop for your rhinestones & a darker shadow will help them pop. Apply waterproof, black felt tip eyeliner in cat eye fashion, or per your personal style. I recommend Stilla Stay All Day or Kat Von D Tattoo Liner. Keep the eyeliner in a straight line as you pull it past the eye and do not flick it upward. 
2.Be sure your upper eye area is dry of oil. Apply clear drying eyelash glue in dots where you want to place your rhinestones. You can do this using a toothpick, bobby pin edge, or the brush included in brush on adhesive. Do this in areas of only three to four dots at a time so the glue doesn't dry before you apply the rhinestones. 
3.Using either Swarovski flat back crystals in the color of your choice or (more affordably), 14 faceted resin rhinestones (around 3-4mm) for the best shimmer. Prep these with the flat backs down so they are easy to pick up. Using tweezers, a wax tip pencil (my favorite option), or the wetted pad of your fingertip, dot your flat back rhinestones onto the glue spots you have dabbed. If your spots have dried, add a bit more glue and continue to work. If something falls off, add more glue and try again. This is a fun look, so enjoy the process! You can get creative with the pattern and placement of your rhinestones. No matter what your placement, with proper glue these will stay all night. 
4. To remove your rhinestones at the end of the night, use a makeup wipe, micellar water or baby oil.