1997 Academy Awards in antique Fabergé
Barbra Streisand wore this one-of-a-kind Fabergé diamond necklace to the 1997 Academy Awards. This unique piece can also be seen in a photo of her with former United Nations Ambassador Madeline Albright and former Canadian Prime Minister Pierre Trudeau.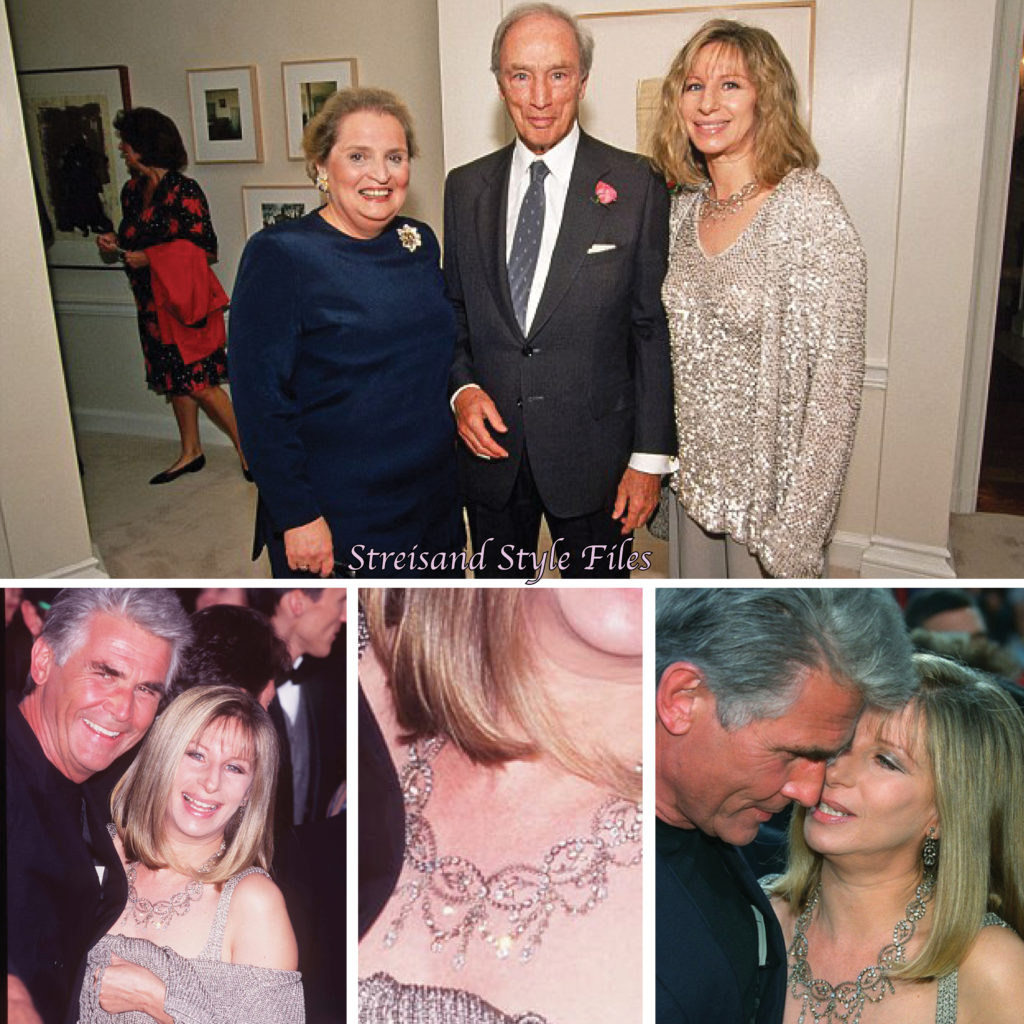 After quite a bit of research, I found that this necklace is a Fabergé that she purchased in 1994 from London-based Fabergé experts, Wartski. The 150-year-old London-based antique dealer is best known for its "royal warrant of appointment" and they are one of a handful of jewelers that supply goods & services to the royal family. Streisand's necklace is packed with an assortment of diamonds in round and teardrop shapes. Most striking are the beautiful diamond flora decorations that encircle the piece. Set within each oval are what appear to be three-leaf clovers with diamonds representing their leaves. It is glamorous, extremely detailed, and historic, so I can see why Barbra was drawn to it.
The founder of Fabergé (Gustav Fabergé) opened his first store in a basement shop in 1842. A fun fact is that he added the accent to the last E in his name to appeal to Russian nobilities' obvious Francophilia. Eventually, his store was left to his son Carl who worked to repair & restore objects in the Hermitage Museum. Though Carl was a trained goldsmith, he did not make Fabergé pieces himself. He worked with numerous artists and craftspeople to bring his visions to life.
Carl was eventually invited to exhibit some Fabergé historic replicas at the Pan-Russian Exhibition in Moscow and while there, Tsar Alexander III declared that he could not distinguish Fabergé's work from the originals. As a result, he ordered that work by the House of Fabergé be displayed in the Hermitage Museum as examples of superb contemporary Russian craftsmanship.
In 1885, Tsar Alexander III commissioned the House of Fabergé to make an Easter egg as a gift for his wife, Empress Maria Feodorovna. The tradition of the Tsar giving his Empress a surprise Easter egg by Carl Fabergé continued annually and the eggs became more elaborate every year. Of the fifty eggs, forty-three are known to have survived.
Given that it was a Russian industry, the House of Fabergé ended up being nationalized by the Bolsheviks in 1918. The economic policy became known as "war communism". The new government confiscated all Fabergé stock as well as the contents of their stores. Having been a friend of the Emperor, Carl had to escape Russia and fled to Riga, Germany, and then Switzerland where he died in 1920. After the war, Carl's sons Alexander and Eugene moved to France after escaping prison in Russia. They opened a shop in Paris called Fabergé & Cie that remained in operation from 1924-2001. Though the company has switched hands many times, Fabergé continues to make luxury jewelry and gifts that honor its founder's aesthetic.
During their height of popularity, the House of Fabergé not only made Imperial eggs, but also a full range of jewelry, carvings, and ornamental objects. I was not able to track down the year that Streisand's unique necklace was created, but when comparing original design sketches that exist for pre-1917 Fabergé jewelry, I can see similarities that lead me to believe this is not a post-1924 piece.
Sources:
G. Munn. Wartski: The First Hundred and Fifty Years. 2015.
https://www.vam.ac.uk/articles/seven-things-you-might-not-know-about-fabergé
https://theenchantedmanor.com/tag/the-children-of-peter-carl-faberge/