Emotion album white cowboy boots by Françios Villon
Barbra Streisand wore white leather boots by François Villon in a photo by Steve Shapiro that was featured on the back of her 1984 Emotion album. Emotion debuted at #19 on the US Billboard 200 chart and is certified Platinum in the US, Australia and New Zealand. Listening to it today is like being transported in a time machine back to the 1980's. My personal favorite tracks on this album include "You're A Step In The Right Direction", "Best I Could" and "Left In The Dark". The song "How Do You Keep the Music Playing" was recorded for this album but not used. Streisand later re-recorded and released it as part of "The Movie Album" in 2003.
Streisand's boots can be seen again in this photo with Kim Carnes. Their duet key art for "Make No Mistake, He's Mine" ended up being a photo of the two that was photoshopped together. Both photos captured Barbra's 1980's aesthetic perfectly. Barbra had been wearing her hair permed with bangs for quite some time leading up to 1984. At the time, she also loved to wear loose fitting, oversized sweaters that were easy to wear off-the-shoulder for a sexier vibe. It wasn't until 1986 that she started to grow her perm and bangs out and wear soft waves.
It is easy to see why Streisand selected these François Villon boots for her photo shoot. They looked perfect with her white pants and sweater. The black puffed leather detailing on them added just the right "pop" to the outfit. This style of cowboy boots were produced in multiple colors and sold by a boutique in San Francisco called "Shoe Biz." Shoe Biz opened in 1979 and sold only high-end handcrafted leather footwear that was exclusive to their boutique. Barbra's boots were crafted from white leather and featured a 12 inch shaft, 2 1/2" inch chunky heel and almond shaped toe. Forty-nine circular studs resting inside a diamond motif decorate the inner and outer side of each boot. Each diamond motif has an etched border.
Puffed black leather trim frames the diamond motif from above and below. The bottom of the shoes are imprinted with "François Villon Hand Made in Italy Vero Cuoio 38". Streisand's pair sold at auction in 2004 for $550.00.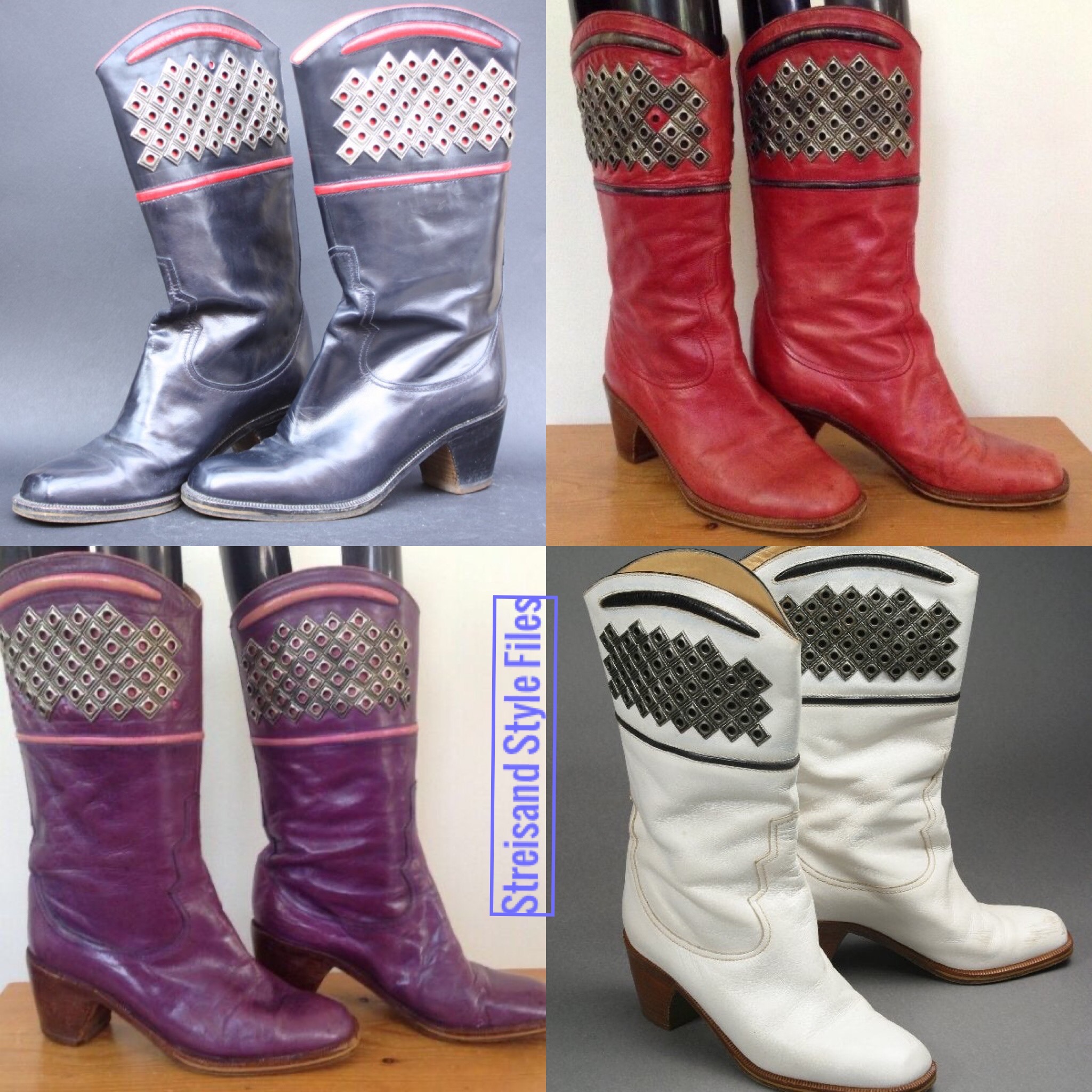 Françious Villon (1911-1997) was born Françious Benveniste. He took the last name Villon because of his admiration for the great French poet. Françious created his own design house in 1960 where he specialized in custom made shoes. After five years he was extremely successful and was making shoes for a refined and and famous clientele. Villon made many variations of shoes including heels, thigh high boots, cut boots, and riding boots. His research also led him to create a unique spiral tendril heel.
Soon Villon had boutiques in New York, Milan, Hong Kong and Singapore. Fashion houses including Chanel, Hermés, Nina Ricci and more paired his shoes with their collections in fashion shows. François continued designing until his death in 1997. His creations can often be seen as a part of fashion exhibitions worldwide.