Funny Girl 1920's geometric shift dress by Irene Sharaff
This vibrant orange shift dress was worn beneath one of the most iconic costume pieces in Funny Girl (1968), but received very little screen time. We get the first glimpse of it as a peek of orange beneath Fanny's fur coat while she pretends to shoot an imaginary audience. It appears again at two hours and sixteen minutes into the film, as the flashback storytelling of Nick and Fanny's relationship cumulates with Fanny singing Funny Girl.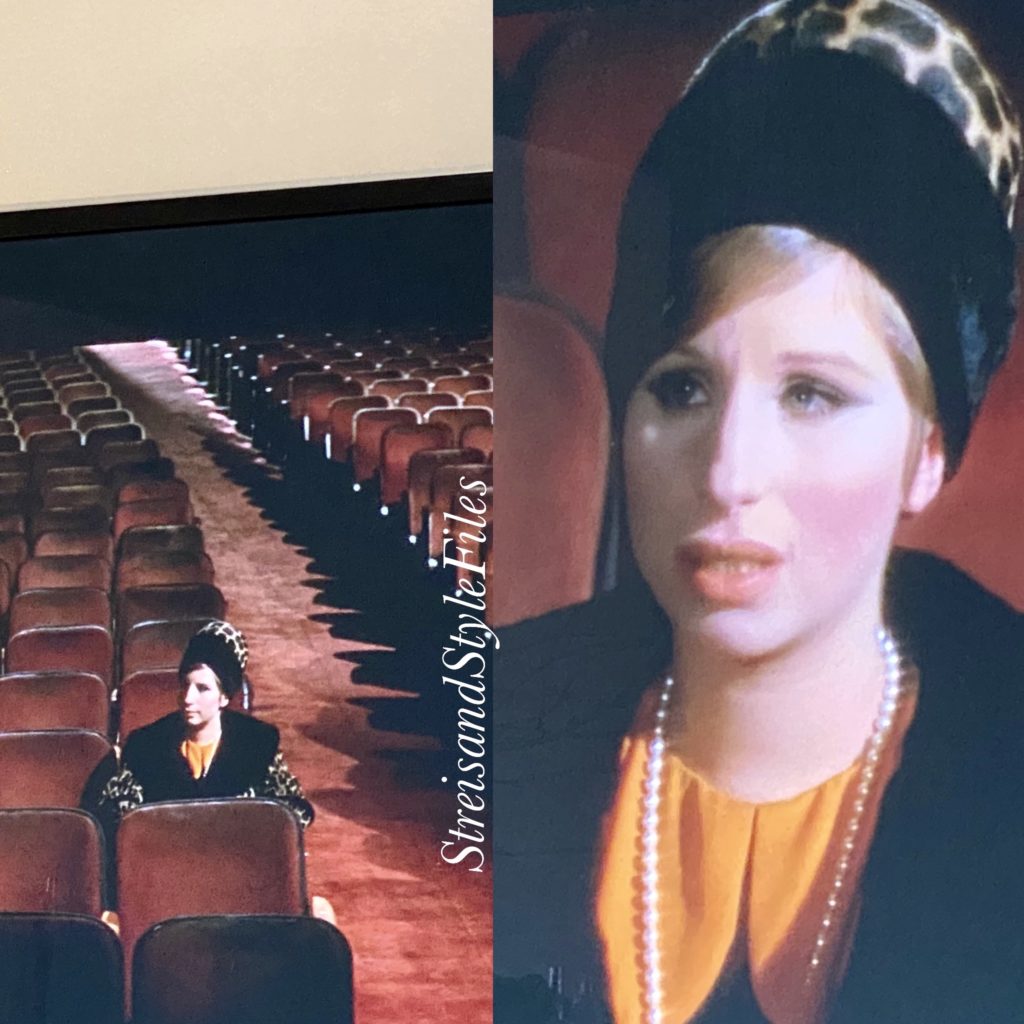 Fanny Brice was married to Julius "Nicky" Arnstein from 1918-1927. Arnstein served a three year prison sentence from 1924-1927 after being convicted of conspiracy to carry stolen securities into the District of Columbia. This means that the beginning and end sequences of Funny Girl are set right around 1927.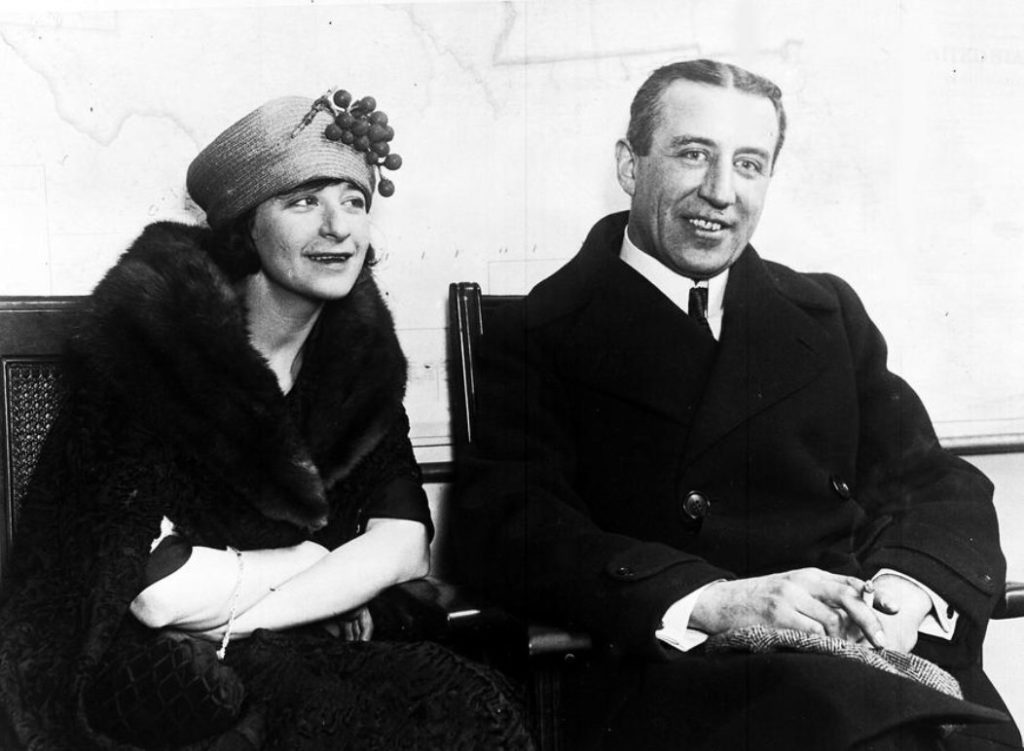 Costume designer Irene Sharaff did an impeccable job making sure this costume was accurate to the late 1920's. Sharaff (1910-1993) was famous for the manipulation of color and historic detail seen in her designs. She originally trained to be a painter which led her to work in set design, and eventually costume design. Sharaff contributed her incredible sense of color to her art background, once remarking that she saw everything in blocks of color "like painting a picture." Some of her favorite colors to use in costume design were oranges, reds and pinks. We see these beautiful pops of color utilized throughout Funny Girl, blended together perfectly as if in a scenic painting. Orange appears on Fanny in the aforementioned scenes, and in them Fanny's assistant Emma wears a complimentary solid orange dress.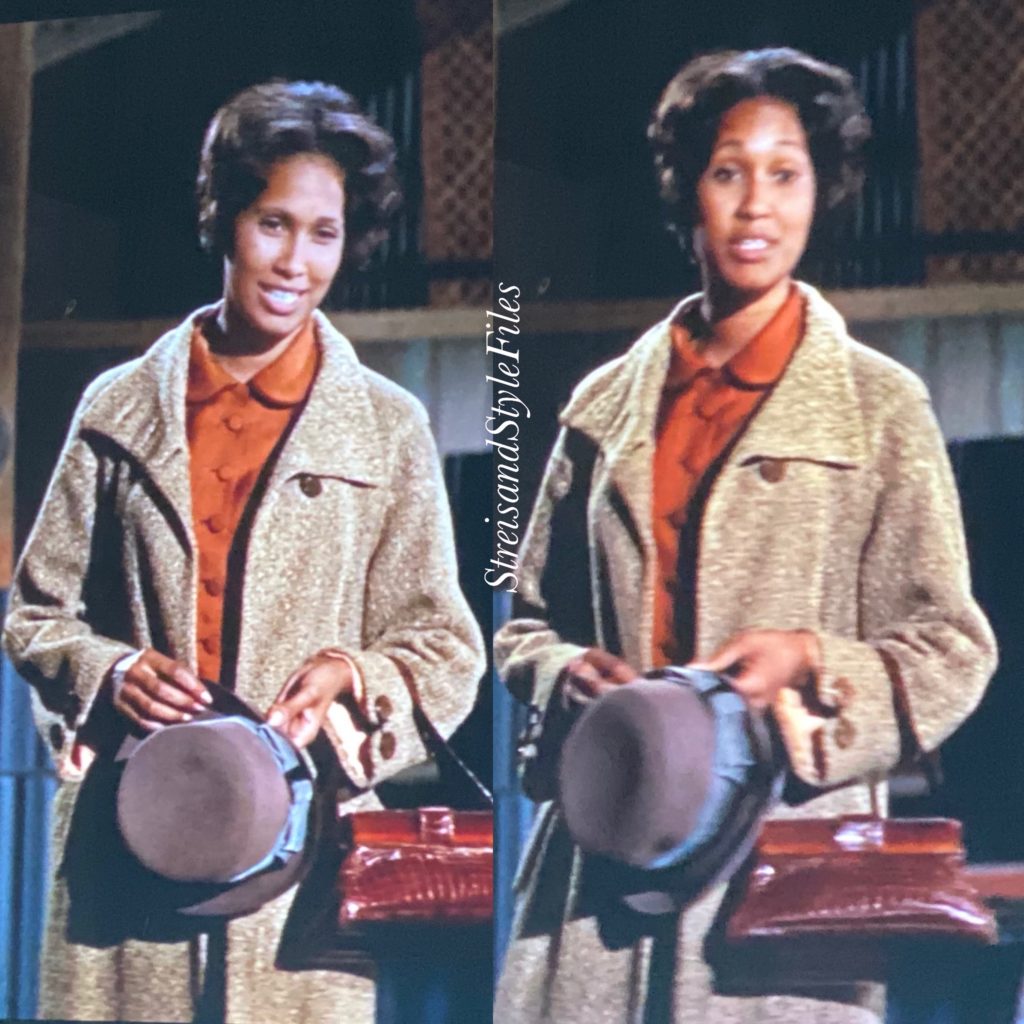 Sharaff's most bold and memorable use of orange in Funny Girl is undeniably in the dress worn during the Don't Rain on My Parade scenes.
Women's fashion in the 1920's celebrated simplicity and convenience. Fanny's orange day dress was a loose fitting tubular pullover with a dropped waist. This was an extremely popular style at the time.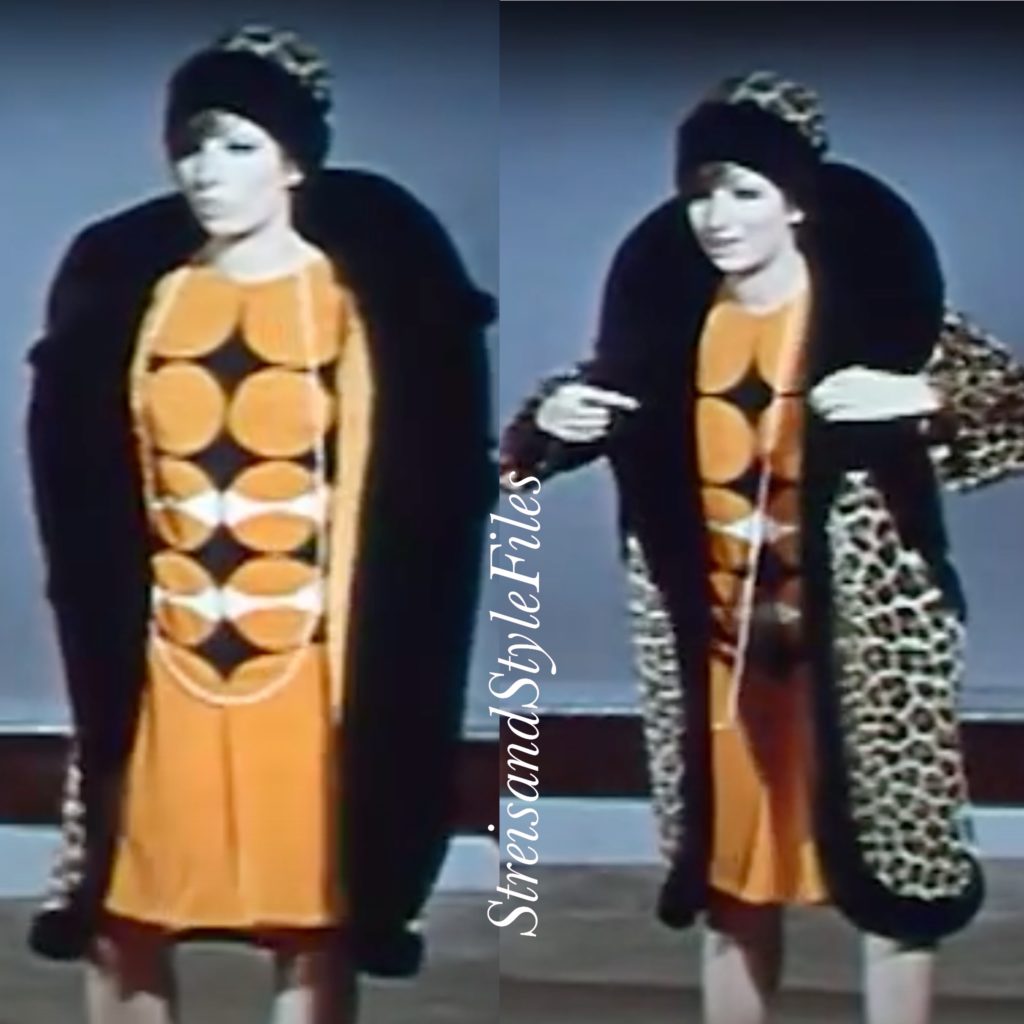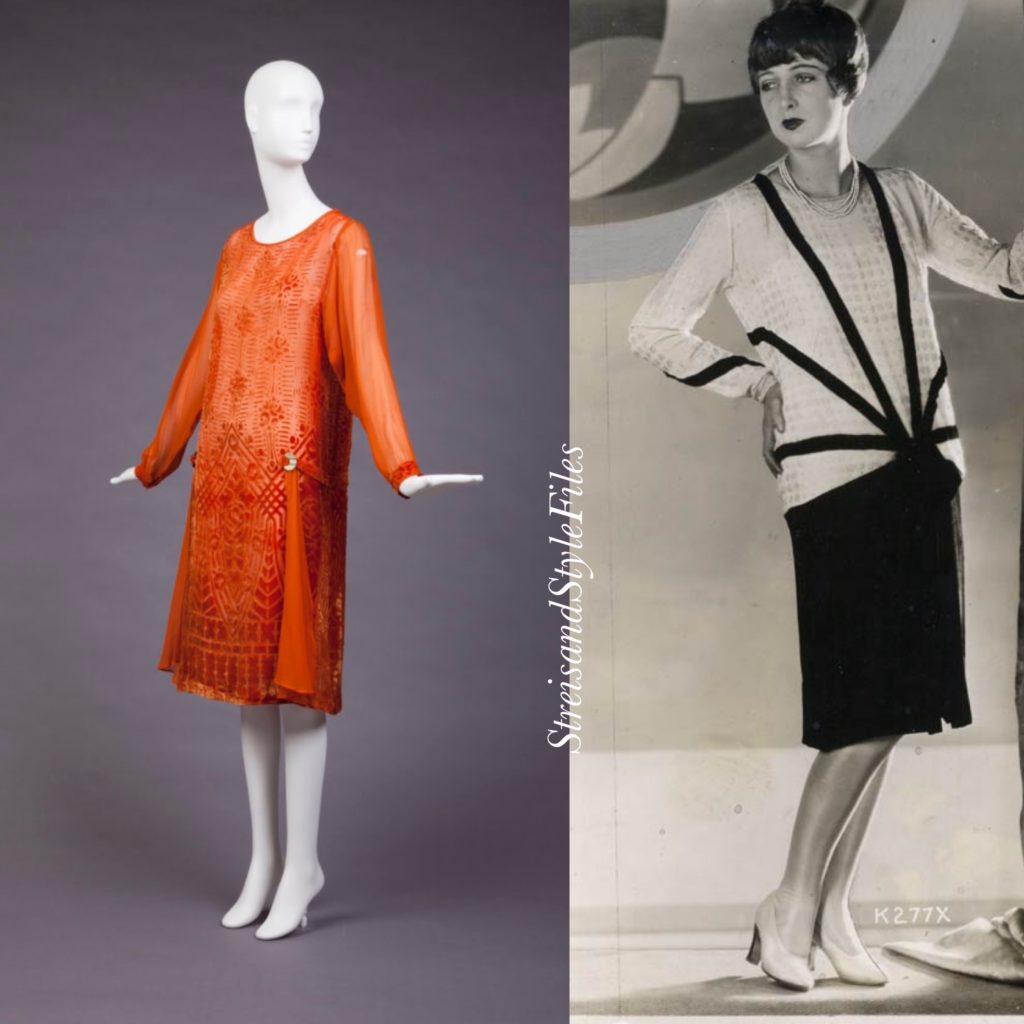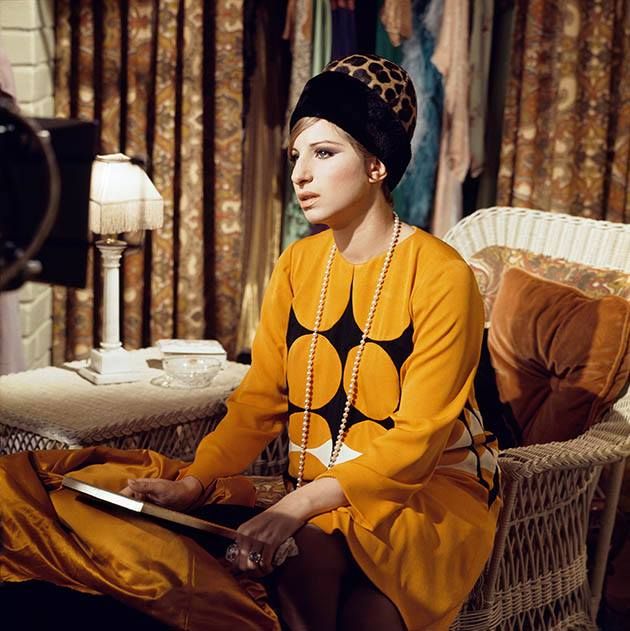 Bold solids were a must have, which allowed art deco style motifs such as the abstract circular one accenting the front and back this dress to stand out. This dress features a jewel neckline, relaxed long sleeves, and an inverted box pleat just below the front dropped waist. It appears to be made from a silk blend, which Sharaff used in multiple Funny Girl costumes. The hemline falls just above the knee which allowed the dress to remain perfectly hidden beneath the fur coat. The 1920's saw many variations in both waist and hemlines. Waistlines dropped in 1923, only to rise again in 1928. Hemlines rose around 1926 and fell thereafter.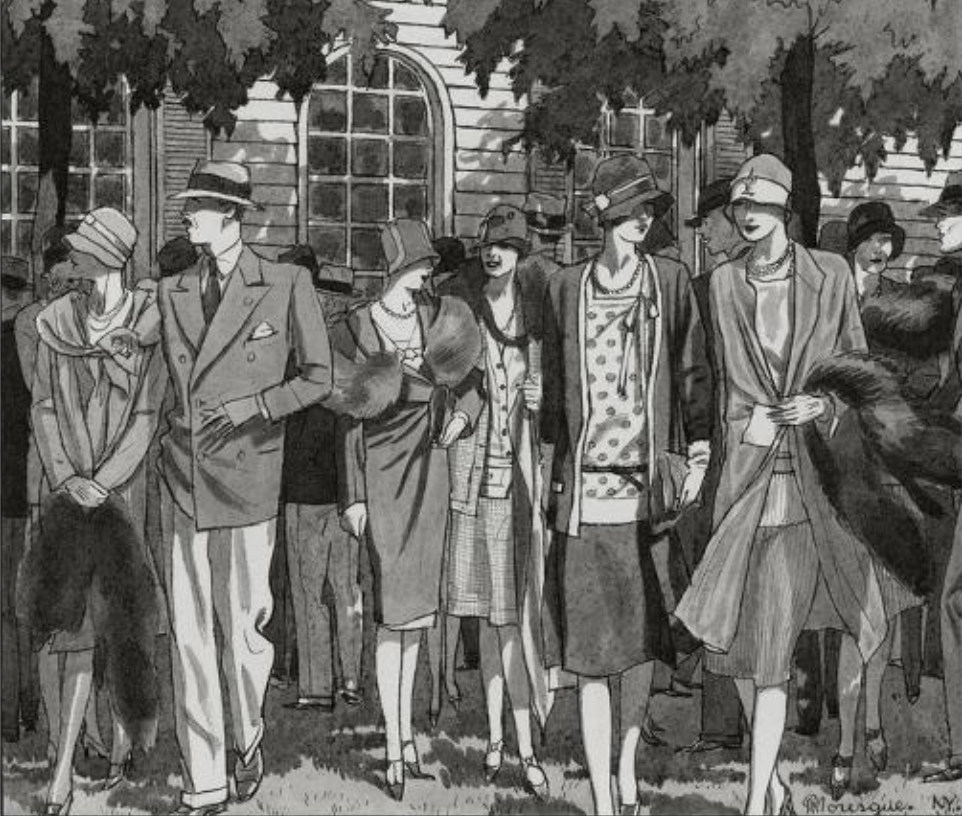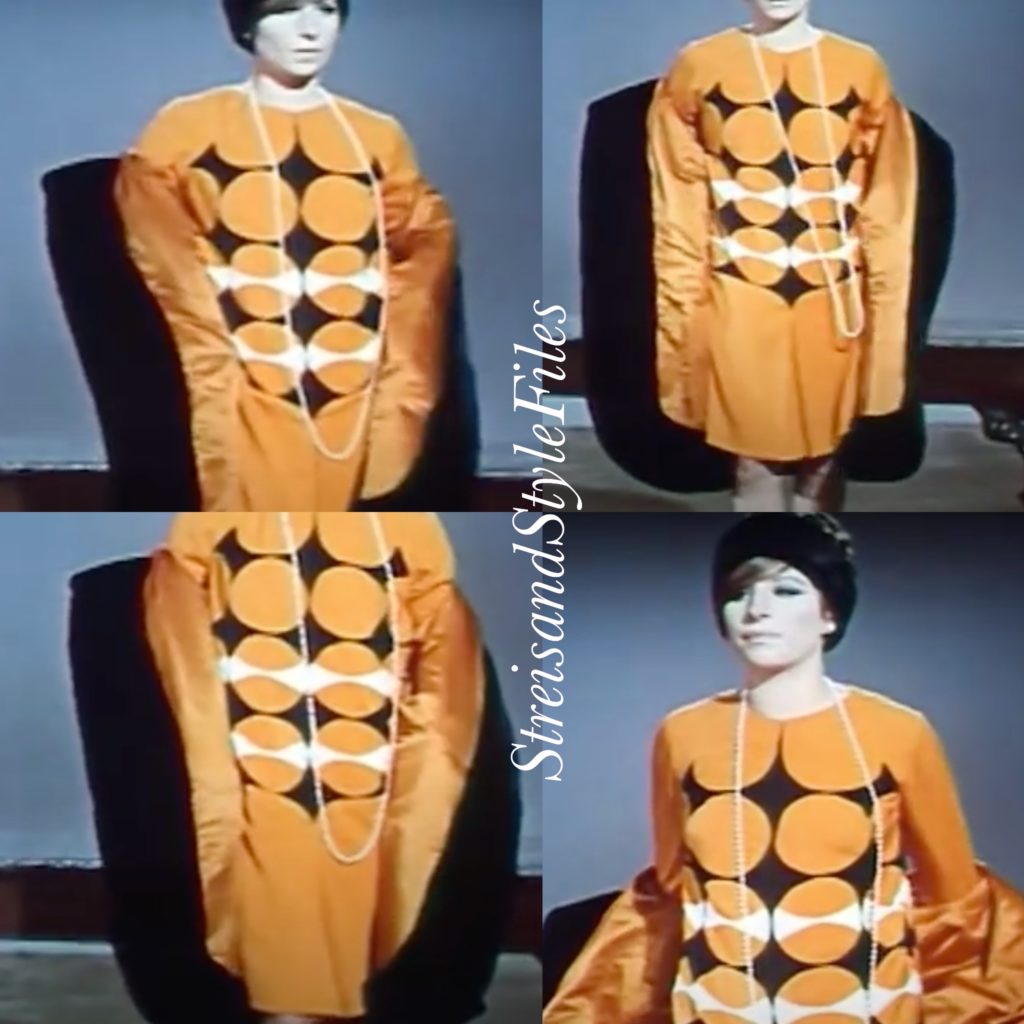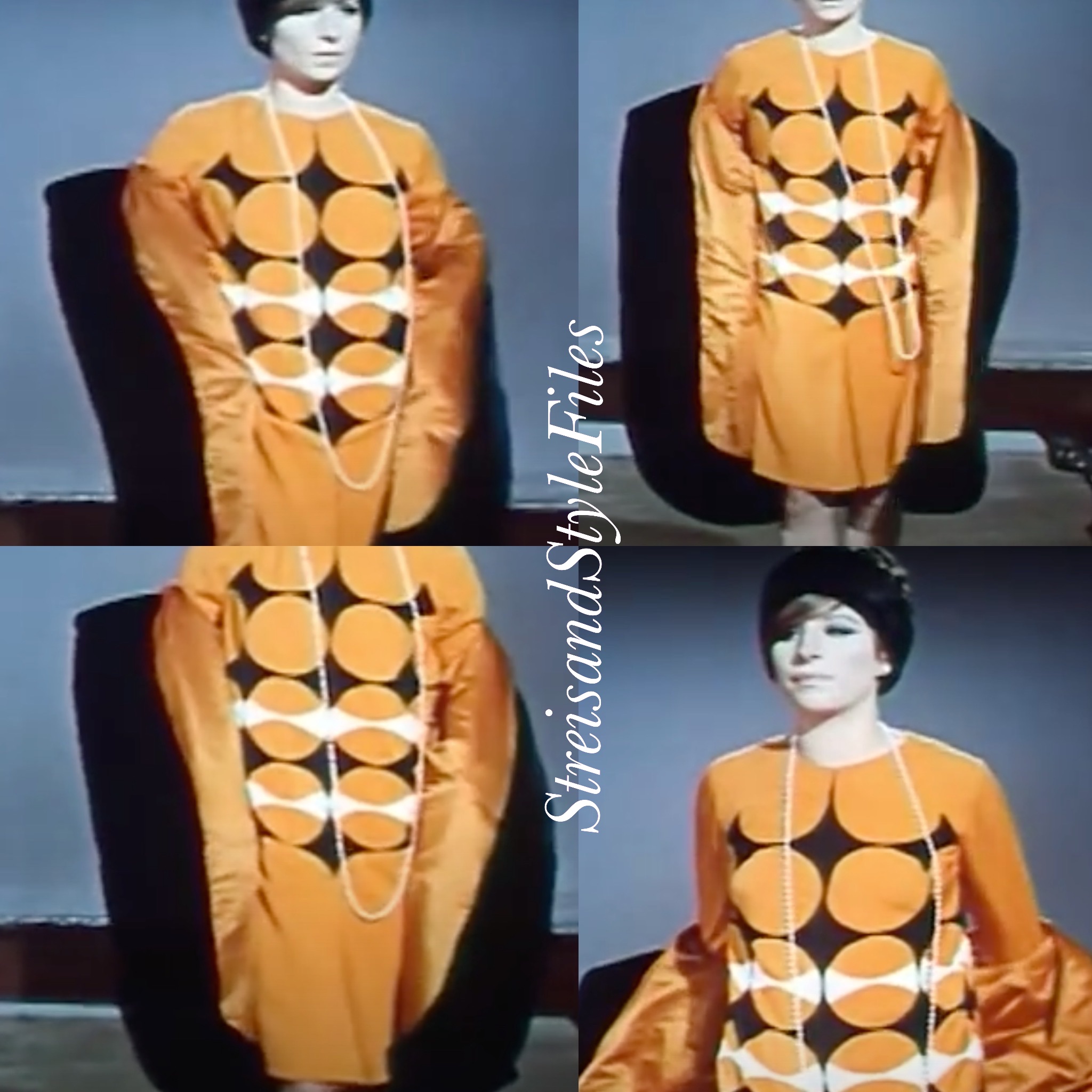 The lack of ornamentation on this dress tells us that it is daywear. Evening gowns during this time were typically made from silk-satin, and drenched in ornate, glamorous rhinestones and beading. One of my favorite details about this look is that the fur coat features a lush orange lining which ties the entire costume together.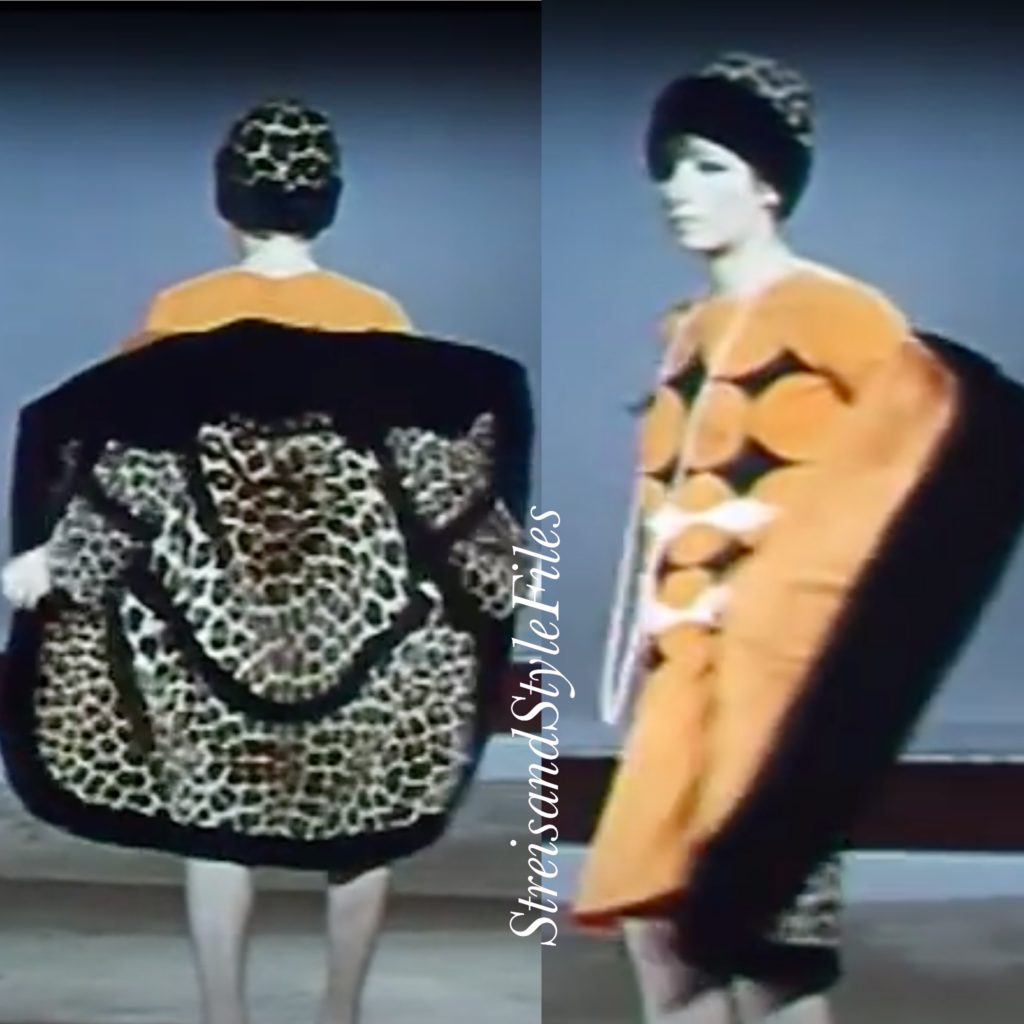 My research showed no evidence that this dress has been located, though the possibility exists that it remains in a private collection.
Video footage of Barbra modeling the dress can be seen below starting at 5:16.