Funny Girl stage production "People" dress by Irene Sharaff
Barbra Streisand wore this stunning evening dress by Irene Sharaff during Funny Girl's stage productions, on Broadway from 1964-65 and later during her short run on London's West End in 1966. The fact that Barbra wore this costume while singing one of the biggest numbers in the show, People, helped to seal its place as one of the most famous costumes in Broadway history.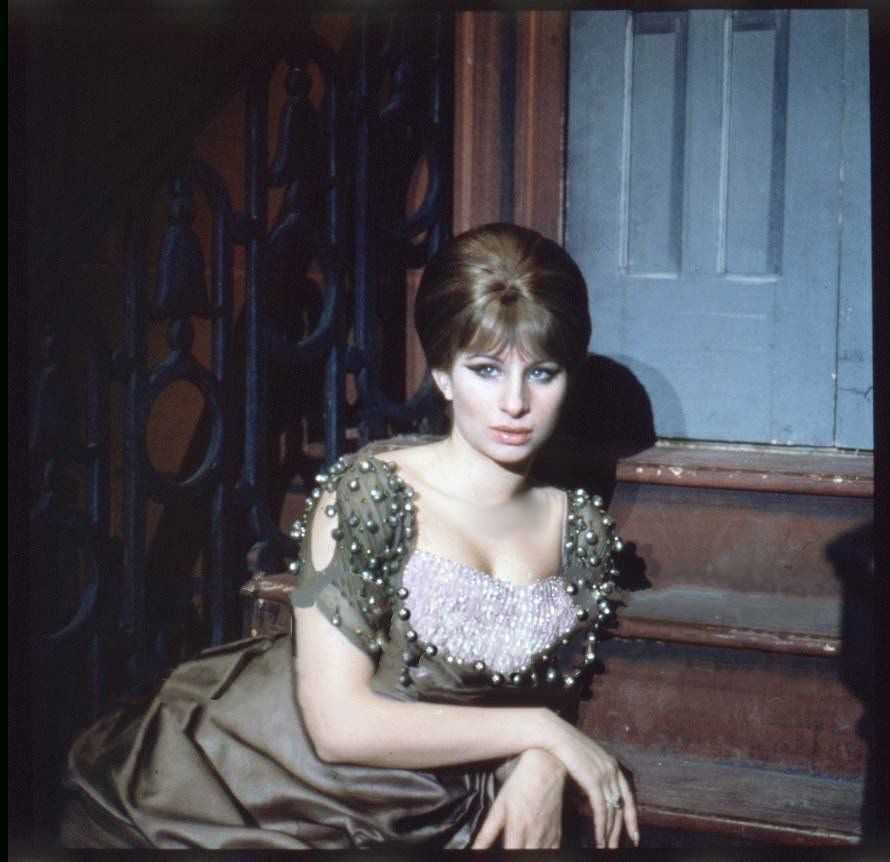 Irene Sharaff would go on to design a more elevated version of this costume for the film version of Funny Girl in 1968. Having a much higher budget than she did for the stage version certainly assisted in its stage to screen evolution. Sharaff was famous for her manipulation of color and attention to historic detail. Pink was one of her favorite colors to work with, which we see this reflected in this dress.
Fanny Brice (originally Fania Borach) first began headlining the Ziegfeld Follies in 1910 at just nineteen years old. This gown features a silhouette that is consistent with popular styles toward the end of the Edwardian period. Around 1908 the trendy S-bend look, which was created by a restrictive corset that pushed women's torsos forward and hips back was coming to an end. In its place arrived the revival of the empire-line silhouette. These column styles allowed women more freedom of movement and freed them from extremely restrictive fashions of the past. Some men at the time worried that this would cause women to become more interested in getting an education and participating in sports, and less interested in marriage and raising families. The biggest shift in women's fashion however, would not take place until the beginning of World War I in 1914 when unrestrictive clothing became essential for their safety while working in factories and hospitals.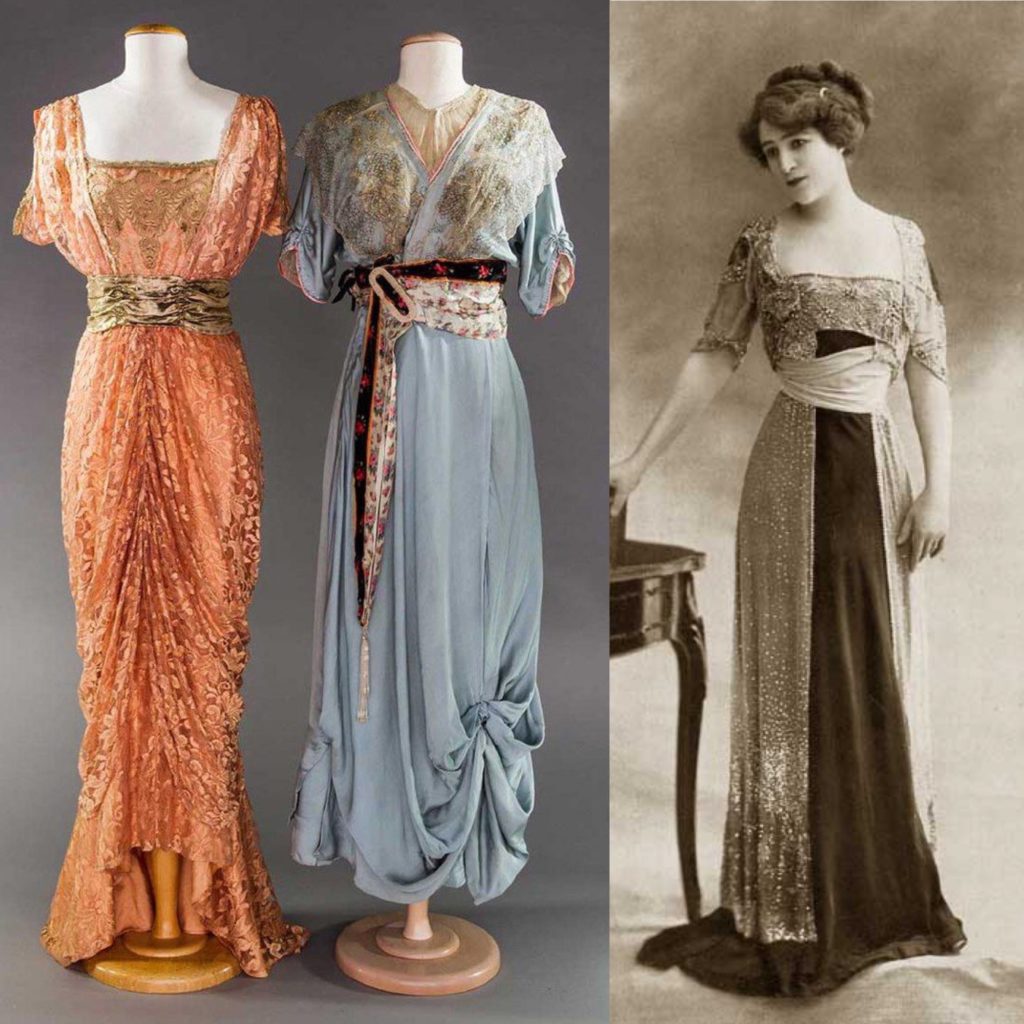 Barbra's Funny Girl dress was made using olive green chiffon over dusty pink silk. The layering of these two colors made for an extraordinary combination and gave the costume so much dimension. The bodice features a square and modest neckline and is decorated in rows of delicate sequins and seed beads. There are tank straps which act as structure for the outer layer chiffon to secure to. This outer layer of chiffon is where we see the fun and whimsical detail of multiple hand-sewn ball tassels hanging beneath strands of seed beads. These must have caught the light beautifully when Barbra moved onstage.
Puffed sleeves were phased out by 1910. Here we see this reflected in lightweight, romantic, sheer sleeves with keyhole cutouts.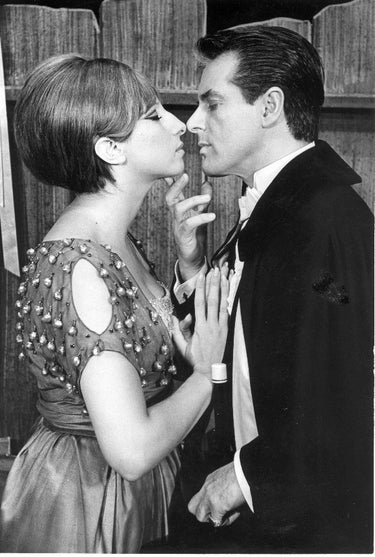 A wide loosely pleated and gathered sash emphasized the new and popular empire-waist shape of the time. The outer skirt of the gown is pleated on the bias, which draws the eye to an oversized self fabric bow. There is a large, rhinestone, oval buckle slider at its center. Decorations such as this were extremely popular during this era and were often seen on evening dresses. The bow holds the top layer of the gown up, under which we see a very finely pleated underdress that is reminiscent of Fortuny designs. This is decorated in rows of sequins which reflect the embellished motif on the bodice.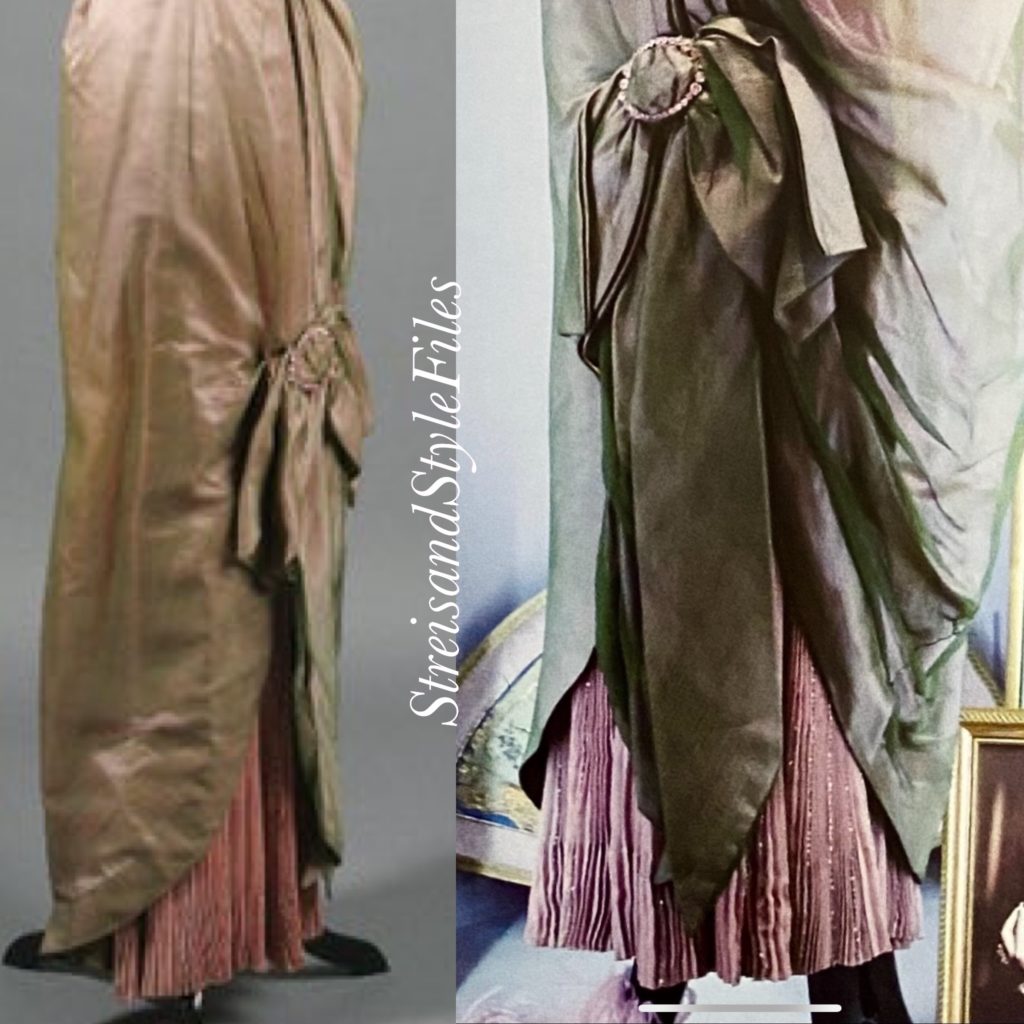 The back of the skirt features beautiful draping and an inverted box pleat that provided volume and ease of movement onstage. Since this gown was constructed for theatrical purposes, it features a long concealed zipper and hook and eye closure at the back. This easy closure would have assisted in the quick changes during the show as well as helped provide some durability, considering the beating that stage clothes inevitably take. The photo below highlights some of the significant differences in the stage and screen costume.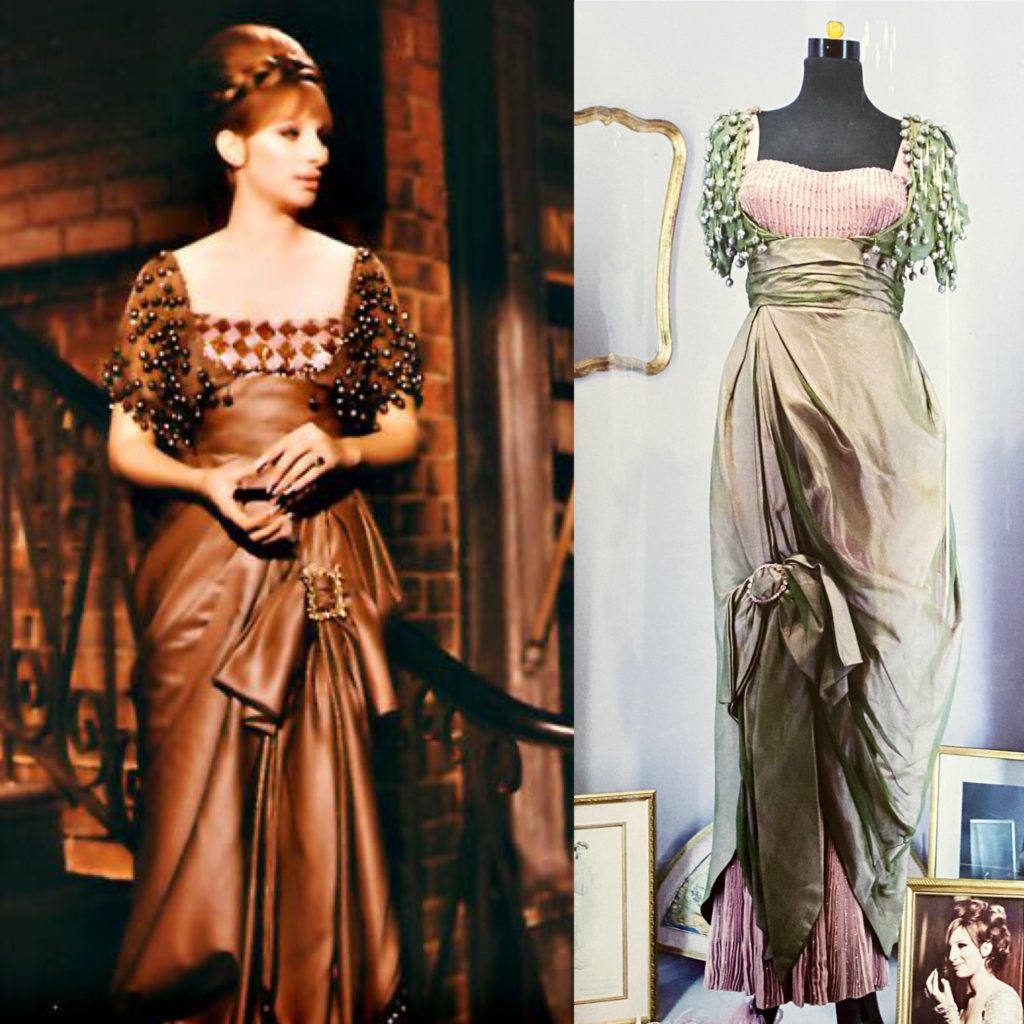 This costume was sold at Julien's Her Name is Barbra charity auction in 2004 for $19,750, but for obvious reasons, Streisand decided to retain the piece for her personal collection. On page 217 of her 2010 book My Passion for Design, Barbra features a full page photo of the gown proudly on display in her antique clothes shop, noting "I sang 'People' in this dress in the stage version of Funny Girl. Irene Sharaff designed it in green chiffon over pink silk with little beaded balls on the sleeves….quirky, like the character. She did a slightly more elaborate version for the movie. But this is the one I prefer."