Funny Girl, Roller Skate Rag Costume By Irene Sharaff
Barbra Streisand wore this velvet striped shift dress in "Funny Girl" (1968) during Fanny's "Roller Skate Rag" and "I'd Rather Be Blue" numbers, as well as in the following scene when she first meets Nicky Arnstein. This costume, and its six matches worn by ensemble members were designed by Irene Sharaff (1910-1993), and constructed by Berman Costume Co. Berman Costume Co (founded by David Berman) was one of the largest costume suppliers to Hollywood films, stage, T.V. and Las Vegas, creating over 1,000 costumes a month. His company worked with renowned designers such as Irene Sharaff and Cecil Beaton to materialize their drawings into life. Aside from "Funny Girl", Berman provided costumes for "I Love Lucy, "The Carol Burnett Show", "My Fair Lady", "Cleopatra" "Lawrence Of Arabia", Liberace and far more.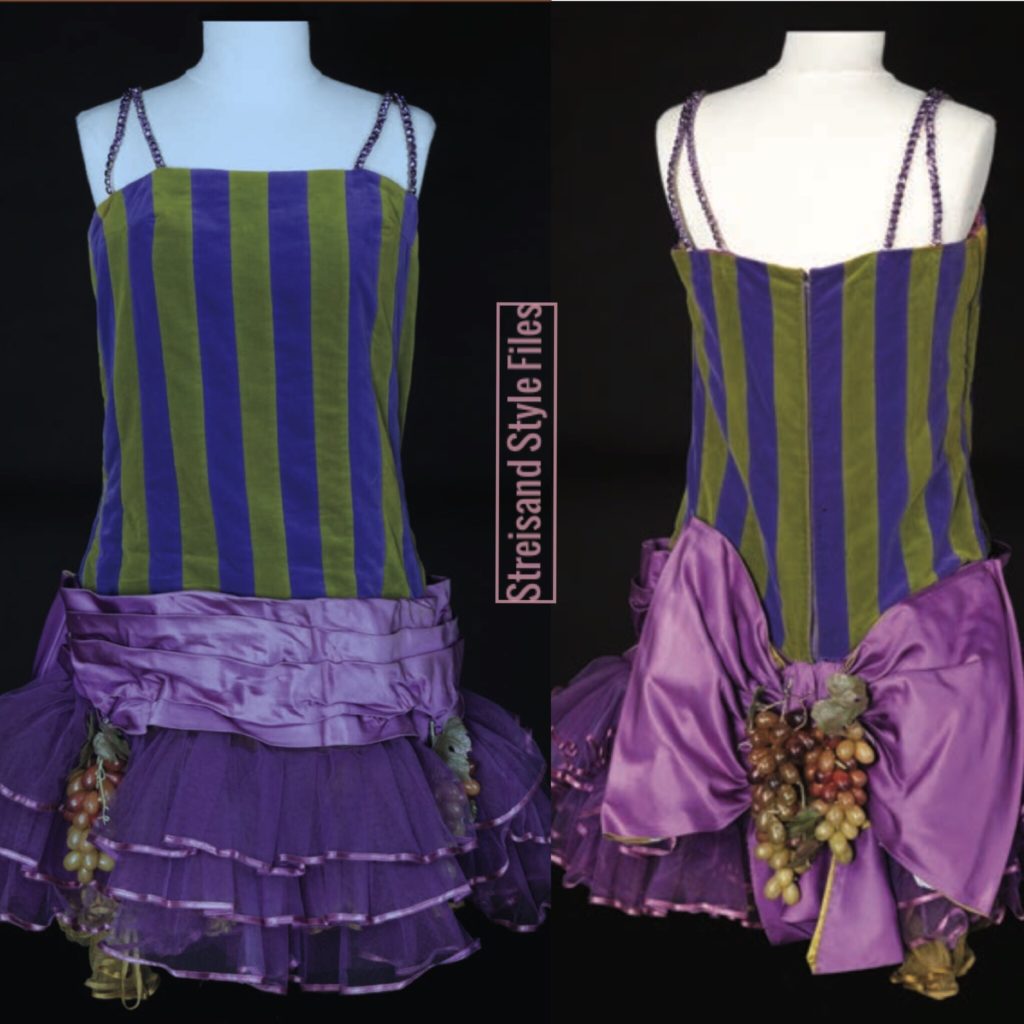 Irene Sharaff is famous for her manipulation of color and historic detail. She costumed over 50 Broadway plays and musicals and received 8 Tony Award nominations, winning for The King and I. Additionally, she earned 15 Oscar nominations and won five. The roller skate rag scene was a new addition to the "Funny Girl" script, replacing Broadway's "Cornet Man" number.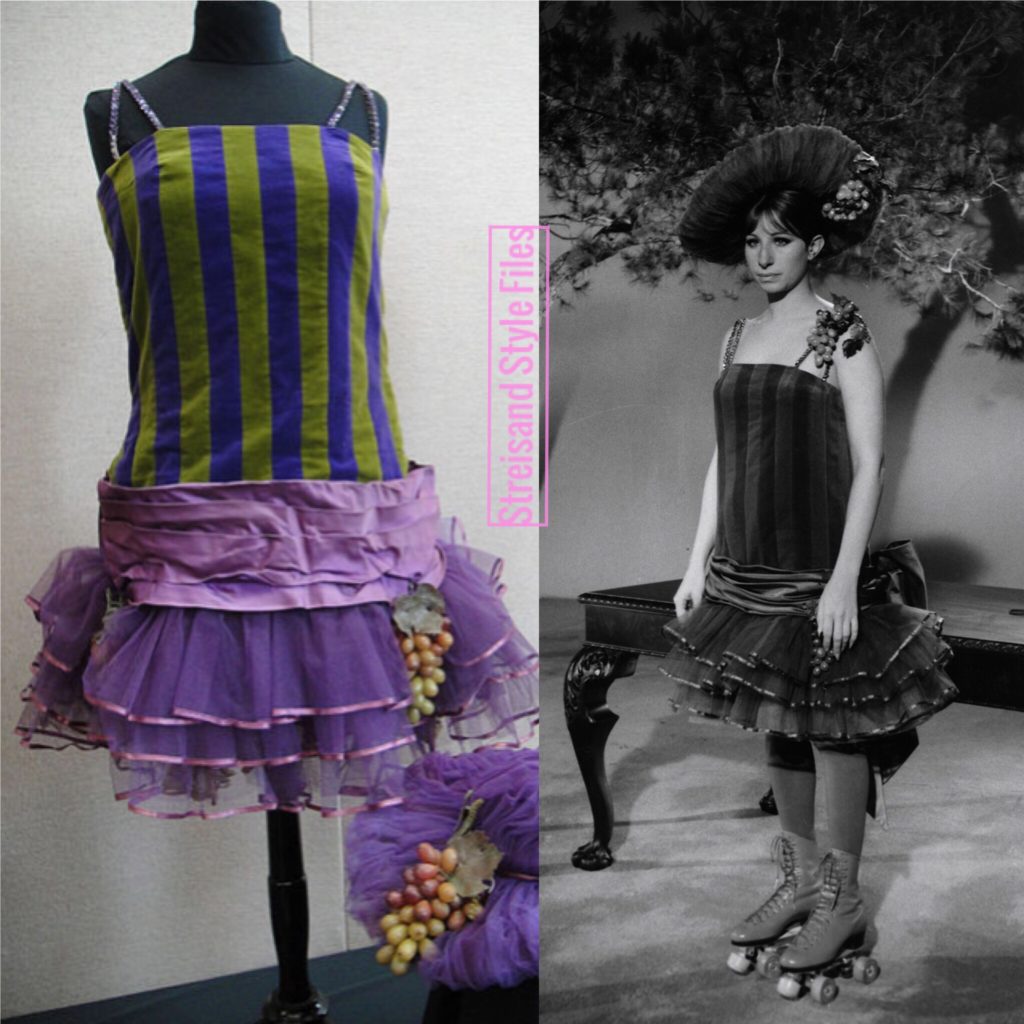 These matching costumes highlight Sharaff's talent for mixing lush fabrics with vibrant color palettes seamlessly.
This loose shift style dress is made from purple and moss green vertically striped velvet. It features a drop waist, which was an integral part of women's fashion in the 1920's and a long zipper closure. The double spaghetti straps are trimmed with purple claw set rhinestone chains, and sewn together at the shoulder creating an inverted V at the front and back. In the film an artificial grape cluster adorns the strap on Barbra's left side. A loosely ruched purple satin belt sits at the drop waist, and ties into an oversized bow at the back. The bow is lined in green satin. Four more artificial grape clusters are sewn into this piece. Below this are three layers of purple gathered tulle and one layer of green tulle, each edged with matching satin trim. Beneath this, green bloomers with a tulle ruffle trim were worn, along with purple tights featuring hand sewn large, flat round sequin palliates along the thigh. Accessorizing these costumes were wide brimmed purple hats with gathered tulle, purple ribbon and two artificial grape clusters.

This is a style of hat gathering Sharaff frequently used. You'll notice it on other hats in "Funny Girl" as well as in "Hello Dolly!" Completing this look were green leather roller skates. Barbra's dress, as well as five matching ones sold at Debbie Reynolds auction in 2011.