Funny Girl's iconic leopard coat costume by Irene Sharaff
Barbra Streisand made her movie debut wearing this iconic leopard fur coat and hat, designed by Irene Sharaff. This costume is without a doubt one of the most recognizable in film history and is completely synonymous with Streisand's first line in the film in which, eyes straying toward the mirror she resentfully utters "Hello, Gorgeous."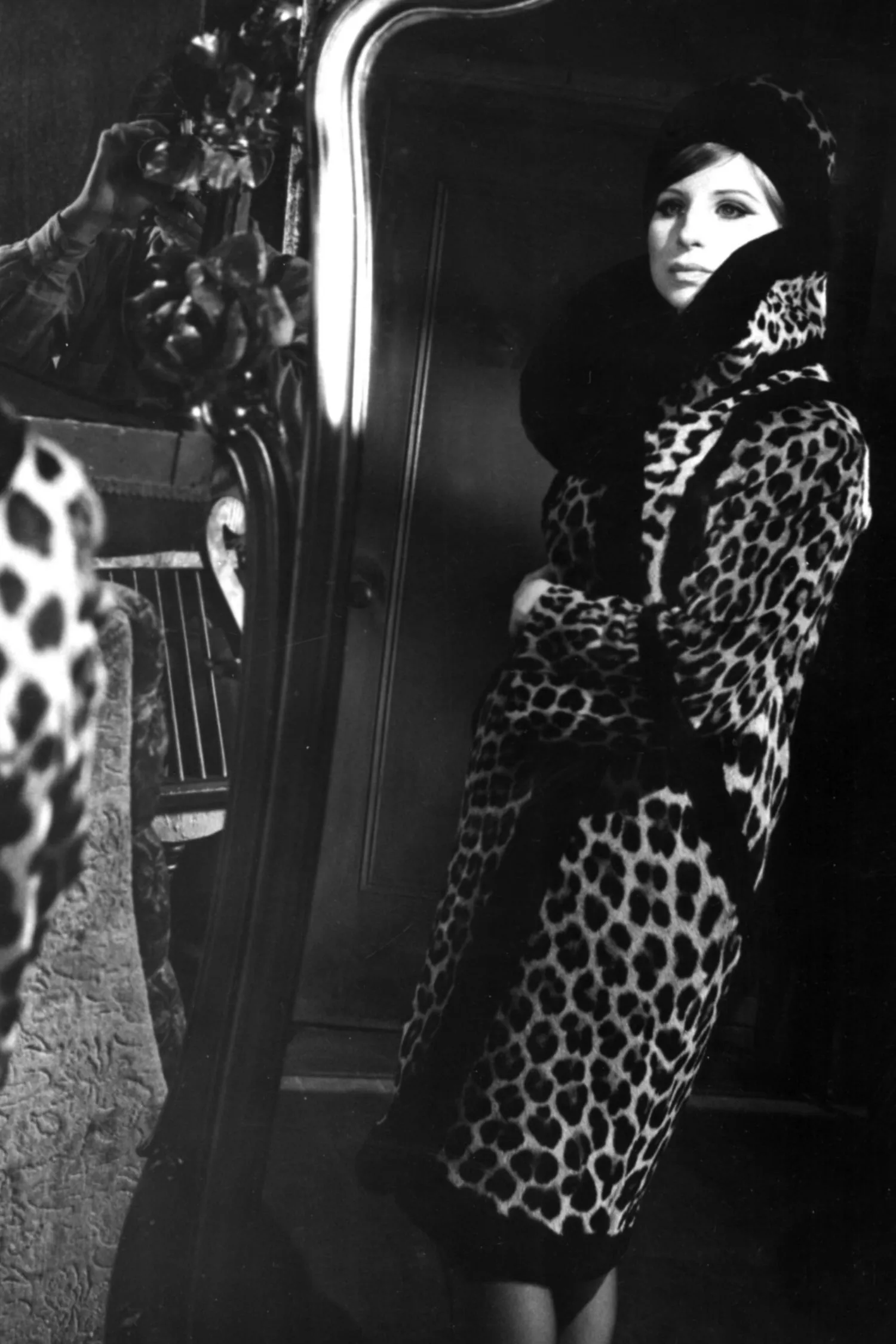 At the time Funny Girl was released in 1968 leopard fur was already at the height of its popularity. Streisand wearing it on screen certainly helped to create a whole new excitement for the style. The Funny Girl film was such a smash hit that women everywhere wanted to emulate Streisand's costumes and what was dubbed the "look" of Funny Girl. This resulted in a slew of late 1960's fashions that were a throwback to styles ranging from 1918-1928.
Fanny Brice's real life marriage to Julius "Nicky" Arnstein spanned from 1918-1927. Arnstein served a three year prison sentence from 1924-1927 after being convicted of conspiracy to carry stolen securities into the District of Columbia. This means that the beginning and end sequences of Funny Girl in which Fanny wears her leopard coat and hat are set right around 1927. Women's fashion in the 1920's celebrated simplicity and convenience. Costume designer Irene Sharaff did an impeccable job making sure all of Streisand's costumes were extremely accurate to this period. In the 1920's many women owned fur wrap coats with fur collars and large cuffs, often featuring a single oversized button closure. These were generally very loose fitting and sometimes had a low belt or sash. Hemlines rose and fell throughout the 1920's and were at their shortest post 1926, as seen represented in the just to the knee dress worn under this fur.
In the early twentieth century leopard fur was rare, thus making it quite expensive. Owning a leopard coat was a privilege reserved for Hollywood stars, socialites and the upper class.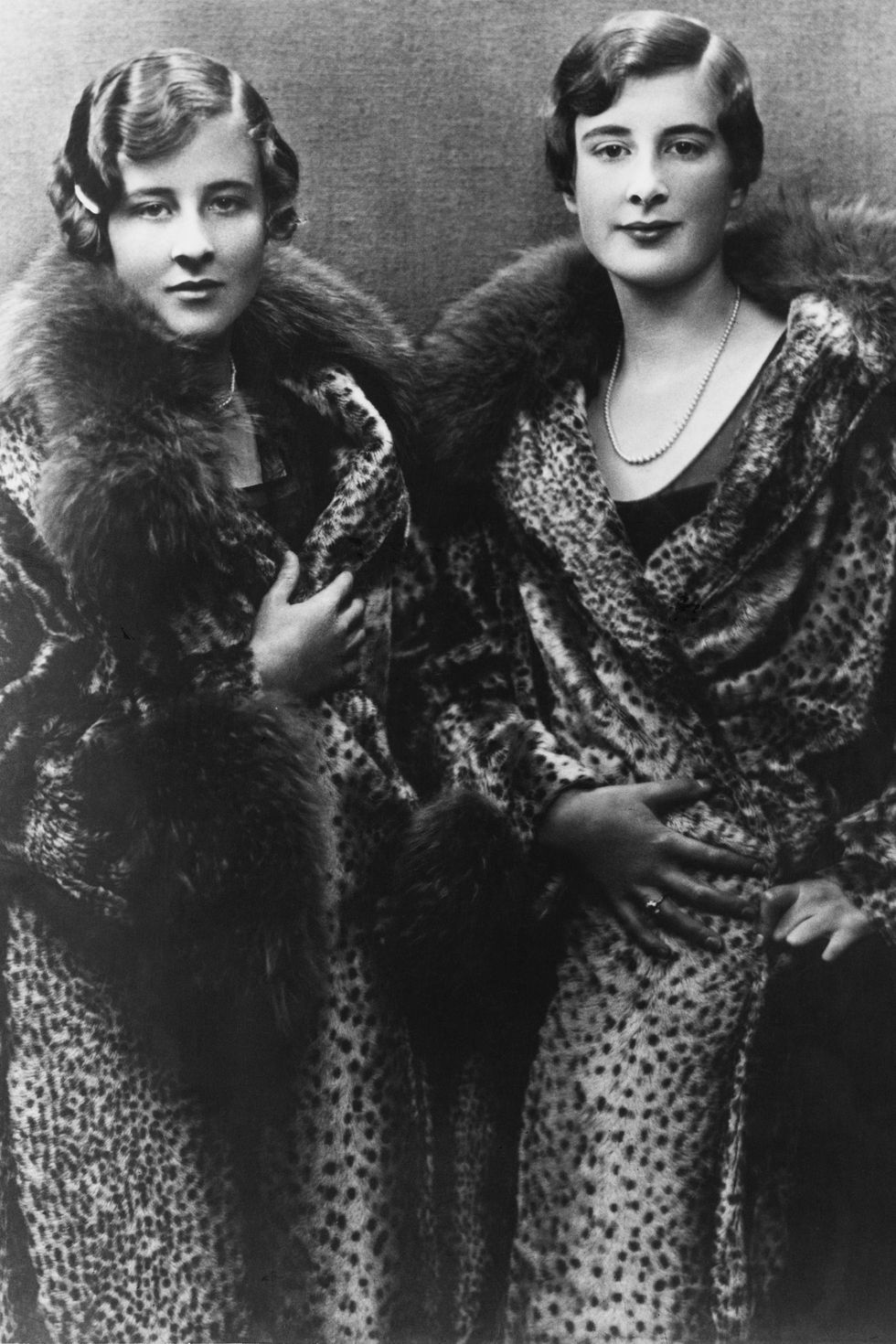 In Funny Girl, the first glimpse of Streisand's spectacular leopard fur costume that we see is from the back. In this dramatic wide shot the oversized collar of the coat is flipped upward. This would have made it easy for Brice to hide her face as she walked by the people outside of the theatre to enter the stage door. It also became an important element in the delivery of the famous line "Hello, Gorgeous", in which Streisand sensuously lowers one side of the collar to reveal her face. The shot featuring the back of this coat displays two eye-catching, half-circle bandings made of black seal fur that meet to form a fully circular shape from certain angles. This arched, half-circle shape is mirrored in black fur at the lower portion of the jacket. This bold trim help to break up the leopard motif, as well as provide a more fitted look.
When the entire front of the coat is finally revealed we see a large, black capuchin collar. The front of the coat features additional black seal fur trim that runs vertically from the bust at each side creating princess seams. These swoop around the low hip and extend into a half-circle at the back. There is a large button just under the left side of the collar and one visible pocket. The loosely fit coat sleeves have black fur trim at the elbow and flare into a soft belle shape. A matching fur cloche hat completes this glamorous outerwear look.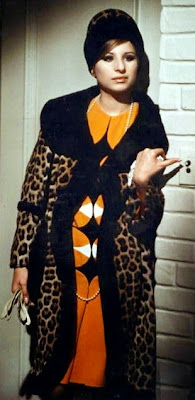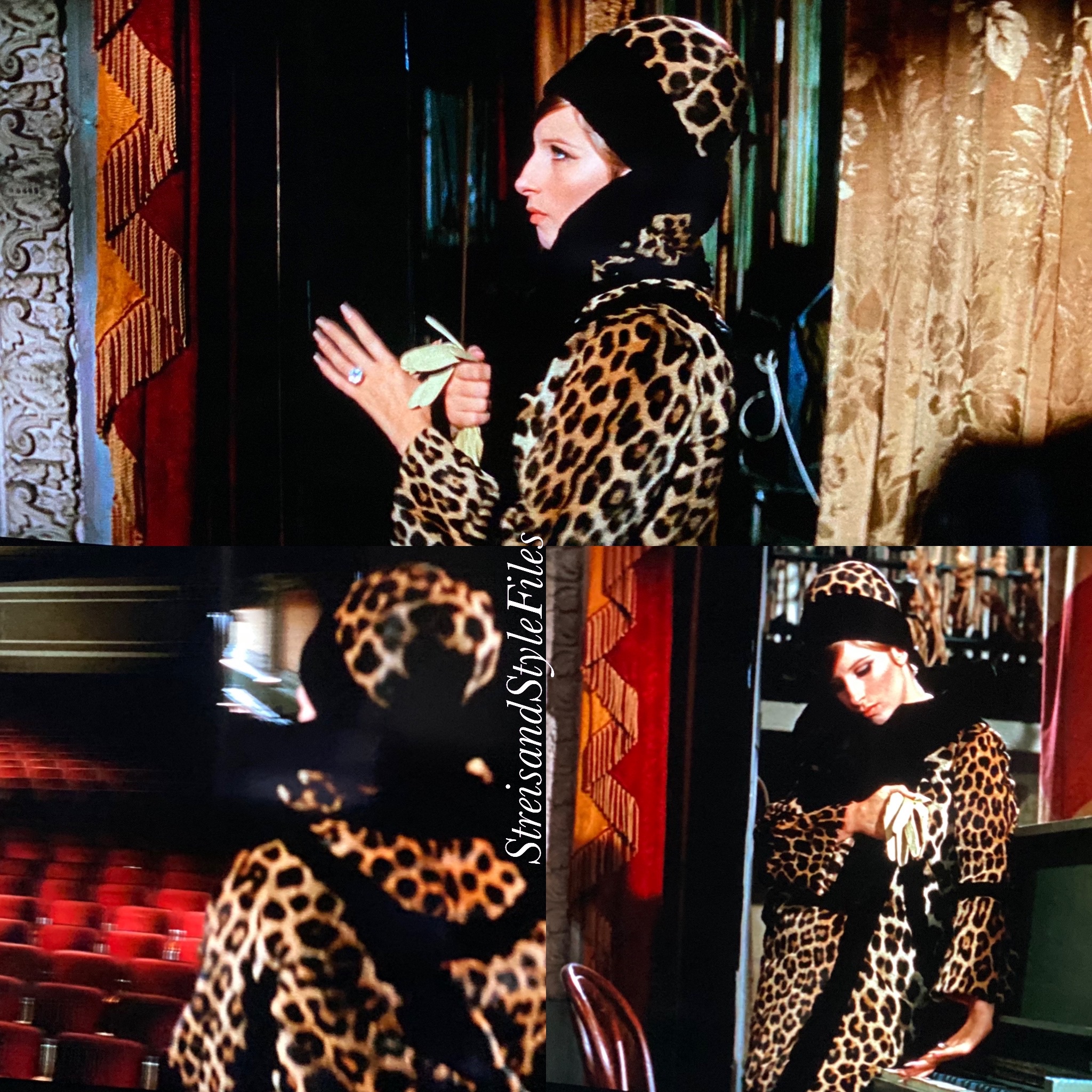 Irene Sharaff (1910-1993) was famous for her manipulation of color and the historic detail in her designs. She had originally trained to be a painter, which led her to work in set and eventually costume design. Sharaff attributed her incredible sense of color to this art background, once remarking that she saw everything in blocks of color "like painting a picture." Some of her favorite colors to use in costume design were oranges, reds and pinks. We see these beautiful pops of orange throughout Funny Girl, first appearing on Fanny's dress at the very beginning of the film. In this scene, Fanny's maid Emma also wears a solid orange dress. Both costumes compliment the orange curtains of the Follies stage decor seen in the background. Sharaff's most bold and memorable use of orange in Funny Girl of course comes later in the film during the "Don't Rain on My Parade" sequence.
One of my favorite lesser-seen details about this costume is that the coat features a bold, orange-silk lining which matches the dress beneath. This little detail ties the entire costume together. Though we do not see much of this lining while Streisand is wearing the costume, it is visible in a continuity mistake in Fanny's dressing room, seen at two hours and seventeen minutes into the film. Look closely and you'll see that the jacket was first hung in the background back facing out, then is flipped to the front facing out when Nick enters the room.
The best look at this lining, however, is from costume screen test seen in the video below.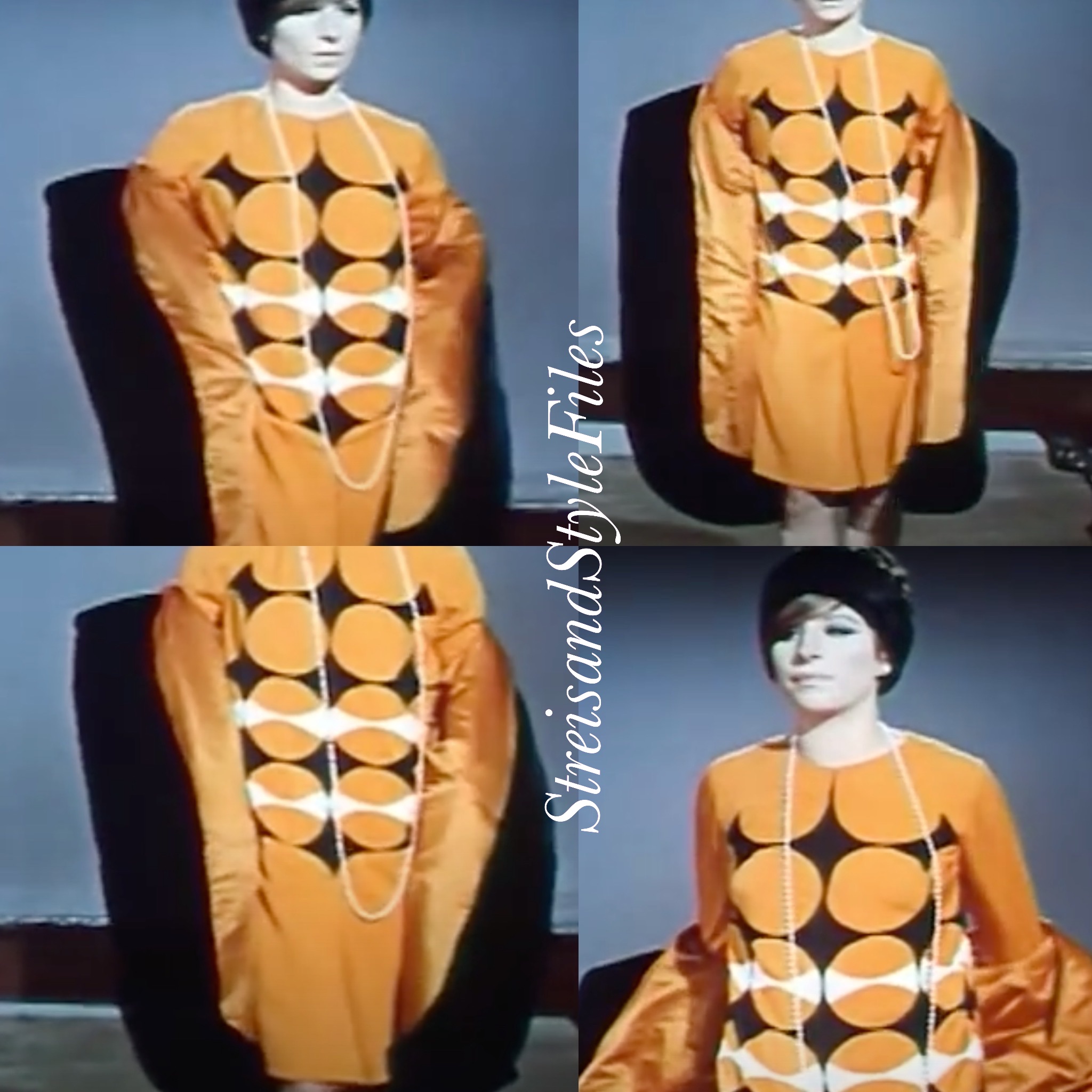 In act one of the Broadway version of Funny Girl Streisand also wore a wool leopard trimmed coat, but budget had not allowed for anything quite as expensive and extravagant as the fur seen in the film.
Even before wearing leopard fur on stage and screen, it was clear that Barbra was already a big fan of the motif since she had worn it on multiple occasions in her personal life. A leopard skirt suit which Streisand designed and had made by Reiss & Fabrizio took inspiration from the leopard print pillows decorating her bedroom. Streisand recalled in a 2009 In Style magazine interview that "I had leopard-skin pillows on my bed, and I decided to have a leopard suit made. This was before PETA!"
The first time this sexy skirt suit appeared was in a November 6, 1964 Life Magazine story titled "Grown-up U.S. Fur Fan Barbra Streisand" with photos shot by Howell Conant. In these photos you get a glimpse at the leopard pillows which inspired the suit. Barbra wore the suit again, this time with a ribbed black turtleneck sweater-dress beneath it to the Cue Magazine Entertainer of The Year Awards in January, 1965. Barbra wore the same outfit backstage at Funny Girl on March 26, 1965 as she celebrated the one year anniversary of the show's opening. The most photographed occasion in which she wore the suit is undoubtably at the February, 1966 Chanel fashion show in Paris. Prior to filming Color Me Barbra, the show's sponsor, fabric manufacturer Chemstrand paid for Barbra to visit Paris to attend the haute couture shows and order any outfits she wanted.
Barbra could be seen yet again in this suit in the "Look" magazine April 5, 1966 edition. She was also famously drenched in leopard fur by Emeric Partos in her 1965 TV special "My Name is Barbra."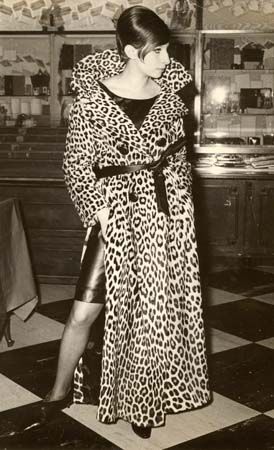 Though it is not longer acceptable to wear real fur, the leopard motif has stood the test of time and remains popular as a clothing and decor choice to this day. For Barbra Streisand, leopard fur will always be synonymous with the early days of her career and her most famous film moment.
My research found no evidence that this iconic Funny Girl costume has been sold at auction. I am hopeful that Streisand or another collector is keeping it safe in their personal collection. If anyone knows of its whereabouts please reach out so that I can update this accordingly.