Funny Lady White Crepe Dress And Harry Hatz Hat
Barbra Streisand wore this Harry Hatz rolled brim hat in "Funny Lady" (1975). This was look #39 in the film, worn in scenes 181 and 187. It appears briefly on screen at 1:47 into the film during "If I Love Again", when Fanny tells Billy she would like to talk to Nick and attends his polo match.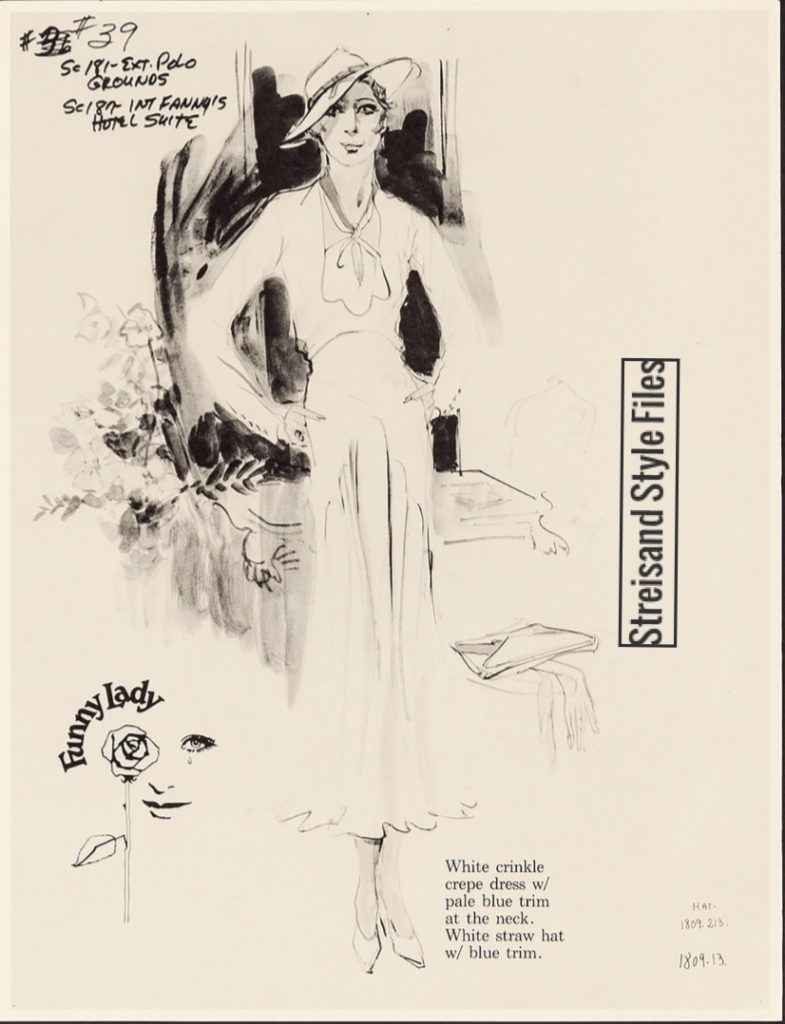 The custom piece is made from straw and originally had a black hat band with netting around it. The hat band was replaced in the the film in favor of a blue/grey band to match the color in Barbra's dress.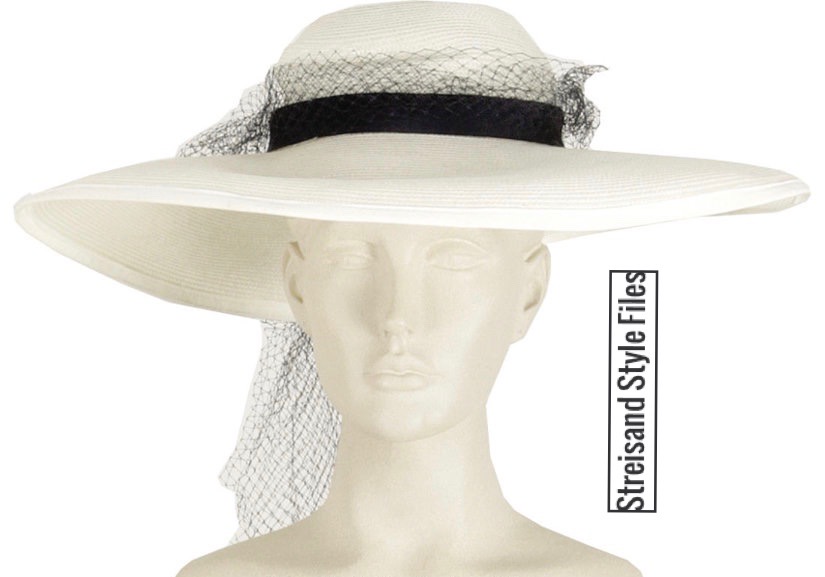 The hat was worn with the brim rolled up on the left side to accentuate Barbra's favorite profile. This was paired with a white crinkle crepe dress with box pleats at the front, and an inverted V shape under the bust, which is another signature of 1930's style.
A cutout neckline reveals a deep V slit with a knot. Blue and white crepe wraps around the neck forming a halter illusion. The long sleeves feature a row of rouleau buttons at each wrist.
This was accessorized with white closed toe heels, gloves and a flat clutch bag.
Costumes for the film were designed by Ray Aghayan and Bob Mackie who created 40 looks for Barbra. A vast majority of these were accented with headwear in a variety of popular 1930's styles. Regarding the many hats, they noted "they can be so glamorous and smart, it's a shame they passed out of favor for so long." Aghayan and Mackie were nominated for an Academy Award for their work on "Funny Lady", but lost to the designer of "Barry Lyndon."
In the mid-late 1930's hat brims became considerably larger than the close-fitting cloches, turbans and panama style hats which were popular earlier in the decade. These stiff-brimmed circles gave added a touch of drama and complexity to the straight dress lines of the mid 1930's. They were typically made from smooth or rough straw and sometimes fabrics like gingham.
Harry Rotz was a former actor turned Hollywood milliner. He recalled that it was "a pure fluke" that he landed a job as an apprentice milliner in the costume shop at NYC'S Julliard school. Rotz refined his craft and went onto work at The Guthrie Theatre, American Conservatory Theatre, and more. After a Summer working at The Music Center in L.A., he realized his skills were in demand in the film industry. Rotz earned his union hours at MGM before creating his millinery brand "Harry Hatz" which became an extremely well known and respected in the movie industry.
On his first big film "The Color Purple", Rotz made hats for Oprah Winfrey and Whoopi Goldberg. One of Rotz's most iconic hats was featured on the key art on Robin Williams for "Toys."
He also designed many hats for Mayim Bialik on Blossom. In 2002 Rotz became the head milliner at Western Costume Company. When asked about hats in film he stated "When you are shot from the chest up, the scale changes dramatically. In medium shots and close-ups, the hat fills the screen and can become a powerful expression of character, framing the face". Rotz died in June, 2019 leaving a legacy as one of the last great millenary geniuses.