Green Peacock Kaftan By Irene Sharaff
Barbra Streisand wore her stunning green peacock Irene Sharaff kaftan (which was created for the Funny Girl movie) for a July 17, 1968 appearance at supporting SCLC The Hollywood Bowl.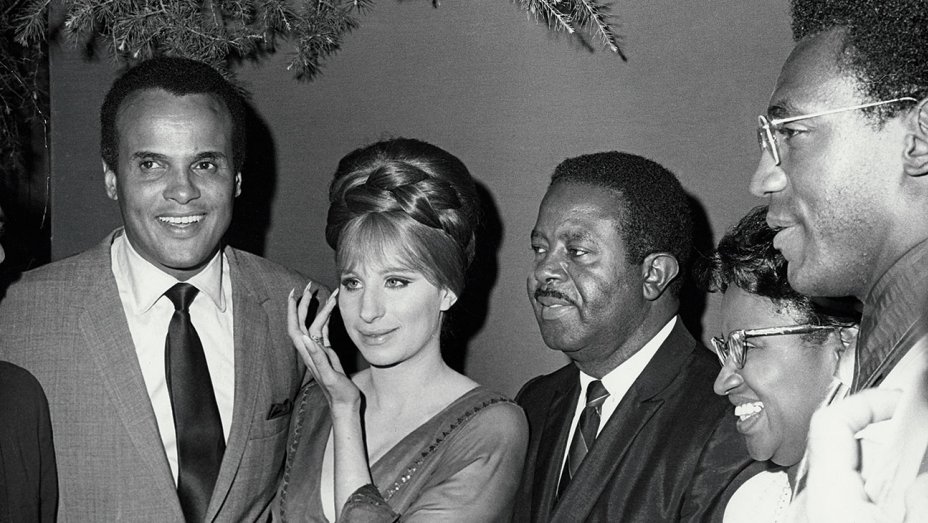 The fundraising concert took place just three months after the assassination of Dr. Martin Luther King Jr. The evening benefited the Southern Christian Leadership Conference's Poor People's Campaign, which Dr. Martin Luther King Jr. had served as President. A constant supporter of the civil rights movement, Barbra had previously performed to help raise funds for the SCLC on April 4, 1965 at "Broadway Answers Selma." which brought in $150,000. The 1968 event was lauded on the front page of The Hollywood Reporter as "a cause of the heart." A 2016 article by Bill Higgens of The Hollywood Reporter recalled how this event came to be.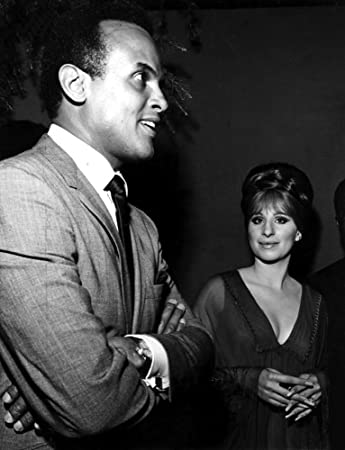 "The SCLC's Andrew Young, now 84, says they first connected with the singer when "Chauncey Eskridge, who was Muhammad Ali's attorney, arranged for us to hear her sing at a club in Chicago. We were very impressed. I remember when we left, Martin said, 'How come we've never heard of this woman with this great voice?' " For the Bowl event, organizers originally reached out to Aretha Franklin who doesn't like to fly, so they turned again to Streisand. The fundraiser came at an exceptionally emotional period. King had been assassinated in April, and Robert Kennedy was killed in June after winning the California Democratic primary; the riots at the Democratic National Convention in Chicago would come in August. "It was a very depressing time," says Young. "We were so lost."Concert headliners were Streisand, Harry Belafonte, Bill Cosby and Herb Alpert with his Tijuana Brass Band. Tickets went from $4.75 to $25 ($32 to $170 today); 17,356 were sold, and $140,000 raised (slightly less than $1 million now). Belafonte both sang and spoke, saying the civil rights campaign "will go on, no matter what you've heard." Cosby did routines about sharing a bed with his brother. Alpert played his hit "A Taste of Honey." Streisand began her performance with the words "I'm not pregnant" (she'd had a child with husband Elliott Gould 18 months earlier, but otherwise, the remark was a puzzler) and ended it, at midnight, standing under a blue spotlight, with a showstopping rendition of "People."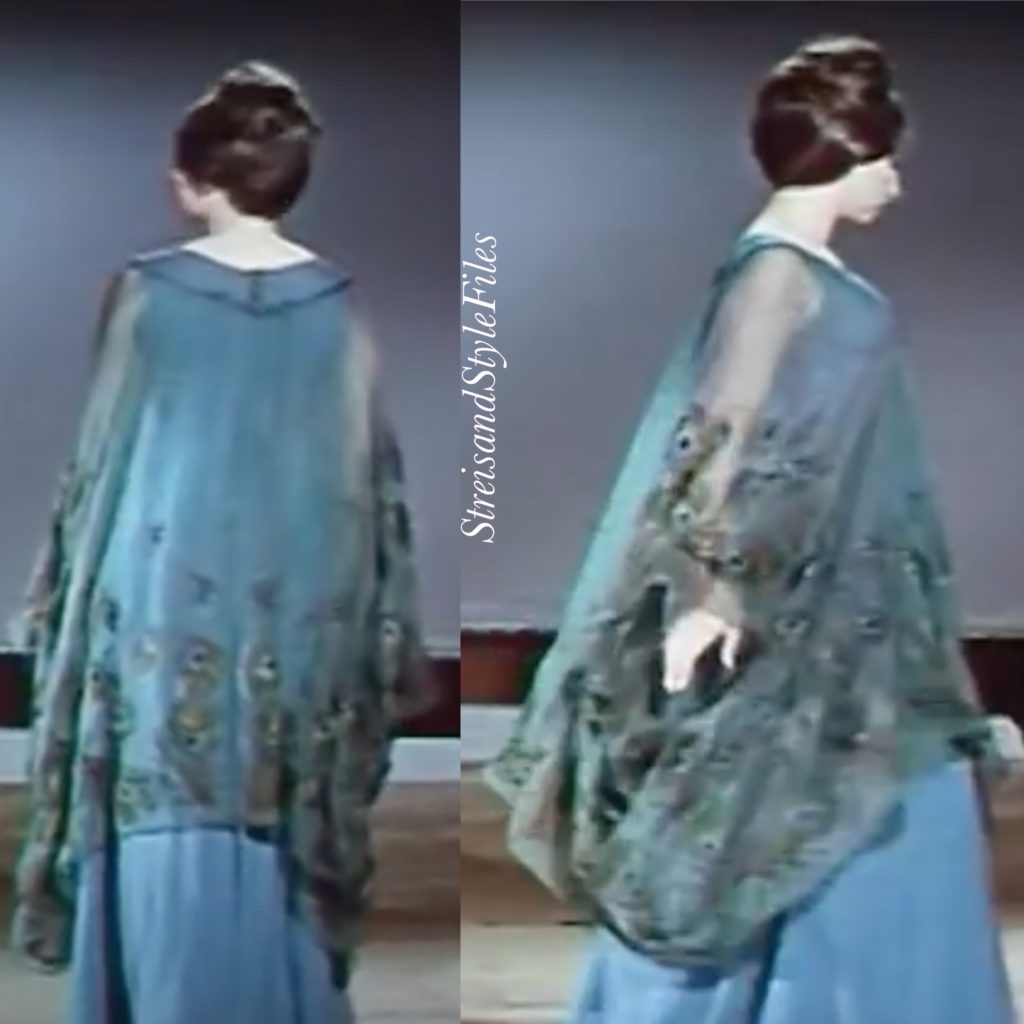 Fans of Barbra will of course recognize this dress from Funny Girl (1968). You'll see it very briefly at 148 minutes into the film when Fanny and Nick are oogling over their newborn daughter and he gives her a strand of pearls to wear when she grows up.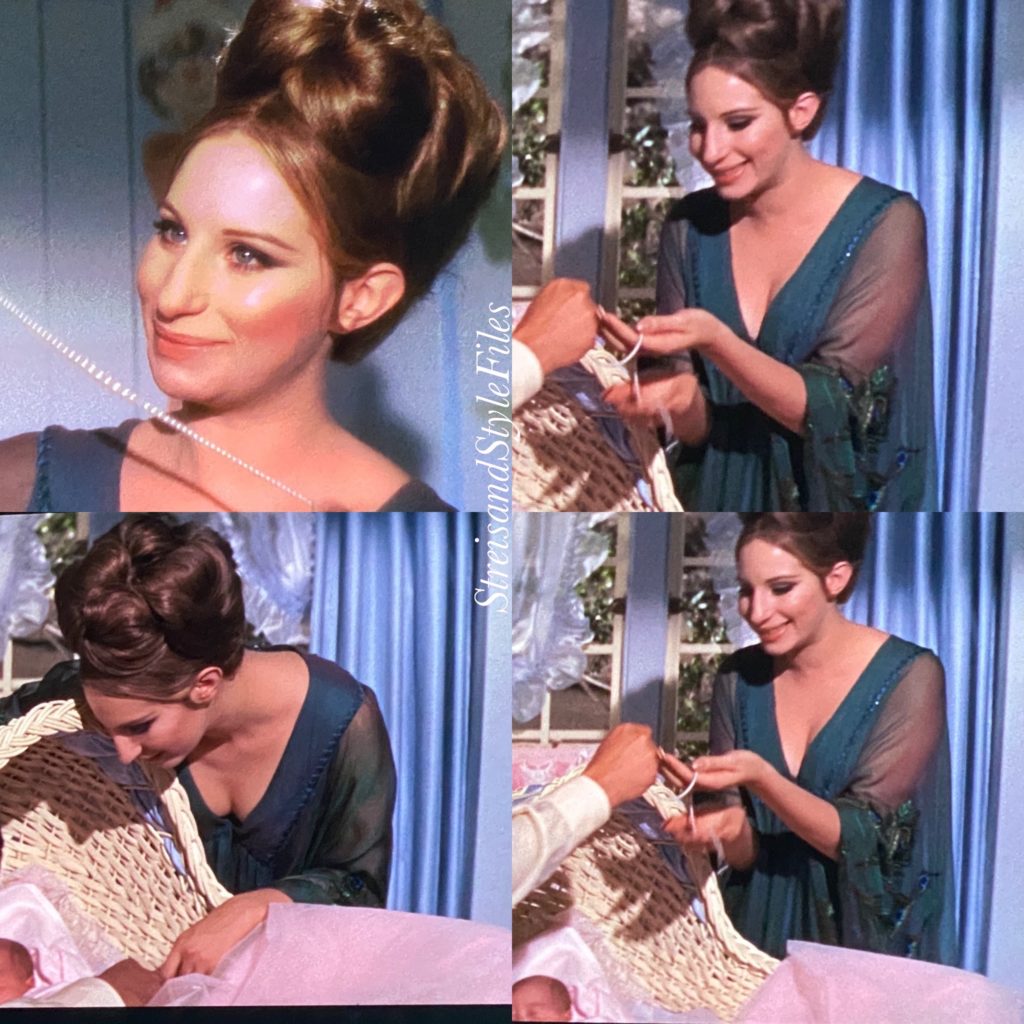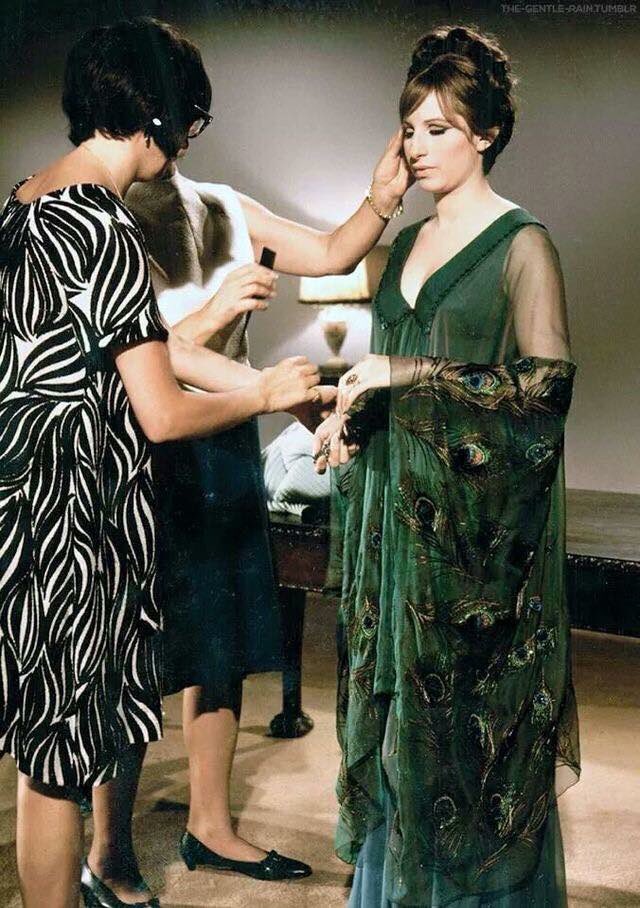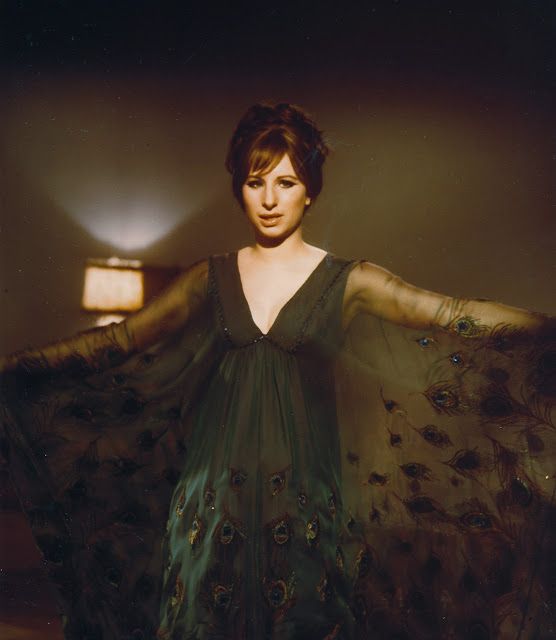 The dress was also recently worn by Barbra for her 2011 Elle "Women In Hollywood" interview.
Barbra stores the dress in her antique clothes closet. She took it out as an example of her one of her favorite styles when collaborating with designer Azeeza on her 2019 concert looks. Azeeza recalled that during her visit "She also brought out pieces she loved and explained why she loved them. I almost died when she took out the peacock iridescent kaftan from Funny Girl."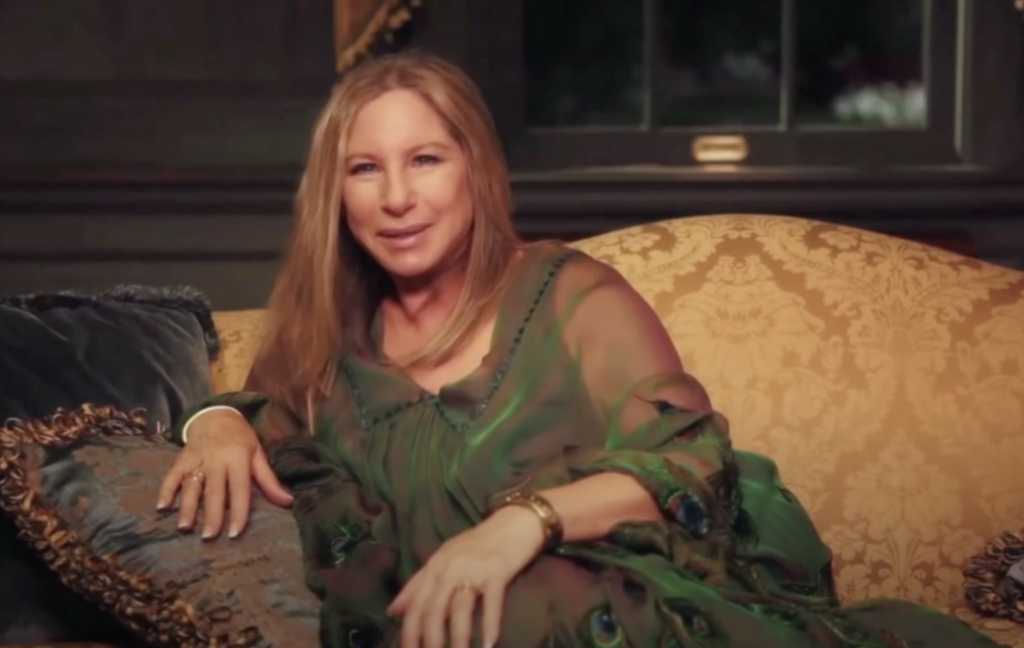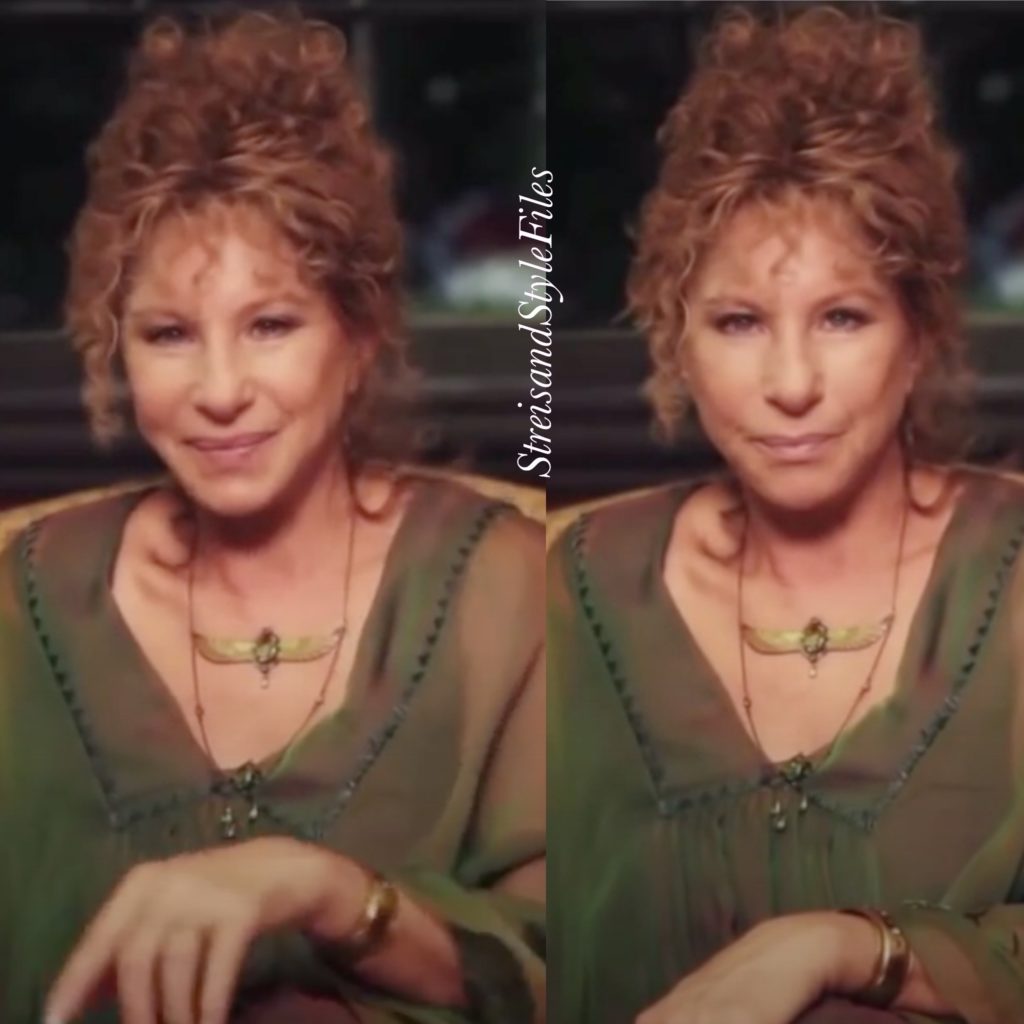 It is easy to see why this piece has remained a favorite of Barbra's throughout the years. It is an Irene Sharaff masterpiece which is versatile, elegant, flattering, comfortable and exquisitely detailed.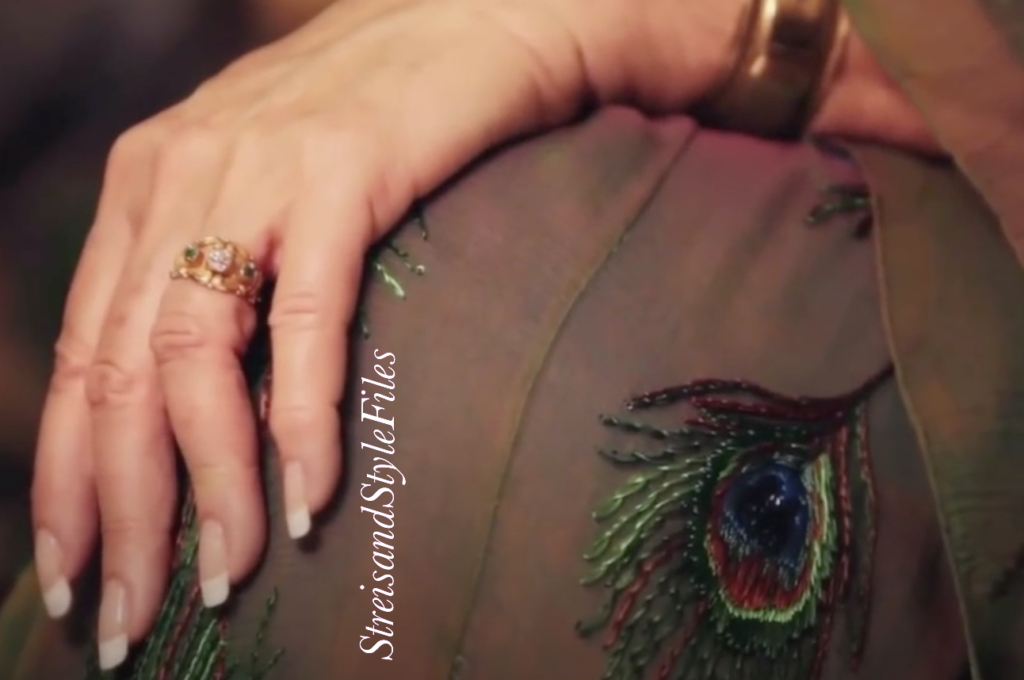 The outer layer of this gown is made from a vibrant iridescent green silk-chiffon which has a slight pink hue. The deep-V neckline is edged with an embroidered triangular pattern which extends into two deep V's at the bust. There are rhinestones spaced throughout the embroidery to add shimmer.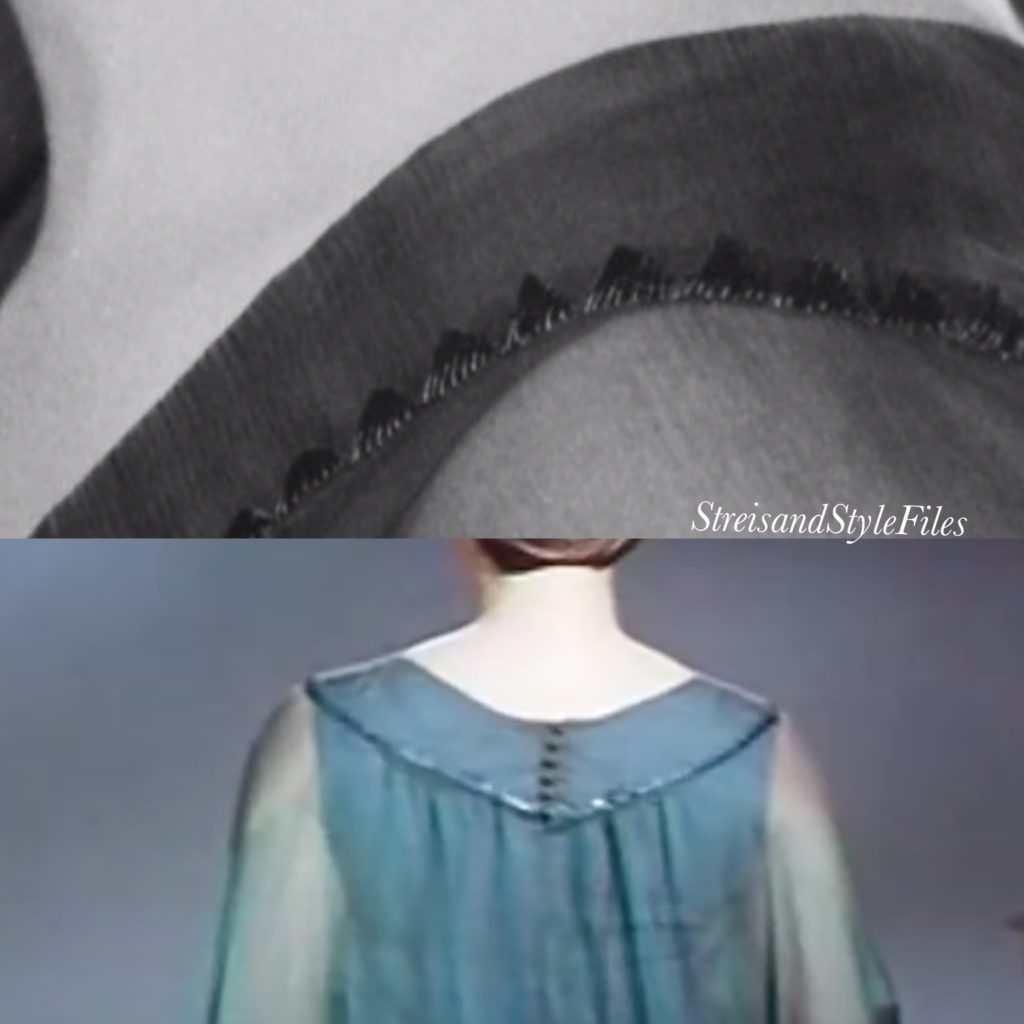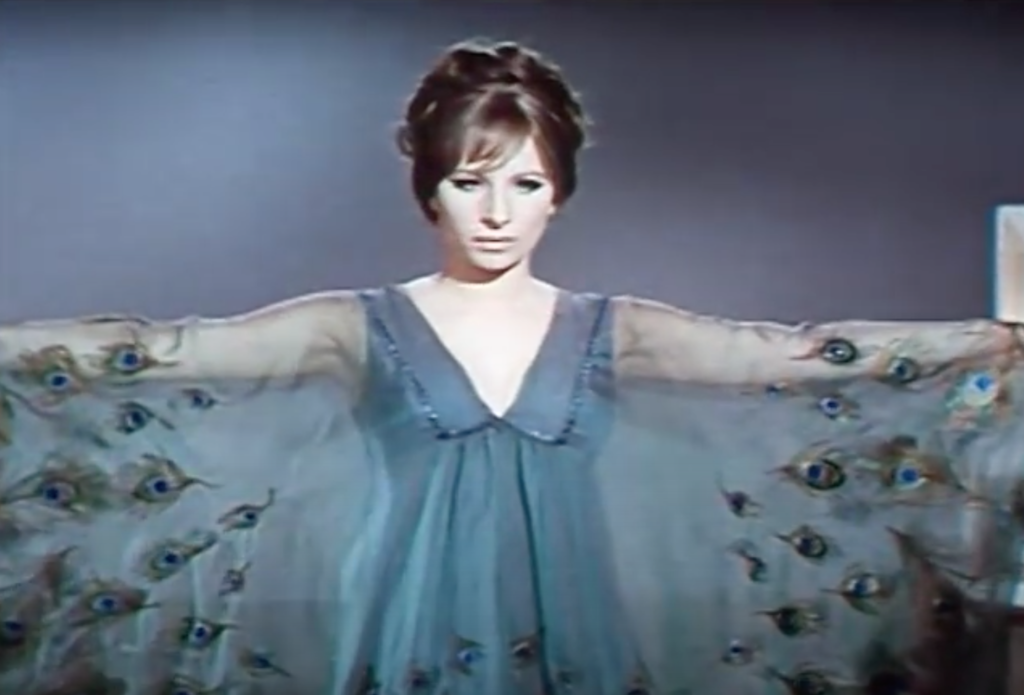 Chiffon is neatly gathered just below bust. The back of the overlay has six decorative chiffon covered buttons. Embroidered peacock feathers begin halfway down the fabric and circle the entire of the piece. These start small and descend into larger full size peacock feathers. Each is embroidered using six strand embroidery floss in light and dark green, burgundy, blue and black at the center.
Beneath this is a matching blue-green column sheath dress with tank sleeves, a darted bust and empire waistline.