Hello, Dolly! Burgundy Victorian Gown
Barbra Streisand wore this exquisite Earth tone Victorian style gown in Hello, Dolly! (1969). This dress is seen in the film when we are introduced to Barbra as Dolly Levi. It appears during the first thirty-six minutes of the movie during the numbers "Call On Dolly", "Just Leave Everything To Me", "It Takes A Woman" and "Put On Your Sunday Clothes." 
Hello, Dolly! had a great opening but nose-dived afterward. The film grossed $33.2 million at the box office in the U.S.A. and lost backers around $10 million. The soundtrack was also not as popular as anticipated and only rose to #49 on the billboard charts. Out of seven 1970 Academy Award nominations, three were won including Best Art Direction-Set Decoration, Best Score Of A Musical Picture and Best Sound.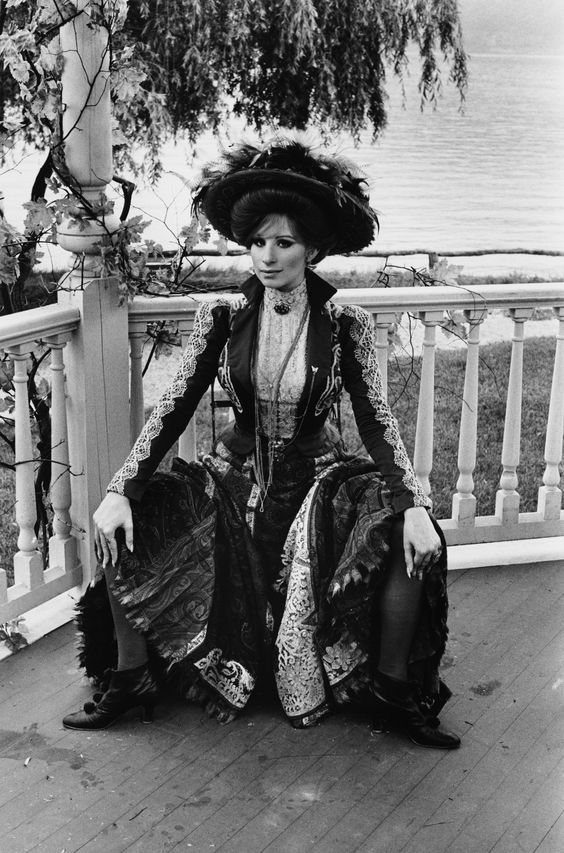 Costumes for Hello, Dolly! were designed by Irene Sharaff (1910-1993). This was the fourth and last production that Irene would work with Barbra on. Sharaff also designed costumes for Barbra in Funny Girl (both the Broadway and film versions) and for the "A Happening In Central Park" concert. Irene Sharaff is famous for her manipulation of color and historic detail. She costumed over 50 Broadway plays and musicals and received 8 Tony Award nominations, winning for The King and I. Additionally, she earned 15 Oscar nominations and won five. Shockingly, the breathtaking costume design for Hello, Dolly! was not one of these wins.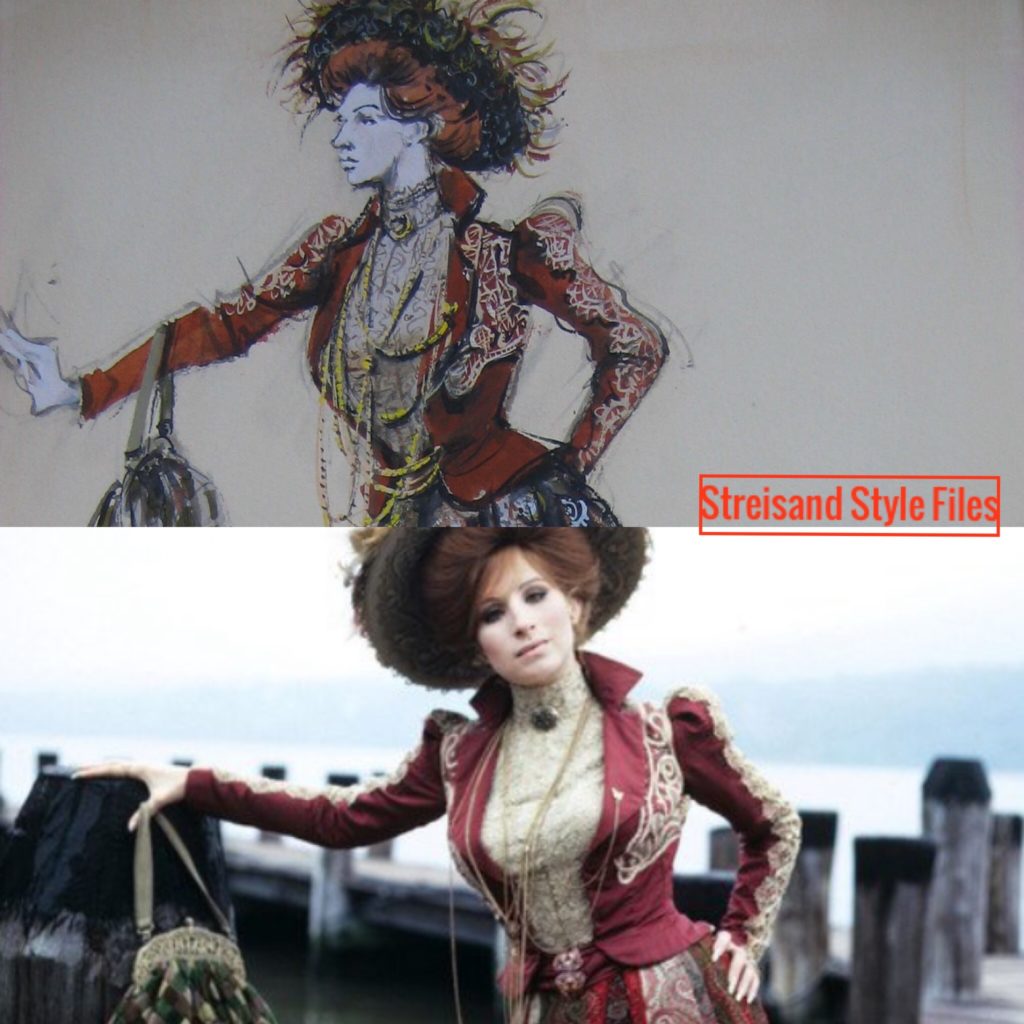 Norman Matthews who was a dancer in the film recalled in his book "The Wrong Side of the Room: A Life in Music Theater", that forty dancers and nearly 2,000 extras were added to the cast for the finale and "Put On Your Sunday Clothes" number. Time did not allow for new costumes to be made, so they were fitted from stock wardrobe leftover from other 20th Century Fox films. "The music began to play, Gene Kelly called "take one, action," the cameras started to roll, and Barbra and Walter made their way slowly down the hill to the church. Just as they passed in front of my partner and me, I heard a screaming voice from up on the hill. "Stop the cameras. Stop the movie this instant." All action ceased. Everyone was frozen in place as the woman whose voice we heard came storming down from the top of the hill. Who is she? What does she want? Why is she so angry? Everyone looked puzzled. This particular "she" was famed Broadway and Hollywood costume designer, Irene Sharaff. As we watched her approach the church, she seemed to be heading straight for me and my partner? Is that possible? Yes, she was definitely glaring at us. What could we possibly have done wrong? When she reached us, she gave immediate and irrevocable orders to Gene Kelly, who came to see what the problem was. Pointing accusingly at my partner, she screamed, "Get that ugly dress out of my movie and get it out now. It's hideous. My partner had been fitted in a dress worn by Judy Garland in The Harvey Girls, at least according to the label inside the dress. Admittedly, it was one of the most unsightly dresses I had ever seen—a nauseatingly colored brown crepe, covered with turquoise chenille balls. My partner and I were swiftly exiled to what was the equivalent of Siberia—the far reaches of the hill, behind even the extras, where no camera would catch the slightest glimpse of us."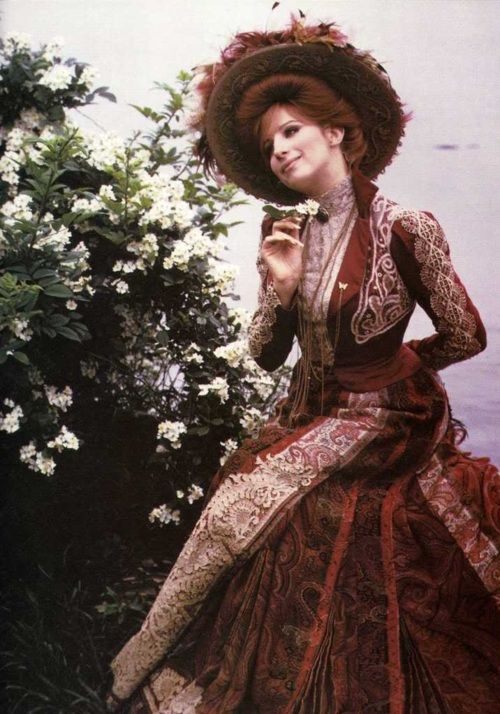 Hello, Dolly! is set in New York City in 1890, which inspired Barbra's gorgeous Victorian gown. This decade is characterized by long elegant lines and tall collars. Skirts took on an A-line silhouette that was almost bell-like. The late 1890's returned to tighter sleeves often with small puffs or ruffles capping the shoulder but fitted to the wrist. In the very late 1890's, the corset elongated, giving the women a slight S-bend silhouette that would be popular well into the Edwardian era. Women often made two bodices for each skirt so that they could have a day or evening style without changing the whole outfit.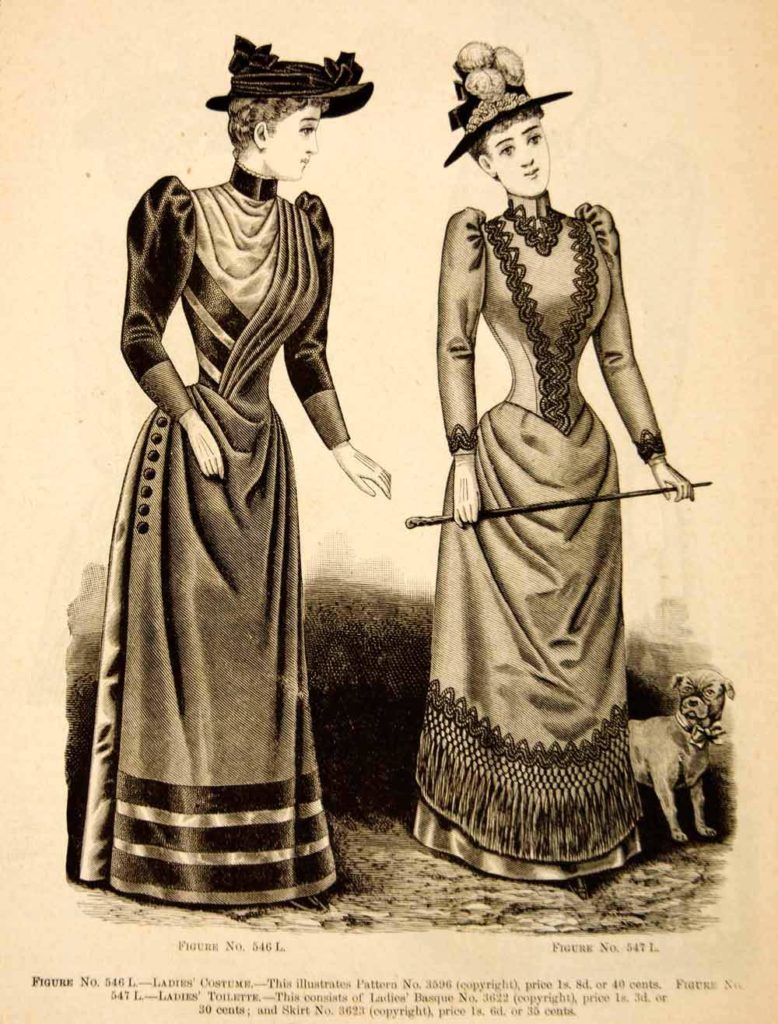 This stunning costume features a wool open front burgundy jacket with a peplum waist, princess sleeves, and a tall standing lapel collar. There is a V-shaped vent at the back of the jacket. Intricate white lace embroidery overlays wrap around the bodice and climb vertically up each sleeve. Beneath this jacket a white linen and lace sleeveless, high collar shirt with gathering at the neckline was worn.
An oval shaped floral brooch accented the neckline, as well as a multi-strand gold necklace with a single rolo strand attached to a small gold butterfly, cascading onto the left lapel.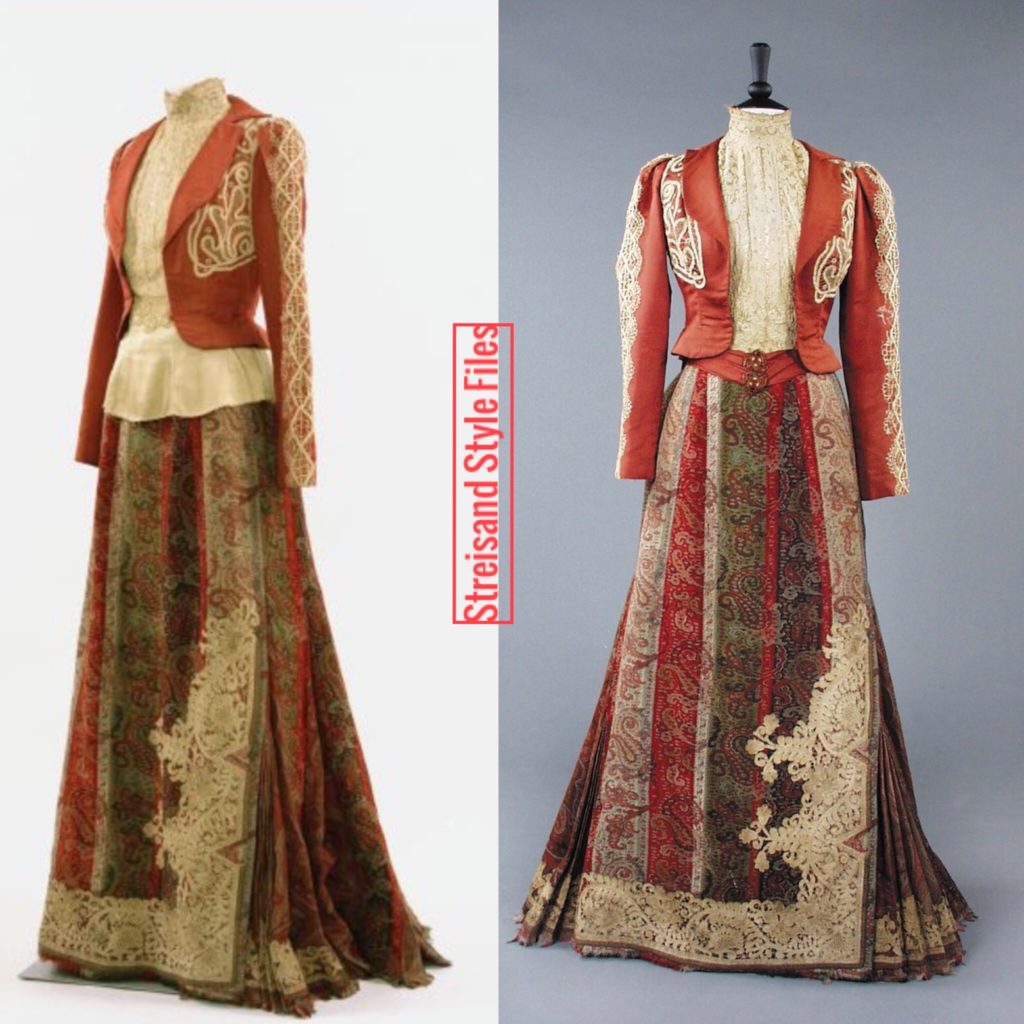 The most jaw dropping part of this costume is the dramatic gored skirt. Here we see vertical panels of paisley print in white, brown, forest green and burgundy. The front panel of the skirt opens up into two V-shaped slits on each side which reveal accordion pleating in the underskirt. Accordion pleating became very popular with increasing bustles around 1884. One area of this inside pleating features an element different from the rest of the dress-black fabric with a light brown panel of paisley.
Rough colorful fringe edges the skirt and floral lace cut outs trim the skirt hem from the knee down. A burgundy silk-satin belt with two ornate metal pieces at its center create a basque waistline.
Completing the look was Gibson girl updo topped with a belle époque straw hat with the outer brim covered in off-white, yellow, burgundy, brown and black ostrich, plumage, hackle and schlappen feathers. Scalloped edge lace trims the hat beneath the feathers. The under brim of the hat is circled in stunning filigree embossing.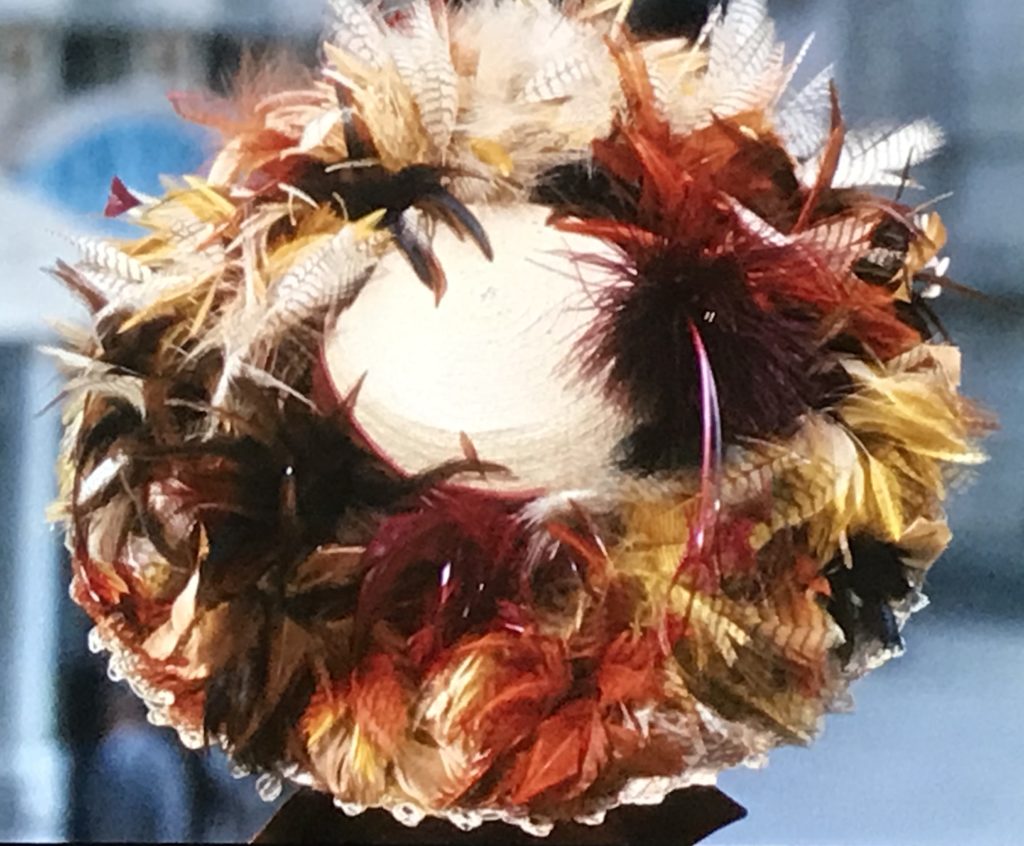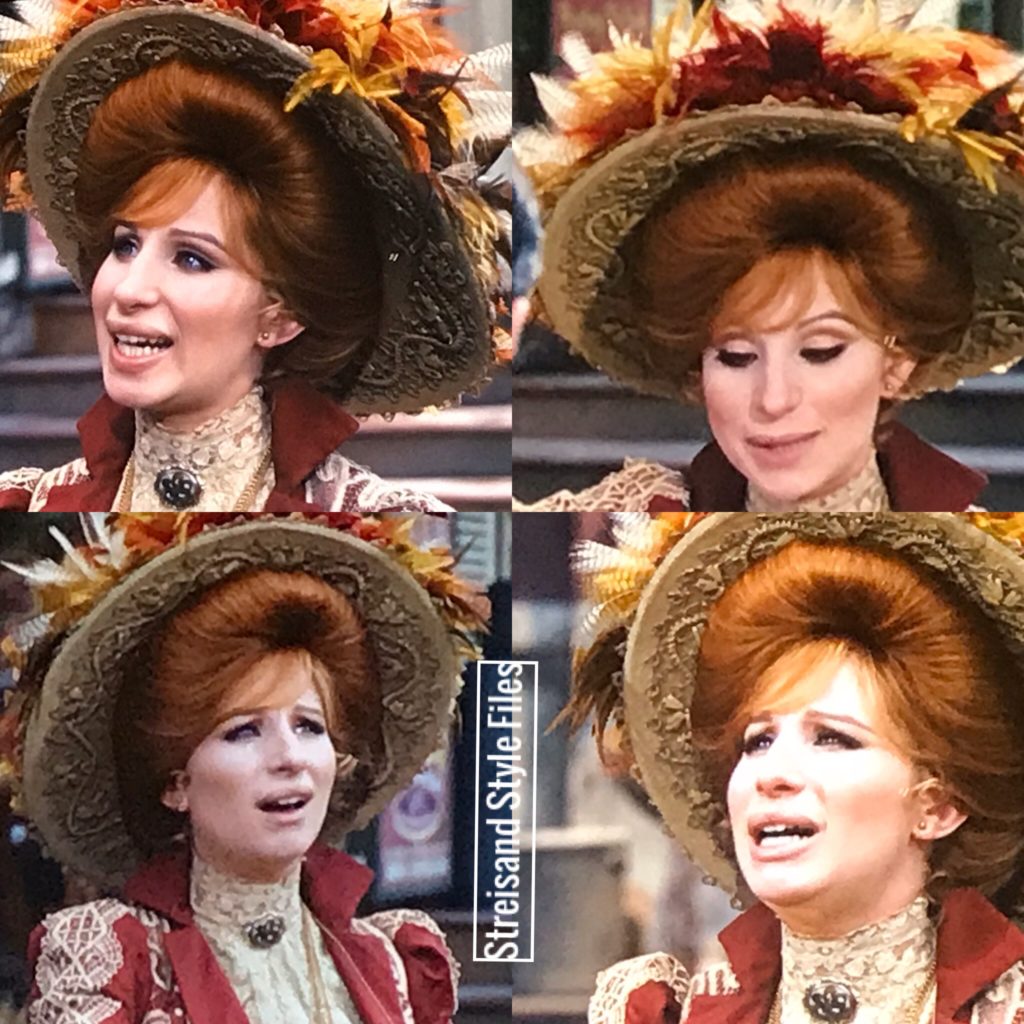 Other accessories included white gloves with a button closure at each wrist and an oversized patchwork fabric purse in shades of green, yellow and brown with an ornate silver top frame closure.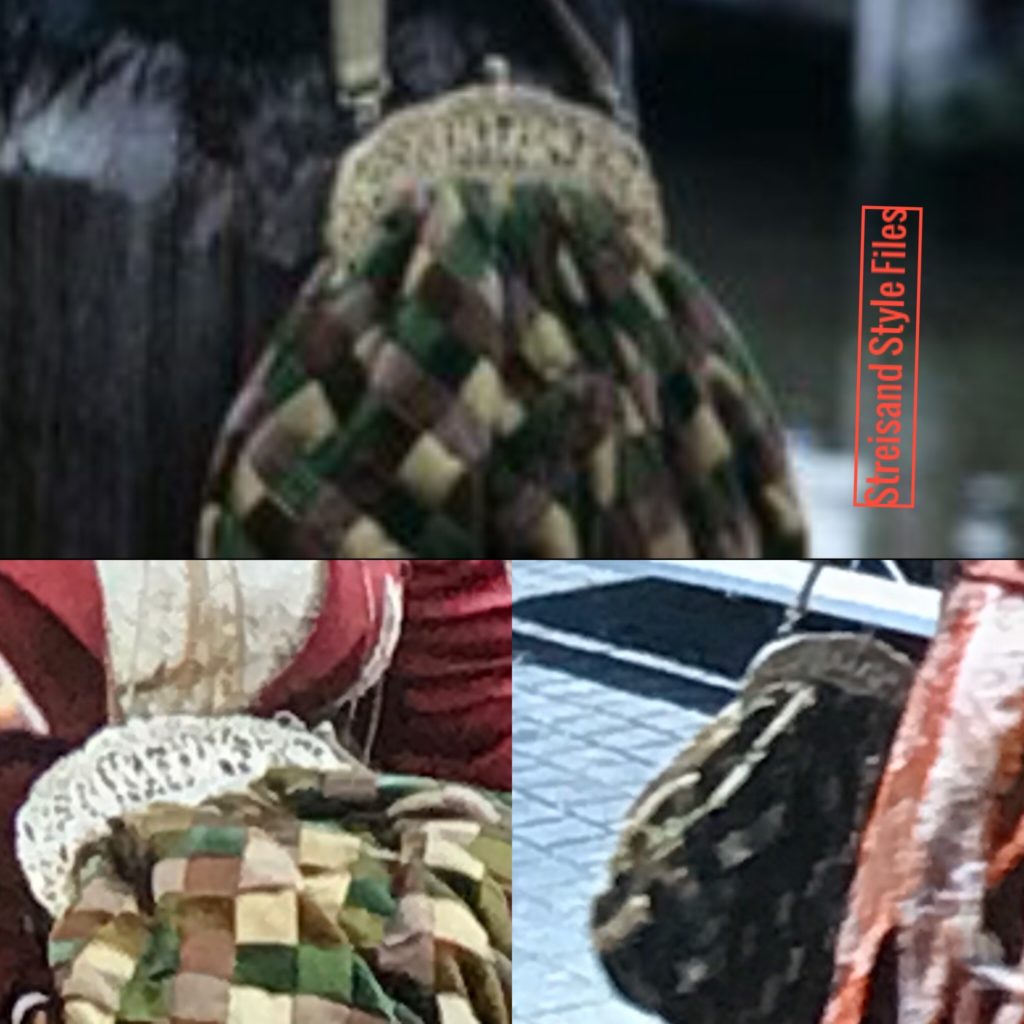 This dress was a part of the Maite Minguez Ricart collection and was displayed in many museum costume exhibitions including the Museu del Cinema in Girona, Spain. It also appeared from May-Oct 31, 2018 at the Putnum History Museum's exhibition "Hello, Again, Dolly!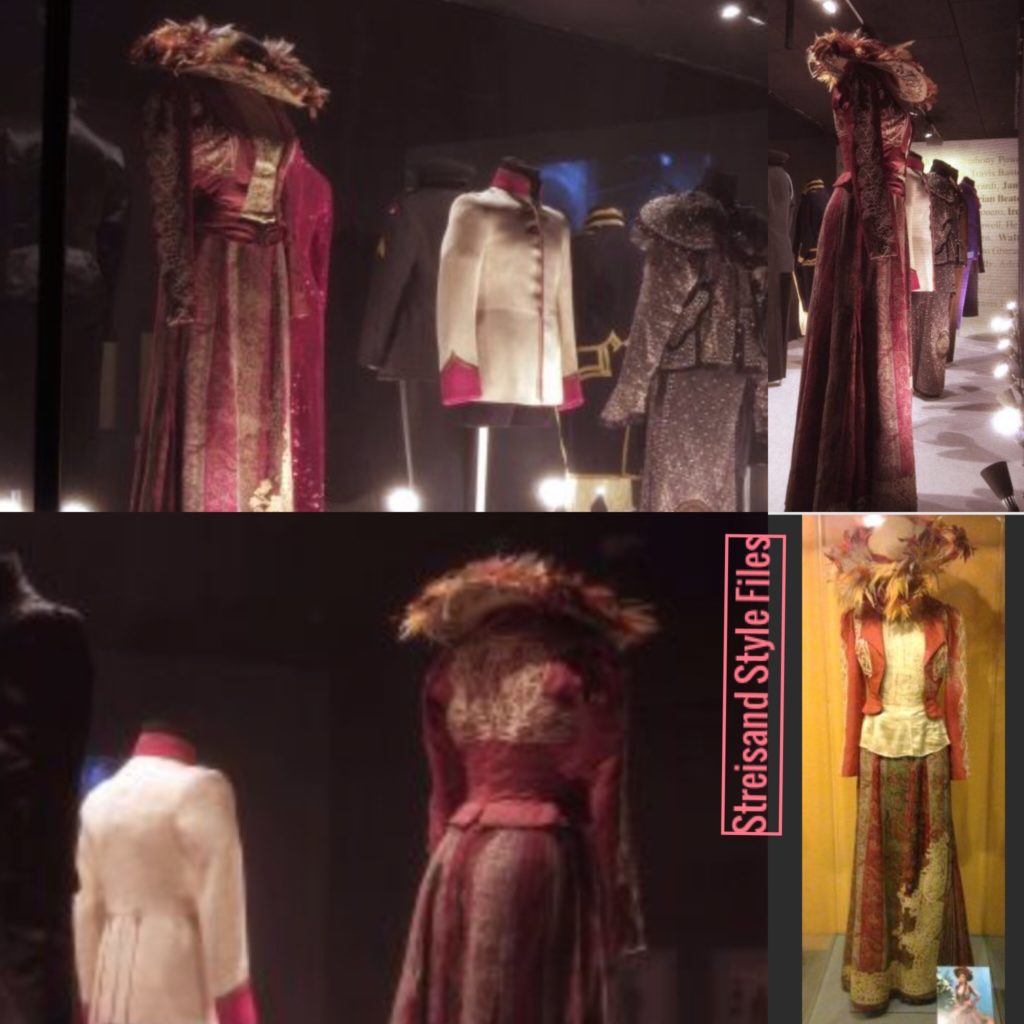 The costume went up for auction at the Profiles In History Hollywood Auction 96 in Dec, 2018 at an asking price of $15,000. Its current location is unknown.