House Beautiful Cover In A Thea Porter Kaftan
BarbraStreisand wore this ornate Thea Porter kaftan in a photo shoot for the cover story of August 1974's "House Beautiful" Magazine. The magazine touted an exclusive of "Barbra Streisand at home, with ten pages of her personally chosen treasures." Barbra was one of Thea's many celebrity clients. When she was renovating her house in Malibu, she had gotten in touch with Thea (who was dubbed the godmother of bohemian chic) and explained what every room was going to be like, and that she needed a different outfit to match each room. Porter's designs are highly collectable, because they were made by hand no two were alike. She would source often various antique fabrics from the Middle East, therefore finding one is like finding a lost piece of art. 
Her rare pieces are now worth thousands of dollars & have been the focus of fashion exhibitions worldwide.
Dorothea "Thea" Seale (1927-2000) was raised in Damascus. She moved to London after separating from her husband Robert Porter, where she worked in interior design. Her first shop in Soho sold imported fabrics & hangings. Determined to have beautiful cushion covers, she began cutting up imported kaftans, but realized they were fashionable in their own right. This led her to start selling them, but when her imports couldn't keep up with the demand, she began to make her own from mixed fabrics & antique trims. For almost twenty years, exotic garments inspired by the Middle East and luxurious richly-patterned silks and antique fabrics, were Thea Porter's trademark.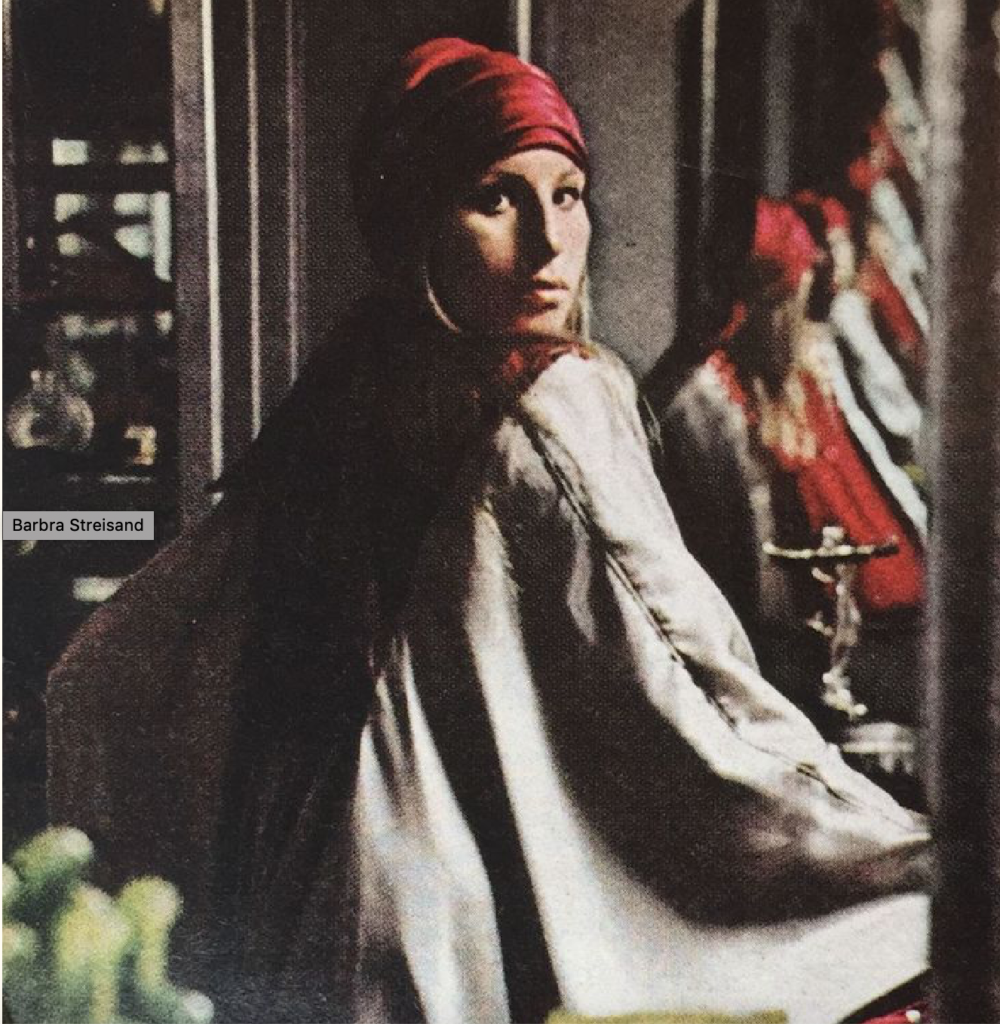 Barbra's red and cream kaftan is a mixture of art deco and 70's style. It was made from resist dyed satin and features a large red vertical panel at it's center. The V neck has a striking large wing design, comprised of red single strand sequins. The back has a matching smaller version of the same design. Several silk patchwork areas in fuchsia, light purple and black are garnished with red, black and silver sequins as well as hand beading and silver embroidery. Red velvet ribbon trims the front and back, and four gold bullion cords hang from the sides. This custom design was paired with a red satin head wrap for Barbra's photo shoot.