In A Navy Madame Grès Poncho For March 1966 Vogue
Prior to filming 1966's Color Me Barbra, the show's sponsor (fabric manufacturer) Chemstrand paid for Barbra to visit Paris to attend the haute couture shows and order any outfits she wanted. This trip was organized by Vogue's Diana Vreeland. Some of the shows Barbra attended included Dior, Chanel, Grés, and Yves Saint Laurent. In the 60's celebrity pop culture journal titled "The Beautiful People", Marilyn Bender wrote about Barbra's adventures abroad. "In her one-woman television spectacular in March 1966, Streisand incorporated a nine-minute segment of fantasy at Bergdorf Goodman. She sang and flitted about the shop in the most opulent, throwaway chic by Emeric Partos, the custom fur-designer, and Halston the milliner. The singer gave assurance that she really belonged in Bergdorf's. For her next show, she landed Chemstrand as a sponsor, which arranged for her to attend the Paris haute couture shows. Richard Avedon photographed her there for 'Vogue' in designs by Dior. Miss Streisand never went back to feather boas."
Life Magazine also joined Barbra on this trip. In their piece, Diana Lurie noted that "Barbra didn't like the Paris prices ("They sew buttons better here but they also charge more") and the styles didn't send her. At Grès, watching a large tent dress sway past, she whispered: "You'd never be able to tell what was going on under there."
Legends collided when Madam Grès joined Barbra on set of her Vogue fashion photo shoot by Richard Avedon, which would appear in the March 1966 edition as well as in Italian Vogue in May, 1966. Barbra felt sick the entire photo shoot after having eaten some bad bouillabaisse in Marseille, but you would never know it from the stunning photos.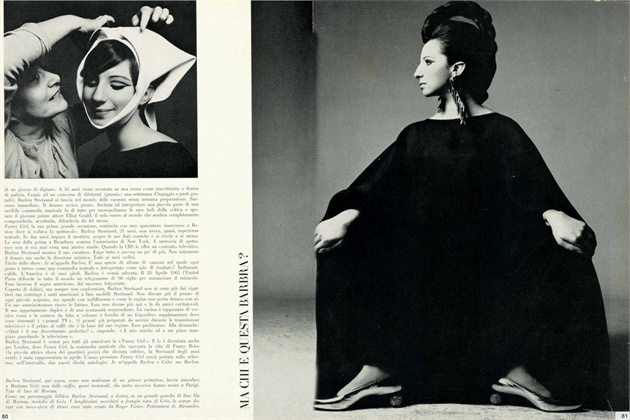 In the accompanying story titled "Instant Barbra", Polly Devlin recalled the iconic meeting of Grès and Streisand. "She is about to meet Madame Grès and it turns out to be a remarkable romantic confrontation of two arts, two generations and continents; one epitomizes France, the other all we secretly think of as American. They complement each other perfectly. Madame Grès elegant, luminous, composed; Streisand glittering, flamboyant, and posed; one in classic sweater and skirt, turban and pearls, the other in a huge flowing poncho, a white nunnish coif, looking as though she had been designed by Le Corbusier."
Mme. Grès and Barbra shot by Richard Avedon
My favorite Mme. Grès look in this shoot is this boat neck, navy linen poncho. Here we see just a hint of the genius of Grès' structural draping abilities and her Greco-Roman sculpture influences. Her work was known for its use of luxury fabrics and time and labor intensive methods that are virtually impossible to copy.
Barbra's strong, seated open kneed pose with turned out feet highlighted the volume of this flowing piece while giving it a high fashion edge. This was paired with extravagant 6" long Grès red pendant earrings. Here 1 1/2 inch ruby rods with filigree caps hung from an inclined malleable gilt-metal rod. This created a curved suspended fringe. These hung from ear hooks as well as an additional clip to support weight. These earrings sold at a couture auction in 2006 for $570.
On Barbra's feet were a pair of eye catching, luminous gold Roger Vivier Boule heels. Vivier first created shoes with a bejeweled ball at the heel for Marlene Dietrich in 1953. These would go on to become one of his most famous designs.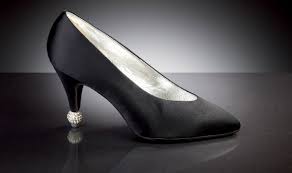 This look was completed by an oversized braid which extended back to front from Barbra's long dark wig, giving us a strong exotic warrior vibe.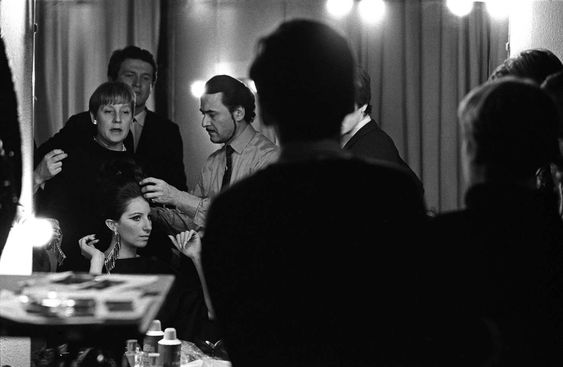 This iconic photo inspired a Bella Hadid photo by Patrick Demarchelier for Vogue Japan in 2018.
Madame Grès (1903-1993) born Germaine Émilie Krebs (also known as Alix) opened her first couture fashion house, La Maison Alix in in 1932. She was formally trained as a painter and sculptor but her family encouraged her to enter fashion. Her sculpting experience went on to heavily influence her intricate techniques of sculpting fabric. In 1933, Grès and her coworker Juliette Barton combined their names to create the brand "Alix Barton", which she designed under for a short amount of time. Grès eventually dropped the "Barton" in 1934 and designed under her own name, "Alix" for the remainder of the 1930s through 1942. Pieces with "Alix" tags are rare collectors items today.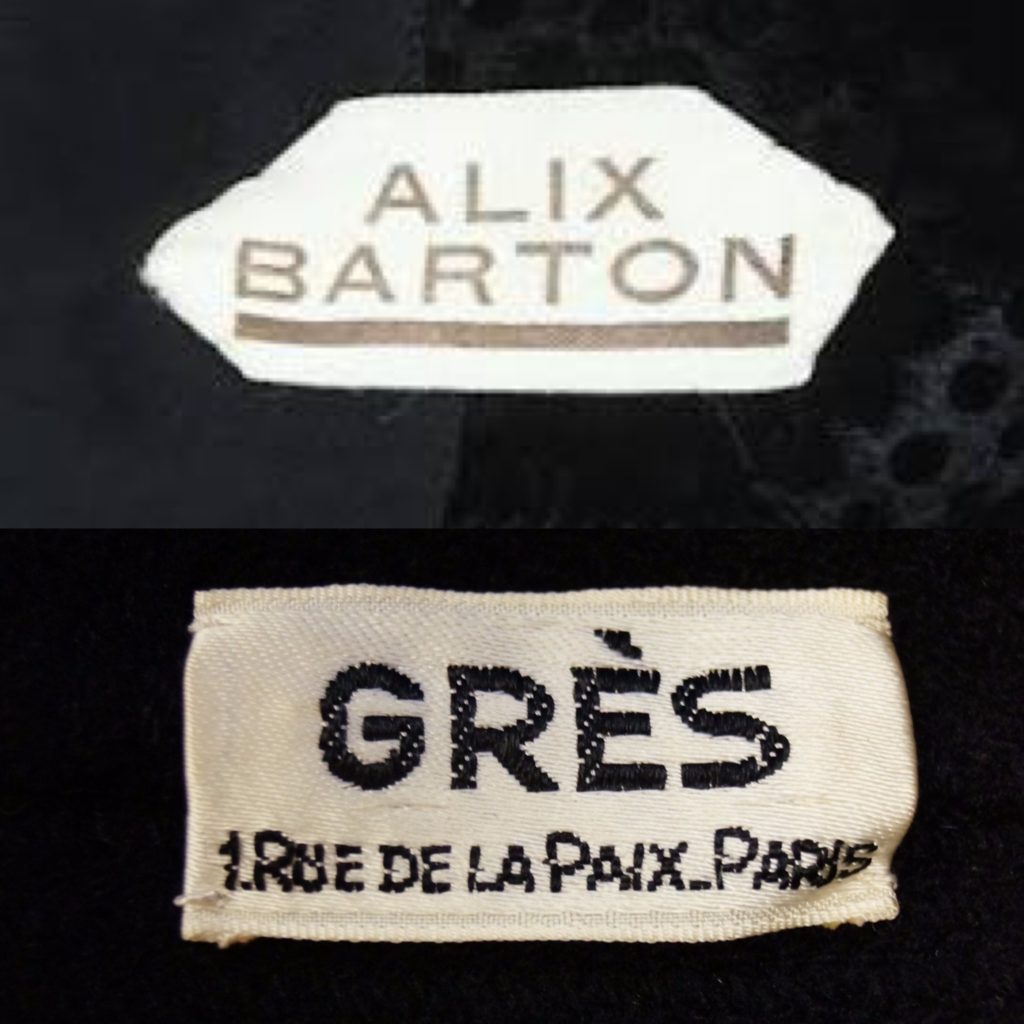 Grès preferred to design directly on models vs mannequins using her favorite fabrics-silk jersey and paper taffeta.
Germaine Krebs 1933.
In 1942, after marrying Russian painter, Serge Czerefkov, Grès began designing under the name "Madame Grès" which was a partial anagram of her husband's first name. She opened a new fashion house called "Grès" in Paris in 1942 and went on to create haute couture pieces which were worn by The Duchess Of Windsor, Greta Garbo, Jaqueline Kennedy and more. She was dubbed the "master of the wrapped and draped dress" and the "Queen of drapery". Her work is credited for inspiring endless modern designers and has left an indelible imprint on the fashion industry.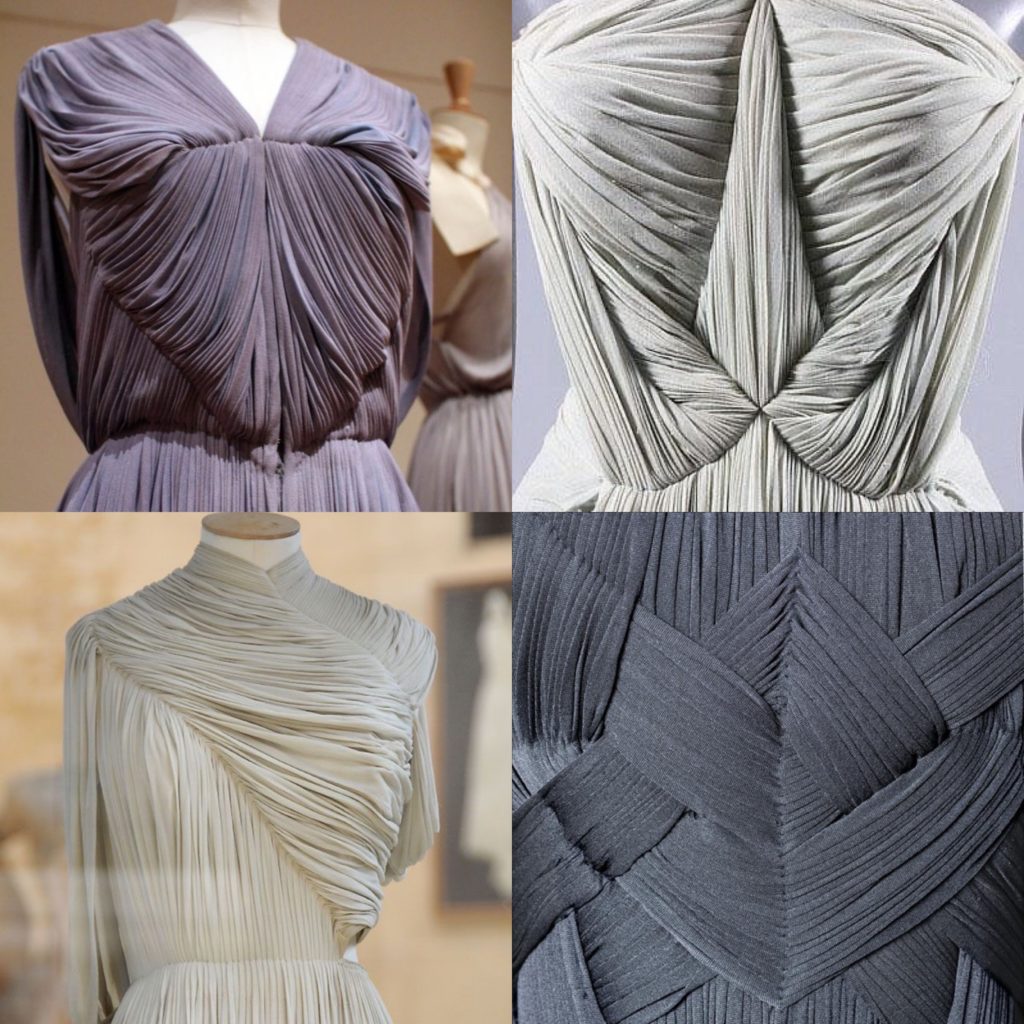 Mme. Grès worked steadily until retiring in the 1980's, but her life and successful career had a tragic ending. After retiring, Grès lived mostly in secrecy. Due to bad business deals when she sold her company in 1984, Grès lost the fortune she had worked to build for six decades, leaving her in extreme poverty. Her friends Givenchy, Pierre Cardin and Yves Saint Laurent came to her aid and helped her rent an apartment in Paris, where she continued to sew for friends. In 1993 her daughter Anne moved her to a retirement home near Toulon, France where she died shortly after. But her death was kept hidden for thirteen months.
In a story in the French newspaper Le Monde, Anne Grès said she had disguised the death of her mother for the last 13 months for two reasons."First of all, I looked to protect her," she said. "All those who have profited from her would again find the means to draw on her money." The second reason was respect for the older sister of Madame Grès, who is still alive. She added that she did not yet have the money to buy the sort of tomb that would dignify her mother's memory. "It made me suffer more," she said about hiding the news. "It is like it didn't happen." During these months Anne even maintained correspondence for her mother, releasing quotes as if they had come from her directly.
A 1994 New York Times piece by Amy M. Spindler stated that "No one knew about Mme. Grès's death until the article appeared. Not her closest friends and peers, Pierre Cardin and Hubert de Givenchy. Not Jacques Mouclier, the head of the Chambre Syndicale, the governing body of French fashion, where she held the title of honorary president for life. Not Richard Martin, the curator of the Costume Institute exhibition, and not even Mr. Yagi, the owner of the rights to her name. Those interviewed in Paris as the news spread expressed confusion at the charade, which was revealed when Le Monde uncovered a document in a district mayor's office in Paris confirming her death. It was verified in interviews with residents of the home in St.-Paul-de-Vence where Mme. Gres had lived."
Thankfully the work of Mme. Grès will live forever as an integral part of fashion history. The beautiful 1966 photo shoot featuring Barbra Streisand shows that her work transcends all eras.