In A Nolan Miller Black Silk Dress At The 1987 Grammy Awards
Barbra Streisand wore this black Nolan Miller Couture dress under a Christian Dior gold lamé jacket to the 29th annual Grammy Awards on Feb 24th, 1987.
On this night, Barbra won her eighth Grammy for best female pop vocal performance for "The Broadway Album." She was also nominated for album of the year.
For Streisand, this validation represented "a reaffirmation of the stature and quality of this timeless material." She pointed out that she had a hunch she might win since the show was on Feb. 24th, and 24 was her lucky number. She noted that she had been born on the 24th, had her son at 24, and won her first GRAMMY 24 years earlier. "So with your continued support and a little bit of luck, I might just see you again 24 years from tonight."
Though this Dior look came as a set with matching pants and a top, Barbra smartly chose to pair the jacket with this all black shimmering dress.
Barbra's silk shift cut maxi dress is covered in scattered gold and jet black bugle bead clusters. There is a gathered, high halter neck with cutaway shoulders and a hidden zipper closure at the back.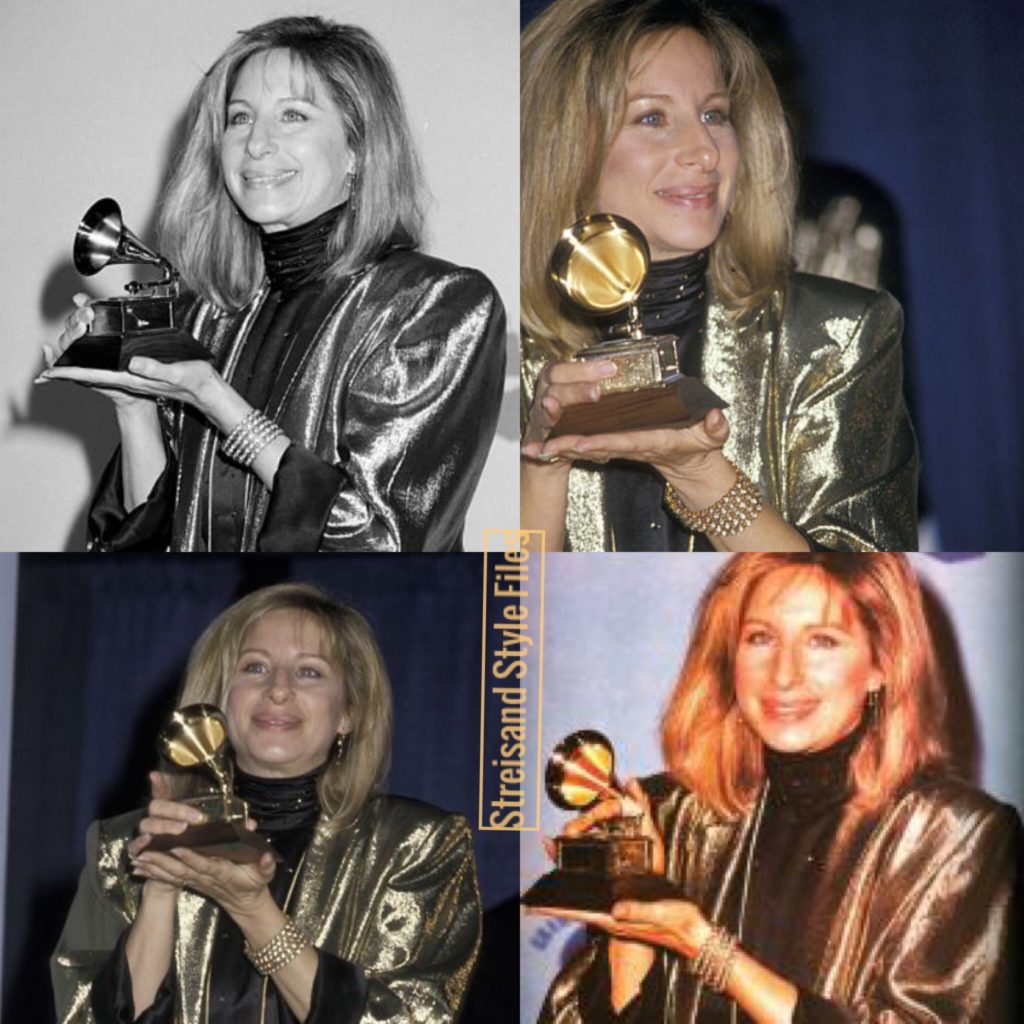 This was just one of the many times Barbra has worn Nolan Miller through her career. Nolan Miller (1933-2012) was a legendary costume designer whose credits include Dynasty, Charlie's Angels, The Love Boat and more. He created Morticia Addams' famous black gown and Ginger's iconic shipwrecked dress for Gilligan's Island.
Miller was born in Texas and worked in oil fields after high school until his family moved to San Bernardino, CA. He recalled "When I was about in the 5th or the 6th grade I made up my mind I fell in love with movies and I thought I want to design gorgeous costumes for gorgeous stars and it was my lifelong ambition. I never wanted anything else. I never changed". Miller decided to attend the California Institute Of The Arts to become a studio designer, but the line of work was disappearing. He took a job as a florist in Beverly Hills where his clients turned out to be some of his idols including Joan Crawford who he began to make clothes for. At this same job Miller met Aaron Spelling who hired him to design clothes for his latest production. Miller was an instant success and was nominated for six Emmy Awards from 1983-1987. While working on Dynsasty he had a weekly wardrobe budget of $35,000 and designed 3,000 outfits for the show during its run. He won an Emmy for his work on the show in 1984.
Miller continued to design privately for celebrities and also developed a jewelry line for QVC. He lived with Aaron and Candy Spelling for many years but moved out in 2000, allegedly after an argument with Candy over a dress. Miller died in 2012 after battling lung cancer for six years.