In a self-designed choir boy inspired gown during a 1971-1972 engagement at the Las Vegas Hilton
Barbra Streisand designed this lush choir boy inspired gown which she wore during her third and final engagement of shows at the Las Vegas Hilton (formerly named The International) which took place from December 24, 1971-January 14th, 1972.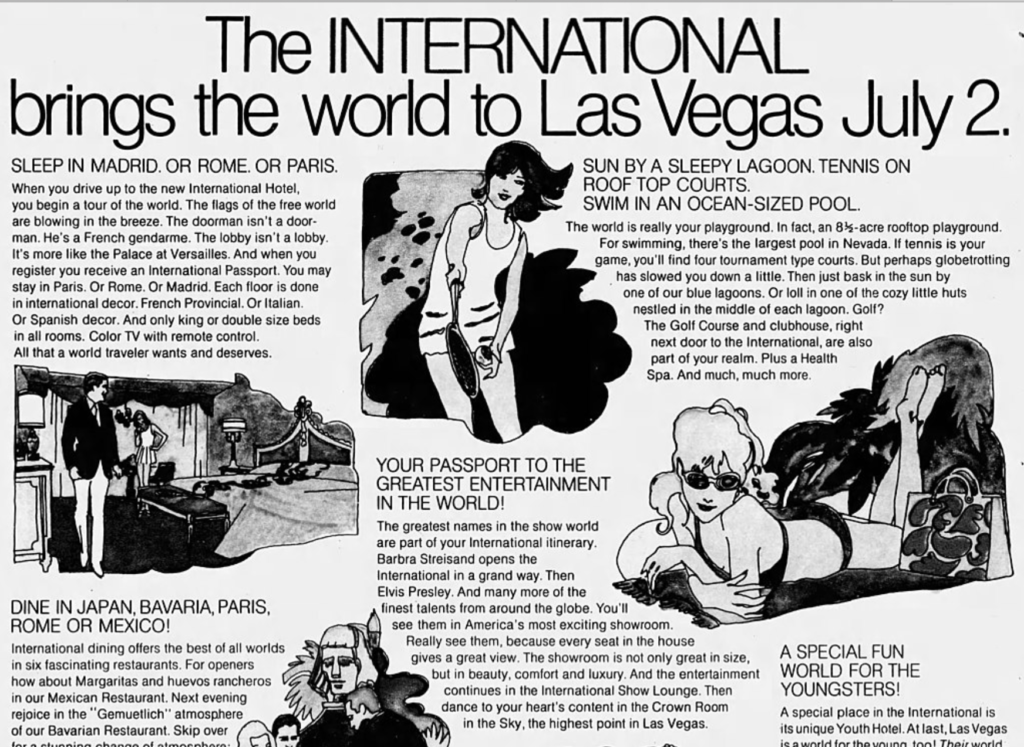 Barbra had made her Las Vegas debut back in 1963 when she opened for Liberace at the Riviera when she was just 21 years old.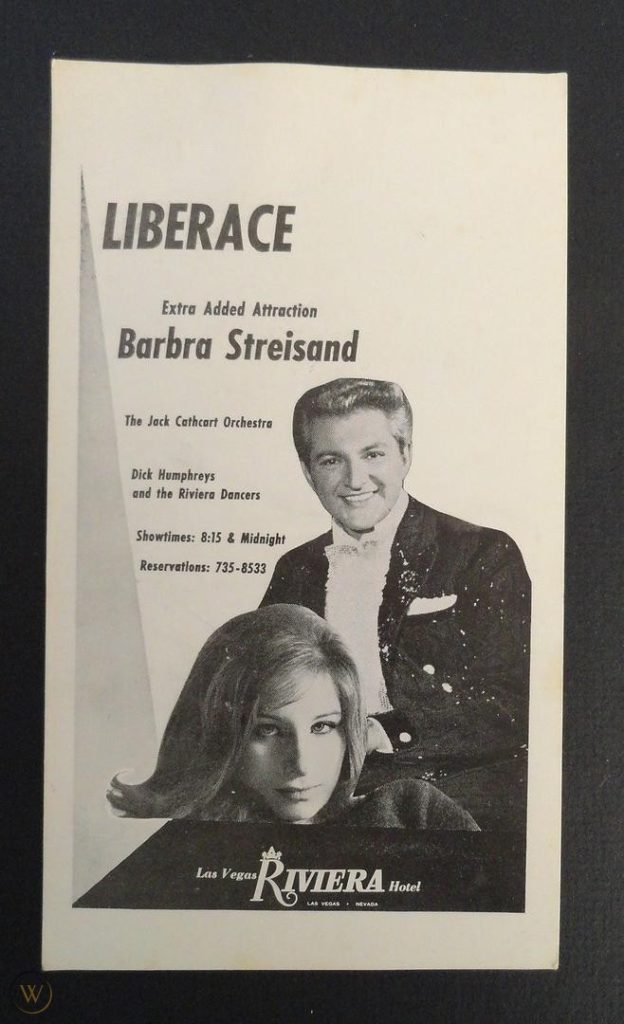 Liberace had been thrilled to sign Barbra, but on the first two nights audiences didn't seem to get her jokes or appreciate her as much as expected. In his book "Hello, Gorgeous" William Mann noted that "Peter Daniels, cringing at the piano, thought those first two nights were "disastrous." So Liberace had decided to come out at the top of the show and do a bit of an opening number, then introduce Barbra as his "discovery." Liberace gave her such a buildup, wrote Mann, that "with such a benediction from the master, Barbra could have come out and read from 'Robert's Rules of Order' and Liberace's audience would still have loved her."
During this run Barbra was paid $5,000 a week, but her contract included a return clause. In 1969 when Barbra signed her five year contract with The International, the Riviera threatened a court order to prevent Barbra from performing at any other Vegas venue until she committed to fulfill their final dates, or bought out the contract. Given the situation, it was decided that she would perform these final shows on November 27-December 10, 1970, before going onto her second run at The International which began on December 13th, 1970. This put her in an interesting situation which marked the first time in Las Vegas history that an entertainer played two major engagements back to back.
Throughout her engagements at The International/Hilton, Barbra wore a variety of outfits which included several gown collaborations with Scaasi. A cream pants suit worn during some shows was also worn in 1972's What's Up Doc and again in Barbra Streisand and Other Musical Instruments. Another connection from these latter Vegas shows to her aforementioned 1973 TV special is that she opened with the Sing/Make Your Own Kind Of Music medley. Sadly no professional video or audio from these shows was ever released, however several fans who attended recall that the 1969 concert was filmed for a CBS TV special that never came to be. The few remaining audio clips available on You Tube contain out of this world vocals.
Barbra joked about her 70's choir boy look during her 93/94' MGM Grand concerts opening monologue. "I can't believe i'm actually back here. You know when you think of it, its been thirty years since I was the opening act for Liberace. I remember that I designed a red velvet gown based on a choir boys outfit with antique lace. I looked so authentic he asked me to light his candles. I said ok, but only on Friday nights!" Another connection worth noting, which was pointed out to me by Joseph Marzullo, is that in the liner notes for The Movie Albums' song You're Gonna Hear From Me (from the film Inside Daisy Clover, 1965) Barbra recalled "I remember liking this Hollywood rags-to-riches-to-nervous breakdown movie with Natalie Wood and Robert Redford…" In the film Natalie Wood wears a choir boy costume with lace trim at the sleeves. While this may not have been a direct inspiration for Barbra's design it could have had a subconscious influence.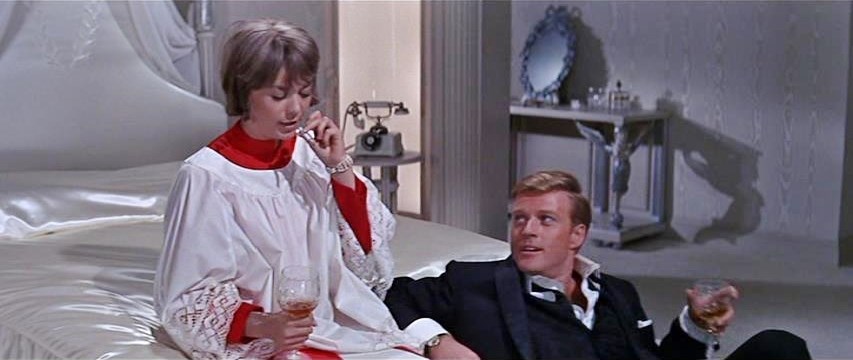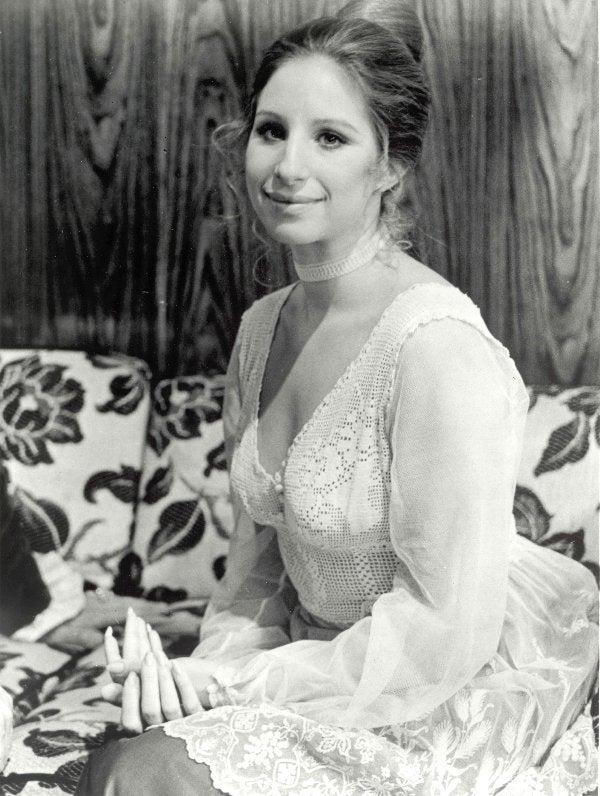 Barbra's gown featured a top piece made from antique maltese lace which is a guipure style of lace. This style was shown at The Great Exhibition in 1851 which led to it becoming popular in Britain. There are a variety of motifs throughout this lace including wheat, ivy, Maltese crosses and grapes and it is has beautifully scalloped edging.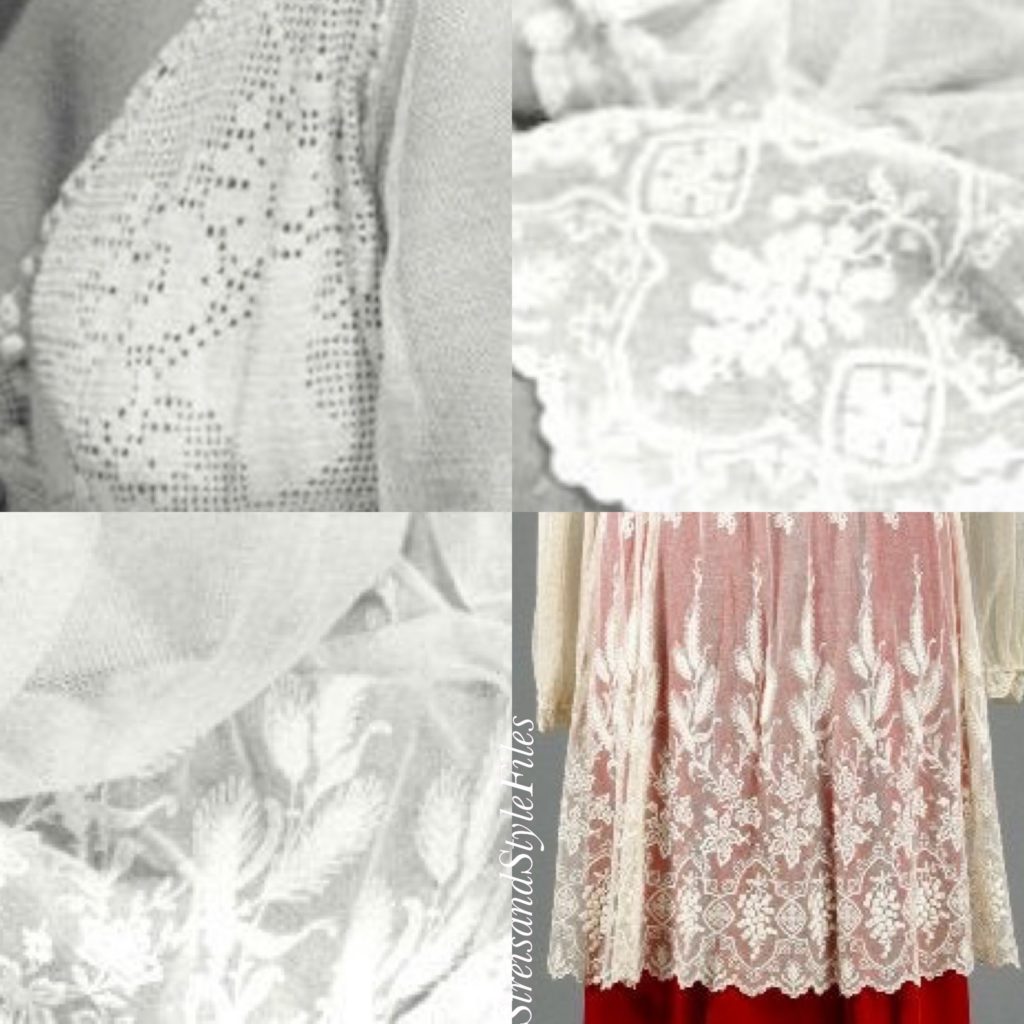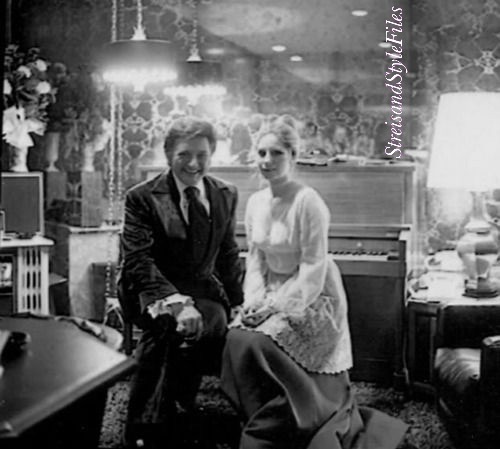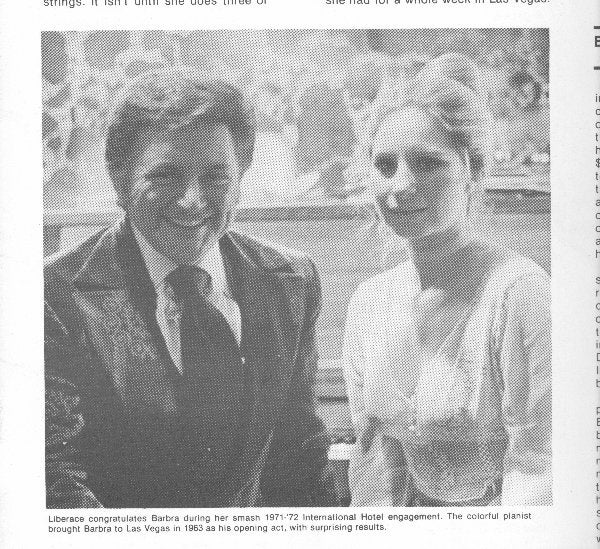 The upper portion of the bodice is crochet. The waist is accentuated with a focal point diamond motif which is circled in flora. The bust area features motifs of flowers in a basket and there are three crocheted buttons at the deep-V neckline. The organdy peasant sleeves have lace cuffs with a snap closure and there is a zipper closure at the back.
This is the type of piece that has so much intricate detail that it is far more impressive up close than from afar.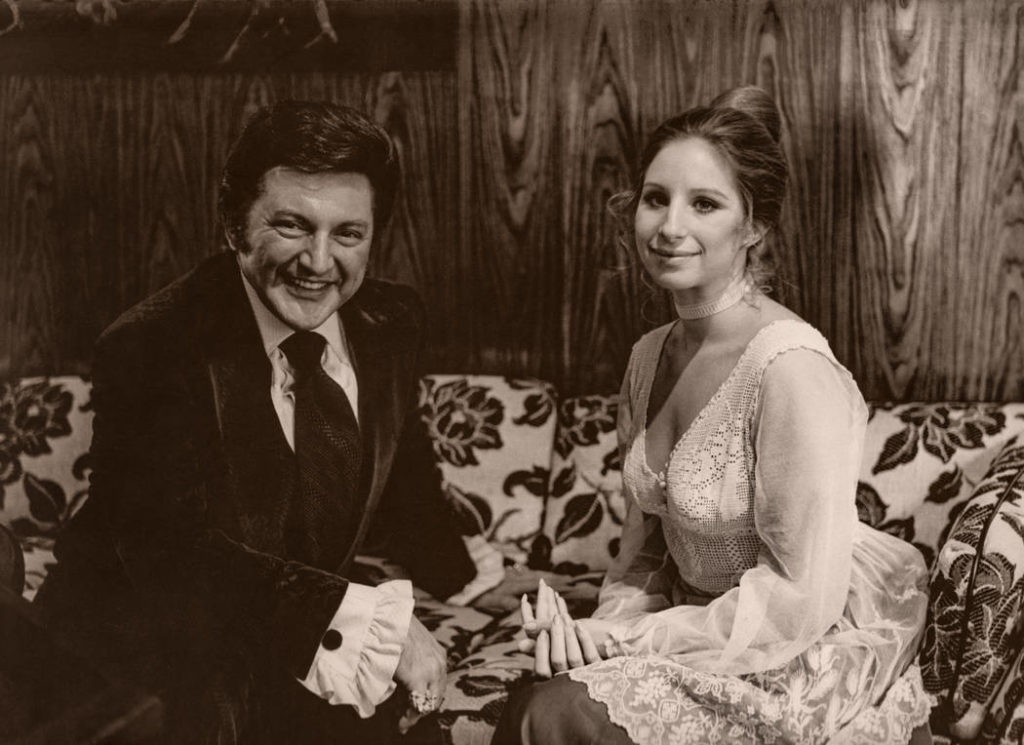 Beneath this, a flowing red velvet maxi skirt was worn. Though no photographs have been found of Barbra wearing it, a matching red velvet cape with a lace collar and two velvet button closure was also made to match this look. Barbra paired this with a simple matching cream choker and wore her long hair in an elegant bun with romantic loose curls framing her face.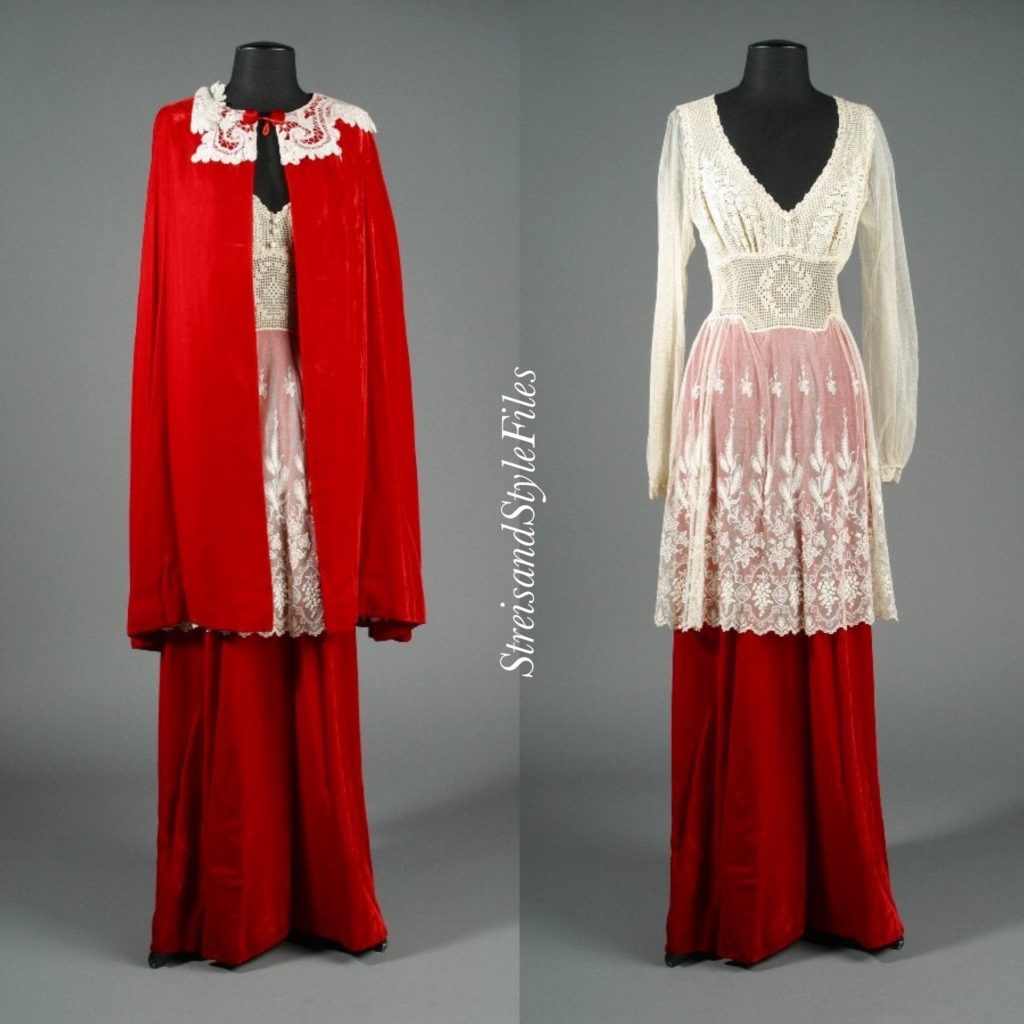 The entire ensemble sold at auction for $2,550.00 including the buyers premium in 2004.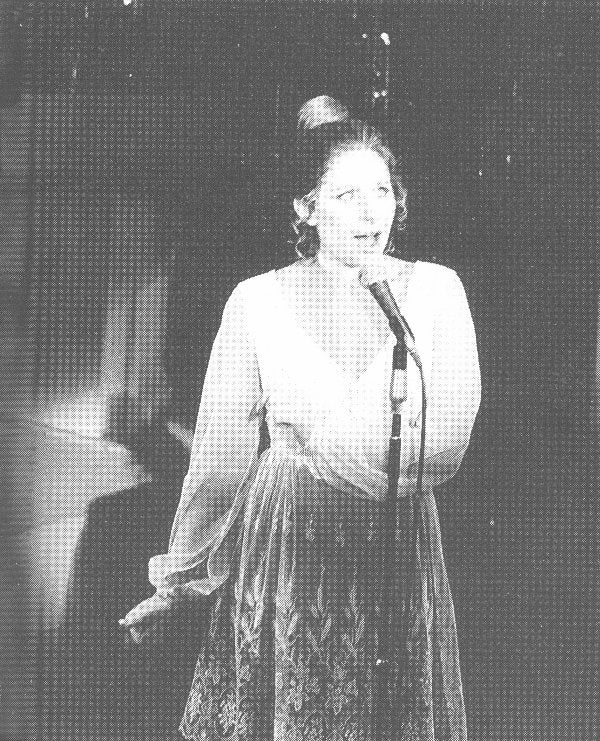 The tradition of choir boy costumes dates back as far as Medieval times. These were dictated by local churches so that the all choirs would fit in with the formal wear of priests, vicars and other churchmen. With the rise of surplice, choirs began to adopt the formal, uniform look. White surplice over red cassock did not become a standard look until modern times. They are a staple of cathedral choirs in England and often seen in Catholic, Episcopal and Protestant choirs. Priests affiliated with cathedrals are also allowed to wear red buttons on their black cassocks.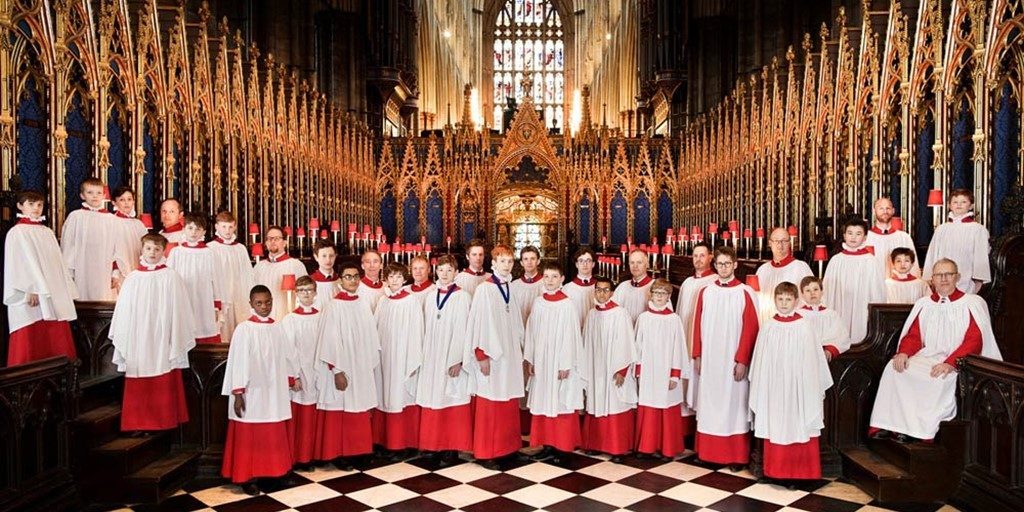 Choirs are not required to wear red cassocks and many opt for other colors. In the Catholic church, cardinals wear red because they are considered the closest advisers to the pope and therefore should be ready to shed their blood for the church and Christ.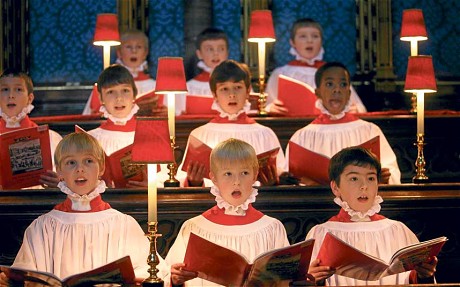 The classic red choir boy look has become so iconic over the years that it is the primary choir imagery we see replicated in media, on Christmas decor and as Halloween costumes.