In custom Donald Brooks for Lyndon B. Johnson's 1965 Inaugural Gala
Barbra Streisand wore this one of a kind, Earth toned Donald Brooks gown for her performance at Lyndon B. Johnson's Inaugural Gala. This two-hour event took place at the National Guard Armory in Washington, DC on January 18, 1965 and kicked off three days of celebrations cumulating with Inauguration day and the Inaugural Ball on Jan 20th, 1965.
This gown went through a series of changes prior to being made, as evidenced by the multiple sketches for Barbra. During the 1960's nearly everything Barbra wore was custom made for her based on her design ideas and this gown was likely no different.
Prior to 1965, Barbra had appeared on the cover of LIFE magazine on May 22, 1964 in a color blocked pink and green Donald Brooks gown. She would wear Brooks again at her Chicago Soldier Field concert in 1966 and the same gown made an appearance at the rehearsal of act two of the "A Happening in Central Park" concert.
Barbra's inaugural gala gown sketch was titled "an Egyptian Barbra Streisand." An initial idea (seen above) featured a long-sleeved, floor length fitted sheath gown covered in beading and pavé lotus blossoms. The lotus motif is backed by a multi-tiered dome which has gradual gradation in stone color. A Pavé setting is one that features a multitude of small gemstones set extremely close together. This gives the illusion of a flawless stone encrusted surface. The term quite literally translates from French to "pavement" because the rows of stones resemble cobblestone roads.
The final version of this gown had considerable changes but retained its initial color scheme and overall concept. The high jewel neckline was modified into a boat neck and the lotus design, instead of appearing fan-like ended up circular with lighter caviar beads encircling the motif. The gown features Barbra's signature empire waist look with two darts just under the bust-line. The texture and shimmer of this gown from all of the beading made it look outstanding on stage. Barbra's dramatic braided beehive, signature eye-liner and drop earrings combined with this gown exuded true Egyptian Queen elegance. It is easy to see why many sources said that Barbra stole the show that night.
Nan Robertson of the New York Times mentioned Barbra's performance in "Inaugural Gaiety Get Under Way" reporting that "Tonight, a galaxy of celebrities from Dame Margot Fonteyn to Alfred Hitchcock and Harry Belefonte performed before the President and Vice-President elect and 10,000 others at the Inaugural Gala-a super variety show staged at the National Guard Armory. This was the main-entertainment spectacle of the three-day Inauguration period. Red white and blue clusters of balloons hung from the armory ceiling like giant bunches of grapes, along with glittering fringed swags of cellophane and huge, fierce-looking eagles. The event, sponsored by the Democratic National Committee for the party faithful, who came free, also featured these stars directed by Richard Adler: Carol Channing, who sang a new version of "Hello, Lyndon!" (Flash that smile, Lyndon, show up that winning style, Lyndon"); Julie Andrews and Carol Burnett joining in a medley of musical hits spanning decades, Barbra Streisand who began with a slow-tempoed version of Franklin D. Roosevelt's campaign song "Happy Days Are Here Again;" and went on with songs from "Funny Girl." Other performers that evening included Dame Margot Fonteyn and Rudolf Nureyev, who danced a pas de deux from "La Corsaire"; the Ballet Folklorico; Alfred Hitchcock; Bobby Darin; Woody Allen; Harry Belafonte; Ann Margret; Mike Nichols and Elaine May and Johnny Carson.
Two days later, The New York Times published an article by Marilyn Bender titled "Inaugural Gala and Reception Bring Out mink" in which she recalled the overage of lush fur fashions seen in audience members that night.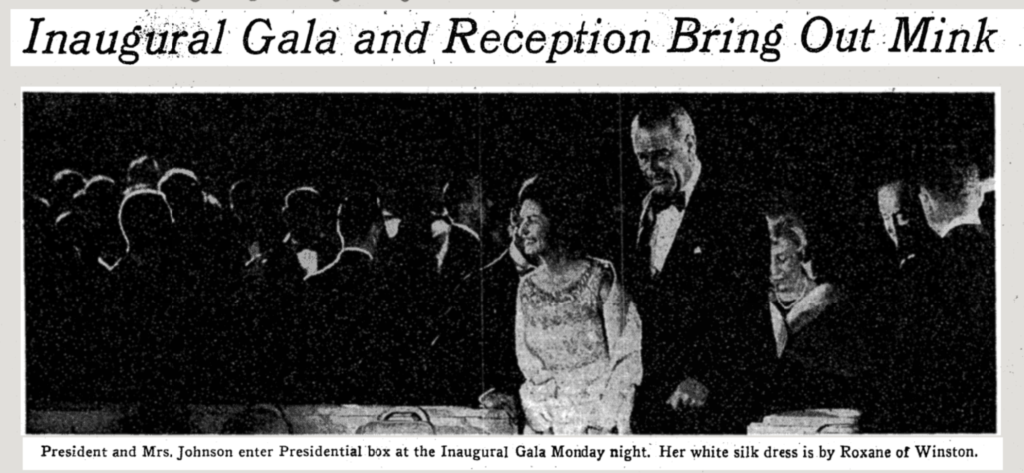 "As any good cloth-coated Republican can see during this pre-inaugural carnival, Democratic women still think mink. Some think small and others (with more aggressive husbands, no doubt) think big. Mink caplets are flung over vivid wool suits at breakfast time in hotel lobbies. And they are draped over the arms of many of the faithful who came yesterday to shake Mrs. Johnson's hand at the Distinguished Ladies Reception at the National Gallery of Art. But those women who converged all over Washington from all over the United States (although predominating strains in the festive din are Southern) with mink stoles as their social passports will surely end up under physicians' surveillance. As they were blown by icy winds throughout the doors of the National Guard Armory last night to attend the Inaugural Gala they shivered loyally. It was women who snuggled in full-length ranch mink, white mink, pastel mink and black mink coats who looked the most confident."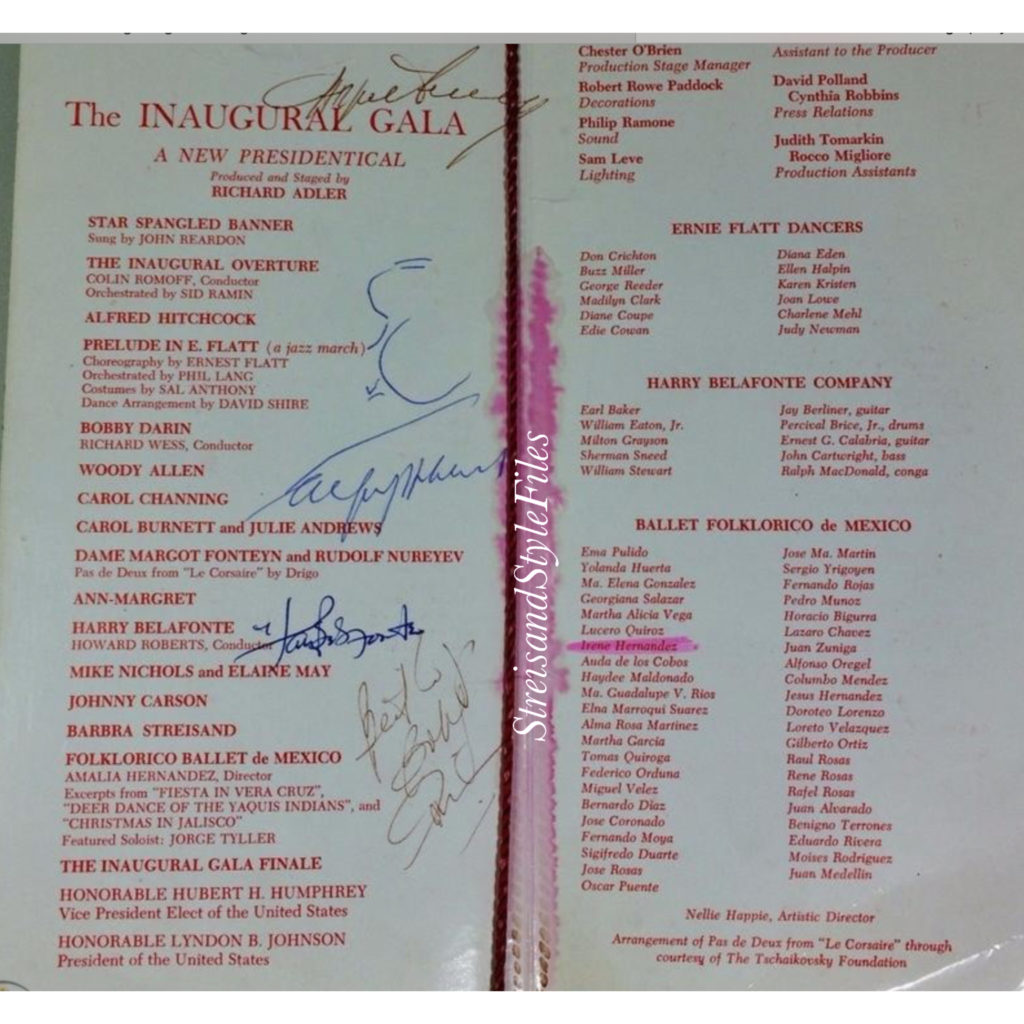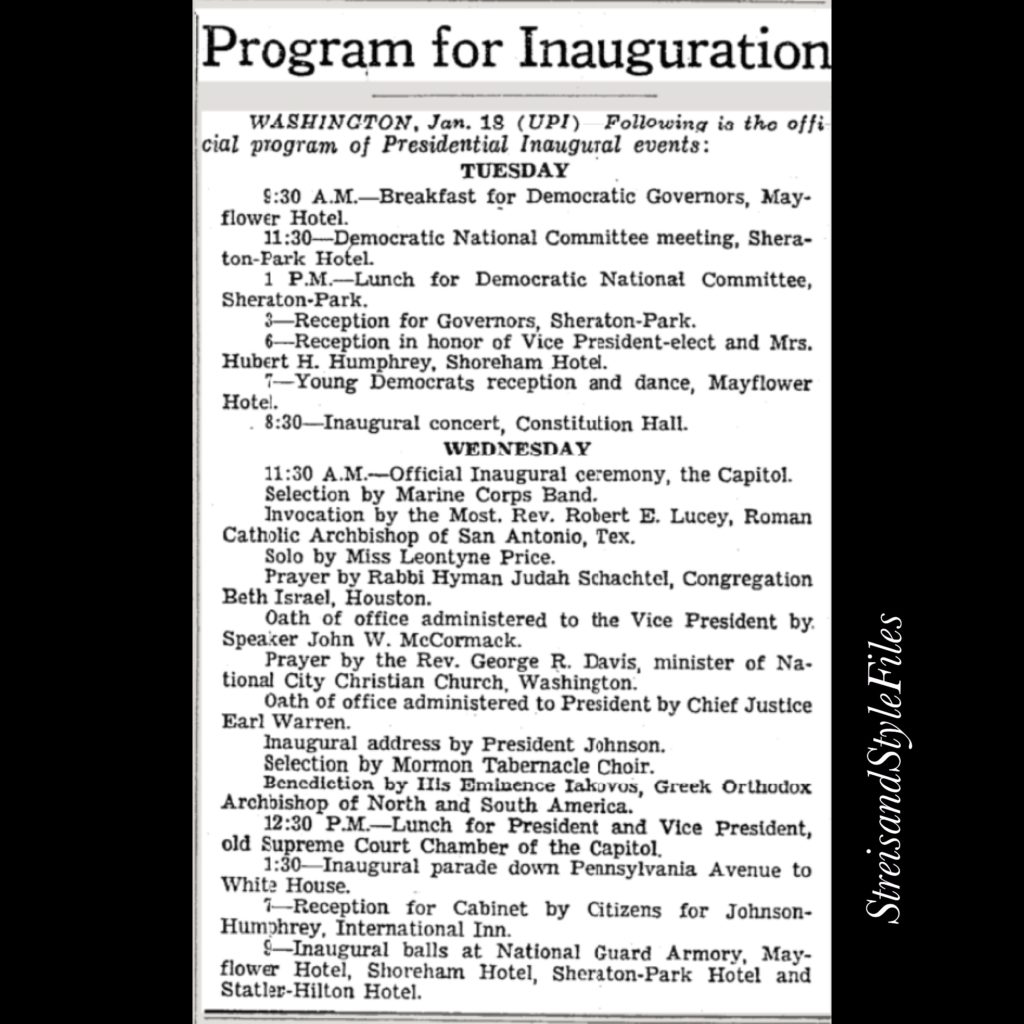 Donald Brooks (1928-2005) was born in New Haven CT, as Donald Blumberg. He studied at Yale school of Drama where he first decided to become a costume and clothing designer. He went on to study fashion at FIT and Parsons in NYC. His first job in the industry was as a window designer for Lord & Taylor. This job brought him some acclaim and the store's president, Dorothy Shaver, quickly hired him to design a collection. By the 1960's The New York Times had cited Brooks as one of the 3 B's of fashion including Bill Blass & Geoffrey Beene. He began designing his own collection from 1964-1973. During his career he was honored with three Coty Awards. Brooks also designed costumes for Broadway and films, earning an Emmy, Tony, and several Academy Awards nominations. His designs were noted for their simplicity and use of bold prints.
Brooks's dresses were easy fitting and made in distinctive fabrics with surprising colors. He once said, "You can turn an absolute whore into a lady by just putting pearls around her neck." The boldness of Brooks's design also made his contemporary dresses for the stage particularly successful. His designs have been showcased in The Met Museum, The Smithsonian and more.