In Custom Galanos, 1965 and 1966
This stunning custom Galanos gown was worn by Barbra Streisand on multiple occasions. It first appeared on Barbra while she sang at The Forest Hills Music Festival for over 15,000 people, on August 8, 1965.
A reviewer noted that "her gestures, which would have seemed extravagant in other singers, were as natural as her floor-length beaded gown."
She is seen in the gown again on Oct 10, 1965 for opening night of Elliot Gould's Broadway show "Drat! The Cat!". The gown was taken for another spin on June 12th, 1966, when Barbra gave a 20 minute performance as part of a U.S. Embassy benefit in London at Grosvenor Square. This event marked the first Festival Of American Arts And Humanities.
Oct 10th, 1965

Oct 10th, 1965
The gown was was worn onstage again on August 9, 1966 for "An Evening With Barbra Streisand" at Soldier Field in Chicago. It was also referenced in a 1968 story by Martha Weinman Lear, who was backstage during rehearsals for the "A Happening In Central Park" concert. Lear noted "Then she retired to her trailer to choose a gown for the second half of the show. "What am I going to wear? , she said glumly eying two gowns–a sequined Galanos and a flowered Brooks." 
June 12th, 1966

June 12th, 1966
James Galanos (1924-2016) is recognized for his gorgeous ready-to-wear pieces that are as couture on the outside as they are on the inside. He once said that he designed for only a certain type of women, "one that has money." His pieces were crafted with extreme attention to detail and with luxurious fabrics-most notably silk chiffon. In the 1950s, 60s and 70s Galanos designed for stars such as Marilyn Monroe, and Grace Kelly. He was a favorite designer of Loretta Young, Rosalind Russell and Nancy Reagan, who said of his dresses "you can wear one inside-out they are so beautifully made."  He became the youngest designer to ever win a Coty Award in 1954. Galanos retired in 1998 at 74 years old, feeling like women no longer appreciated quality and elegance.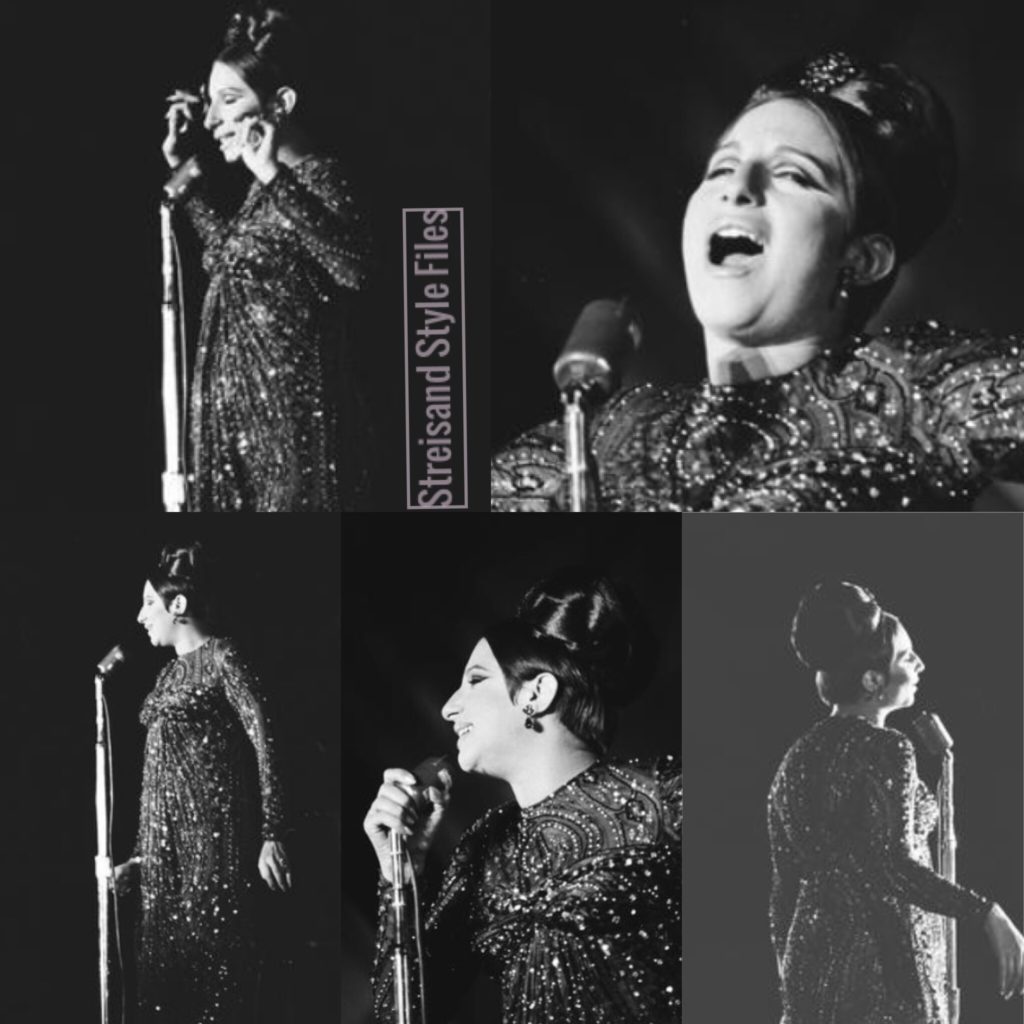 Barbra's paisley gown exhibits the amazing craftsmanship of Galanos. This Earth toned piece was made from printed silk chiffon with a layer of silk charmeuse below. There is a jewel-neck and long transparent form fitting sleeves. Galanos' signature delicate ruching forms a sweetheart bust, empire waistline and continues down the front of the gown. An internal boned bodice keeps the dress in place. The outer silk layer is fully hand finished with Earth toned cut glass seed-beads, round sequins, and simulated pearls. A tag inside shows the date the dress was completed-6/16/65. This rare piece sold at auction in 2015 for $12,500.00