In Kaat Tilley for Harpers Bazaar 2010
Barbra Streisand wore this stunning garnet riding dress by Kaat Tilley for Les Habitudes in a photo shoot for a Harpers Bazaar piece titled "Dream House" in Nov, 2010. In it, Barbra said "I look at fashion today and I don't get it. All those prints. I should have lived in another era. … Maybe I did. I still like my antique clothes. There are some good things, but it's not really my interest these days."
This look was styled to perfectly compliment the colors of Barbra's award room, and shot by Terry Richardson.
This same dress was also featured in S1E1 of CW's "Reign" where it was worn by Queen Catherine. It sold new for $4,295.00, and the style was manufactured in a wide variety of colors and fabrics.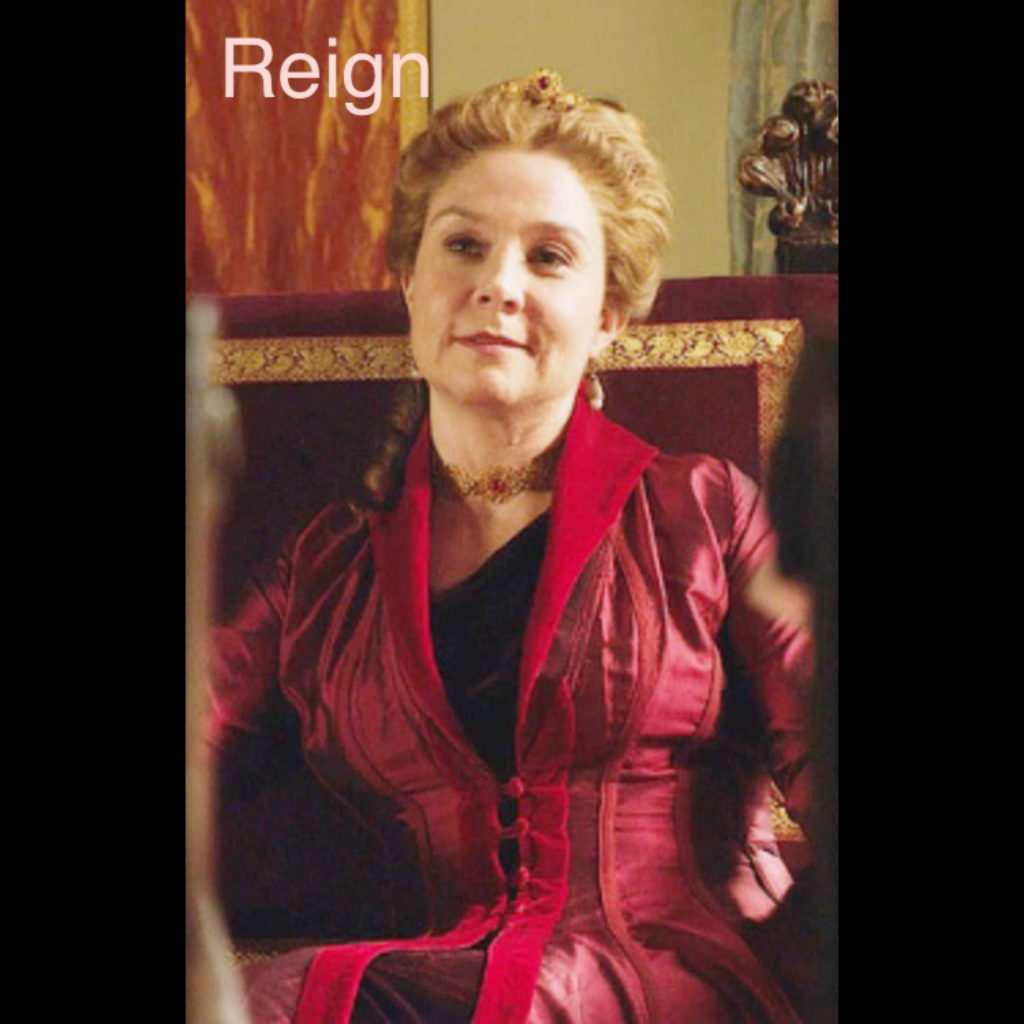 Kaat Tilley (1959-2012) was a Belgian fashion and costume designer who graduated from Royal Academy Of Antwerp. Her work was heavily influenced by her love of fairy tales. Her designs-some of which incorporated hand painted fabric, were a stunning combination of art and fashion.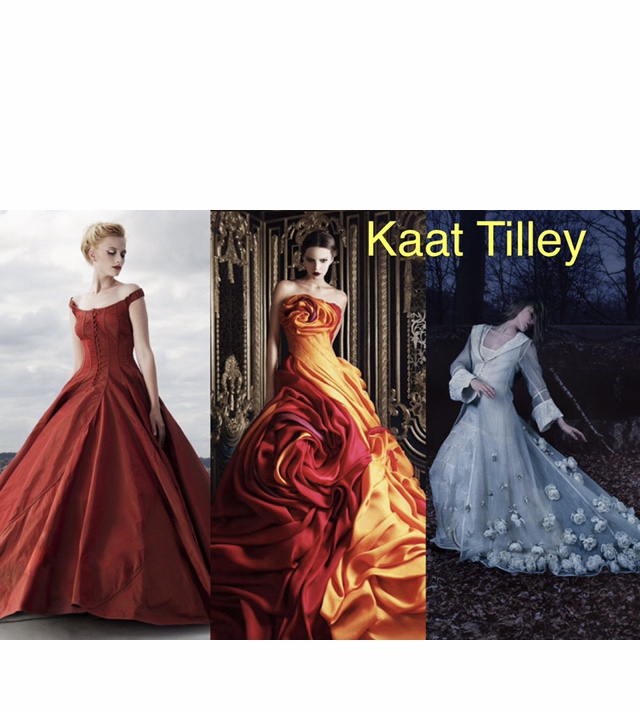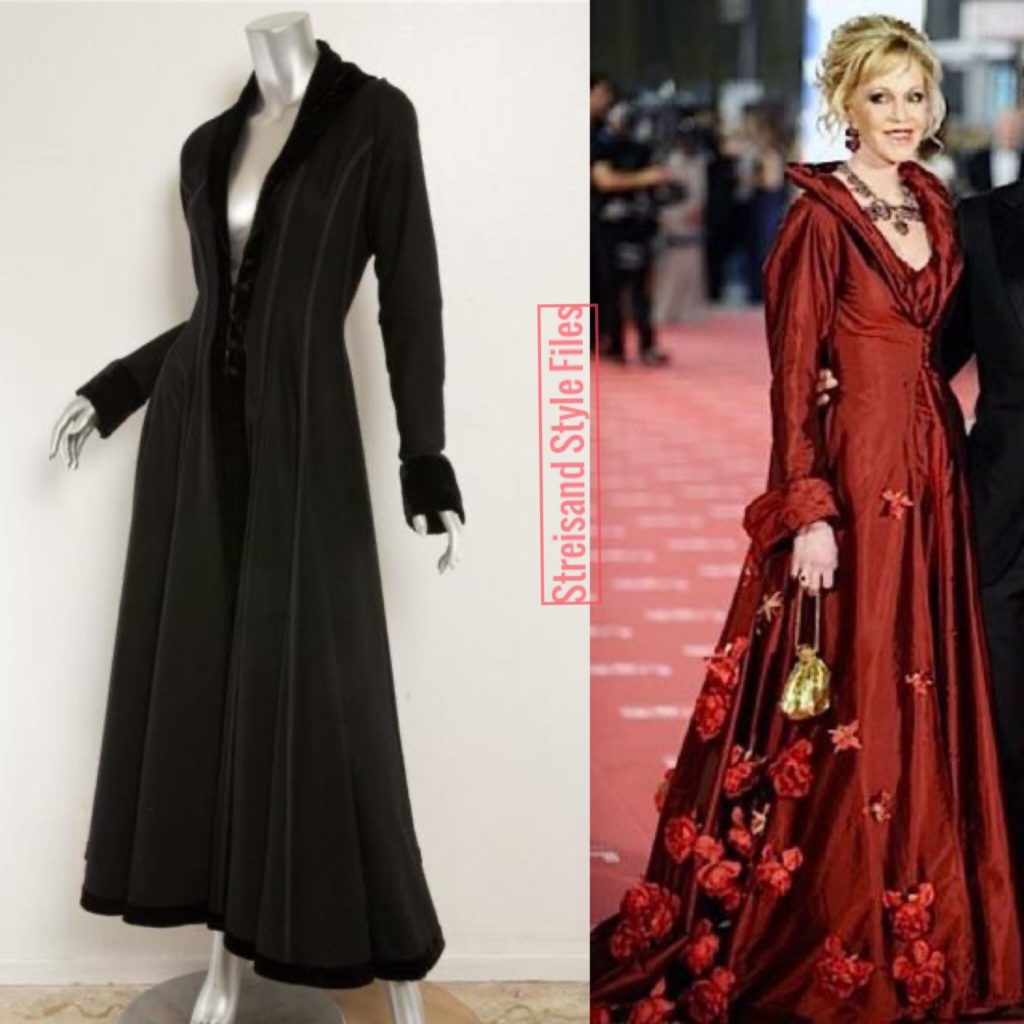 Some signatures of her ethereal gowns are a boned corset illusion created with trim instead of boning, long cuffed sleeves and corset lacing in the back. Tilley's website described that "Her views do not adhere to trends, rather they reflect more of a life story by mirroring a woman's journey and the lesson learned through living life. Kaat Tilley drives esthetics to the extreme… her world balances between female fragility and strength." Tilley passed away suddenly in 2012 from Pneumonia.
Her timeless, romantic creations are collectors items today.
Barbra's silk crepe, garnet jacket-dress has a very Edwardian feel to it. The fitted bodice features lush velvet trim up the center leading to a shawl collar. Trim travels in four rows up the bodice creating a structured boning illusion. Five velvet covered buttons with rouleau loops form the closure at the front. The long sleeves feature wide velvet cuffs, which Barbra wore folded. Pleating flows down the dress from the waist giving the piece it's dramatic volume. Velvet trims the closure of the dress on both sides and continues as trim around the hem. Adjustable corset lacing with five loopholes on each side climbs up the back.
This was paired with a matching chocker and snakeskin block heels from Barbra's personal collection.