In Mod Kimberly Knitwear, August 1965 Vogue
Barbra Streisand gave us mod queen realness as she modeled two color blocked Kimberly knit dresses in the Vogue August 1, 1965 issue. This issue featured the cover headline "The Young Chicerino, Her Kind Of Fashion, 75 Looks That Have The Knack" and featured British Actress Samantha Eggar on the cover.
Inside, many young singers and actresses modeled the trendiest looks of the time, some of which included Claudia Cardinale, Geraldine Chaplin, Francoise Hardy, Julie Christie, Catherine Spaak. The women were photographed by a variety of photographers including Gordon Parks, David Bailey, Dennis Hopper, Bruce Davidson, Bert Stern and Franco Rubartelli. Barbra's three looks were shot by Irving Penn.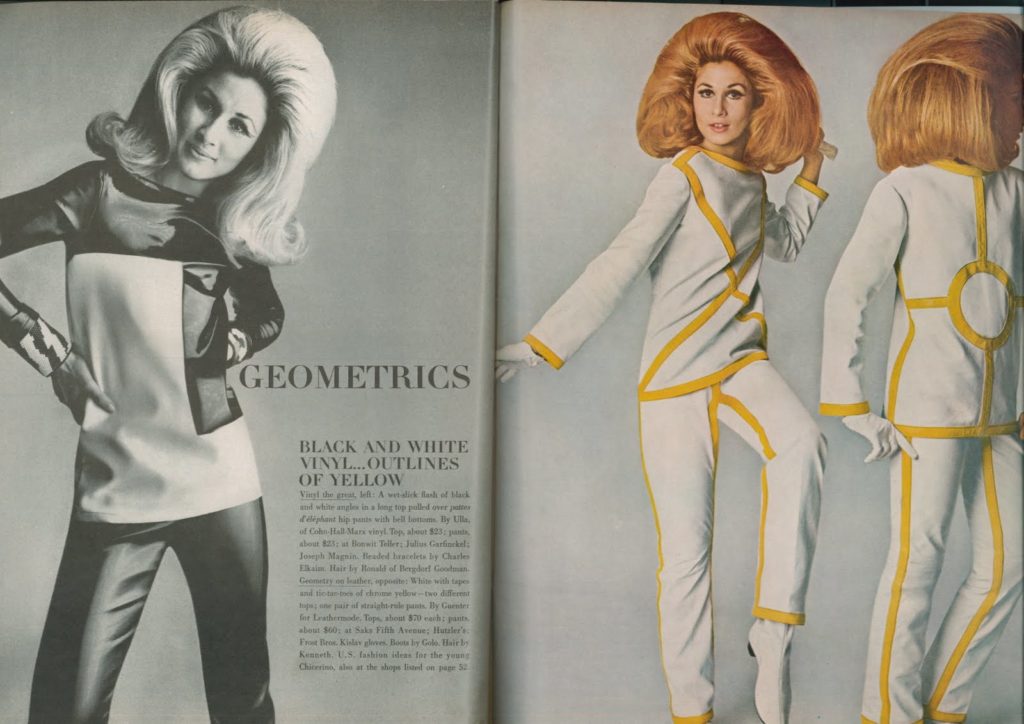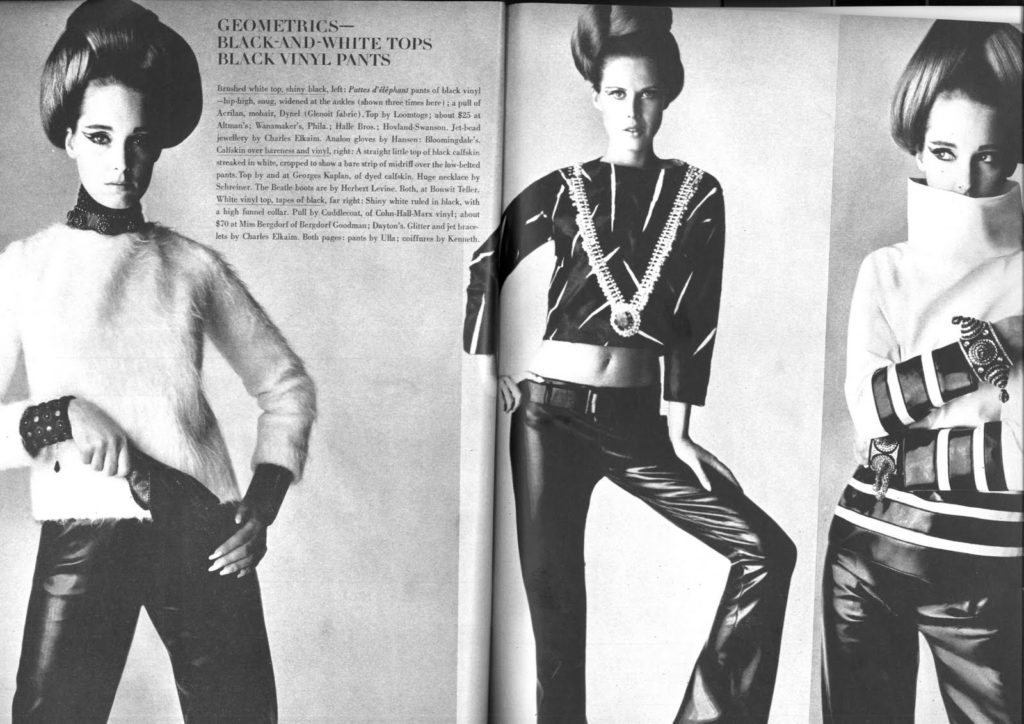 The third and fourth pages of Vogue's spread (beginning on page 66) featured four photos of a youthful Barbra posing in green and purple color blocked, jewel neck shift dresses accessorized with adorable white gloves and short go-go boots.
These were extremely trendy looks at the time. The Op Art and Pop Art movement of the 60's influenced both fashion and accessories. For women, it represented a sense of modern independence and fashion freedom. Colors during this decade were loud and bold. Fashion and accessory colors were designed to clash on purpose and create shock. The color blocking on these two dresses is a great example of this.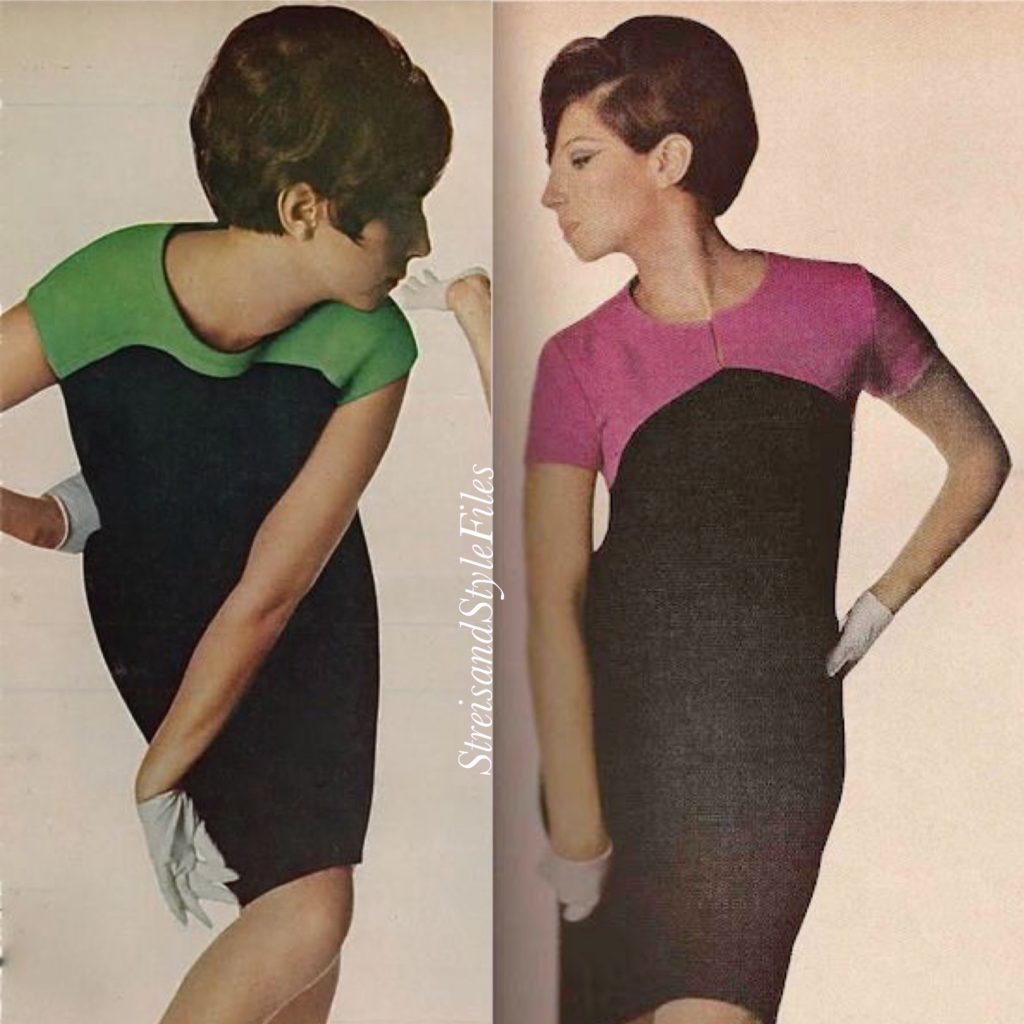 Barbra had recently made the transition from her famous bob hairdo to a chic short cut envisioned by Frederick Glaser who also styled her hair for this shoot. Her bangs, always parted to the right, had a bit more body and curl to them here in contrast to the sleek straight way she often wore them during this period.
Vogue's write up on these pages was "Barbra Streisand-star plus, dress plus: little black knits planed by clean, sharp shouts of color…cut straight down the body….skimped everywhere…With very short sleeves, very short hems: white gloves and boots-very short."
Vogue described the above look as: "Emerald green, left and right opposite, like a baby-yoke, on a straightaway skimp of black wool knit. By Kimberly. About $60. At Bonwit Teller; Julius Garfinckel; Hudson's; Neiman-Marcus; I. Magnin."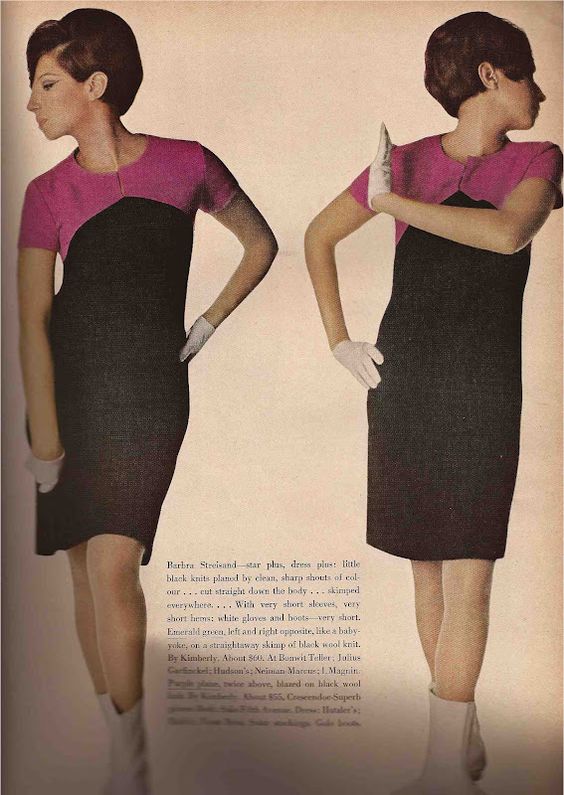 Vogue described the above look as: "Purple Plane, twice above, blazed on black wool knit. By Kimberly. About $55. Crescendoe-Superb gloves. Both: Saks Fifth Avenue. Dress: Hutzler's; Rich's; Frost Bros. Solar stockings. Golo boots."
Kimberly knitwear company was created by Jack Lazar (1911-1990) in 1946. The company was named for the 70-carat Kimberly Diamond and often referred to as "the Rolls Royce of the knitwear industry." Lazar dropped out of school when he was 15 to work in a knitting mill where he learned every detail of the trade from the ground up including designing, operating machines, finishing, packing and selling.
After serving in the military during World War II, Lazar decided it was time to finally launch his own company. Around this time knitwear had fallen out of favor with women because it would stretch, shrink and sag to the point of being unwearable. Lazar turned these problems around by being adventurous with his textiles, using more sturdy novelty yarns and mixtures of wool, Dacron and Orlon.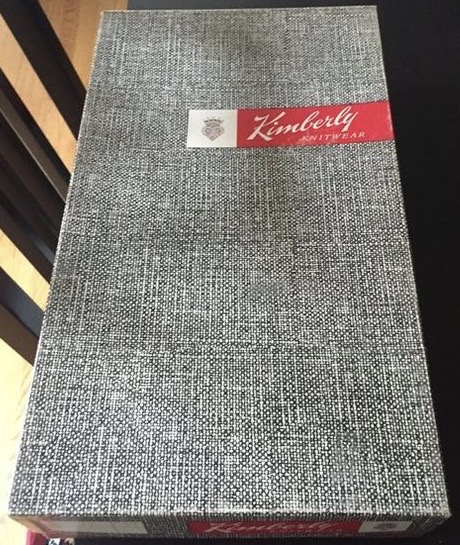 Kimberly knits quickly became popular because they were lightweight, flat and easy to pack and care for. Lazar and his wife Helen took frequent trips to Paris to absorb the latest styles and brought back many popular patterns to manufacture as knitwear.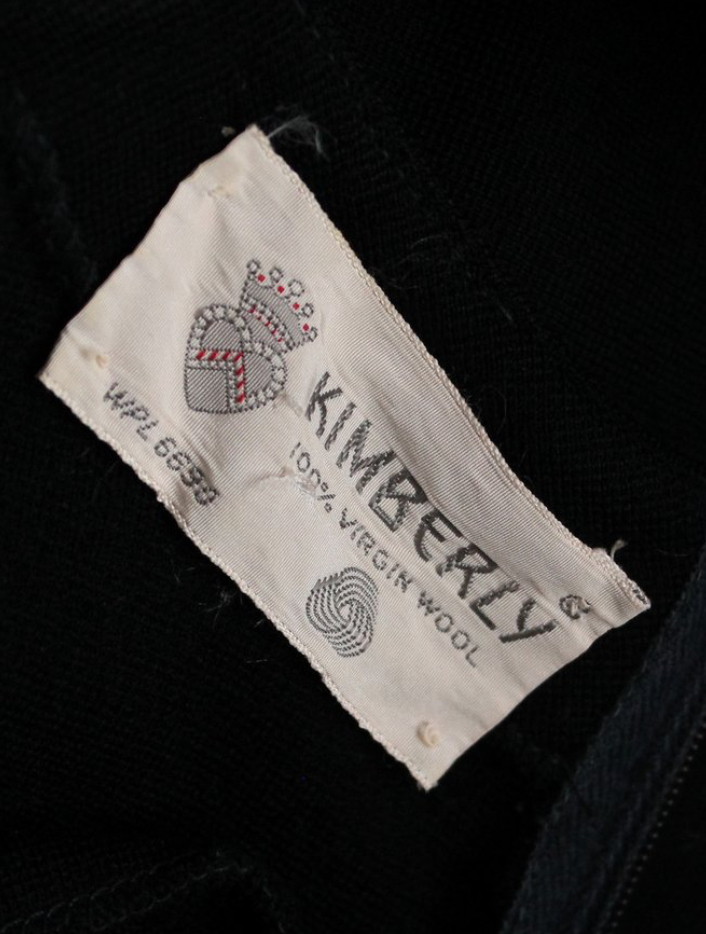 Soon, Kimberly was being worn by celebrities like Jackie Kennedy, Barbra Walters and the Duchess of Windsor. By the 1970's the company had sales in the range of $30 million. In 1972 Kimberly was bought by General Mills Corporation. Lazar retired in 1977 and the company closed in 1979. Today, Kimberly knitwear is easily found in the vintage market.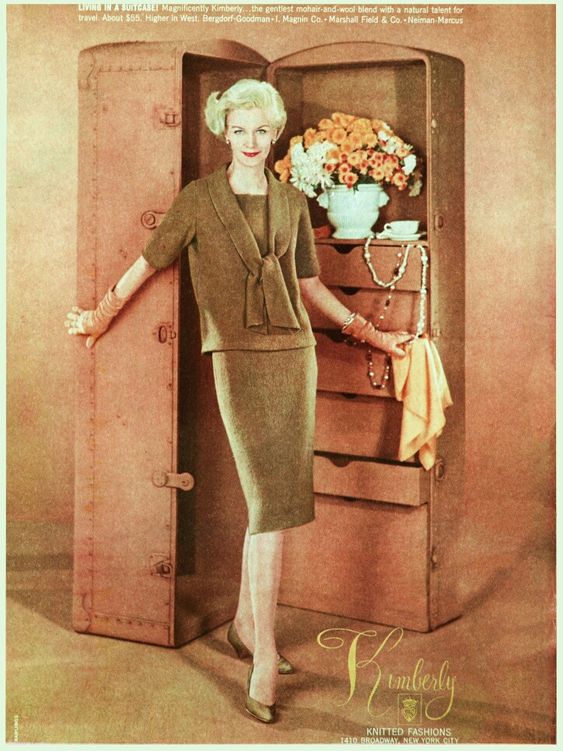 The effect of having a star as big as Barbra Streisand wearing a designer's clothing was undeniable and certainly helped sales. Though the Golo footwear company had been established in 1915, the Vogue featured short white go-go boots became their best selling style due to Barbra's trendsetting influence. Today twenty-two pairs of Golo shoes are in The Metropolitan Museum of Art's permanent collection.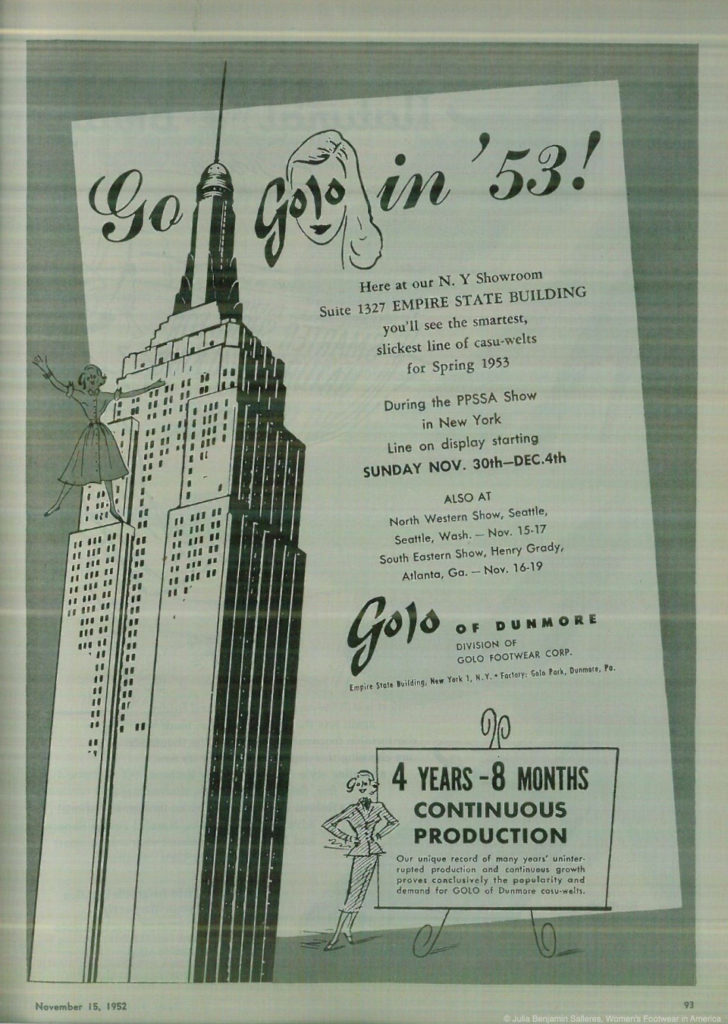 Barbra also modeled short Crescendoe gloves which were an essential accessory for mod looks during the time. In the 1950's short white gloves had been worn with nearly every dress, but by the 60's gloves had fallen out of fashion. When the mod look arrived on the scene gloves came back in style, but with a modern twist that included colorful trims and cutouts to represent a more progressive youthful look.
Crescendoe gloves had been around since 1942 and were a division of the Superb glove company located in Johnstown, NY.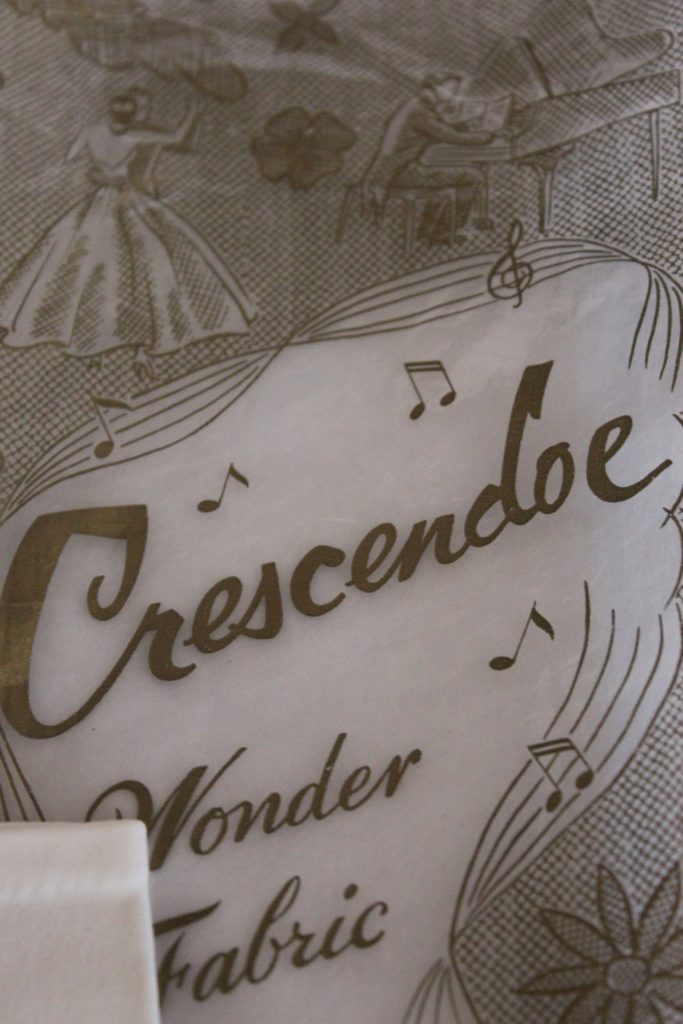 During the 60's Superb followed the trend of making stretchy and synthetic gloves. By the late 60's gloves were no longer trendy and by the 1970's, like today they were worn mainly for warmth.