In Stuart Weitzman 5050 Boots For A 2016 New York Times Feature
Barbra Streisand wore Stuart Weitzman 5050 over-the-knee boots in a photo shoot with Emily Berl for her August, 2016 New York Times feature. In this interview "Barbra Streisand Sets the Record Straight" by Ben Brantley, Barbra talked about her upcoming album "Encore: Movie Partners Sing Broadway", meeting Judy Garland and her dream of playing Mama Rose in Gypsy.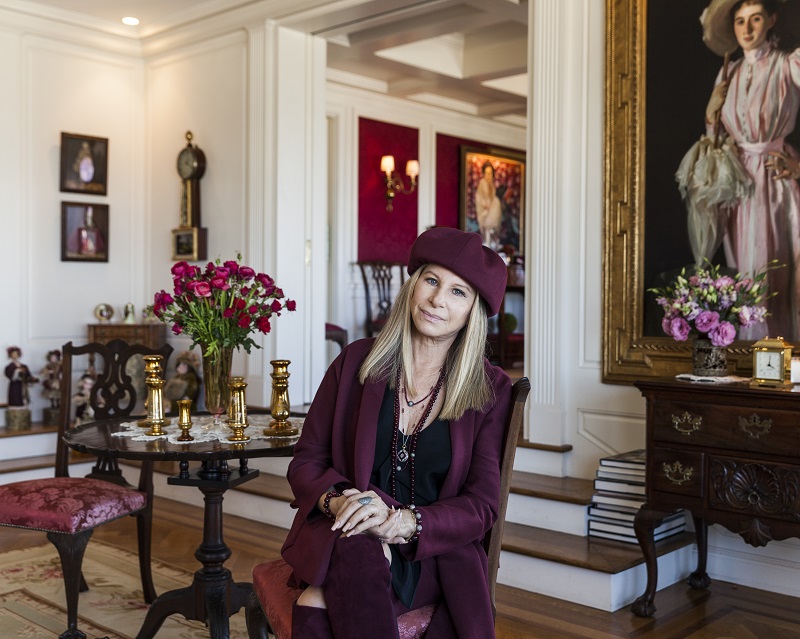 The story ended in a somber way, with Brantley noting "The Malibu residence, as tailored to her tastes and needs as a couture dress might be, would seem to offer a place where a person might shed her shell. I ask her if she ever feels serene here. She doesn't answer immediately. So I ask: "Do you ever feel serene?" That's a good question," she says. So I ask it again. Her muttered response: "No, not really sad to say."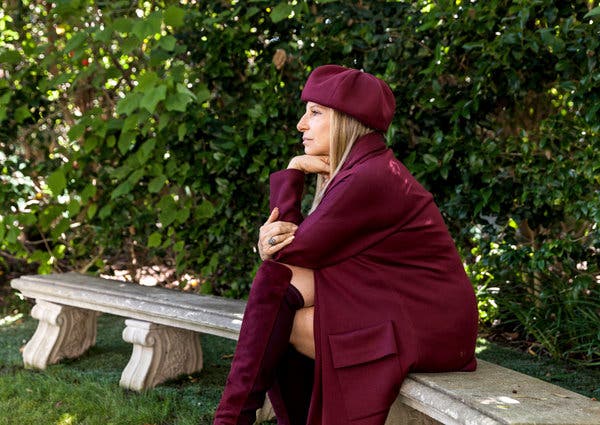 The photo shoot accompanying the story took place at Barbra's Malibu estate. She looked contemplative and stunning in the photos, in which she wore a perfectly matched burgundy ensemble. Her choice of boots in the shade of bordeaux showed off her fabulous legs and looked elegant and stylish.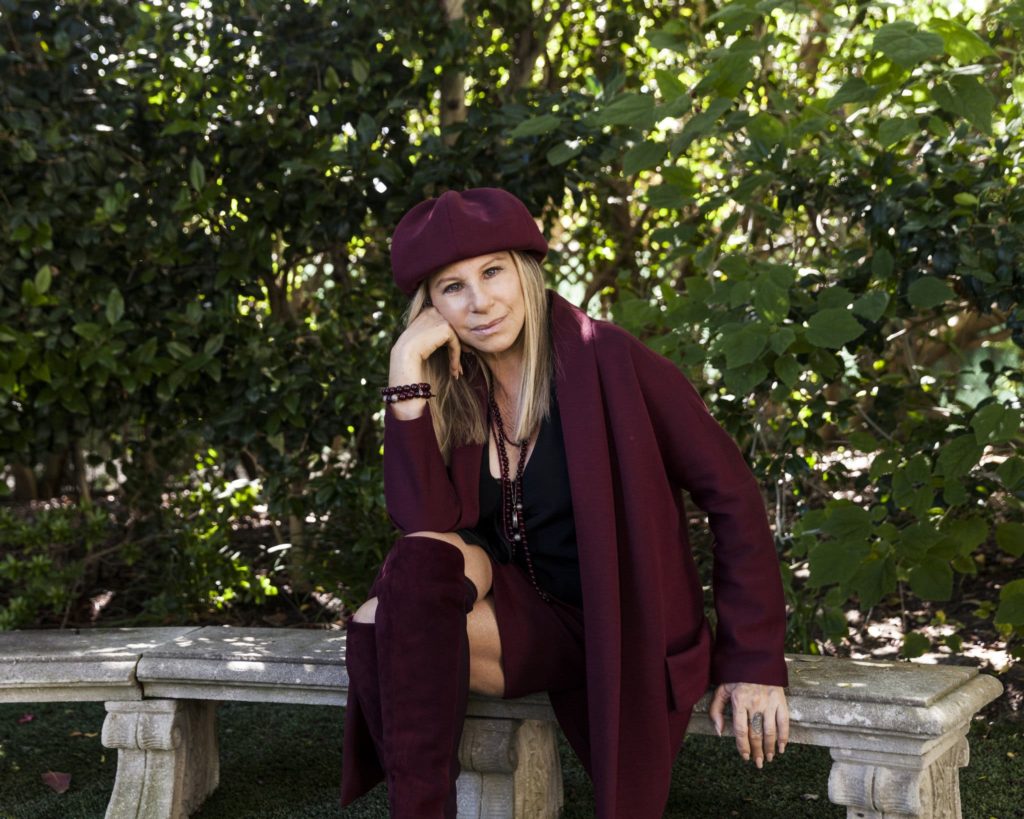 The 5050 boot is a longtime Stuart Weitzman bestseller and has been in production for over twenty-seven years. This suede, just over the knee style comes in a variety of colors and fabrics and is a favorite among celebrities, editors and fashionistas worldwide. When the design launched in 1993 the combo of half-sueded or leather combined with half-micro stretch brought wearability to the luxury shoe industry.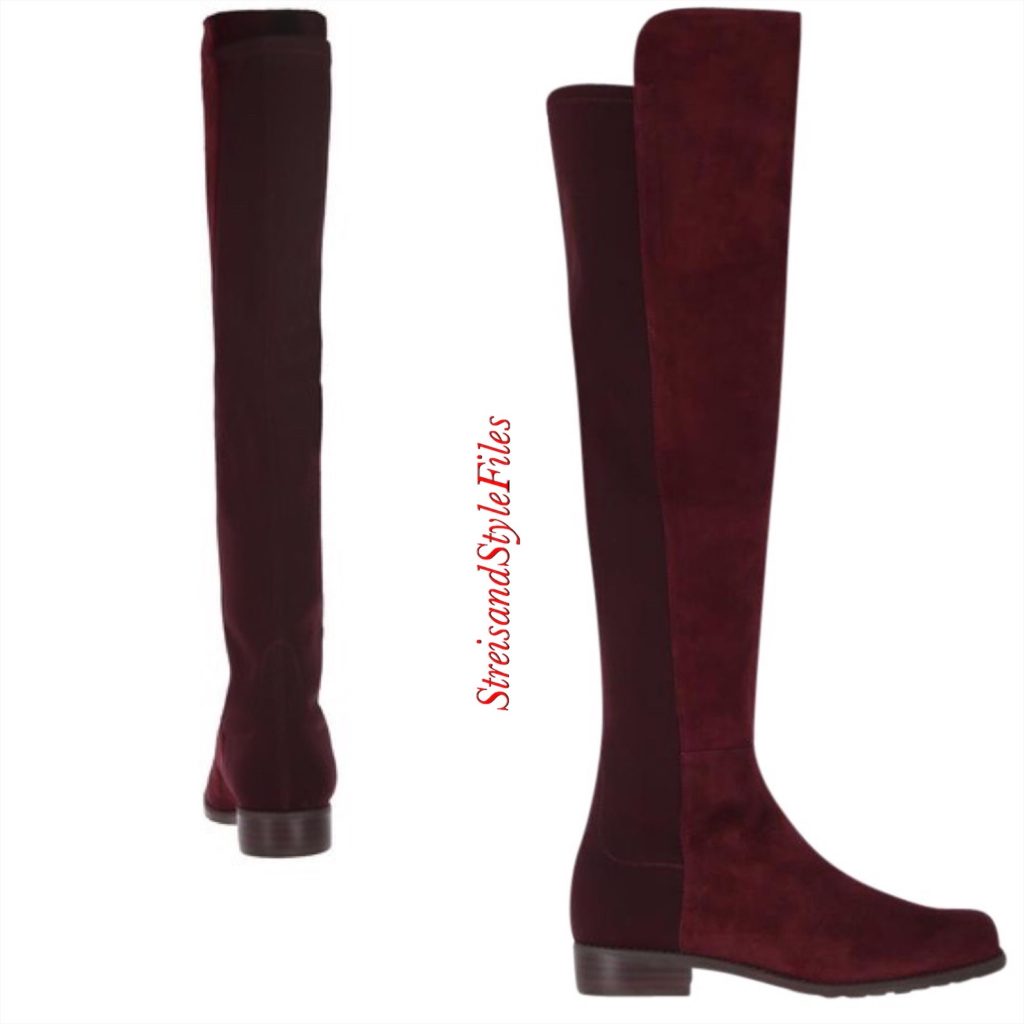 5050 boots feature a 1" chunky heel, round toe and micro-stretch back shaft with grooved rubber soles. Stuartweitzman.com describes this boot as "One of our most iconic silhouettes ever designed, these style essentials are at once classic and cool, and especially beloved by fans of the HALFWAY, the MEZZAMEZZA and the 5050MID back-stretch styles. This universal favorite can be paired effortlessly with everything, from skirts and dresses of all lengths to skinny jeans and leggings." 
The 5050 boot currently sells for $695.00 at stuartweitzman.com in three colors (which no longer include bordeaux.) The good news is, you can still shop her style and find Barbra's exact boot which pops up often on second-hand markets like Mercasi, Ebay and Poshmark.