"She was all man and all women." Performing at Bill Clinton's 1993 Inaugural Gala in a pin-striped, three piece skirt suit
Barbra Streisand performed at Bill Clinton's Presidential Inaugural Gala on Jan 19, 1993 wearing an elegant dark-grey, pin striped suit which she co-designed with Donna Karan. This three-piece suit didn't need pants to be powerful, but Barbra's choice to wear a figure hugging skirt still ended up stirring up controversy.
This outfit was quintessentially Barbra. It was made from light wool and featured a single breasted wide lapel jacket. There is a jetted breast pocket on the left side with two flap pockets. Each sleeve has a single fabric covered button at the cuff. Beneath this was a fitted waistcoat with a deep-V neckline and four button closure. The fitted pencil skirt has a thigh-high slit on the left side, bringing to mind Barbra's iconic 1960's skirts. These were paired with sheer black tights, black closed toe pumps and an exquisite three-strand Georgian collet diamond necklace which Barbra purchased as a gift to herself. Fans will recall that she wore this piece again at the 2018 Golden Globe Awards and to a state dinner at the White House in 2011.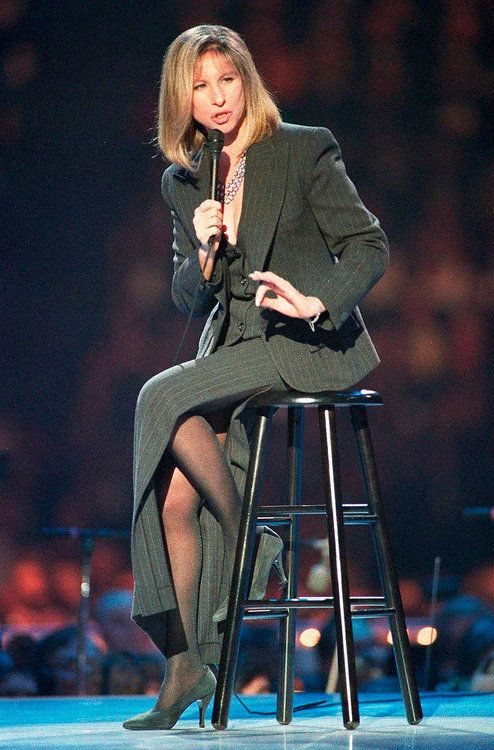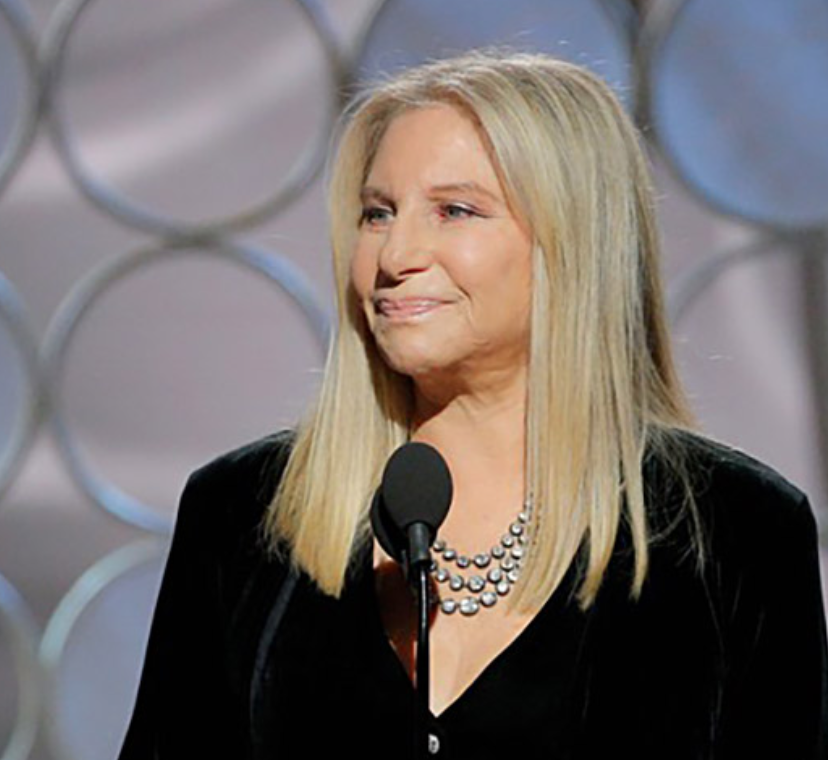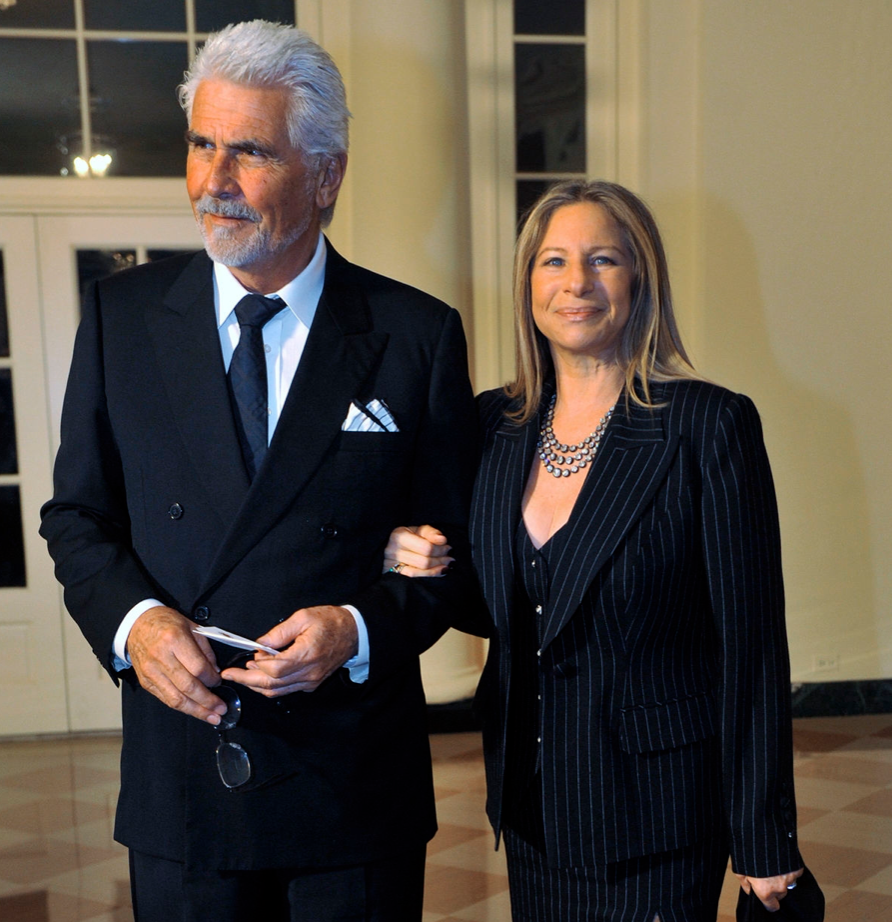 Barbra was welcomed to the stage by Annette Bening and Warren Beatty who gave her an amazing introduction, saying "To do just one of these inaugural galas every 24 years really hasn't been enough rehearsal for me to get it right. So, over that period of time I have been introducing a number of activists at various fundraisers and one group includes a singer, a composer, a writer, a producer, a director and I think I can save us some time here if I just introduce them all at once. Ladies and gentleman, Barbra Streisand." Barbra made her entrance to the stage through an 18,000 person audience, happily waving to the people near her as she passed. She greeted the crowd by saying "Thank You! When I sang for the then Governor of Arkansas at a fundraiser last September, he told me what his favorite song was of mine and I said 'well, i'm not singing it tonight, but i'll tell you what. I'll sing it at your inauguration.' I am so happy to say here we are. This is a promise i'm delighted to keep. This is for you and Mrs. Clinton."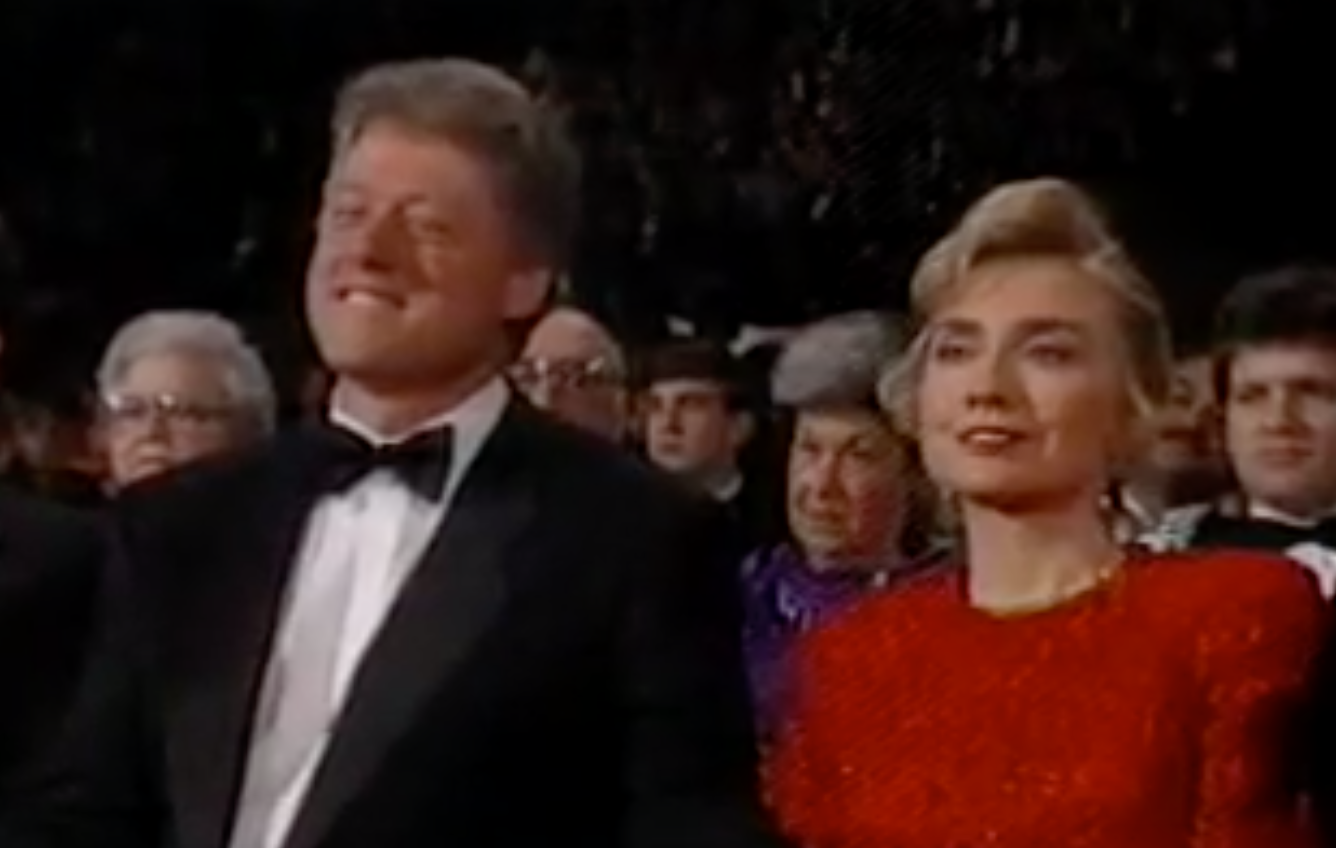 Barbra then launched into an absolutely breathtaking version of Evergreen which was met with monstrous applause and a standing ovation. She followed with Children Will Listen. Just before her final song, God Bless America, Barbra said more moving words to the crowd.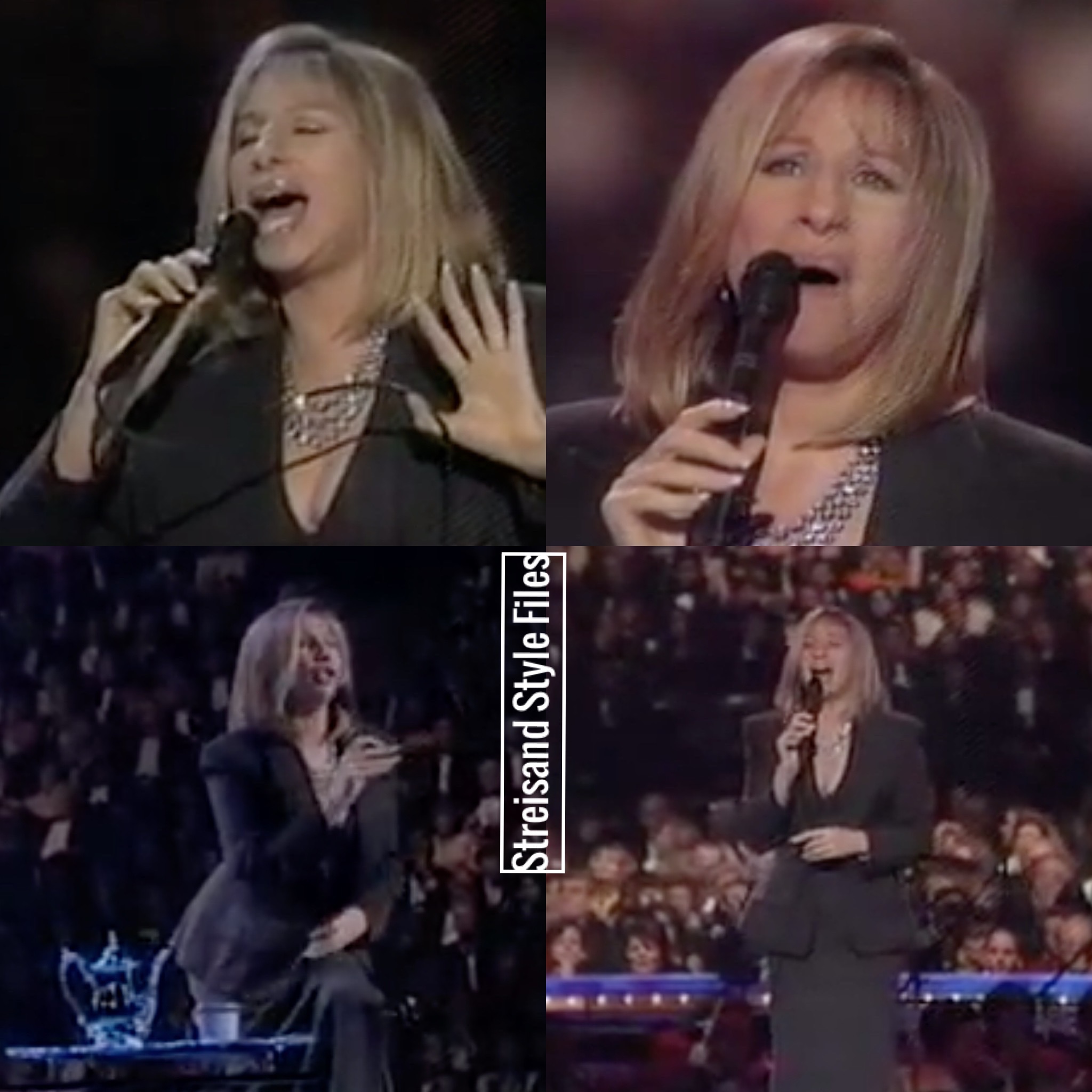 "I know that grace is something said before a meal, but I feel that America has great feast before it. And so perhaps a grace of sorts is appropriate. I'm thankful for the blessing bestowed upon us. The richness and beauty of our land. The diversity of our people. And especially for the new leadership which will take us forward to a time of hope and healing. I'm thankful for our new Vice President, because in your hands I know the planet will have a true and devoted caretaker. And I am so grateful for our new President who carries the burdens of our expectations in this unsettled world. The tasks are overwhelming but you inspire in us a confidence and trust, a positive sense of the future that is new and wonderful. I pray for your health, your stamina and your joy in the work that lies before you. We are, all of us truly blessed."
This performance was recognized by Rolling Stone Magazine in 2017 as one of the most legendary inauguration gala performances ever. Other performers that evening included Elton John, a reunited Fleetwood Mac, Michael Jackson, Aretha Franklin, Chevy Chase, Bill Cosby, Jack Lemmon, James Earl Jones and dancers from Alvin Ailey.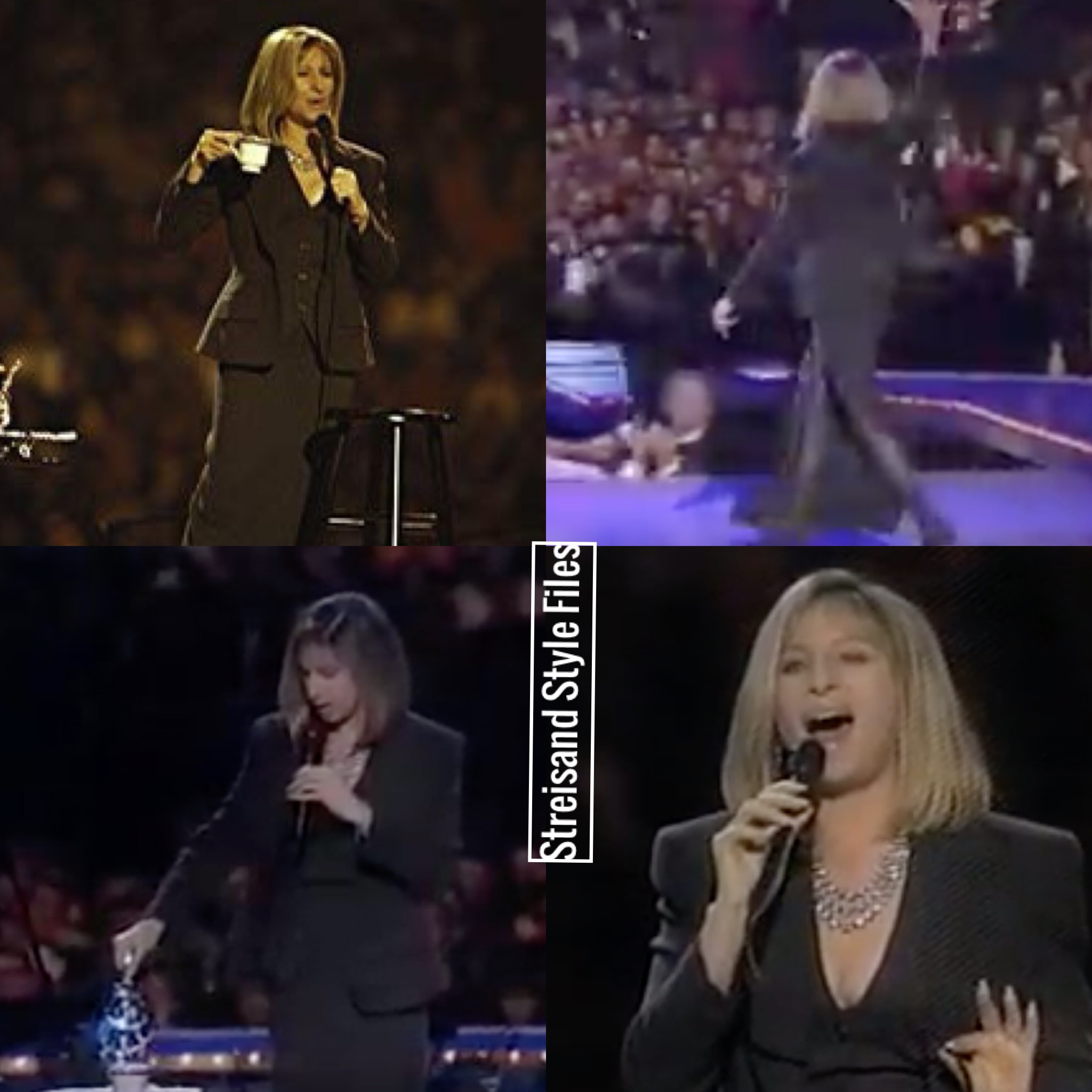 Though no one would bat an eye at it now, Barbra's three piece suit caused quite a stir at the time. On January 28th, 1993 Anne Taylor Fleming wrote a scathing Op-Ed for The New York Times titled "Peekaboo Power Suits" where she slammed Barbra's choice of outfit stating "My female friends and I spent a fair amount of time dissecting the fashions at the Clinton inaugural. There were Hillary's hats and Aretha's furs, but the costume that really got to me was worn by Barbra Streisand at the gala. It sent a disturbing signal to — and about — American women. There she stood in an outfit much in evidence in fashion magazines and ads: a three-piece pin-striped male power suit, with a feminine touch. Instead of pants, she wore a skirt that was slit from ankle to thigh, while above a definite hint of cleavage poked over the form-fitting vest.As her gorgeous notes sent chills through the crowd, one couldn't help notice her flesh — clearly the point. This was not role reversal, cross-dressing. This was a mixed metaphor — a woman letting us know that underneath her peekaboo power suit, underneath all her bravado and accomplishments, she is still an accessible femme fatale."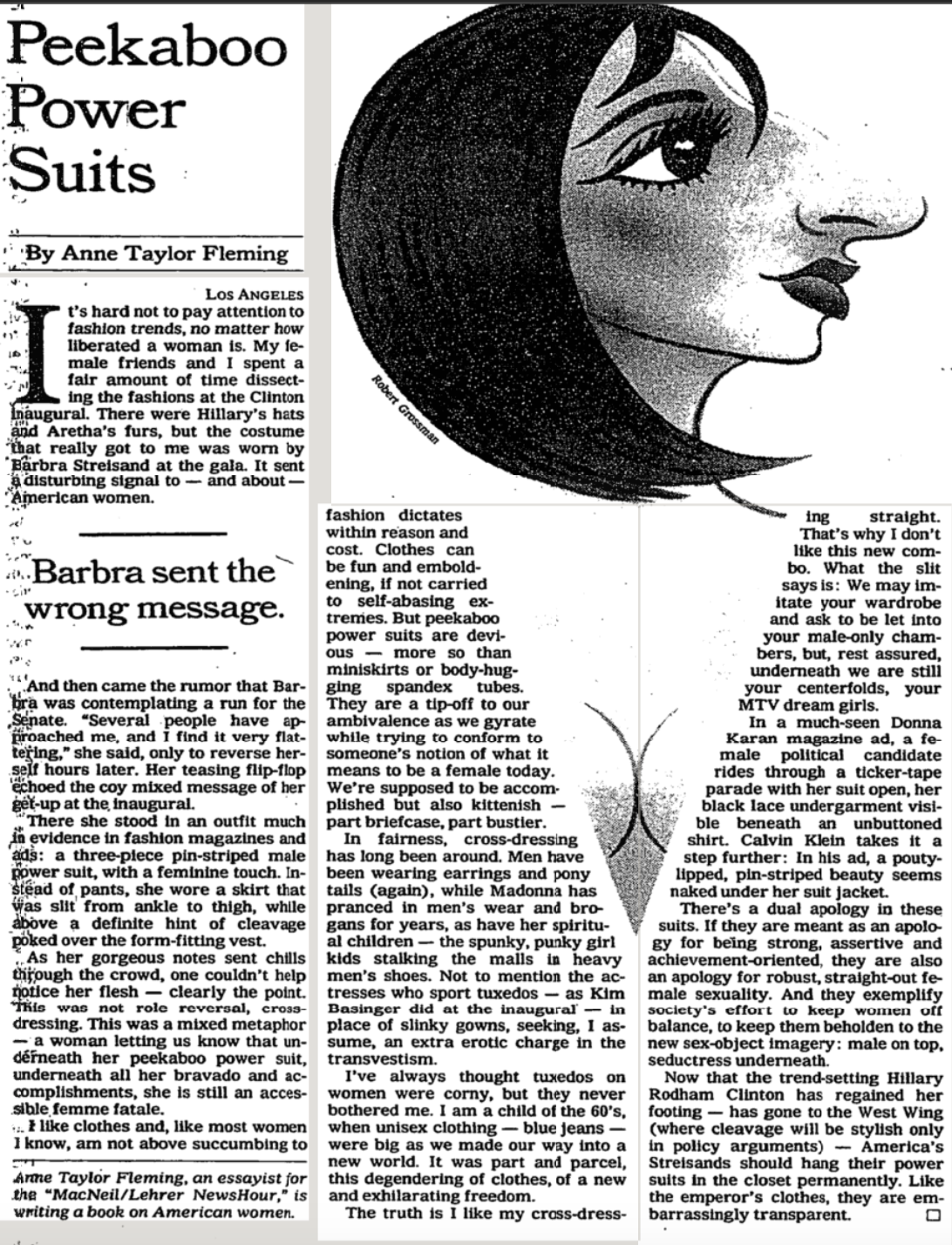 Fleming closed by saying "There's a dual apology in these suits. If they are meant as an apology for being strong, assertive and achievement-oriented, they are also an apology for robust, straight-out female sexuality. And they exemplify society's effort to keep women off balance, to keep them beholden to the new sex-object imagery: male on top, seductress underneath. Now that the trend-setting Hillary Rodham Clinton has regained her footing — has gone to the West Wing (where cleavage will be stylish only in policy arguments) — America's Streisands should hang their power suits in the closet permanently. Like the emperor's clothes, they are embarrassingly transparent."
This piece incensed many, who responded by writing to the editor of The New York Times. On Feb 12th, 1993 the paper reprinted a trio of responses under the headline "She Was All Man and All Woman." One of these stated "Someone should tell Anne Taylor Fleming that 30 years ago Barbra Streisand was hardly any man's idea of a centerfold or dream girl. She was a peculiar-looking kid who became the first entertainer to prove a woman could be desirable without being a sex goddess. That now, at the age of 50, she's more glamorous and seductive than women many years younger is a tribute to her talent, originality and sheer determination. Keep the peekaboo power suit, Barbra; you earned it.-DAVID NIMZ, New York."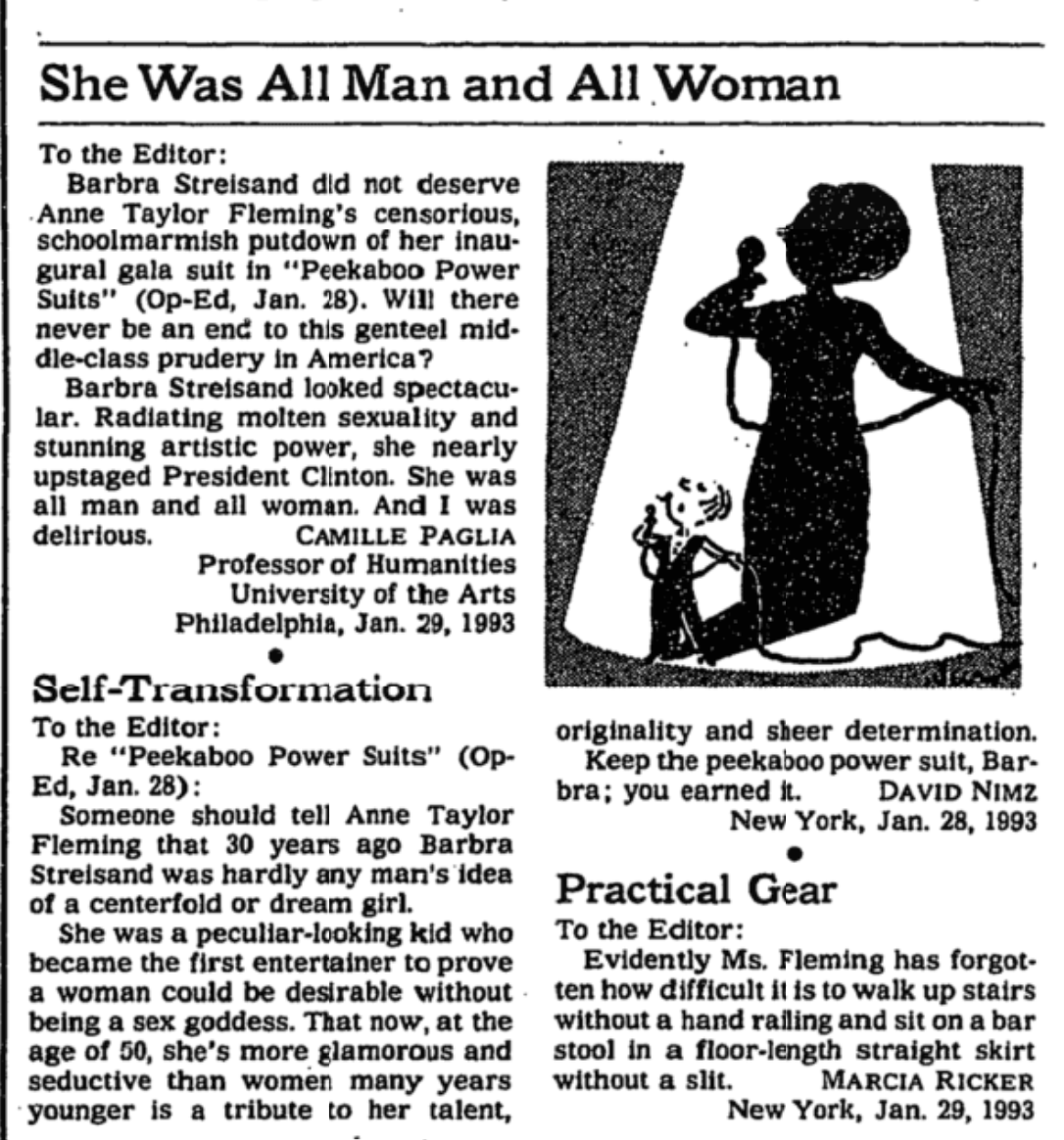 On a more practical note "Evidently Ms. Fleming has forgotten how difficult it is to walk up stairs without a hand railing and sit on a bar stool in a floor-length straight skirt without a slit.-Marcia Ricker, New York"
And the most famous of these responses; "Barbra Streisand did not deserve Anne Taylor Fleming's censorious, schoolmarmish putdown of her inaugural gala suit in "Peekaboo Power Suits" (Op-Ed, Jan. 28). Will there never be an end to this genteel middle-class prudery in America? Barbra Streisand looked spectacular. Radiating molten sexuality and stunning artistic power, she nearly upstaged President Clinton. She was all man and all woman. And I was delirious. Camille Paglia– Professor of Humanities University of the Arts Philadelphia"
Barbra recalled the controversy surrounding her sexy three piece suit in an interview with Elio Iannacci which was published by Macleans on Nov 2, 2018.
"Q: Entire essays have been written—including from critics like Camille Paglia—about how you revolutionized gender roles.
A: She saved me once. She responded critically to a New York Times piece that put me down after I sang at Bill Clinton's 1993 inauguration. I wore a man's suit because I love the combination of the feminine and masculine. I love it in architecture, as well—I put pink velvet on my masculine Arts and Crafts furniture. I've always loved that combination. I asked Donna Karan to make me a long skirt with a slit out of dark-grey pinstriped wool. I wanted a vest. I wore diamonds with it. The New York Times—Anne Taylor Fleming—wrote a terrible piece. She said I was doing something wrong because I was selling sexuality. This is what Camille Paglia wrote: "Barbra Streisand did not deserve Anne Taylor Fleming's censorious, schoolmarmish putdown of her inaugural gala suit."
Q: What irks you most about the whole practice of fashion policing?
A: It's the way they talk about women's clothes rather than their performance or their minds or what they have to say. Fleming called my outfit the "peekaboo power suit." Paglia responded: "Will there never be an end to this genteel, middle-class prudery in America? Barbra Streisand looked spectacular. Radiating molten sexuality and stunning artistic power, she nearly upstaged President Clinton. She was all man and all woman. I was delirious." Isn't that fantastic?"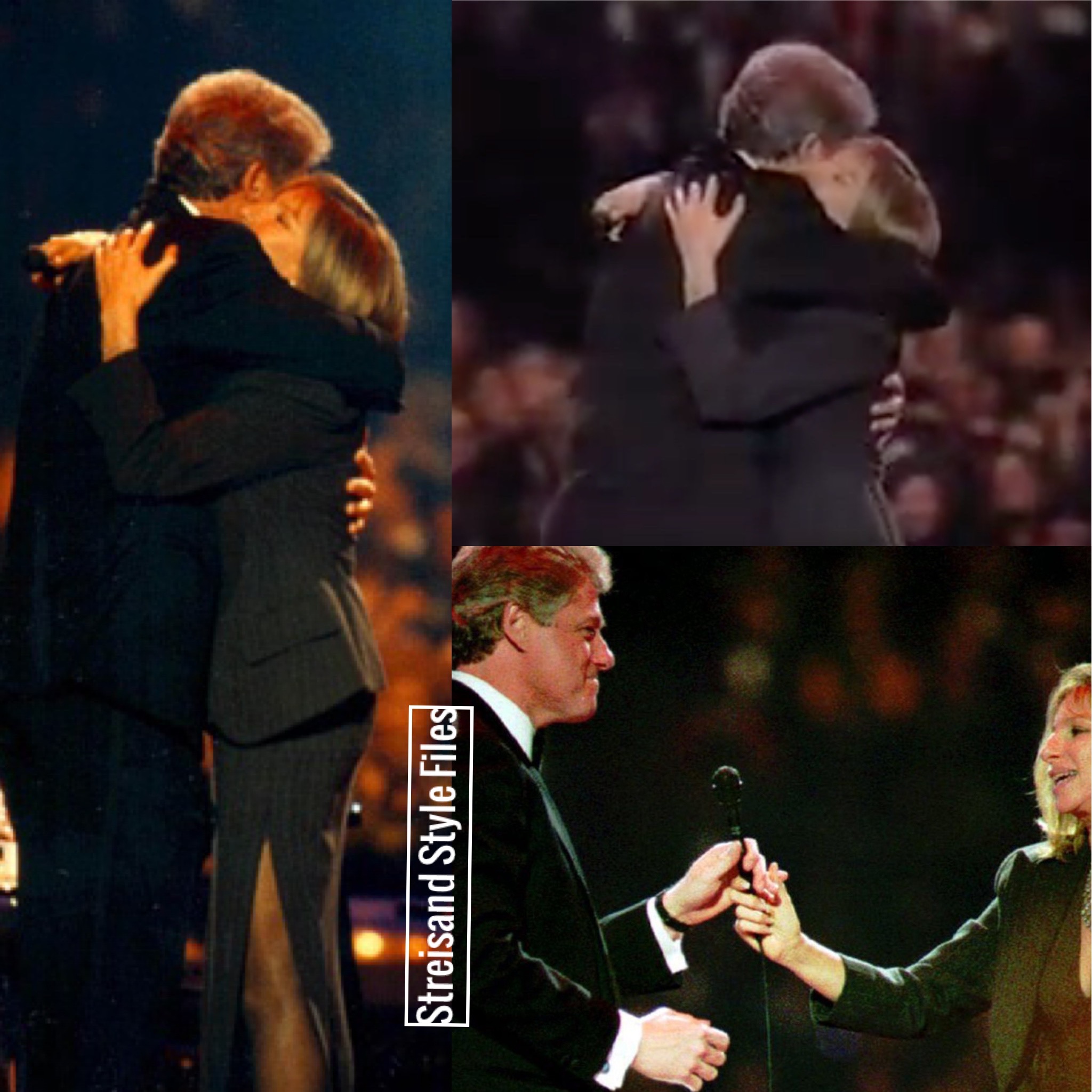 No one can deny the three piece skirt suit was an incredibly flattering look on Barbra. It had the perfect combination of class, elegance and timelessness. It worked so well that when Barbra began her 1994 concert the following year she had Donna Karan create a similar variation of the look in ivory.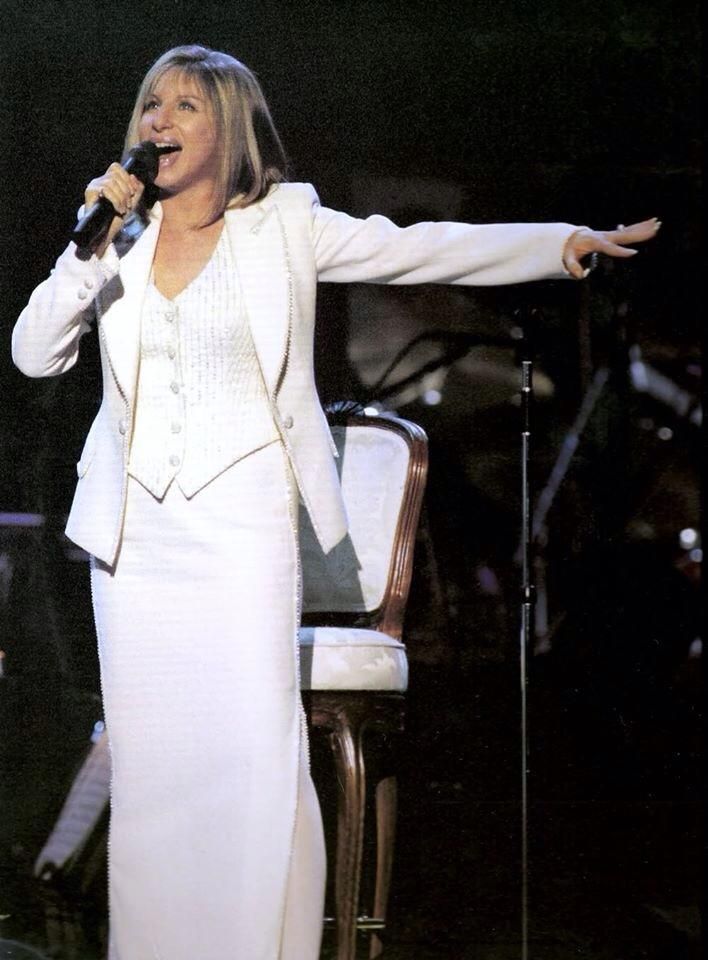 The first notable appearance of a women's suit dates back to one of Barbra's idols-Sarah Bernhardt in 1870. Far ahead of her time, Bernhardt caused a scandal by wearing mens clothing and challenged gender roles in both her fashion and choice of acting roles by playing traditionally male roles.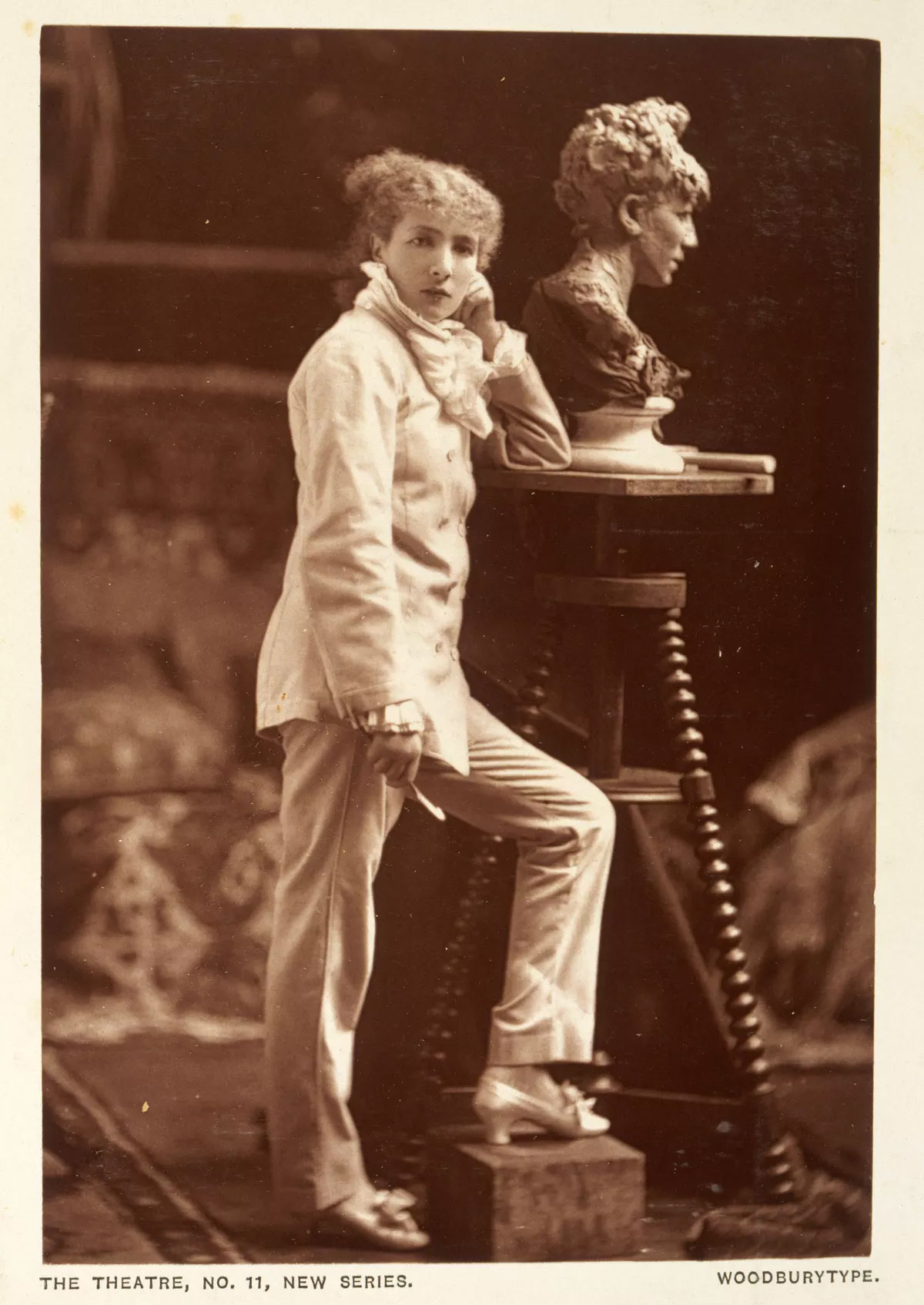 With the suffragette movement in 1910 women were shaking off the idea of restrictive clothing and hobble skirts. Coco Chanel began to design women's skirt suits which gained popularity during World War I. Her suits are credited as the origins of power dressing.
The Suffragette Suite was largely inspired by Chanels glamorous and feminine suits. Despite some progress, women wearing pants was considered cross-dressing and criminalized for many years. In the 1930's Marlene Dietrich and Katherine Hepburn turned heads by wearing pant suits and helped solidify them as a part of women's daily wardrobes.
In the 50's Dior's "new look" featuring full skirts with cinched waists took over in popularity, but by the 60's the woman's suit was back in full force. The next few decades saw iconic power suits designed by Yves Saint Laurent and Armani which featured an esthetic of over-sized shoulder pads and jackets. Power dressing became extremely common in the 70's and 80's. Women at the time hoped it would help them acquire authority, respect and power in the workplace. It wasn't until 1993 that Senators Barbara Mikulski and Carol Mosely-Braun overturned the ban on women wearing pants on the Sentate Floor.
This statement making outfit was truly a testament to Barbra's insight on how fashion can empower. It made such an impact that 28 years later it is still an interesting topic in feminist history.