In Azeeza for act two at British Summertime Hyde Park, London concert
Barbra Streisand wore a black ruffled silk Azeeza dress for act two of her Hyde Park concert. The show took place on July 7, 2019 and drew a sold out crowd of more than 65,000. This dress was super cute on Barbra. It allowed her to have fun onstage and be comfortable while showing off her fabulous legs. The cape-like ruffled sleeves which led into a dramatic train also gave her an extra element to have fun with while singing. This look gave us a modern and fresh take on Barbra's signature style. She went on to wear the dress for her following two shows in NYC and Chicago. This striking shift cut creation is make from 100% black silk. It features a v-neck which slinks off of the left shoulder. Peeking out was a black crystal bra strap which matched Barbra's sparkling choker and diamond bracelets. The silhouette showcases a high low design with ruffles, which is the hallmark Azeeza look.
Azeeza Khan is a Chicago-based designer with color theory and embellishing expertise. In 2019 she spoke to WWD regarding Barbra's Hyde Park concert dress stating "The dress is a piece from my resort 2020 collection that I took to her even before releasing it to my retail partners/buyers," Khan said. "As of today, she is the only one who has that piece. The dress is going to be called the Barbra, and it was such an honor to receive her blessing to give the gown her name. We've taken my core designs and added capes and elements that she's requested," says Khan. "We've also referenced her beautiful jewelry and designed some dresses around specific pieces such as chokers. I have also created matching chokers for every look – even if it's just made out of fabric." The Barbra will retail for $2,995.
In an interview with Marley Marius for Vogue, Kahn spoke more in depth about creating fashion for Barbra. The piece notes that "Indeed, in May Khan discovered a fan in one Barbra Streisand, who went on to order 25 looks for both her personal wardrobe and her three-city tour this summer. "It was equivalent to developing a full collection," Khan says. "That's what she called it—The Barbra Collection. But it was absolutely worth the time and effort." In London last month, Streisand appeared in Khan's confections both onstage, for the second act of her concert in Hyde Park (where, earlier that evening, she'd worn a caftan by Zandra Rhodes), and out on the town, when she joined her old friends Valentino Garavani and Giancarlo Giammetti for dinner. The significance of all of this—namely, dressing one of the most famous (and famously particular) artists of the last sixty years—hasn't been remotely lost on Khan, low-key as she may be. "We're constantly referencing fashion icons on our mood boards," she says, "and Barbra has definitely been on my mood board … You can't beat that." Read the full interview here.
Azeeza's garments are handmade with in-house dyed silk fabrics, traditional embellishment techniques, and expert craftsmanship. As the leading fashion house in the windy city, Azeeza crafts her garments with prominent creatives, which led to an exclusive partnership with Barneys and most recently Nike. Azeeza designs have been worn by some of the most iconic women of our time including Beyoncé, Sarah Jessica Parker, and now Barbra Streisand.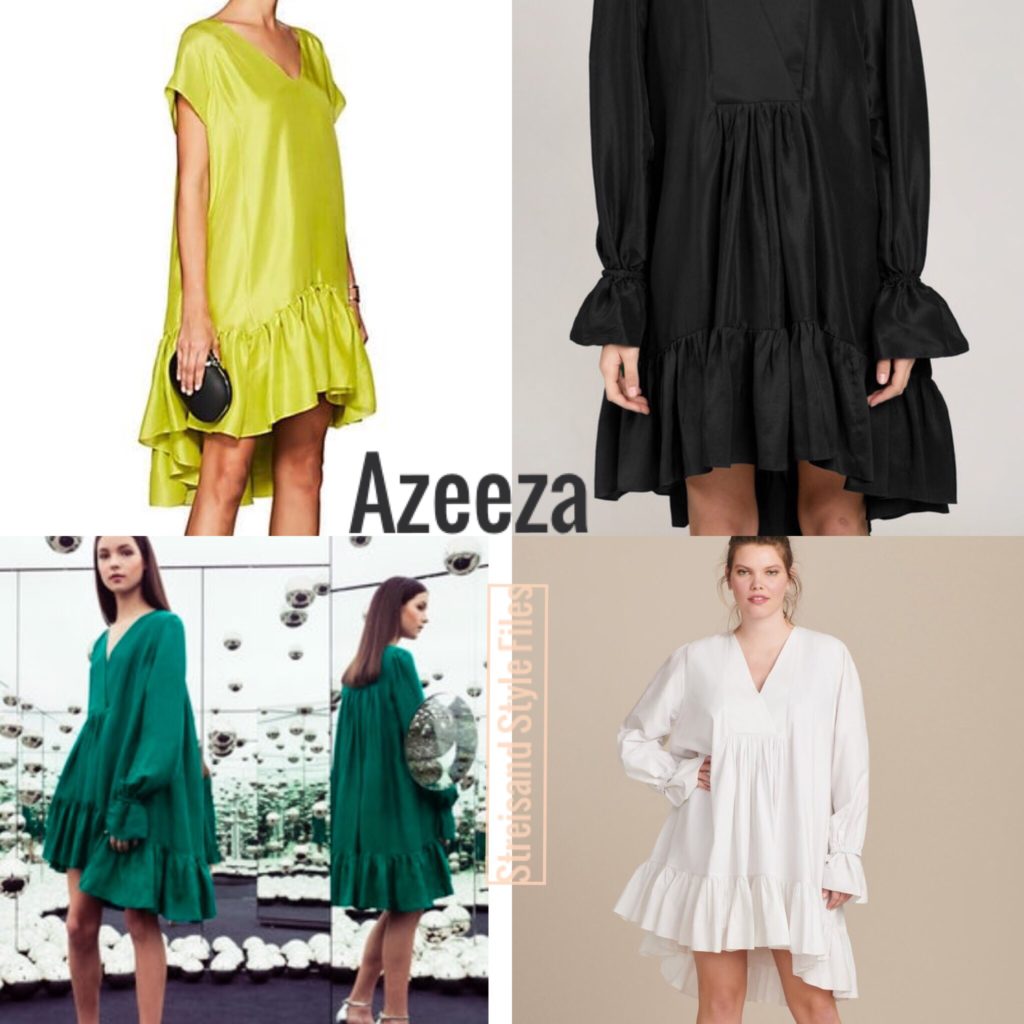 Shop her style and find similar style dresses at Azeeza's official shop, 11 Honore, Marissa Collections, Shop Bop and more.