In Custom Mr. Alex For Elle Magazine, November 2011
Barbra Streisand posed for the November, 2011 Elle Magazine Women In Hollywood edition in a sheek black and white ensemble from her own closet. In photos by Art Streiber, Barbra is seen wearing a custom shirt and vest by Mr Alex, Chanel two-tone pumps and a bone necklace by Sheryl Lowe Designs.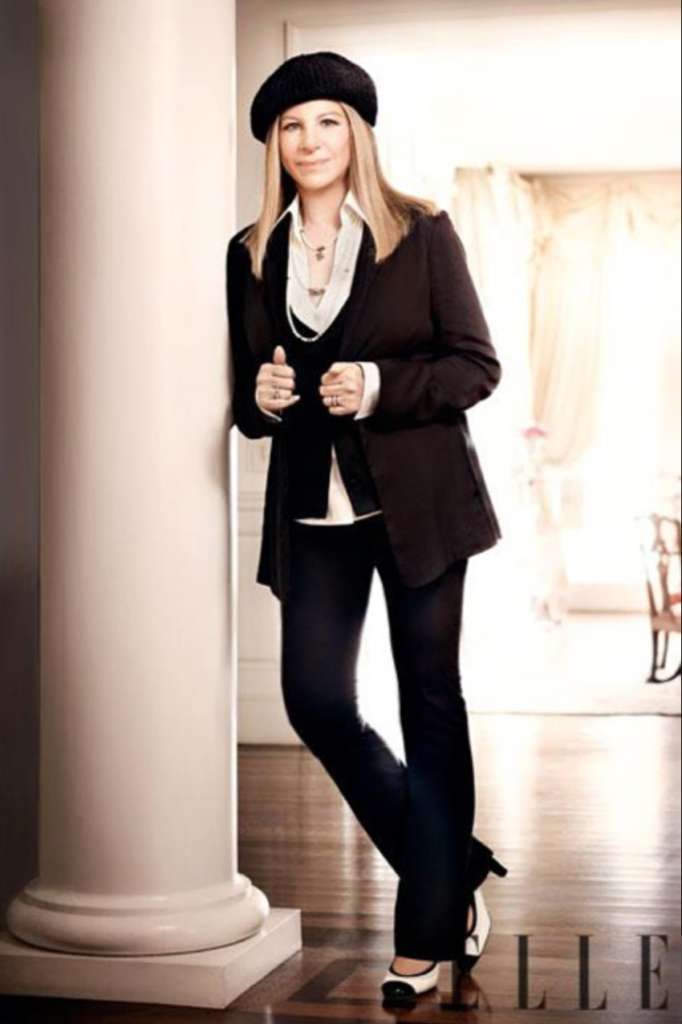 This feature, titled "Barbra Streisand-The Legend" began by describing her as "The voice, the face, the courage, the conscience-her star was born early, and after half a century of acting directing, singing, producing, and influencing, it's still burning bright."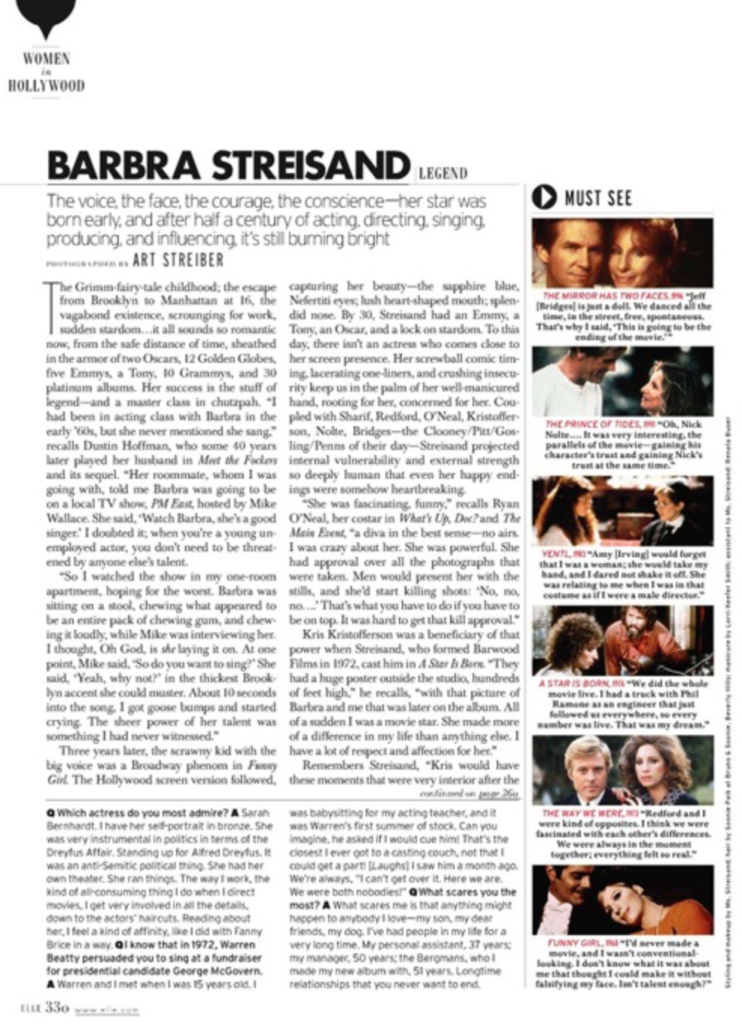 Additionally, on October 17, 2011 Barbra was honored with the L'Oréal Paris Legend Award at Elle's Women In Hollywood celebration.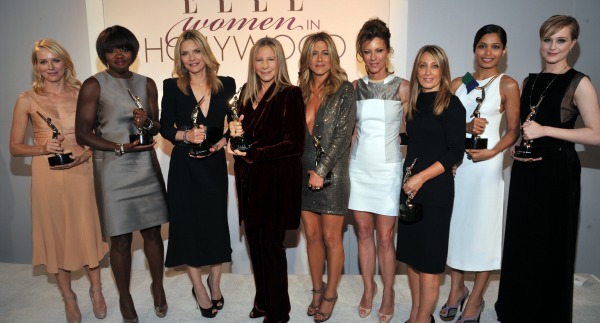 A photo from the Elle shoot also appeared on the cover of The Daily Mail on Sept 20, 2014 which featured an interview by Chrissy Iley.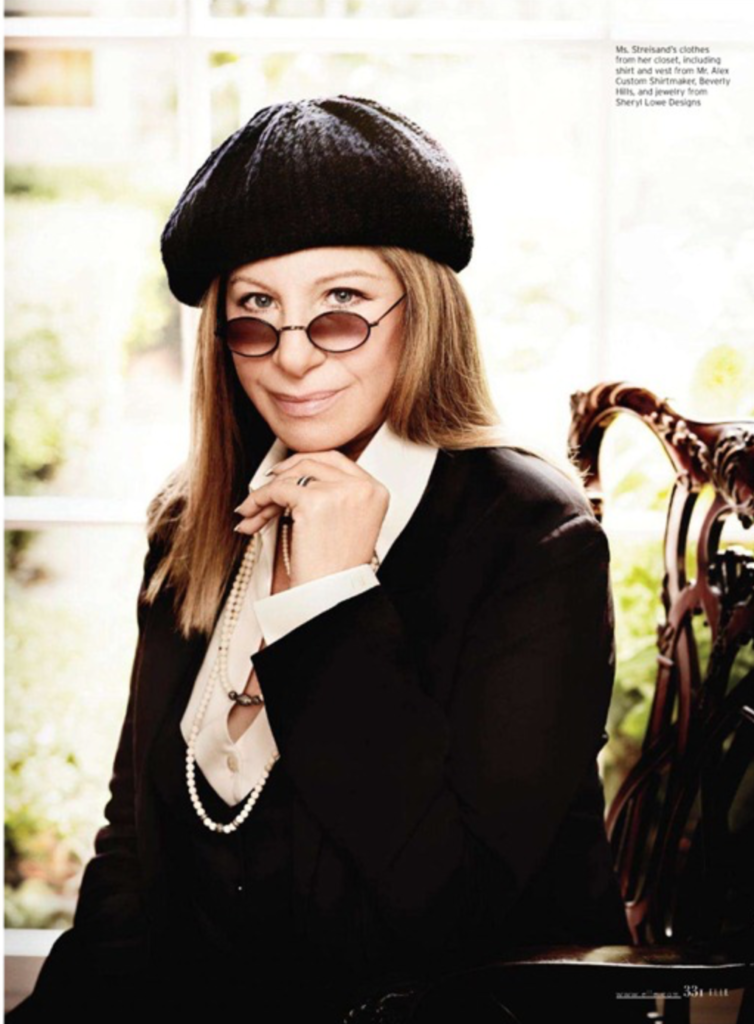 Barbra's beautiful button down, spread collar shirt featured a plunging V-neck with perfectly showcased her tiered three strand necklace.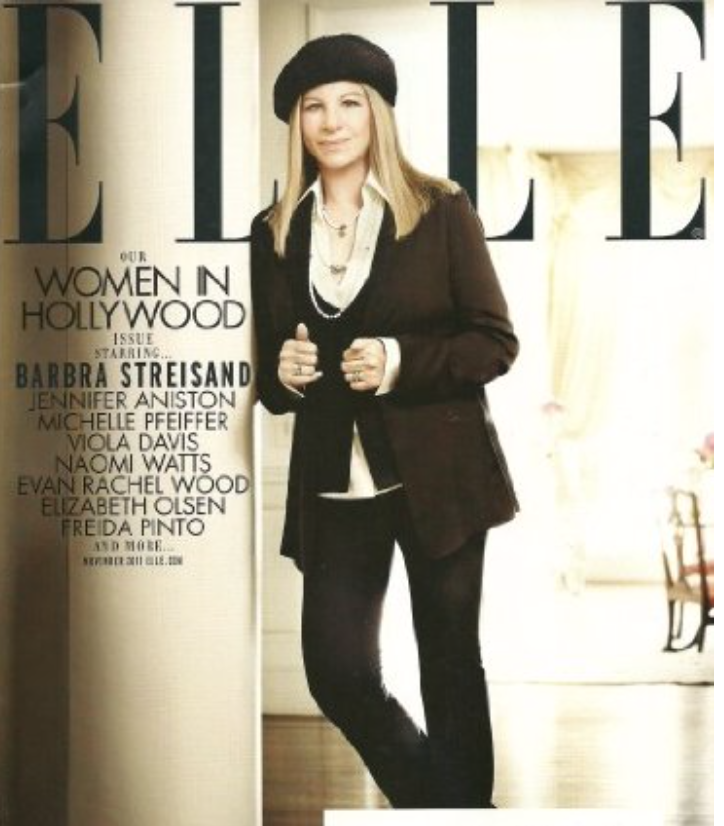 Mr Alex is a well known custom clothing maker and tailor located on Santa Monica Blvd. in Beverly Hills, CA. For over 50 years, he has been making clothing for celebrities, athletes, politicians. In order to create a custom piece for clients, Mr Alex and his team make a design appointment to walk them through their selection of fabrics and styles. Customers can select from sample styles or design their own piece. After measurements are taken, a custom pattern is made and a fitting is scheduled where any necessary adjustments will be made to ensure the piece(s) fit correctly.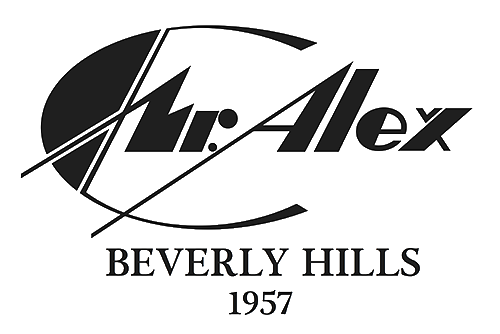 Mr Alex's website describes that "Mr. Alex was born into a family of shirtmakers & tailors. His father Joseph was a master craftsman and taught him at a very young age. His Uncle was a shirtmaker and his mother was a master seamstress. He first opened in Beverly Hills on Burton Way, in the historic small stretch of retail near Doheny & Burton Way. In 1971 he married Claire and thus began her apprenticeship.
From Burton Way to South Santa Monica Blvd, Claire & Mr. Alex have partnered together to create one of the most unique and talented tailoring tandems, marrying unique and complimenting styles of design and craft. For the last 5 decades, they have dressed the world's most prominent leaders in business, sports, politics, and entertainment. Their costume design and stage wardrobe is particularly impressive and will forever be immortalized in museums and archives.
Claire & Mr. Alex now share their endless amount of experience with their son Alex Jr, who grew up in the business and spent countless hours watching both Claire & Mr. Alex. Backed with a business degree from USC and a decade of experience in software engineering, Alex Jr. pairs his education and business acumen with traditional handmade tailoring techniques to add another element to this truly unique clothing experience."