My Name Is Barbra In Emeric Partos
Barbra Streisand wore this Emeric Partos marbled body suit and cloak while singing "Nobody Knows You When You're Down And Out" in "My Name Is Barbra" (1965). Regarding the special, Barbra recalled "I remember the experience of making this show as one of the most joyful of my career. That is until it came time to watch it. I'll never forget, I was in Funny Girl on Broadway at the time and the whole cast had crammed into my dressing room to watch the first 15 minutes during intermission. Finally the big moment came, nine o' clock, but there was no singing, there was no picture, I couldn't believe it! My first television special and the engineer forgot to push the button to start the show. When it finally did come on it was in the middle of a sentence." That same night, Bergdorf's owners Andrew and Nena Goodman held a buffet supper in their apt over the Fifth Avenue store. TV's were installed all around the 22 room penthouse for the occasion. Dinner was served when Barbra arrived from the theatre at midnight.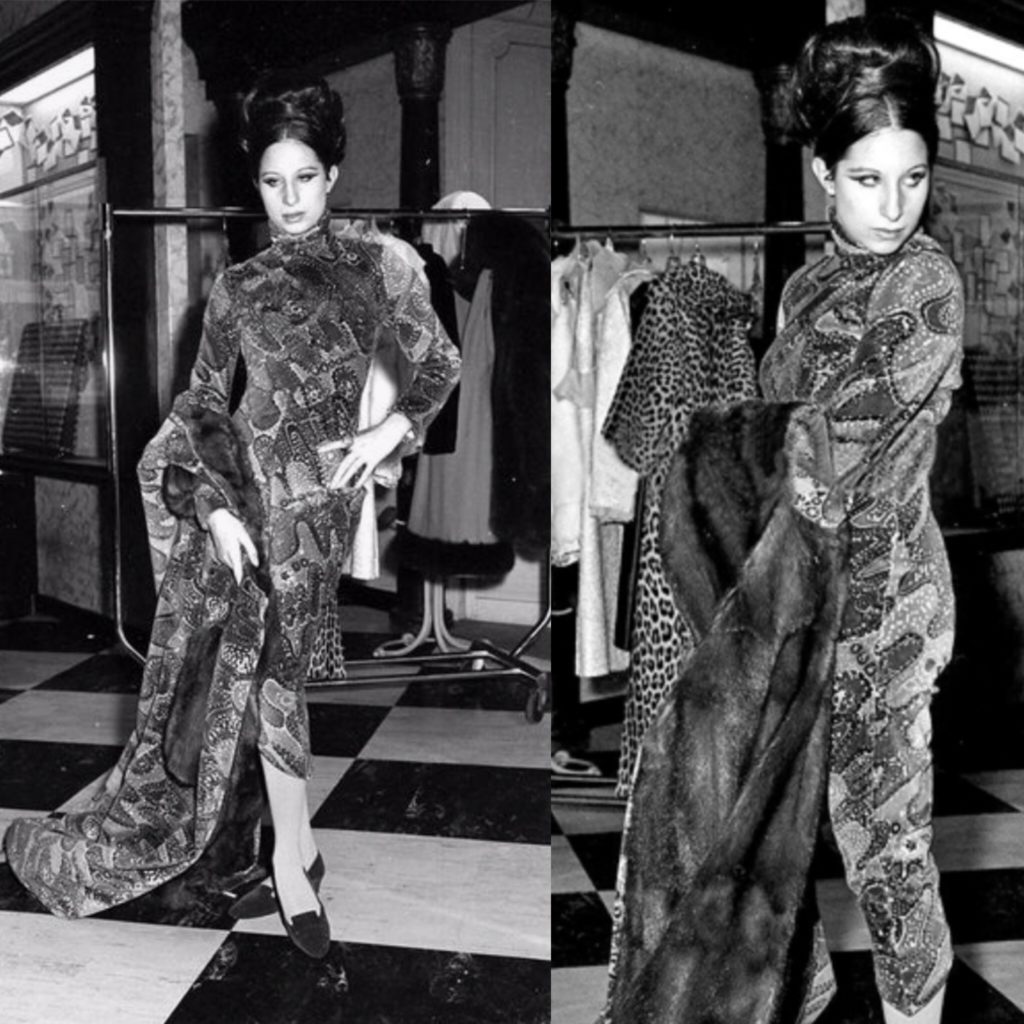 Costumes for the Bergdorf Goodman portion of the special were designed by Emeric Partos (1905-1975), with hats by Halston. Barbra chose Partos for this sequence since she had been incredibly impressed by his designs after attending a show of his fur collection on Sept 28th, 1964. The New York Times reported that "Barbra Streisand, the singer, loved the fur breeches. and long mink coat" Partos is credited with innovations to the fur industry like knitting with strips of fur, dying fur, and using pelts from unusual animals.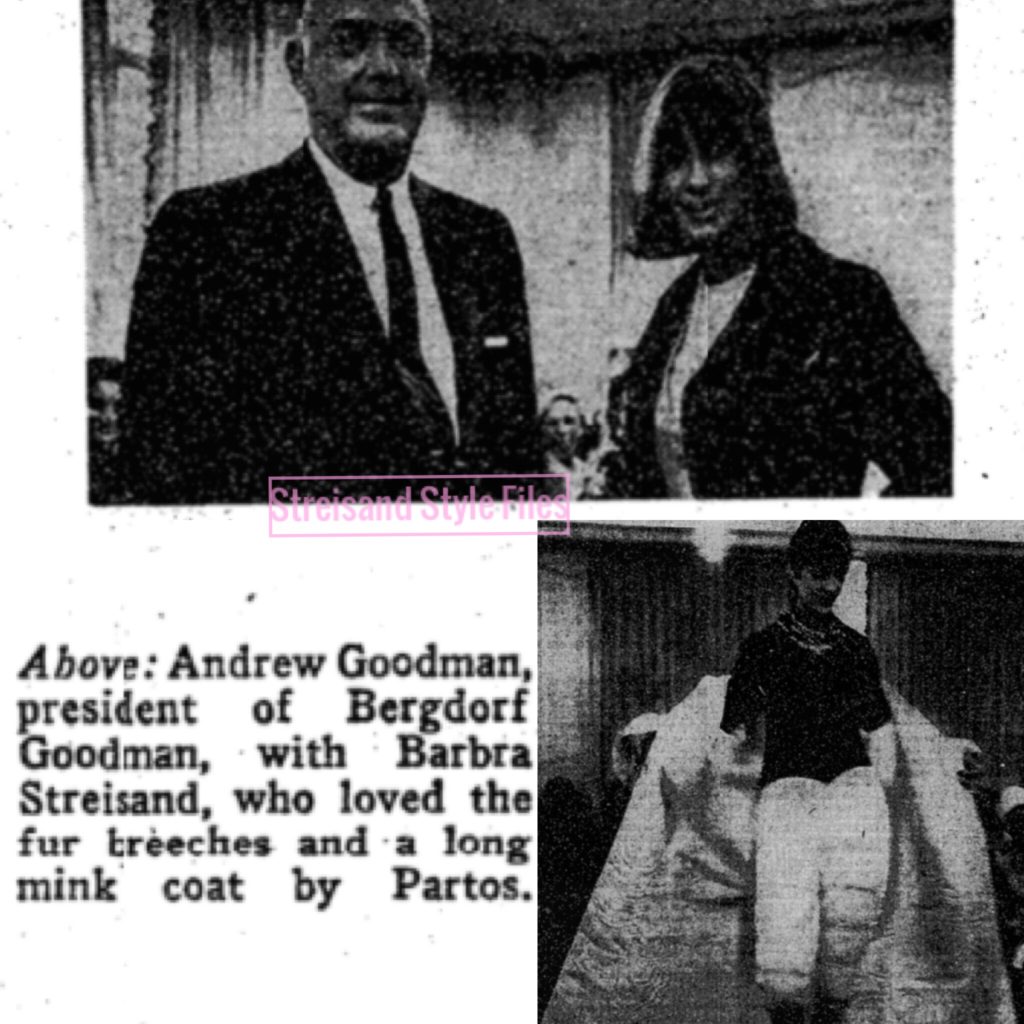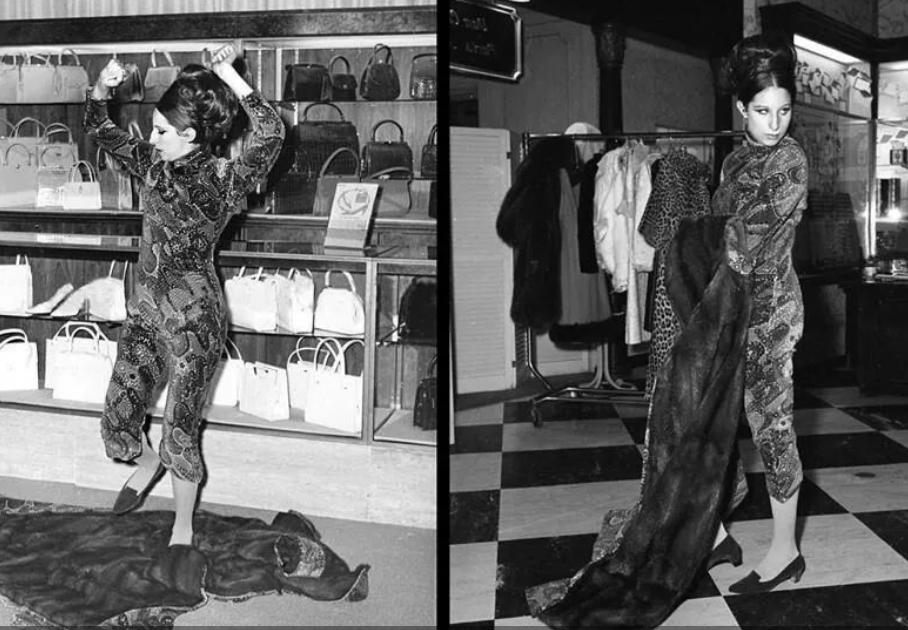 In 1955 Bergdorf Goodman offered Partos the position of head designer at their fur salon. Here he became famous for creating the finest, most innovative and expensive furs in the world. The scenes at Bergdorf's were filmed on March 21, 1965, since Sunday was Barbra's day off from Funny Girl on Broadway. While filming that Sunday, Streisand remembered the first time she visited Manhattan, when she was 14. She had walked into Bergdorf's wearing a trench coat. "Everyone looked funny at me," she recalled. Partos sense of theatre helped him enormously when working on this production. His creations photographed beautifully on Barbra and stand the test of time.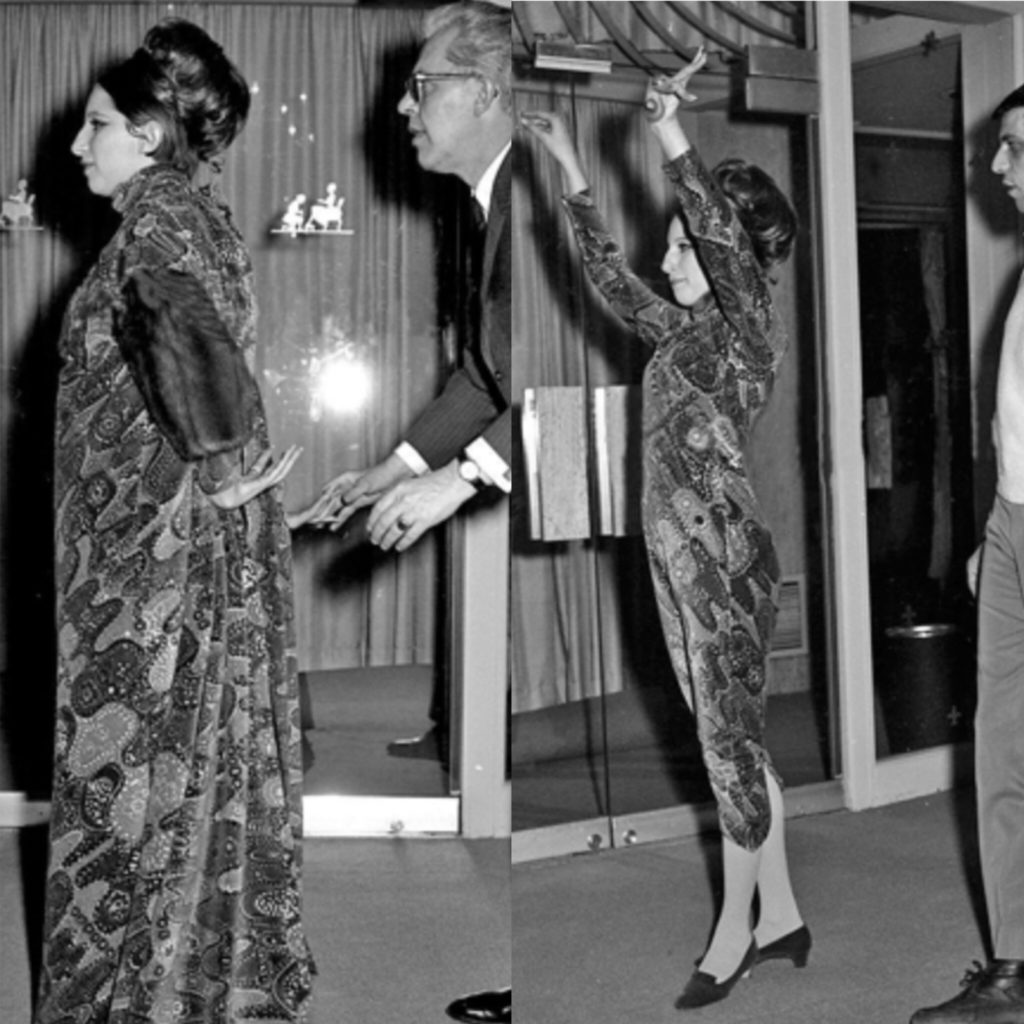 This stretch-velvet, marble printed outfit features a stunning blend of blues, black, brown and green. The jumpsuit features an elegant turtleneck and a fitted bodice as well as fitted long-sleeves. The capri length pants have an angled hem and are ruched at the back of each calve. The luxurious cloak style jacket is fully lined in Canadian wild mink, which is also featured on each sleeve. These were paired with light blue tights and black low-heeled loafers.