Nuts Gold Lamé Robe, By Joe I Tompkins
Barbra Streisand wore this lush metallic robe while portraying Claudia Draper in "Nuts" (1987). Costumes for this film were designed by Joe I Tompkins. Throughout his career, Joe has been nominated for two Academy Awards and has won two Emmy Awards. This is quintessentially 80's with it's shoulder pads and lamé, which were very in style at the time. The wrap front, black and gold robe was made from striped lamé, with a lining of solid gold tissue lamé. It features a notched collar and three quarter sleeves with gold cuff detailing. There are two piped patch pockets on either side. The back of the robe is fully gathered, with an attached self tie sash at the waist. The bottom of the robe features a horizontal panel of striped fabric and a straight hem. 
The word "robe" is derived from the French term meaning "a woman's dress." It was set apart from cloaks and capes due to it's attached sleeves. The first robes were worn thousands of years ago in Chinese dynasties. These were silk, embroidered, and a signifier of wealth, prosperity, and lineage.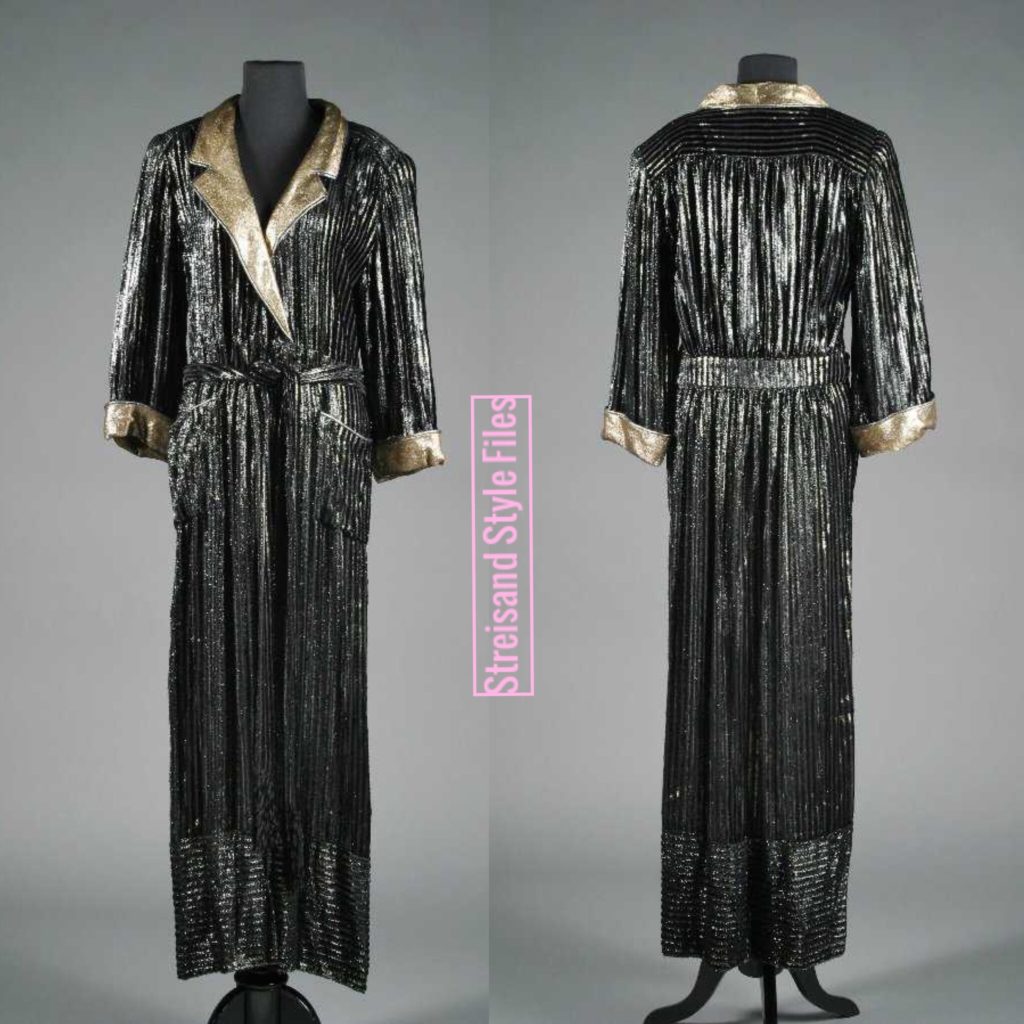 In Western culture, robes came into play in the early 1700's. They were generally made from brocade and silk with many embellishments. Men were the first to wear them, typically in the mornings or evenings when relaxing. By the 1800's, upper class women began to wear them around the house as daywear, in addition to in the morning and evening, because they provided a nice break from corsets.  
When the industrial revolution took hold, it was seen as distasteful to wear such ornate expensive clothing and robes were confined strictly to privacy at bedtime and morning. More casual and plain robes made of cotton were introduced around this time. Bathrobes became a beach must have in the 1920's because they were a quick easy way to cover one's body. By the 50's they were still used as lounging and beachwear and styles ranged from ultra casual to frilly and ornate. Today, robes come in every style and fabric imaginable but are still worn primarily in the privacy of the home.