NYC Funny Lady Premier Turkis Tukku Fur Hat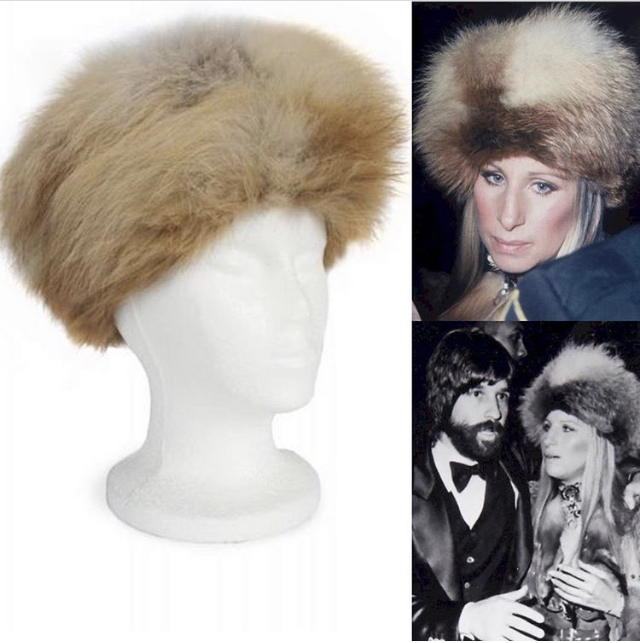 Barbra Streisand wore this fox fur, Turkis Tukku hat to the NYC Loews premier of "Funny Lady" in March 1975. This 6" high hat features a brown satin quilted lining and two tags inside that read "Henri Bendel, (handwritten) Barbara Streisand, Date 11-8-74" and "Turkis Tukku, Helsinki-Finland", along with the hat size: 57, which is a US 7⅛. 
Established in 1952, Turkis Turkku was a classic concept & leader in women's coats and furs in Finland. Their selection included carefully curated designs ranging from the trendiest jackets and furs, to top-class classics from globally renown brands. A highlight of fox fur is that it is very soft and much longer in comparison to other woodland creatures. 
There are 12 species of what we know as the "fox", with the most recognizable being the red fox which is the fur seen on this hat. Finland is one of the leaders in Fox fur production. Fox was extremely popular in the 30's-50's in the form of mink stoles (many with heads and tails still intact!) but this look became less popular after the 50's. Barbra's hat highlights many of the natural colors of fox fur, with no dying needed as often happens with mink fur. This gorgeous hat sold at auction in 2004 for $312.00USD and then for a second time at Julien's Hollywood Legends auction in 2015 for $1,280.00 USD.