Octagon sunglasses and a brief history of eyewear
Barbra Streisand wore octagon sunglasses on multiple occasions in 1969, as well as in On a Clear Day You Can See Forever (1970), and in For Pete's Sake (1974.) The first time she was photographed in this statement pair was upon her arrival at London Heathrow Airport on March 28th, 1969.
These must have been a favorite of hers at the time because she was also spotted wearing them around town again soon after.
Several pairs of octagon glasses are worn in four scenes during the Come Back To Me sequence in On a Clear Day You Can See Forever. Look for them beginning at one hour and fifty-two minutes into the film when Daisy is Daisy is crossing the street, and again when she is shopping for handbags and at Lincoln Center.
A vibrant pink pair was worn while Daisy is in Central Park to match her adorable pink Scaasi jacket.
Octagon glasses were worn again in a cut scene from the same number when Daisy wore a vibrant yellow and black zig-zag outfit at the Central Park Zoo.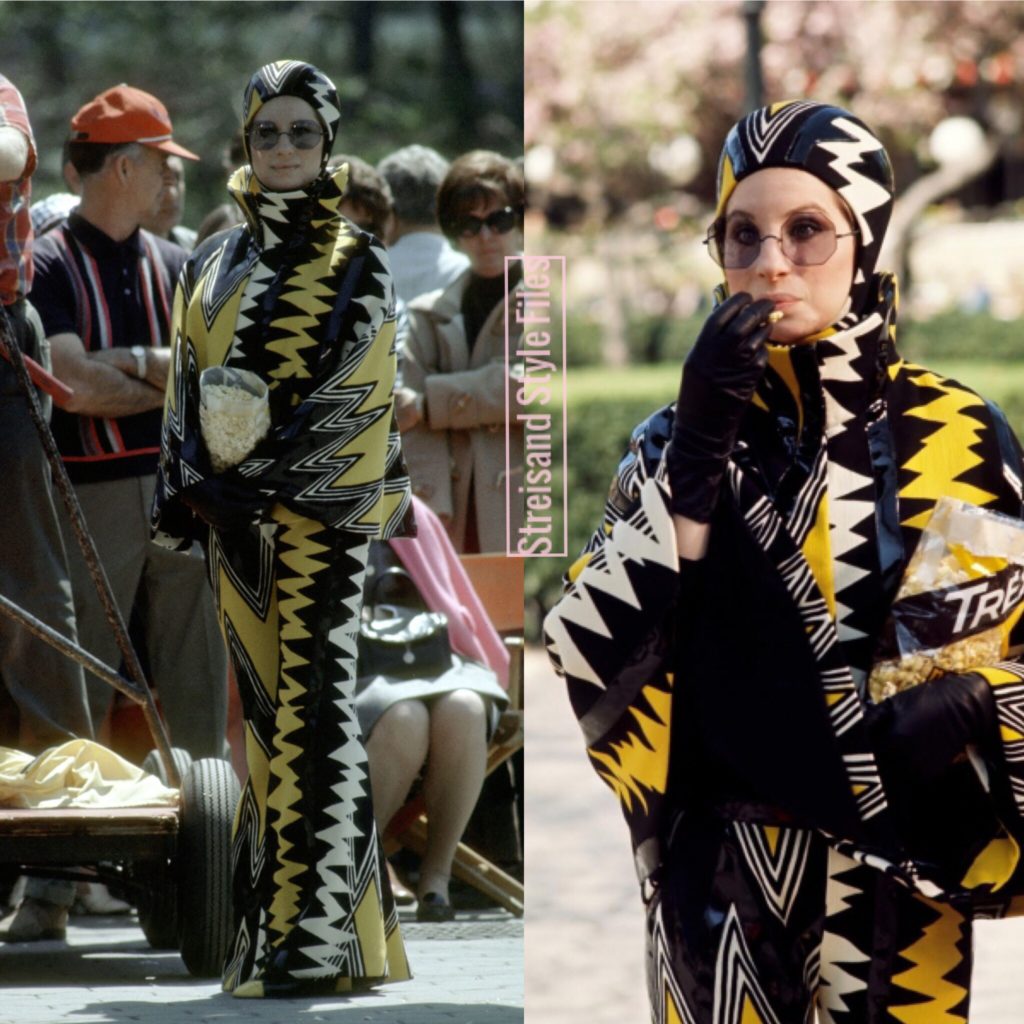 Octagon glasses reappear again in 1974 as a part of Henrietta's disguise in For Pete's Sake. This pair has a reddish tint. Photos of Barbra in them were used heavily in promotional materials for the film. This costume right down to the hat is a fun nod to Daisy's looks in On a Clear Day You Can See Forever.
The inventor of eyewear is unknown, however the very first pair of sunglasses trace back to 12th century China. These dark glasses were not used to protect from sun, but to shield the eyes of judges interrogating witnesses in court so that the jury would not know their expressions. The lenses were most often made from small flat panels of smoked quartz and referred to as "Ai Tai", meaning "dark clouds covering the Sun." Glasses similar to today's reading glasses first appeared in Pisa, Italy around 1285. These had glass-blown lenses and were held together with leather or wood frames. They were mostly worn by monks, perched on the nose bridge or handheld. Eyeglasses quickly took on a mystique of wisdom and magic. So much so that many medieval artists depicted apostles and biblical figures wearing them.
It wasn't until the 1700's that handsfree glasses were invented. Benjamin Franklin later made a huge contribution when he invented bifocal lenses, simply by cutting two lenses and combining them in a frame.
The 1960's were the first time that fashion sunglasses truly took off as a must have accessory. Women were breaking free of the many restraints they had been subjected to in previous decades and coming into their own. Sunglasses provided an easy form of self expression. Fun shapes such as octagons, horn rims, and half-moons were extremely in style. The eyewear industry was truly taking off during this period. Some of the most popular popular sunglasses brands in the 60's and 70's included Bausch & Lamb, American Optical, Nestle, Persol Ratti, Rayex and Ray-Ban.
One problem during this time was that many brands manufactured lenses made from mineral glass, which made the glasses quite heavy and uncomfortable to wear. In 1964 Austrian eye wear pioneer Wilhelm Anger set out to change this. He funded a team of chemists to research a new way to make sunglasses. Over the course of four years they worked to create what we now know as Optyl. This was a groundbreaking epoxy-resin which molded in ways that provided the ability to produce light-weight, three-dimensional designs that were easily mass-produced. Optyl went public in 1968 and major brands including Dior, Playboy, Dunhill, and Carrera quickly licensed it. Today vintage sunglasses with the "Optyl" marking as well as "Austria" are some of the most collectable. The 1970's continued to improve sunglasses designs with the development of plastic lenses and gradient lenses that adapted to light and dark. The popular limited edition Futura series "Silhouette" are a great example of this.
As usual, Barbra was absolutely in sync with the most popular fashion trends at the time. Her great eye for style helped to ensure that her fabulous octagon glasses made the transition from life to screen twice.