"On a Clear Day You Can See Forever", Recency nightdress and mob cap by Cecil Beaton
Barbra Streisand wore this Regency era nightdress and mob cap by Cecil Beaton in a cut scene from On a Clear Day You Can See Forever (1970).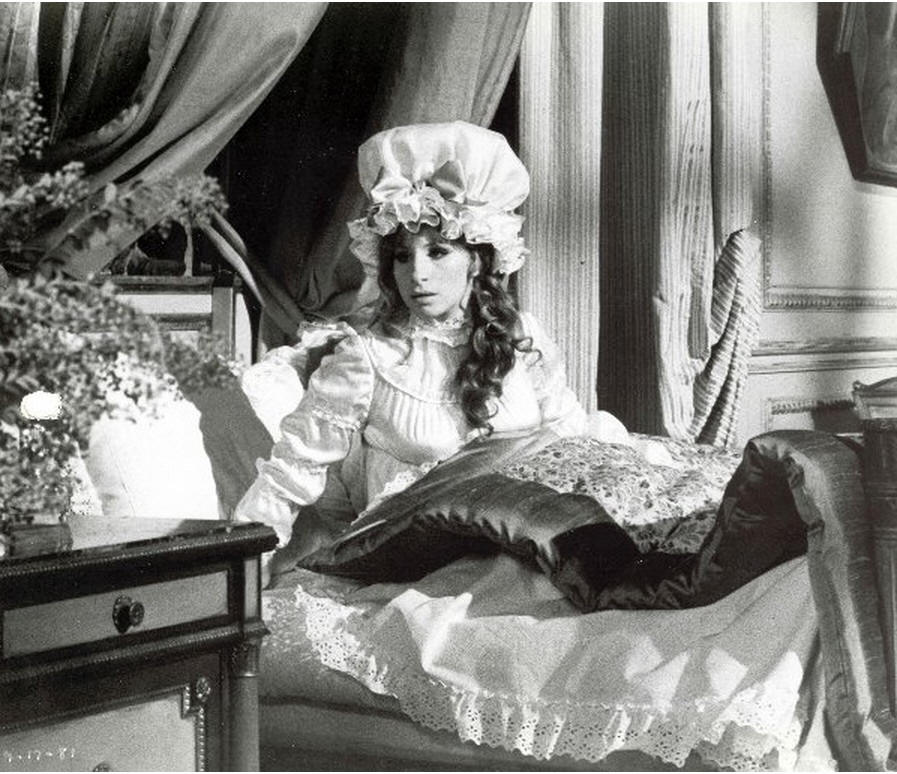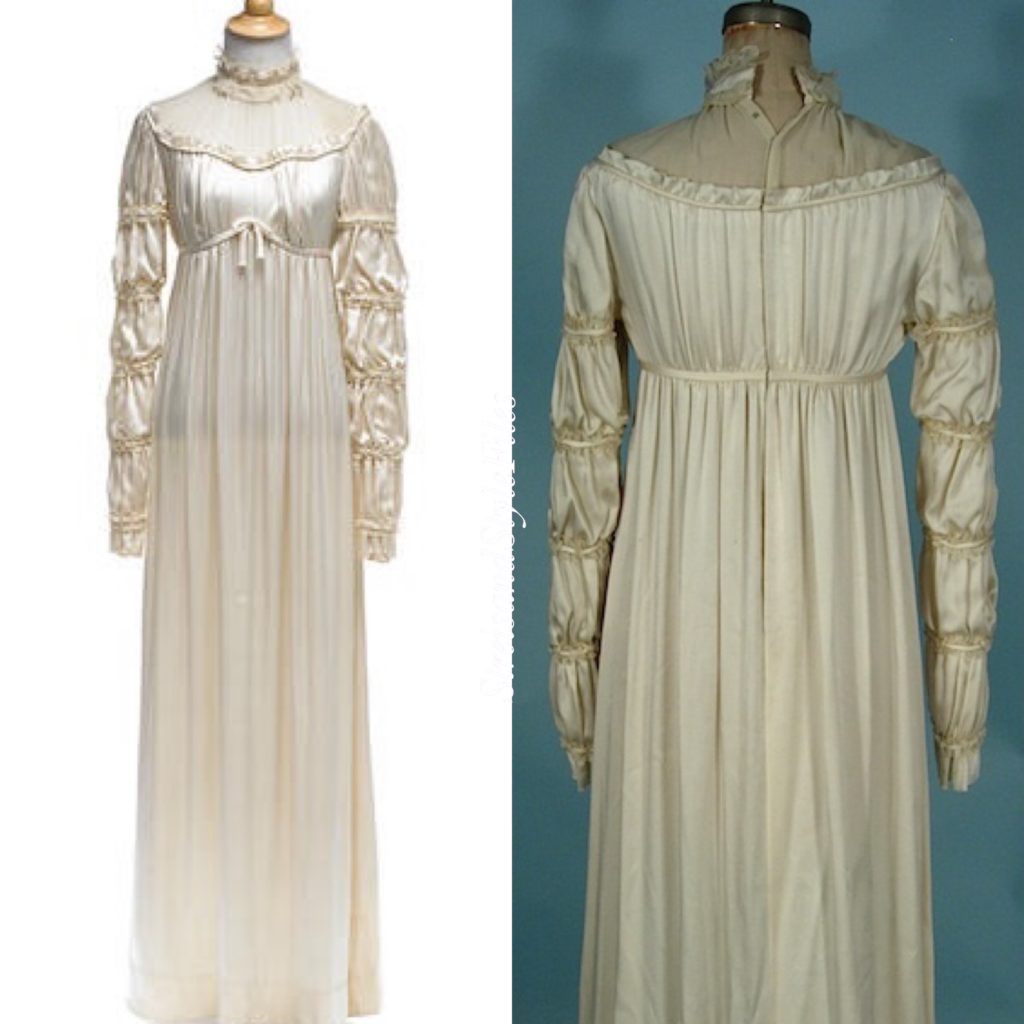 This costume was beautiful, but not entirely historically accurate. During the Regency period, bedrooms were generally very cold, so the main objective of sleepwear was warmth. Both the fabric and design of this nightdress are much more ornate than what was typically worn during this time. Women typically wore their day chemise or shift to sleep, which were made from plain linen or cotton. These were covered by an extra layer, a night jacket that had very wide collars and tied at the neck to keep the chest and neck warm as well as provide extra modesty.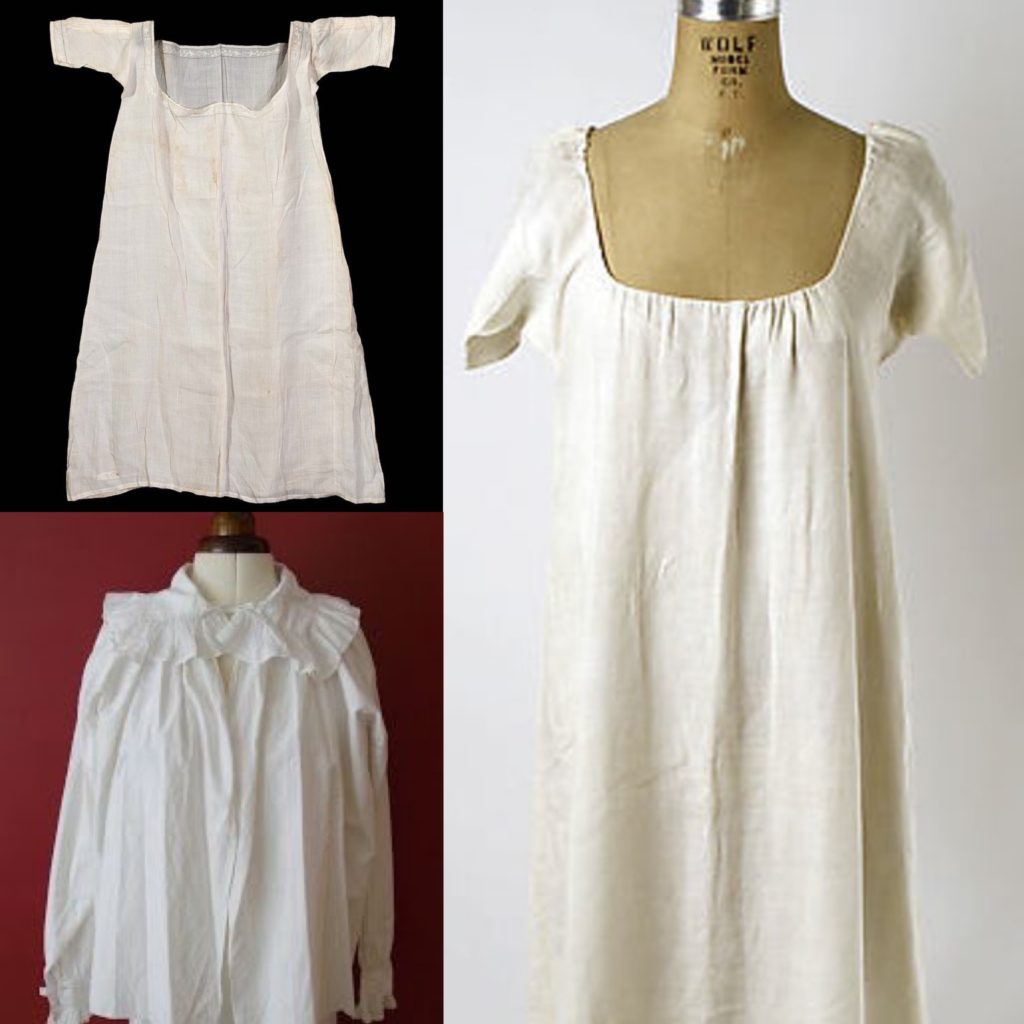 Since Melinda Winifred Wayne Tentrees was quite extra in her fashion, and the flashback segments were fantasy driven, one can see why Beaton chose to add some flamboyancy to his design. A nightdress like hers would have only been worn by someone very wealthy who knew she was going to be seen in it, which was not very common during this period. If Melinda had decided to wear this in the morning to "be seen", she would have layered soft stays over the bodice. The simple and relaxed silhouette of Regency dresses are reflected in Melinda's nightdress. This style marked a transition from Rococo period fashions when very tight fitting dresses were the style.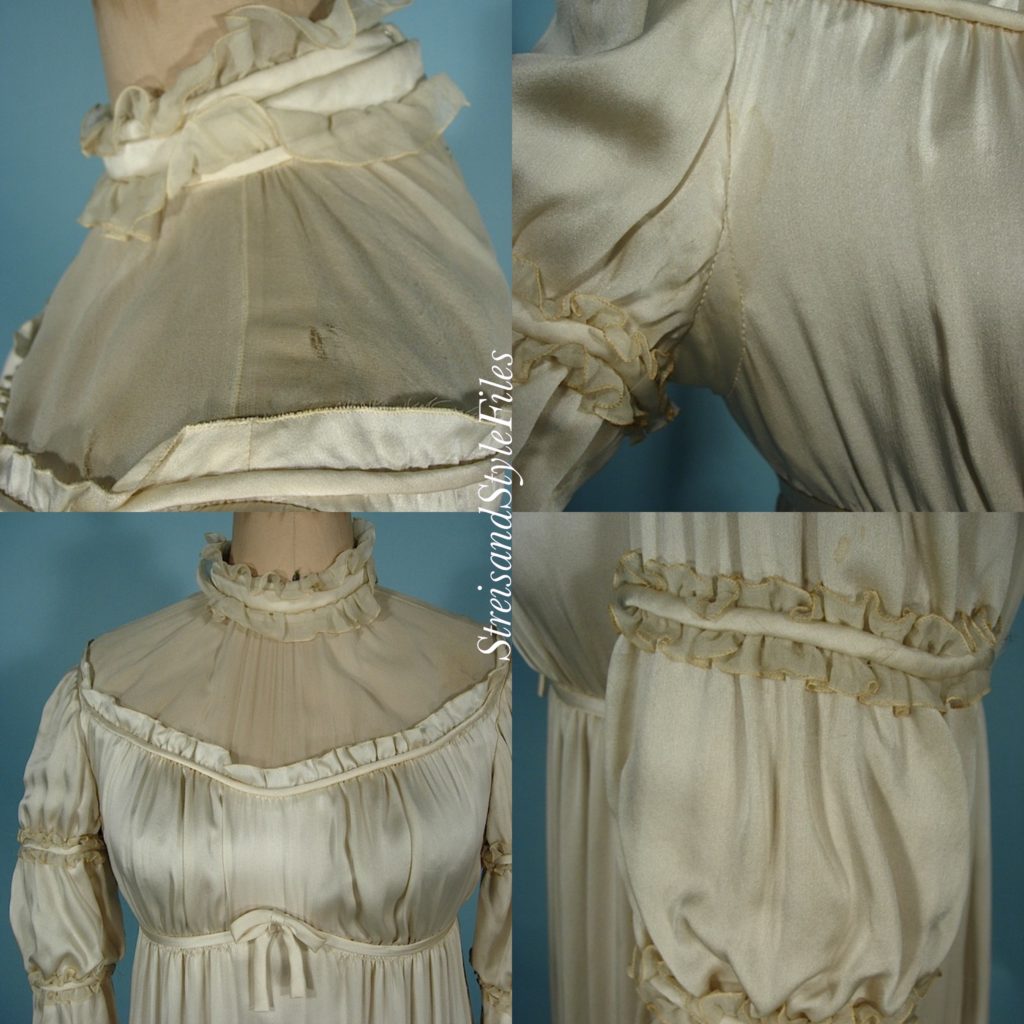 This costume features a gathered neckline comprised of chiffon, with an organdy, ruffled collar piped with silk. The rest of the nightdress is comprised of cream colored silk with gathering throughout. A simple bow adorns the piping at the center front, which created a faux casing effect. Dresses and gowns with gathered bodices and casing were popular because they were easy to fit, and could be borrowed or handed down easily with little tailoring needed. The focal point of this costume are the romantic Mameluke sleeves (which are sometimes also called Marie or Juliette sleeves.) Mamelukes, also spelled Mamluk, were members of a military caste originally comprised of slaves from Turkey. They ruled Egypt and Syria from 1250-1517 before being overthrown by the Ottomans. Mameluke clothing was inspiration for many elements in Regency fashion. Though bodices were often simple at this time, sleeves were a great place for a woman to show off their personality. Mameluke sleeves were a stunning way to do just that.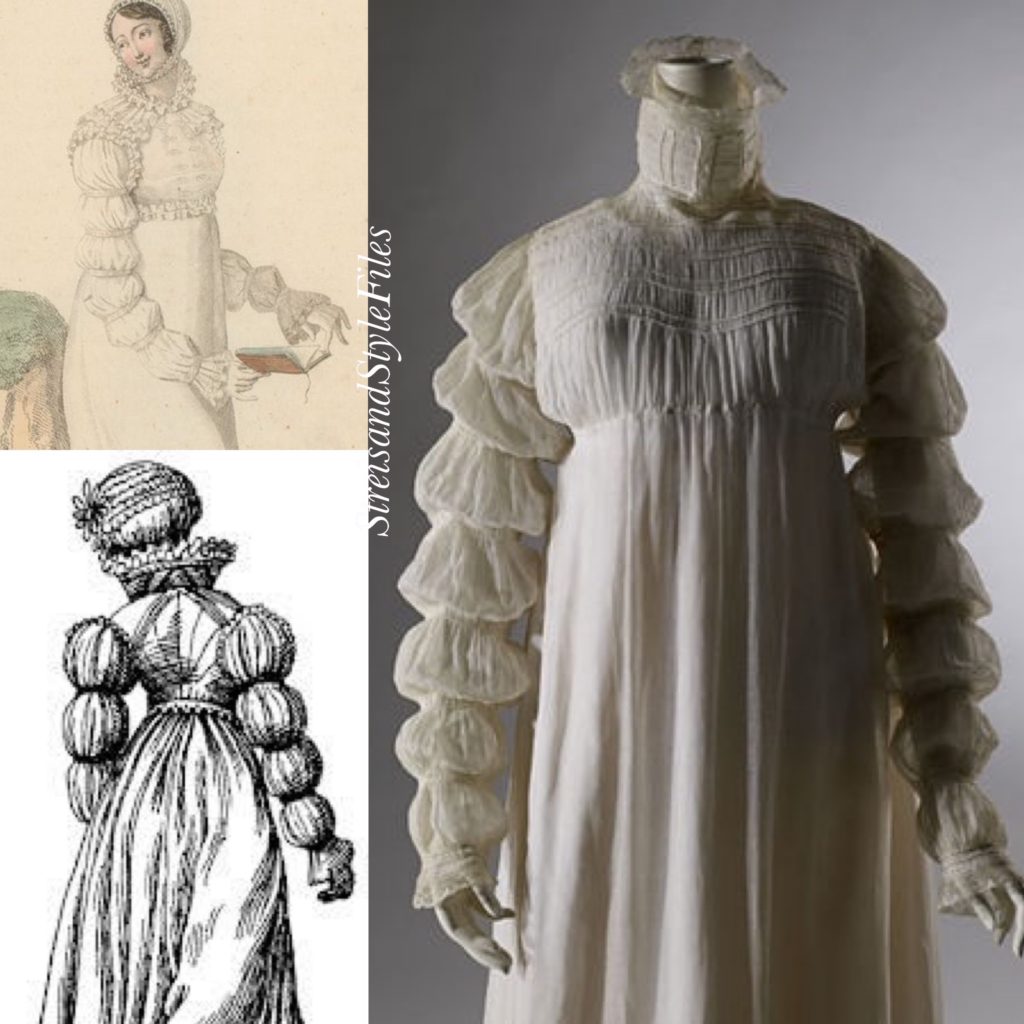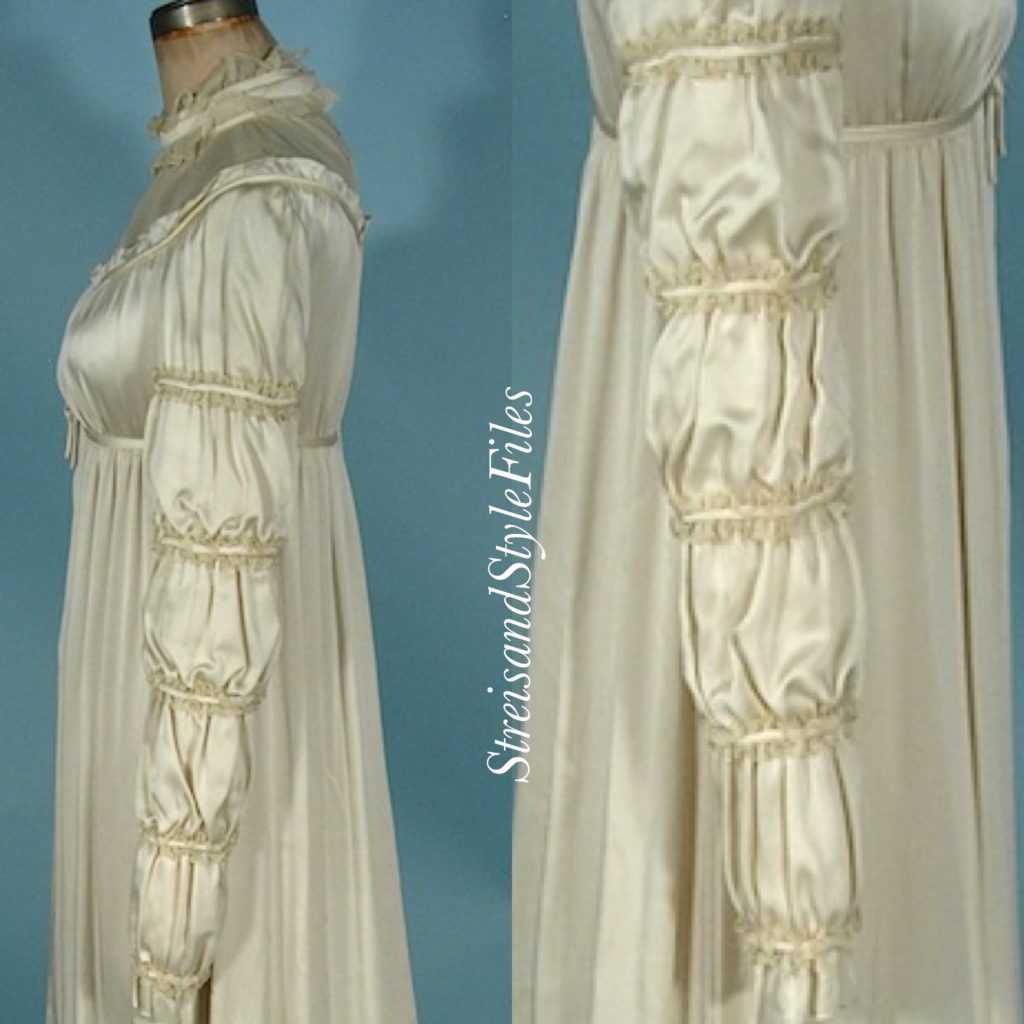 The tiered sleeves in this costume each have 5 bands of piping, all set in organdy ruffles. These mirror the collar detailing and really bring the piece together. There is are snap closures at the back and cuffs, as well as hook and eye closures at the collar.
An oversized mob cap accessorized this look. These were worn by women at night to provide warmth as well as protect hairdos and indoors around the home. Some women also wore them beneath hats as outdoor wear. Though bonnets had been worn for many decades, the name "mob cap" came about because the majority of poor women involved in riots during the French Revolution wore this style of headwear. If Melinda head actually been wearing this cap to sleep during the Regency period, her hair would have been completely inside the cap vs half down as seen in the photographs.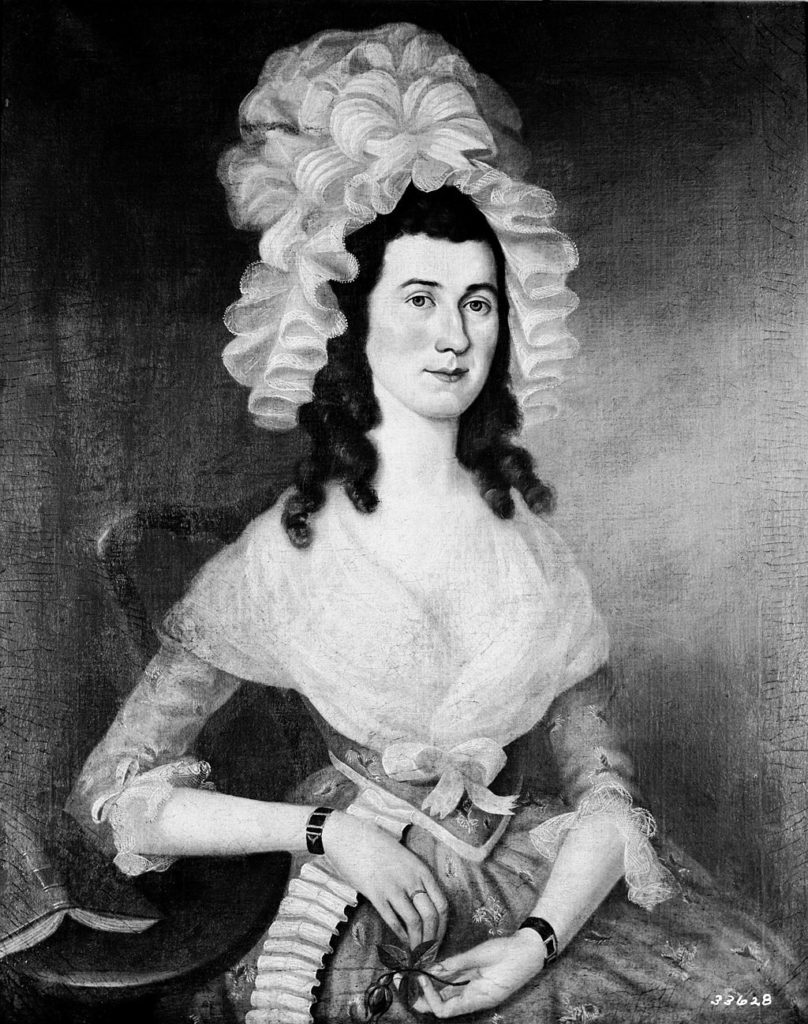 This costume has a tag inside that reads "Paramount and "Barbra Streisand. It was first sold by Barbra in her Julien's 2004 charity auction for $1,560.00 and appears to have been sold several times since, most recently in the "TCM Presents..There's No Place Like Hollywood" auction for $4,375.00. It is apparent that the costume has not been stored or cared for properly during these transitions, and has suffered considerable damage.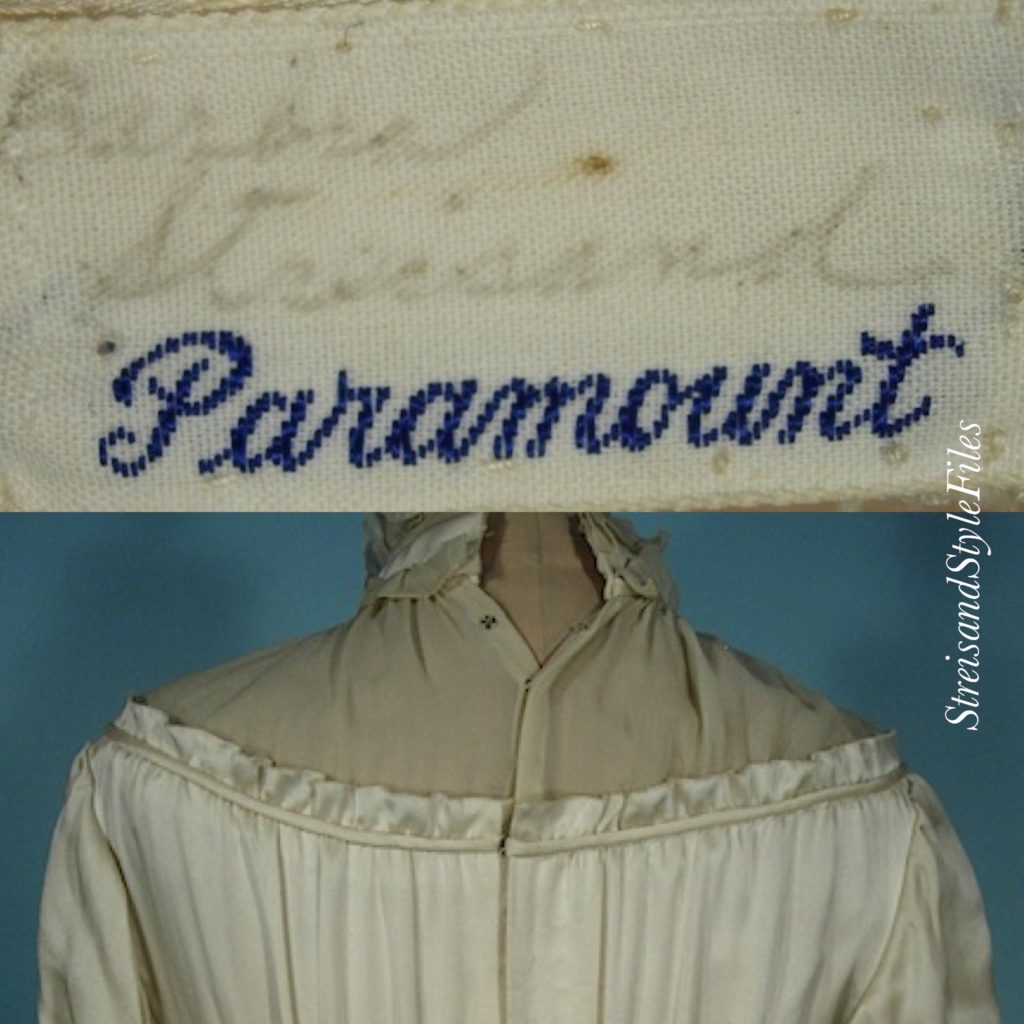 In the book "The Unexpurgated Beaton: The Cecil Beaton Diaries as He Wrote Them, 1970-1980" Beaton recalled that he thought many of Barbra's best gowns had been cut from the final edit of the film, noting "Now I see the film and see the appalling waste due to the fact that no one had prepared a proper script. One whole ballroom sequence with B.S. in dark red satin, and all the others in the specious stoned velvets, has been cut. B.S.'s best dress cut, many scenes cut, and the laying down of cobbles in Lansdowne Crescent (Brighton) and the hedges specially built, all unnecessary, all cut. If Alan Lerner had delivered a carefully considered script, many hundreds of thousands of dollars would have been saved." Beaton added, "It may be said that I was paid well for the job and that is all I should worry about. But that isn't the whole story. I really sweated to see that things were perfect, and that is the only way I can work."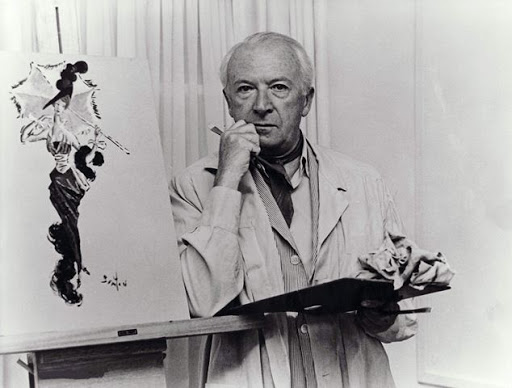 By the time Sir Cecil Beaton (1904-1980) met Barbra Streisand he was already a celebrated legend. He got his first camera at age 11 and by the 1920's was working as a fashion photographer for Vogue and Vanity Fair. Beaton published his first collection of works (The Book Of Beauty) in 1933. His popularity quickly grew to the point where he was asked to photograph the wedding of the Duke and Duchess of Windsor in 1937. He would go on to photograph Queen Elizabeth II many times, including on her Coronation day. During World War II, Beaton served in the British Ministry of Information, covering the fighting in Africa and East Asia. Afterward, his fashion photography became less flamboyant and he took up other visually creative activities like designing costumes and sets for theatre and film. His work in these areas was as lauded as his photographs. Beaton won the Academy Award for Best Costume Design in 1958 for Gigi, and two more times in 1964 for both Costume Design and Art Direction of My Fair Lady. He also won four Tony Awards between 1955 and 1970. Sadly, Beaton was overlooked for an Academy Award nomination for his exquisite designs for On a Clear Day You Can See Forever, which become the last film he ever worked on. Beaton suffered a paralyzed stroke in 1974 which left him frail until his death in 1980. His final interview from 1980 can be heard here.
Cecil and Barbra had first met years before On a Clear Day You Can See Forever was in production. A 2018 article by Sotheby's celebrating famous images from the Cecil Beaton Studio Archive stated that "Beaton first saw Barbra Streisand singing in a nightclub in New York in the summer of 1963. It was early in her career but he was captivated by her talent and unique look – "this strange Cleopatra-like profile with bold flow from forehead to nose". That October he photographed her for the first time (these photos appeared in March, 1964 Vogue) and in 1969 he would go on to design her costumes for the film On a Clear Day You Can See Forever. Although he was initially skeptical of working with her, he was pleasantly surprised: "Her publicity is so bad that I feared she might be the tyrant, the virago, the bitch that she is said to be. Instead she was particularly ingratiating and amenable. From the moment she appeared, late, at the rehearsal, it was evident she has star quality, is a natural. She is above all else intelligent. Her brain works so clearly, so healthily. She could be a lawyer". Although Beaton was known for his sometimes damning assessments of some of the world's most famous people, Streisand escaped his cutting remarks as he genuinely liked her: "I admire her. She cannot be made to say she likes something unless she is one hundred per cent sold. Here's hoping that we continue to get along together as well so far, for we have argued, we have disagreed, we have said our pieces, but we give and take as professionals with a job on hand. I treat her as an equal, and only now and again do I realize that I am sparring on equal terms with someone who is fifty years younger than I am!"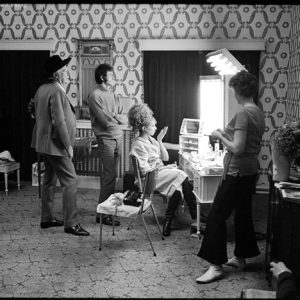 Another documentation of Beaton and Streisand's time together comes from a 2011 V Magazine piece written by Elliott David, which featured photos by Lawrence Schiller. David states "In 1969, Streisand and her entourage of hairstylists, makeup artists, and wigs traveled to London to film Vincente Minnelli's adaptation of On a Clear Day You Can See Forever, a story about a chain-smoking clairvoyant New Yorker who, while undergoing hypnosis to kick the habit, discovers she's the reincarnation of a coquettish 19th-century British lady. And to help Streisand make the shift was famed photographer and designer Sir Cecil Beaton, who designed the costumes for the film. Beaton had already won two Academy Awards for his masterful designs and art direction in My Fair Lady, and was a world-renowned photographer of celebrities, intellectuals, and royalty. In tow during that trip to London was photographer Lawrence Schiller who documented it all and who shares with us here these previously unpublished photos. "This was a man of elegance and taste," says Schiller of Beaton. "And his reputation preceded him. So Barbra and [Beaton] got along fabulously. She was like a little puppy dog in Beaton's presence. You know, she would bark every once in a while, and voice her opinion, but she was delighted with what he created. He understood her face, he understood the shape of her body. And Barbra knew what her assets were. Of course the greatest asset was her voice, but now she was moving on in life and she was making the transition to becoming a great actress. Eventually she'd become a great director. So what do you do, you surround yourself with the most talented people in the world. And she surrounded herself with Cecil Beaton." Clear Day would be Beaton's final project, and this was not merely a transformation of Streisand's character, but for Streisand personally, as he would forever have an impact on her style and grace."
For any sewers out there, below is a great tutorial from You Tube for making your own Mameluke sleeves.